---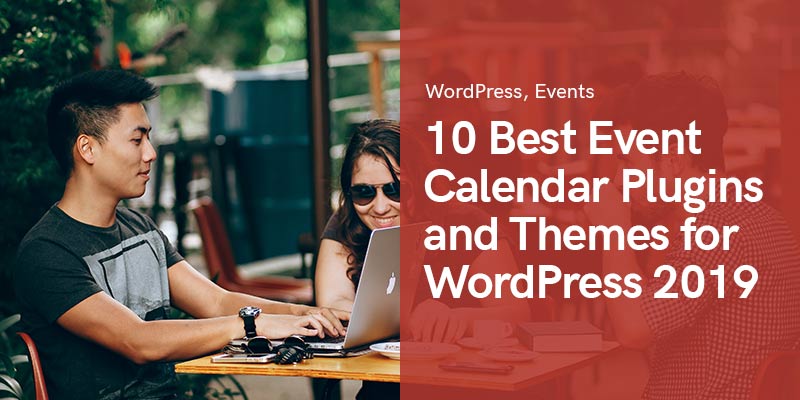 10 Best Event Calendar Plugins and themes for WordPress 2019
What is the first thing that comes to your mind when hearing the words "WordPress" and "Calendar"? Most likely, you would imagine a standard calendar widget that is only supposed to display the release date of WP posts and not an actual event calendar which you won't be wrong, but there also exist dozens of cool calendar and event planning plugins for different purposes…
For instance, the WordPress plugins collection also have calendars for events, orders, and appointments. This means calendars will not only be useful for tracking progress but also for improving your website planning and payment features.
Besides, using such tools for scheduling can prevent you from the loss of productivity due to the human factor and contribute to the profits increase.
And since there exist hundreds to services to automate your working process, manual planning is already considered inefficient these days. A small price for the plugin is nothing compared to the number of reduced errors and increased productivity. And according to ScheduleOnce, such tools are able to increase your advertising effectiveness indicator up to three times.
Finally, calendars can significantly reduce the situations when you lose both money and your precious time because of some client's fault, for instance, if he didn't show up for the meeting, etc. Almost all plugins have a feature of reminding clients of their upcoming meeting or canceling it in the case of necessity.
Now that I've listed all the benefits of using either a WP calendar plugin or a WP theme with an implemented calendar function, let's move on to their overview!
3 Best Event Calendar Plugins for WordPress
Modern Events Calendar encompass all features of event calendars you need, with an advanced booking system and many other useful options which are practical in the real world! Just like its name, the calendar has a very modern, up-to-date and clean design, which means this event calendar can work perfectly with any kind of websites regardless of their color scheme. Nonetheless, you can change the default look of the calendar in the settings and adjust your calendar style to your website more than ever. All the designs are fully-responsive, which means your clients will be able to make bookings from any electronic device conveniently.
The plugin provides you with a powerful booking system with a simple builder interface to help you create calendar events fast and easily. Integration with Google Maps and Google Calendar gives you a chance to connect a physical location and connect two services to share events on both platforms. Besides, the plugin supports integration with PayPal and WooCommerce.
Modern Events Calendar has 2 versions: Lite (free) and Pro(not free). Lite version just doesn't have a booking system and some skins for calendar and you can find more features here: Modern Events Calendar Lite Mec Pro has some packages to purchase. The 1 license for the plugin will cost you $39 (discounted), which provides you with lifetime auto updates and 1 year of premium support. The other packages cost $149 for 5 licenses and $270 for 10 licenses.
If you're hoping for some free options, this event management WP plugin should come in handy. One allows you to create events, accept booking as well as manage attendees within one platform effortlessly. The main functions are bookings management, multisite support, guest/member event submissions, Google Maps, event categories, advanced permissions, widgets, iCal feed, SEO plugins compatibility, etc.
The plugin has a premium Pro add-on with extended functionality for professional event organization. To those, we can refer to PayPal, Authorize.net and offline payments, custom booking forms, individual attendee custom forms, coupon codes, custom booking email, and faster support. This is not a new plugin but rather an extension of Events Manager. So in case, you'd like to move your calendar to a Pro package, you will not lose your current settings.
The regular Events Manager plugin that includes the events manager framework and community support forums is free of charge. A Pro add-on includes additional support along with other premium features and will cost you $75 for 1 site or $150 for 5 sites.
Another free WordPress plugin is Meetup that lets you create events, manage attendees, registration and speakers as well as add images. This is a highly-customizable intuitive plugin where you can add as many speakers as you wish and decide on the number of seats available for the event or the number of seats one person can reserve. Besides, you can define the event agenda and the information about sponsors, if there are any.
You will be surprised by how easy is use a Meetup plugin is despite its multiple functions. Most importantly, it works perfectly with Facebook or email so that users will be able to see all the data about the event via those platforms and reserve a seat if they need.
In general, this is a very powerful calendar that offers much more opportunities than popular alternative event organizers on Facebook or Google. The offered functionality is very decent considering the fact that it's a free plugin.
Wanna learn more about WordPress calendar freebies? Then read about Free WordPress Event Calendar Plugins here by the link!
7 Best Event Calendar Themes for WordPress
If you are interested in purchasing a ready-made solution for your entire website of any kind and purpose, I would advise you this fully-responsive retina-ready Deep WP theme. First of all, it has a multipurpose minimalistic design, which works perfectly with any type of content. Second, it has an implemented Modern Events Calendar Lite plugin, which means there is no need to purchase or install a calendar separately.
Deep has an Event demo created with Modern Event Calendar Lite. Deep theme Events demo
Novice users will have no trouble working with the easy-to-use tools and functions of the theme, which includes Header Builder, Visual Page Builder (Elementor, Composer and King), Visual Footer Builder, as well as many more plugins aside from MEC to extend the website functionality. Of course, all the customization processes take place front-end although Deep gives you access to the code in case you prefer working with the back-end.
And just so that you know, Deep has all the necessary options for making your own online shop since it's powered on WooCommerce – the most popular eCommerce platform for WordPress.
And although event agencies create events for others, they still have their own events and meetings to track of! If you feel like your event agency needs a good-looking website with a solid event calendar to plan your appointments with customers and so on, choose Eventagy!
You will be amazed by how simple it is to design your website in a drag-and-drop manner using Elementor page builder, JetElements, multiple headers, footers, etc. Besides, you'll get free stock images, SEO-friendly code, support for multiple languages, WooCommerce compatibility, Google Fonts, and a dropdown social login form with a dropdown menu.
Multimedia Responsive WordPress is a great theme for any design agency and business site, with clean design, minimal layout, and scroll motion slider. This WordPress theme has a minimalist style and mobile friendly design.
To the main features, we can refer responsive slider, menus capability, responsive design and layout, Valid XHTML + CSS, SEO optimization, Chrome, Firefox and Safari compatibility, IE11+ compatibility, unlimited domain usage, support, and updates.
Multimedia Responsive WordPress Theme from Dessign Themes on Vimeo.
For lovers of one-page stylish websites with abstract and graphic designs, 'Only' indeed one of those few unique solutions you just can't pass by. This is a one-page WordPress template that works perfectly mostly for digital businesses or even works well as a freelancer portfolio. The theme is full of trendy diagonal lines, card-style elements. There is also an off-canvas navigation menu, big image slider pop-up portfolio section, blog feed, team, and a newsletter sign up box. The template is developed by Dessign themes.
The list of main features includes custom colors, Google Fonts option, theme options, menus capability, responsive design and layout, valid XHTML + CSS, SEO optimization, compatibility with such browsers as Chrome, Firefox and Safari, IE11+ compatible, unlimited domain usage, support and updates, as well as theme video overview.
Now we have finally come one of the most eye-catching landing pages for making scalable events! Take a look at this Metaphor Event Planner WordPress Theme and you will totally agree with my statement.
This is a professional theme with a number of features that makes it stand out from others. The first one is, of course, great animation effects and beautiful bright design. Moreover, the theme contains all the key features to help you build a fully-functional website, from the multiple builders and editors to even free premium quality images included in the template. This will help you save money on the visual content of your future website.
But most importantly, Metaphor has an outstanding event planner located upfront your landing page. It lets you place all the necessary data regarding the upcoming event, including the number of speakers, date, location, schedule, information about organizers, and much more.
Planning to make a huge conference devoted to any kind of business, from startups to web design trends? Then, all you need is a powerful and stylish landing page with stunning visuals and an unusual layout – something like this Design Conference theme. First of all, it's a perfect solution for any event such as a conference, symposium, summit, etc.
Powered on Elementor, this WordPress theme acquired all the best features of this builder, starting from bright page elements and finishing with new Elementor marketing widgets. By those, I mean Evergreen Countdown Timer, Star Rating, Reviews & Sitemap. All those widgets are very relevant when it comes to making landing pages for a specific event, and it will surely represent your conference in the most attractive way.
The template also includes famous Jet Family plugins developed specifically for Elementor: JetElements, JetBlog, JetBlocks, JetTabs, and JetTricks plugin for stunning visual effects (sticky column, hotspots, and parallax).
For future married couples, the following Save the Date template will be more than handy. Not only do such themes help to reach guests and sharing all the necessary info with them – they are a great way to make a reliable platform for storing your dearest memories. This template allows you to save photos and videos and wishes from your guests so that in the future you can restore pleasant memories and share them with loved ones. Of course, such a landing page has a convenient event planner and a contacts form for guests to reply if they are going to the wedding or not. Besides, there is a beautiful counter until the start of the wedding ceremony and well-arranged information about the location, gift registry, and accommodation.
Conclusion
In this overview, I included the most popular plugins and themes for booking and creating event calendars. Out of all options, I would advise you to choose not the most powerful plugin but the one that suits you most.
Whichever you choose, remember that a good plugin should:
Save you the time on planning events;
Provide users with all the necessary data;
Support your payment system.
Of course, these tools do not make miracles, but running your business online will be much easier and more efficient.
Which of the following 10 options did you like the most? Make sure you leave the comments below.