---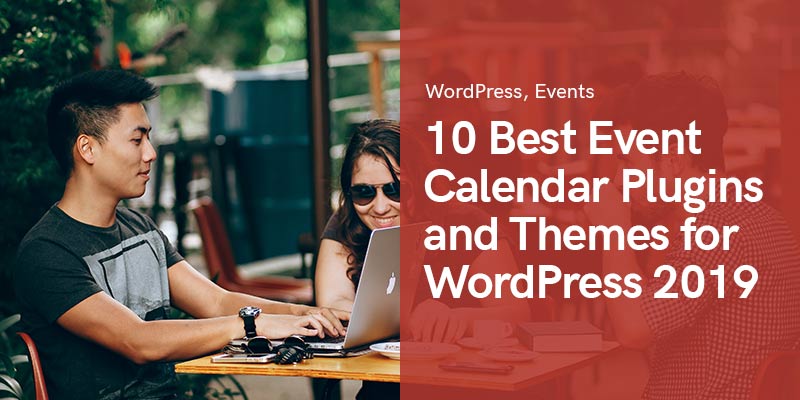 10 Best Event Calendar Plugins and Themes for WordPress 2019
What is the first thing that comes to your mind when hearing the words "WordPress" and "Calendar"? Most likely, you would imagine a standard calendar widget that is only supposed to display the release date of WP posts and not an actual event calendar which you won't be wrong, but there exists dozens of cool calendar and event planning plugins for different purposes as well…
For instance, the WordPress plugins collection also has calendars for events, orders, and appointments. This means calendars will not only be useful for tracking progress but also for improving your website planning and payment features.
Besides, using such tools for scheduling can prevent you from the loss of productivity due to the human factor and contribute to the profits increase.
And since there exist hundreds to services to automate your working process, manual planning is already considered inefficient these days. A small price for the plugin is nothing compared to the number of reduced errors and increased productivity. And according to ScheduleOnce, such tools are able to increase your advertising effectiveness indicator up to three times.
Finally, calendars can significantly reduce the situations when you lose both money and your precious time because of some client's fault, for instance, if he didn't show up for the meeting, etc. Almost all plugins have a feature of reminding clients of their upcoming meeting or canceling it in the case of necessity.
Now that I've listed all the benefits of using either a WP calendar plugin or a WP theme with an implemented calendar function, let's move on to their overview!
There are lots of great WordPress calendar widgets or WordPress plugins such as WooCommerce Bookings and Appointments, Sugar Events Calendar, Events Schedule and many more to cover, however, the scope of this article, unfortunately, does not let us go that far, so we'll be reviewing some of the best of them here.
10 Best Event Calendar Plugins for WordPress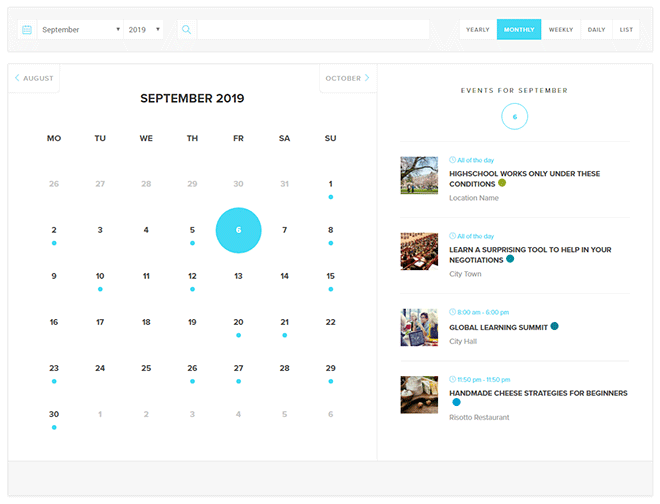 Modern Events Calendar encompasses all the features you need in a WordPress event calendar. It has an advanced booking system and many other useful options which are practical in the real world! Just like its name, the calendar has a very modern, up-to-date and clean design, which means this event calendar can work perfectly with any kind of website regardless of their color scheme.
Nonetheless, you can change the default look of the calendar in the settings and adjust your calendar style to your website more than ever. All the designs are fully responsive, which means your clients will be able to make bookings from any electronic device conveniently.
The plugin provides you with a powerful booking system with a simple builder interface to help you create calendar events fast and easily. Integration with Google Maps and Google Calendar gives you a chance to connect a physical location and connect two services to share events on both platforms. Besides, the plugin supports integration with PayPal and WooCommerce.
Modern Events Calendar has 2 versions: Lite (free) and Pro(not free). Lite version just doesn't have a booking system and some skins for calendar and you can find more features here: Modern Events Calendar has some packages to purchase. The 1 license for the plugin will cost you $55, which provides you with lifetime auto-updates and 1 year of premium support. The other packages cost $199 for 5 licenses and $375 for 10 licenses.
Pros:
Packed with features
Vast customizability, Single event page Live Elementor editor, Form builder customizability
Fair pricing
Well-designed out of the box
Great UI/UX design
User-friendly
Excellent value
Easy to set up and manage events
Fully responsive design
Cons:
Tech support response time is 24-48 hours
Documentations can improve
EventOn most of all has a minimalistic design, which distinguishes it from the other WordPress event calendars in terms of being easy to use and also having great looks. It offers different choices to the users for creating events and more interestingly it has a shortcode generator as well.
Using EventOn you can create events with various repeating options and also using its shortcode generator you can have different views for your calendar. The title of the event is very attractive and makes real interactions for the audience.
EventOn allows for customizing the colors and appearance to an extent and therefore when changing the titles and the views, you surely will have a colorful experience. Bear in mind that not including Google Calendar synchronization and also not supporting auto-updates are two of the cons of this very appealing WordPress event calendar plugin.
This WordPress event calendar includes the following features:
Supports RTL
Customized Time Formats
Font Awesome Icons
Event Descriptions
Your Own Customized meta fields
Add Categories
Directions & Google Maps
Multiple-day event
Customizing Colors
Filtering Options for Events
Search
Social Sharing Buttons
And many more.
Pros:
Easy to set up and manage events
Paypal, Google Maps integration and more
Google Calendar and iCal share
Excellent tech support
Multiple languages
WPML compatible
5.0 stars on Codecanyon
Fully responsive design
Cons:
Super expensive Add-ons to extend the functionality
Low in features in comparison to its rivals
Only one site per license
For the pricing, this plugin is being sold on CodeCanyon for $24 and it comes with 6 months of support and lifetime updates. You can also extend the support for another 6 months by paying only $7.13 extra.
As the name suggests, authors of Timely made it their mission to reduce the time required for creating and publishing an event. In Timely, you can create and publish your event in just a few minutes, and use its social sharing feature to spread the love.
In fact, this WordPress event calendar widget is an interface between the author's website and users' WordPress websites. In addition to that, it also takes advantage of other tools in the web application.
Timely developers have employed a certain graphic interface called PosterBoard. It resembles classic, visual calendars and who can complain about that.
The web application does the bulk of the job, which includes managing events, managing publishing on social media, registration and ticket creation.
Using Timely is a bit more complicated compared to other plugins and it requires perfect harmony between the web application and the WordPress event calendar plugin.
Pros:
User-friendly
Colors are perfect and balanced
Extremely easy to use across different devices
Great customer support
Integration with Rescue Time
It's been translated to several different languages
The addons can be used o the Free version
Cons:
Cannot have your own color palette for customization
Not a minimalistic design and makes it a bit difficult for those who are looking for a basic plan
Also, this plugin includes several addons for which you need to pay separately:
Integration with Twitter
More Views
Premium Support
Ticketing System
Frontend Event submissions
Importing (CSV)
Locations
The pricing has different ranges for the addons, but normally you do not have to pay more than $59 per year for an addon, and for a bundle, it won't cost you more than $99 per year.
Calendarize it is another one of the best WordPress event calendars that is very easy to use and also feature-rich in its paid version. It allows you to custom create your templates for your calendars and events using Visual Composer if that is what you are using.
Although you can use this great page builder to create your custom templates, most probably you won't even need that tool, since it has many pre-built designs which are extensive in their options.
It is sold on CodeCanyon for about $30 for its regular license.
One of its distinguishing features is its Visual CSS Editor, which makes it super easy for developers and designers to keep track of changes they make in real-time. It has several add-ons and last but not least, is its support team which is amazing.
Calendarize It! is a feature-rich WordPress event calendar as we mentioned before. Here are the features of Calendarize It! for WordPress plugin:
Visual CSS editor
Recurring events with exceptions
Event/location layout box builder
Add-ons
Translation-ready
Notifications
Advanced filtering
Custom post types
Shortcodes
Google Map
Single Event Page
Location Page
And many more.
Pros:
Feature-rich
Includes add-ons
Customizable
Visual CSS Editor (drag-and-drop builder)
About 20+ free addons available
Fully responsive design
Paypal integration, Google Maps, Eventbrite Tickets and more
various color schemes
Multiple languages support
4.3/5.0 stars on Codecanyon
Cons:
Maybe the support which takes a bit of time to answer
Documentations can be a bit more extended to help the beginners as well
coding knowledge is required for Advanced functionality
Slow technical support
Only one site per license
Also, it includes many add-ons that are both free and paid. The paid add-ons range from $10 to $89. The Calendarize It! for WordPress plugin pricing is as follows:
A Regular License which is $30 and includes 6-month of support as well
An Extended License which is $150 and includes 6-month of support as well
Spider Event Calendar, AKA, WD – Responsive Event Calendar is another popular WordPress event calendar in the market. What distinguishes this plugin from the others, is the extent to which this plugin can be configured.
Just like other calendar plugins, Spider Event Calendar allows you to have different events in a single calendar. However, using extensions, it organizes your events to be displayed in the pop-ups as well. Create events per day, multiple-day events, custom day events and organize your upcoming events in a particular order or let them be shuffled.
Here's a list of features for Spider Event Calendar for WordPress:
Responsive

Different calendar views

Assign multiple categories for events

Ability to be used as a widget

Display upcoming events

Highly customizable widget

Display events with various repeatings (weekly, monthly and yearly)

Display format for dates

Set multiple events for the same day

Custom HTML

Event search & browse functionality
Any many more.
Pros:
Customizable Widget

Creating dynamic events

Fair in pricing
Cons:
Not really appealing in design in comparison to its rivals

Basic styling options in Free version
Spider Calendar Pro plugin comes in 3 plans, however, it also has a free version. You can find the free version in the WordPress repository.
The plans are as follows:
Personal costs $20 for 1 domain and also 6-month support and updates

Business plan costs $30 for 1 domain and also 1-year support and updates

Developer costs $40 for unlimited domains and also 6-month support and updates
The pricing is really fair based on what they are offering to their users.
Amelia is a well-designed booking plugin. It has a great event module that completes its functionality as a WordPress event calendar.
Amelia allows you to create events, manage bookings and display your events in an aesthetically pleasing front-end calendar. What's more, you can have automated online payments using this awesome plugin.
Using this event calendar you can manage your employees, meaning that your employees can create events. They will then lead these events, and Amelia makes sure that none of the events can be booked at the same time.
This plugin is used by more than 3000+ users and all around the world today. It is a great plugin in terms of regular feature updates and support. Also, the price of this plugin is rather fair.
Now it's a piece of cake to create and manage your events using this awesome booking plugin. You can add events, catalog, search and booking blocks to the content of your page in a blink of an eye.
Here are the features of Amelia Pro booking plugin for WordPress:
Automated online payments (PayPal, Stripe, and WooCommerce)

Set up tags for events

Recurring events

Unlimited employees

Custom fields

Notifications in the form of Emails and SMS for both the customer and the employee.

Ability to sync with Google Calendar

Coupons
And many more.
The free version is good enough if you are looking for a basic booking management system. But if you want to stay ahead of the pack in your business then the Pro version is strongly recommended for you.
Pros:
Fair price
Feature-rich
Great maintenance and updates
Cons:
It can be very complicated for some people.
Not really customizable in comparison to its rivals
Better as a booking plugin rather to an event plugin
The pricing for this great plugin is super affordable. The Free version can be downloaded from the WordPress repository. The Pro version starts at $59 for one website.
Worried that your audience may not learn about your union event?
The Events Calendar is here to help you With its feature of starring and notifying users about repeating and public events, you can be sure that your users will not forget about any of your events.
Modern Tribe is the team behind the Events Calendar and they have made every effort to appeal to all tastes. The Events Calendar allows you to design the user interface how you want it and not limit yourself to one framework.
The plugin has been designed especially for large groups but contrary to its function, it does not use shortcodes but style sheets. This has made it faster and more efficient in working with your theme.

Some of the features of this great WordPress Event Calendar are:
Ticketing system/ Attendees list
Easy planning of events and various options for adjusting venues and organizers;
User guide in monthly section plus offering a list of the day's events and search through them;
Integration with Google Maps;
Easy update with Ajax and able to connect t WP REST API.
High loading speed;
Export to Google Calendar and iCalendar;
Completely compatible with commercial themes with several style sheets;
Excellent SEO optimization;
Completely responsive design and translated into different languages
Pros:
Feature-rich
User-friendly with a great UI/UX design
Solid, very little bugs
Cons:
Limited in customization
Not fully compatible with Elementor
Compatible with only some of the popular themes
Pricing is a bit high
The pricing has 5 plans. These plans are annual payments.
1 site for 1 year: $89
3 sites for a year: $149
10 sites for a year: $299
Unlimited sites for a year: $750
Unlimited number of sites on a Multisite network for a year: $349
If you are looking to have several calendars in different parts of your website, then My Calendar is just what you need. It has been designed highly flexible for designers and developers so that they can design their own calendar. Considering all these features, it is one of the best choices for those users who are developers themselves. If you are a developer you will enjoy My Calendar to the full.
Some of the key features of this WordPress event calendar are:
Standard grid and list view for events viewed monthly, weekly, and daily, plus mini-compact view;
Various templates for Today's Events and Future Events, plus searching through current events;
Detailed scheduling for repeating events and export them in several different formats;
Filtering by location, writer, and host;
Editing with CSS and JavaScript codes;
Shortcode generator;
Receiving data from a database apart from SQL DATA;
Change and customize repeating events;
Limit access to certain parts of the website;
Any time an event is created it will send an automatic Twit.
Pros:

Frontend customizability
Shortcode generator & widgets
Ability to add the calendar to your posts, pages, and sidebars
Pricing
Cons:
Paid documentation might not be the best choice
Not really well-designed
The pricing is really fair for this WordPress event calendar. A permanent license is $199, that's a bargain for sure. Also, its license is $49 for 1 website. The documentation is not free and you need to make a one-time payment for $17 to have access to the user guides.
If you're hoping for some free options, this event management WP plugin should come in handy. One allows you to create events, accept booking as well as manage attendees within one platform effortlessly. The main functions are booking management, multisite support, guest/member event submissions, Google Maps, event categories, advanced permissions, widgets, iCal feed, SEO plugins compatibility, etc.
The plugin has a premium Pro add-on with extended functionality for professional event organization. To those, we can refer to PayPal, Authorize.net and offline payments, custom booking forms, individual attendee custom forms, coupon codes, custom booking email, and faster support.
This is not a new plugin but rather an extension of Events Manager. So in case, you'd like to move your calendar to a Pro package, you will not lose your current settings.
The regular Events Manager plugin that includes the events manager framework and community support forums is free of charge. A Pro add-on includes additional support along with other premium features and will cost you $75 for 1 site or $150 for 5 sites.
Another free WordPress plugin is Meetup that lets you create events, manage attendees, registration and speakers as well as add images. This is a highly-customizable intuitive plugin where you can add as many speakers as you wish and decide on the number of seats available for the event or the number of seats one person can reserve. Besides, you can define the event agenda and the information about sponsors, if there are any.
You will be surprised by how easy it is to use a Meetup plugin is despite its multiple functions. Most importantly, it works perfectly with Facebook or email so that users will be able to see all the data about the event via those platforms and reserve a seat if they need it.
In general, this is a very powerful calendar that offers many more opportunities than popular alternative event organizers on Facebook or Google. The offered functionality is very decent considering the fact that it's a free plugin.
Now that we have introduced some of the best WordPress calendar widgets and plugins, let's talk a little bit about the Best Event Calendar Themes for WordPress which can be a great help if you need a WordPress event management website.
Wanna learn more about WordPress calendar freebies? Then read about Free WordPress Event Calendar Plugins here by the link!
7 Best Event Calendar Themes for WordPress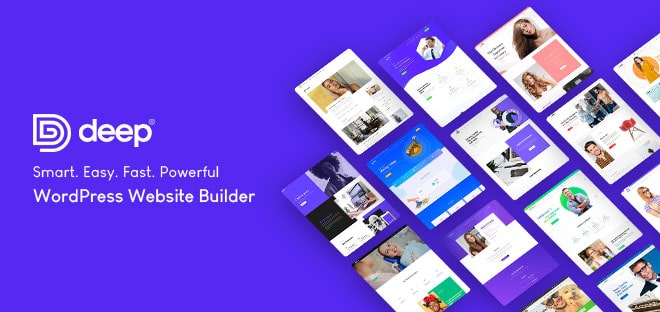 If you are interested in purchasing a ready-made solution for your entire website of any kind and purpose, I would advise you this fully-responsive retina-ready Deep WP theme. First of all, it has a multipurpose minimalistic design, which works perfectly with any type of content. Second, it has an implemented Modern Events Calendar Lite plugin, which means there is no need to purchase or install a calendar separately.
Deep has an Event demo created with Modern Event Calendar Lite. Deep theme Events demo
Novice users will have no trouble working with the easy-to-use tools and functions of the theme, which includes Header Builder, Visual Page Builder (Elementor, Composer and King), Visual Footer Builder, as well as many more plugins aside from MEC to extend the website functionality. Of course, all the customization processes take place front-end although Deep gives you access to the code in case you prefer working with the back-end.
And just so that you know, Deep has all the necessary options for making your own online shop since it's powered on WooCommerce – the most popular eCommerce platform for WordPress.
And although event agencies create events for others, they still have their own events and meetings to track of! If you feel like your event agency needs a good-looking website with a solid event calendar to plan your appointments with customers and so on, choose Eventagy!
You will be amazed by how simple it is to design your website in a drag-and-drop manner using Elementor page builder, JetElements, multiple headers, footers, etc. Besides, you'll get free stock images, SEO-friendly code, support for multiple languages, WooCommerce compatibility, Google Fonts, and a dropdown social login form with a dropdown menu.
Multimedia Responsive WordPress is a great theme for any design agency and business site, with clean design, minimal layout, and scroll motion slider. This WordPress theme has a minimalist style and mobile friendly design.
To the main features, we can refer responsive slider, menus capability, responsive design and layout, Valid XHTML + CSS, SEO optimization, Chrome, Firefox and Safari compatibility, IE11+ compatibility, unlimited domain usage, support, and updates.
Multimedia Responsive WordPress Theme from Dessign Themes on Vimeo.
For lovers of one-page stylish websites with abstract and graphic designs, 'Only' indeed one of those few unique solutions you just can't pass by. This is a one-page WordPress template that works perfectly mostly for digital businesses or even works well as a freelancer portfolio.
The theme is full of trendy diagonal lines, card-style elements. There is also an off-canvas navigation menu, big image slider pop-up portfolio section, blog feed, team, and a newsletter sign up box. The template is developed by Dessign themes.
The list of main features includes custom colors, Google Fonts option, theme options, menus capability, responsive design and layout, valid XHTML + CSS, SEO optimization, compatibility with such browsers as Chrome, Firefox and Safari, IE11+ compatible, unlimited domain usage, support and updates, as well as theme video overview.
Now we have finally come one of the most eye-catching landing pages for making scalable events! Take a look at this Metaphor Event Planner WordPress Theme and you will totally agree with my statement.
This is a professional theme with a number of features that makes it stand out from others. The first one is, of course, great animation effects and beautiful bright design. Moreover, the theme contains all the key features to help you build a fully-functional website, from the multiple builders and editors to even free premium quality images included in the template. This will help you save money on the visual content of your future website.
But most importantly, Metaphor has an outstanding event planner located upfront your landing page. It lets you place all the necessary data regarding the upcoming event, including the number of speakers, date, location, schedule, information about organizers, and much more.
Planning to make a huge conference devoted to any kind of business, from startups to web design trends? Then, all you need is a powerful and stylish landing page with stunning visuals and an unusual layout – something like this Design Conference theme. First of all, it's a perfect solution for any event such as a conference, symposium, summit, etc.
Powered on Elementor, this WordPress theme acquired all the best features of this builder, starting from bright page elements and finishing with new Elementor marketing widgets. By those, I mean Evergreen Countdown Timer, Star Rating, Reviews & Sitemap. All those widgets are very relevant when it comes to making landing pages for a specific event, and it will surely represent your conference in the most attractive way.
The template also includes famous Jet Family plugins developed specifically for Elementor: JetElements, JetBlog, JetBlocks, JetTabs, and JetTricks plugin for stunning visual effects (sticky column, hotspots, and parallax).
For future married couples, the following Save the Date template will be more than handy. Not only do such themes help to reach guests and sharing all the necessary info with them – they are a great way to make a reliable platform for storing your dearest memories. This template allows you to save photos and videos and wishes from your guests so that in the future you can restore pleasant memories and share them with loved ones.
Of course, such a landing page has a convenient event planner and a contact form for guests to reply if they are going to the wedding or not. Besides, there is a beautiful counter until the start of the wedding ceremony and well-arranged information about the location, gift registry, and accommodation.
Conclusion
In this overview, I included the most popular plugins and themes for booking and creating event calendars. Out of all options, I would advise you to choose not the most powerful plugin but the one that suits you most.
Whichever you choose, remember that a good plugin should:
Save you the time on planning events;
Provide users with all the necessary data;
Support your payment system.
Of course, these tools do not make miracles, but running your business online will be much easier and more efficient.
Which of the following 10 options did you like the most? Make sure you leave the comments below.
Recommended Posts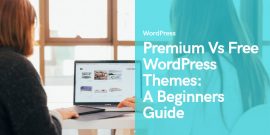 Last Modified: October 12, 2019
Last Modified: October 7, 2019
Last Modified: September 29, 2019