---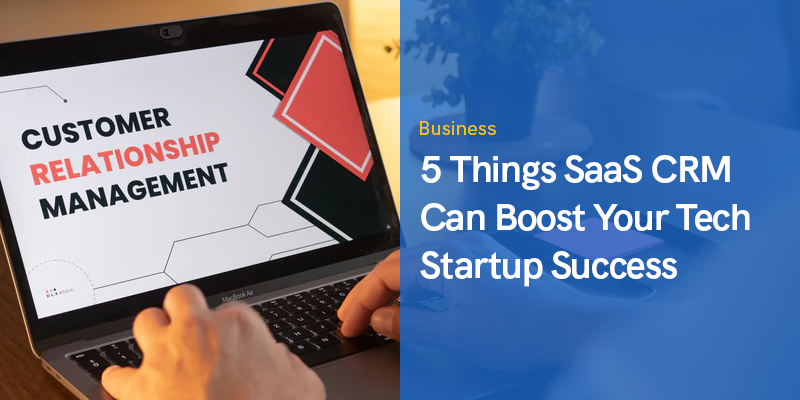 5 Things SaaS CRM Can Boost Your Tech Startup Success
As a new company, you want to keep costs low, and paying for business software monthly is a better way to do it.
All you have to do now is pay to subscribe and get the most out of your WordPress CRM plugin.
However, this is only the tip of the iceberg; SaaS CRMs provide a slew of other advantages, especially if you're a Startup.
Five Ways SaaS May Help Your Firm Run Smoothly
Here's a quick rundown:
SaaS-based CRM Industry Overview
The market for SaaS CRM software is fiercely competitive.
This is beneficial to anyone looking to purchase a cost-effective customer management product.
Because of the high level of competition in the market, any prominent software provider you pick will supply you with high-quality CRM systems.
As a result, this is practically a buyer's marketplace, and with so many possibilities to select from, you may find the best one for your business needs.
Because the market is so dynamic, you can find the suitable organization to offer long business solutions in a single package if you choose wisely.
If you have selected the correct SaaS CRM firm, they'll most likely provide a wide range of CRM-related functions.
This can significantly lower your entire work time while greatly improving your overall performance.
Top Benefits of Employing A SaaS-Centric CRM Solution for Your Enterprise
Swiftly Manage & Maintain Customer Relationships
Customer relationship management (CRM) software is critical to the sustainability of any enterprise.
They can enable you to conserve time and money by effectively managing client relationships and ensuring your employees are on the same page.
CRM solutions have always aided in the improvement of client relations.
The sales closing rate may be increased by 29%, and overall sales productivity can be increased by 34% with the application.
Forecast accuracy can ideally be enhanced by 42% because of the software's capacity to track a consumer journey and share it with relevant teams.
Timely Updates
CRM software for SaaS businesses is updated regularly.
Subscribers receive fresh upgrades that improve functionality and improve the overall experience because they are online on-cloud systems that are periodically enhanced.
Consequently, this will benefit your company tremendously.
You will profit from the CRM as it is developed by the firm that created it.
This is far superior to CRM with a lifetime license because you will always be at the forefront of technological innovation thanks to regular updates.
This is especially true with SaaS CRMs because you don't have to pay for anything other than upgrades.
Organizations want to expand, and their ability to do so depends largely on the tools they employ.
You can get a lot more out of each business day if you have the appropriate technology at your disposal.
This has an effect on the user's overall experience.
A CRM that crashes and disrupts your customer database, for example, is a waste of money and time.
If it is updated with a bug fix, you can expect it to perform reliably.
As a result, CRM specific for SaaS businesses can provide enormous value through periodic updates.
These updates can assist in driving the business forward by removing or addressing any glitches or errors in the system.
Rapid Diagnostics Test
Troubleshooting software performance and functions are essential for utilizing any digital business tool.
It's much more significant with CRMs because it influences how successfully you'll be able to use them.
If you acquire a SaaS-based CRM for your Startup, you should have no problems.
Typically, such software is well-developed and performs admirably.
It's possible, however, that you'll be stranded with some feature or glitch on the CRM.
Alternatively, the CRM may malfunction, in which case you will have to debug it.
Rapid diagnostic solutions are available from most of the leading SaaS CRM businesses.
They have programmers on staff who can typically respond to queries quickly.
Because SaaS-based programmers are always improving their products, they are conscious of the issues that their CRM may encounter.
In contrast, perpetual license CRM providers take a long time to respond to operational challenges or user inquiries.
As a result, your roadblock is quite likely to be fixed promptly when you opt for a SaaS-centric CRM solution.
Maintains Data Privacy
Cloud services are better suited for dealing with adware and malware threats since they are always optimized.
SaaS systems are often set up using a multi-layered data security process to minimize vulnerabilities.
Highly sophisticated encryption for robust encryption and security against brute force assaults may be available through cloud services.
SaaS software's data privacy may be overhauled with the newest security updates and patches more often than a traditional PC because of hardware limitations.
Moreover, because cloud services are maintained externally, typically in data centers located offsite from your firm's headquarters, they offer stronger data privacy and security against viruses that may penetrate through other applications on internal networks.
Extensive System Applicability
CRM solutions for the product-led growth industry, as well as most other SaaS-based businesses, are designed to work on a variety of operating platforms.
So, regardless of how old your office computer system is, the application will function as guaranteed and will not cause any compatibility concerns in most cases.
This is considerably superior to other sales software for corporations, which may have particular hardware and system prerequisites.
SaaS CRM program is compatible with a wide range of OS and hardware.
This means they'll run on many outdated operating systems than other apps.
Sourcing hardware is undoubtedly an expensive process for a corporation.
This is especially advantageous for product-led growth entrepreneurs, as it enables them to expand their operations with less expenditure.
Summing Up
In such a saturated market with so many CRM solution providers trying to gain your attention, finding the right solution may seem like a herculean task.
Yet, it is critical to select a SaaS CRM that'll work best for you and help your business development while lowering expenses and improving productivity with so many possibilities.
Any firm may benefit from SaaS solutions, and they can undoubtedly increase a startup's chances of success.