---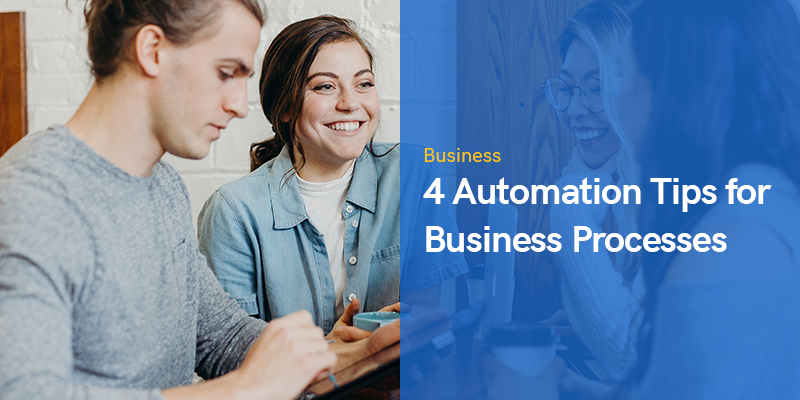 4 Automation Tips for Business Processes in 2023
Today, business process automation is increasing in popularity, and managers of all levels are eagerly introducing robotics (special software) within their organizations. This allows you to obtain several benefits at once:
Let employees be free of routine tasks.
Increase the data processing accuracy and reduce the number of errors.
RPA (Robotic Process Automation) can allow humans to get rid of the tedious tasks of entering, copying, and email data. Smart software can not only transfer data between systems but can also fill out forms and perform a multitude of other everyday tasks.
Automation Tips for Business Processes
Business process automation in 2022 is a complicated topic. We will discuss the key principles that experts recommend you to follow to ensure that everything is a success.
Automating the Most Commonly Used and Complex Processes Is Our First Priority
It seems more logical to first perform simple tasks, before moving on to the hard stuff. But as experience shows that it is better to reverse the process. Automating business processes that demand too much time from multiple employees means more time for the company and increases the motivation to carry on working on these tasks.
A prime example of business process automation is when information about customers is gathered to determine whether they are eligible for loans. It is a core process for financial institutions and is vital for any future endeavors.
Automating requests made it possible to process them more quickly that not only saving employees time but also adding value to customers. Since everyone would prefer to have their personal loan request processed in half an hour, not a week.
Another clear example of automation for a digital business is making your site compatible with a solution like Kudos. This software allows clients to access one-click checkout while unlocking credit card rewards when they shop while automating the whole process.
To Automatize, You Must Create an Organization
IT specialists working with business analysts can automatize business processes much better.
Each department should have its own representative if automation is affecting multiple departments. This will bring the automation process as close to actual people and their jobs as is possible to ensure maximum effectiveness.
Such a tandem requires ERP system development company to create technical specifications for the seamless operation of robots, while business analysts must be accountable for the automatization of the processes that are most important to the business, which will yield benefits that exceed costs.
Employees Must Be Able to Understand the Importance of Automation
Unfortunately, in the history of business automation, people have forgotten about it in some instances and this has resulted in worse results than they expected.
It is important to realize that robots act as an assistant for employees and not as an alternative to employees. If employees are aware of this, there'll be no machine fighters who worry about their jobs standing in the way of modernization.
Sometimes, even massive automation does not lead to staff reductions since companies shift employees to jobs of greater importance to the business, sometimes even more interesting and creative ones. Most employees do not have the desire to duplicate the information of a hundred customers in 10 different programs and files in the course of their work. Robots can make the life of an employee much simpler.
Furthermore, many people who have physical jobs, such as those in warehouses, are significantly happier when vertical storage units in warehouses are robotized and automated.
It would be an excellent idea to solicit feedback from employees on the processes they believe should be automated first. Based on the opinions of everyone it is possible to compile a list of processes, before deciding on a prioritized list and begin with RPA technology.
Automated, Unproven Methods
What's more important than automating business processes by using robotics, or setting it up first, adjusting it, setting exact routes, and assigning areas to employees. Eliminating any unnecessary components.
It is likely that we should start by implementing the first step and then move on to the next one in order. Yet, experts recommend starting with the RPA implementation. This has multiple implications:
Robotization (automation) is a process that can be done much faster than debugging.
The effects of automation as early as today, however debugging may take months to complete.
As you move towards robotization it is likely that you'll be required to formalize the business processes. It is easier to determine what needs to change once you have a clear view of the present state of things.
Keep in mind that BPM (Business Process Management), and RPA (Remote Process Automation) have very different goals. The first system accelerates business processes and improves accuracy, while the latter creates the proper reasoning. It's not a matter of choice: RPA or BPM. Experience shows that they are the best when used together. However, both BPM and RPA systems when used separately are very efficient in resolving specific problems.
BPM systems are used to control RPA automation applications. A BPM system doesn't care if the procedure is performed by a person or a program. If the robot is BPM will prepare the necessary data and send the command. After the command has been executed, the BPM gets the data from the robot and forwards it to the robot.
Such interaction allows robots to be fully integrated into the business process and eliminates many of the issues associated with robotization.