---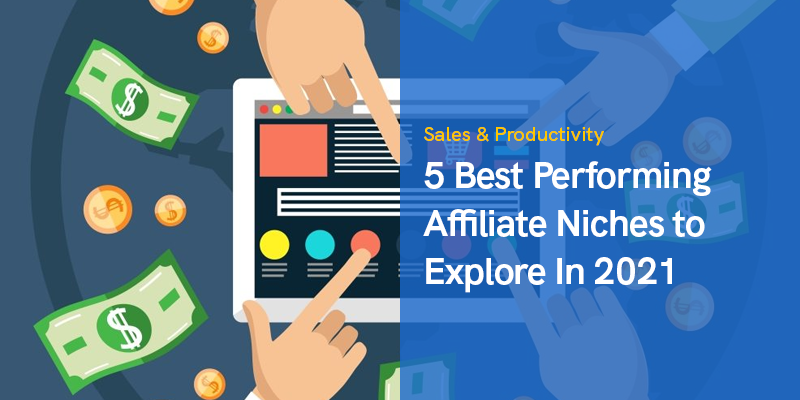 5 Best Performing Affiliate Niches to Explore In 2023
Affiliate marketing is expanding, and 2021 seems to be the perfect time to join in and get a piece of the pie. In fact, according to Statista, affiliate marketing spending should reach an all-time high of $8.2 billion by 2022. That number is staggering considering that it is triple the amount spent 10 years ago. 
But what does that mean? Well, simply put, the pandemic triggered a surge in online shopping, across every industry. As a result, the need for marketing has grown exponentially. Additionally, affiliate marketing has also become a source of revenue for people who lost their job during 2020. However, not every affiliate market is profitable, and not all programs are worth investing in.  
The 5 Best Performing Affiliate Niches
When it comes to affiliate niches, it all boils down to demand. For instance, you want to invest in something that will continue to grow even beyond the pandemic. That's why we took a look at the fastest growing niches, while also thinking about their potential to grow in the years to come. As such, here are the best performing affiliate niches that are worth exploring in 2021. 
The Finance Niche
As previously mentioned, a lot of people have lost their job as a result of the pandemic. In fact, as of October 2020, the number of unemployed people has reached 12.6 million. Why is that important? Because all those people will search for financial aid or advice. That's where affiliates come in, promoting financial services or guides to an ever-growing audience.
If you have an interest in personal growth, finances, or even the stock market, then this niche is perfect for you. Not only will you be able to put all your knowledge and dedication to work, but you will also be paid for it. You can even specialize in sub-niches such as: 
Stock market

Personal finances

Passive income

Credit loan

Loan management

Budgeting
However, you should know that the finance niche is a competitive one, with thousands of people looking to profit from it. As such, we recommend you start by reviewing financial products or services such as credit cards, trackers, and insurances. Additionally, you can focus on creating a high-quality financial education blog. And if you need a little bit more help, you can also join an affiliate network that specializes in finance.
The Gaming Niche 
Over the past few years, gaming has been getting more and more popular. According to a report by GlobalData, the video game industry is worth $113 billion, with the potential of reaching $300 billion within five years. That includes everything from console gaming to mobile gaming. And since millions of people are homebound playing video games, the gaming affiliate market is ripe for the picking. 
One of the biggest draws of this niche is the availability of content. With hundreds of companies launching a new product almost every week, you will always have something to talk about. From selling video games to strategy guides, each affiliate can find his own sub-niche:
Virtual reality gaming

Indie games

Mobile games

Montages

Console repair

Easter eggs
If you are interested in giving the gaming affiliate niche a try, you should consider heading to Razer, Zygor Guides, or Leprestone. All of them offer specialized affiliate programs and guides that could help you get started.
The Adult Niche
There is little to no doubt that the adult entertainment industry is and will be growing forever. More specifically, it is currently a $97 billion industry with an ever-growing target audience. That is especially true since adult sites have seen an increase in their traffic as a result of the pandemic. And while adult content is a controversial topic, the niche is a gold mine for affiliates. 
However, you should understand that the adult niche includes more than X-rated videos and pictures. In fact, the pandemic pushed the need for s-e-x toys, online dating platforms, and adult magazines. And since adult entertainment is still taboo, the competition is low, making the adult niche a great start for new affiliates. 
As such, you should take advantage of it by creating a website that provides useful information for people interested in adult topics. You can also refer people to adult websites using banners or links on your blog or social media page. The money-making opportunities of adult affiliate marketing are limitless.
The Web Hosting Niche
Since many companies are moving their business online, web hosting has become sought after. Because of that, the market is expected to grow to $183.18 billion by the end of 2026. But with so many web hosting services, companies are struggling to promote their products. As a consequence, most of them are choosing the affiliate marketing strategy. And with an average commission of $100 per sale, affiliates could strike gold by joining the craze.
Although, as you might imagine, this niche is highly competitive, there are still a few sub-niches you could try. For instance, you can start reviewing web hosts or you could teach your audience to create a website. Just remember that you should choose a reliable web hosting affiliate program. You can take a look at some of the best European hosting providers to get an idea of what to look for. 
The Website Themes and Scripts Niche
As a result of the ongoing pandemic, a lot of businesses are moving their work online, so the need for high-quality and versatile website themes and scripts has grown. Yet, few of them have any previous experience with designing a website, relying mostly on guides and online reviews. Hence, a lot of marketplaces are offering high commissions in order for affiliates to push their products and services. 
One of the easiest ways to join this affiliate niche is to write guides on building your own website. That way, you will be able to push specific themes and services right to your audience. Additionally, you can start by reviewing themes or templates, designed for different types of websites. 
From WordPress movie themes to online shop templates, there are a lot of sub-niches you could focus on. You can also take a look at a few affiliate programs such as ThemeForest, aThemes, and MyThemeShop. Just remember that if you decide to focus on reviews, you should only endorse products that you tried for yourself. 
Final Thoughts
All in all, one thing is clear — now is the best time to give affiliate marketing a try. If you have no experience in affiliate marketing, make sure to check some affiliate marketing courses. They'll help kickstart your career in the world of affiliate money-makers.
Once you're ready to launch a website, go with a reliable hosting provider such as AbeloHost. In case you already know how to get started, you will just need to pick the right product to advertise. 
Our best advice is to first research your audience and their needs. You can do that by asking yourself what their biggest problem is and what product or service would be the solution. Once you know your audience, it will be easier to pick a niche that fits you the best.
Additionally, you could start by joining an affiliate network. They will usually provide you with guides and tutorials in order to train you to become a successful affiliate. You will also be able to receive information regarding the most profitable niches and products. 
Nevertheless, no matter what niche you choose, you can be sure that joining the affiliate business will be a profitable endeavor.