---
6 Tips on How to Create a Successful Art Blog
So, you have excellent writing skills and a passion for art. That's an awesome combination if you plan on starting an art blog. 
There are many benefits to creating an art blog. It can be a great way for artists and galleries to increase their presence online. It can also be great for developing relationships with clients. An art blog also enables you to build a reputation. 
However, having the art (and writing) skills is not enough by itself. You need a strategy to create an art blog and make it successful. 
Introduction to How to Create a Successful Art Blog
Here are six tips on how to create a successful art blog:
Create a separate art blog from your personal blog
To create an art blog that's successful, you should focus primarily on topics related to a specific niche market within the art community. The aim is to build credibility and establish your niche expertise. Therefore, you want to write about the topics within your area of expertise that relate to the art you produce. 
So, even if you already have a personal blog or a website, create a separate one to talk about your art. Art fans don't want to know what you ate for breakfast. They're interested in you as an artist. 
Make sure that separation is clear even when you already have your art blog up and running. Refrain from writing about what you ate for the day or about your dog (unless your dog inspired you to create something beautiful). Stick to writing about art on your art blog.
Check out this example from Diane Eugster, a painter. Although Diane talks about her experience as a painter in her blog, she never discusses her personal life.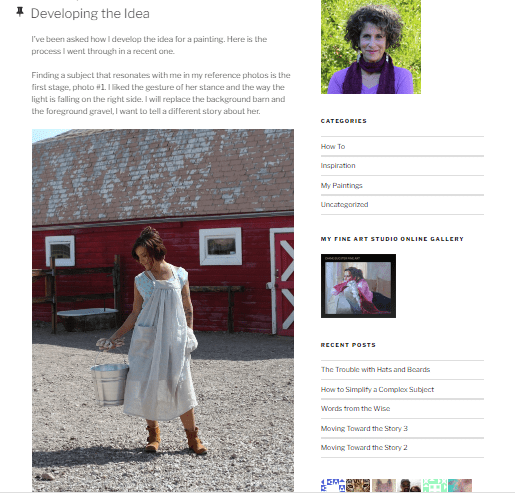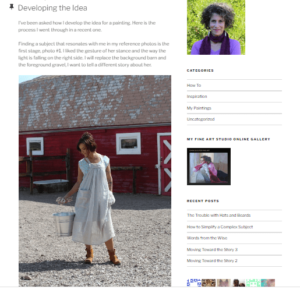 She talks about anything related to painting, from simplifying complex painting ideas to history.
Using this approach will make your content easier to find by avid art fans.
Define Your USP
What's the one thing that will make your art blog unique? You should think about that before you create an art blog and start writing your blog posts. Defining your unique selling proposition will enable you to structure your marketing strategy (more on this later). Once you've defined your USP, you'll center all your marketing efforts around it so people will know you're different from other artists in your niche.
Determining your USP can be as simple as listing down the things that make you different. For instance, if you're a sculptor, ask yourself, what kind of sculpting do I do? Maybe your sculptures are made of brass. Or maybe your theme revolves around animals.  
For example, Michael Chesley Johnson is a painter. But to stand out from the other painters out there, he packages himself as an expert in plain air painting and landscape painting: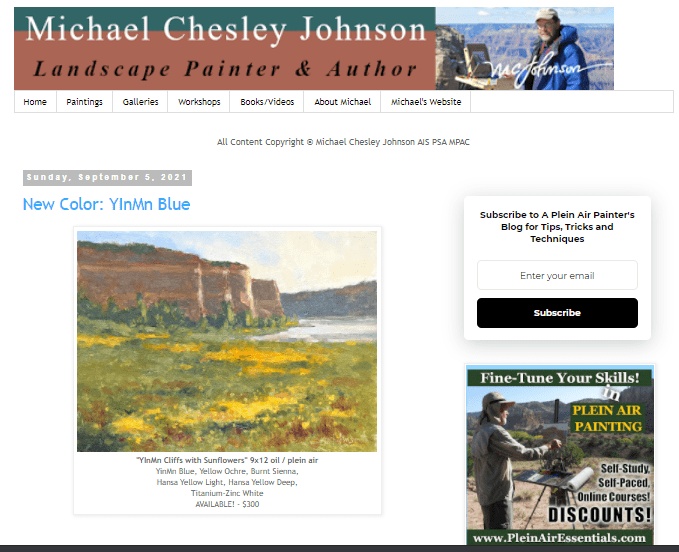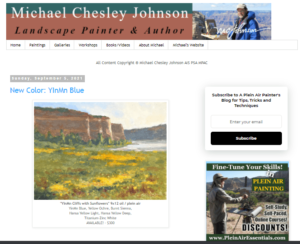 So, all the copy on his blog serves to emphasize that point. 
Make a list of subjects to write about
As a content creator, you should align your posts with reader interests by determining the right keywords to target. So, before you write a post, use tools such as Keywords Anywhere and AnswerThePublic to determine the keywords you should aim for. These tools can help you find the words your readers use when searching for art-related content within your niche. 
Let's say you want to write about Vincent Van Gogh. You'd have to determine what exactly about Van Gogh you'd like to write. You can do that by using the Keywords Anywhere tool. With the tool, you find Van Gogh's "Starry Night" is the second most-searched term by users.
So, you can create content centered around Van Gogh's famous painting. Your content should also be rich in that specific keyword. That increases your chances of people seeing your blog on search engine results pages when they search. It's also good for you to know other SEO techniques and implement them.
Don't just plan the topics you'll write about. In your content plan, include, too, when you plan to publish each post. That will depend on what you can handle.  If you can come up with three blog posts in a week, then specify that in your plan. Just remember that once you decide on your publishing schedule, you need to stick to it. The key here is consistency. 
Write high-quality content
Once you have your content plan ready, it's time to write your content. Make sure, though, that you don't just write what you know about the subject. Do your research, too. You want to cite trusted sources in your article. So, when people read your blog post, they'll perceive everything you wrote as credible and true.  
Make sure your content has a logical flow and is easy to read. It should be free of grammatical and spelling mistakes, too. Performing a quick grammar check can help you here.
You should also check for redundancies and identify where visual elements like pictures, graphic designs, charts, or relevant videos could be useful. Don't forget to cite your sources for these, though. 
Remember, It's better to publish a few posts that are really good than publishing many that are of mediocre quality. You'll only end up hurting your brand.
Manage your blog as if it were a business
Your blog is up and running. Congratulations! Now you need to think of ways to promote your blog.
The best way to do this is to manage your blog as if it were a business. How do business websites promote their products and services? Well, they do a lot of marketing.
You don't need to have a big marketing budget to promote your blog. There are many platforms you can leverage nowadays to get eyeballs on your content. Social media, for instance, is great for content promotion. 
Like any other business, you can also leverage email marketing to promote your blog. This can be done by creating an email list and sending recurring emails to your prospects, with a link that directs them to your latest blog post.
That's what Patricia Volk, a UK-based sculptor does. Spend a few minutes reading her blog and you'll get a pop-up that asks you if you'd like to subscribe to her mailing list: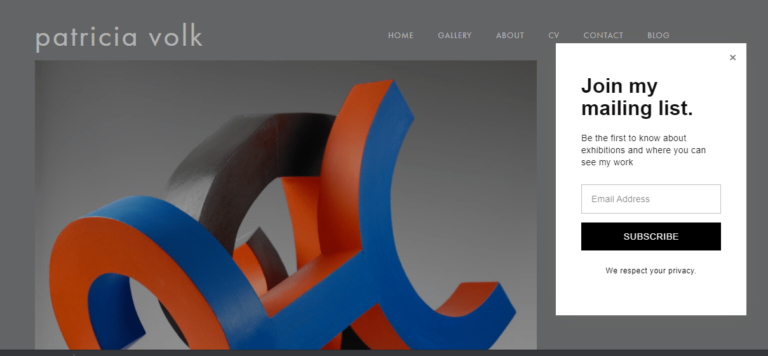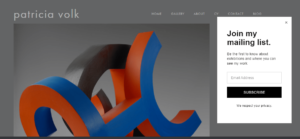 So, when you do subscribe to her mailing list, you can get emails about her work and where it will be exhibited. That's one way to stay top-of-mind with readers.
Define clear goals and milestones for your blog, too. For instance, you can aim for an additional X visitors to your blog every month. To keep yourself motivated, you can reward yourself each time you reach a milestone. 
Write for Other Sites in Your Niche
If you really want to make your presence felt and promote your blog, you'll have to write guest posts. Guest posts are posts that are published under your name on other sites. So, when people access those sites in your niche, they can read your post and know more about you as well. 
If you can place one to two natural do-follow links in each guest post, you can even drive traffic to your blog. Search engines and readers alike will view these as authority signals. That will result in a significant boost to your rankings. 
Amber King, for instance, maintains a blog on creative activities parents can do for children. To get other people to know her Kids Activities blog, she writes guest posts for other blogs in her niche. Check out this guest post she wrote for LifeAsMama: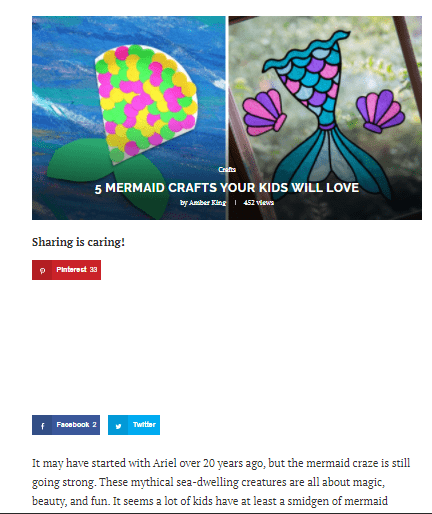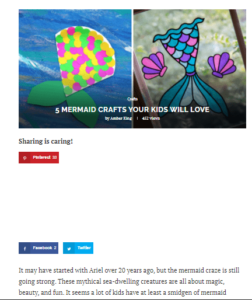 She even includes a link to her blog in the guest post to drive traffic to her site: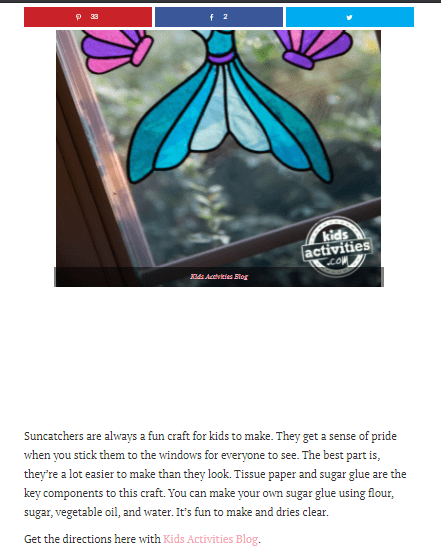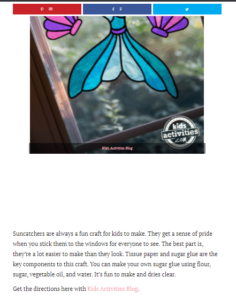 The images in the guest post also bear the Kids Activities blog logo, which is great for brand awareness and recall. 
If you don't have the time to write additional content, don't worry. You can hire a company that offers that blog posting service.
Wrapping up
When it comes to art blogs, the sky's the limit. You can use your blog as a way to create and share new work with your audience. It can also serve as a platform for information about upcoming exhibitions or seminars. 
Whatever your goal for creating the art blog, you need to be strategic. Separate your art blog from your personal blog and define your USP. Make a list of subjects to write about. Make sure your blog posts are also high-quality. Manage your blog as if it were a business. Use guest posting to promote your blog, too.
Follow the tips in this post to create an art blog that will wow art fans. Surely, your art blog will be a success.
Author Bio
Nico is the founder of Crunch Marketing. The company works with enterprise SaaS clients, helping them scale lead generation globally across EMEA, APAC, and other regions.