---
Software Developer Creativity: How to Be Inspired and Create Outstanding Things!
You never know when inspiration will hit you. It happens rarely, which is why many software developers try to talk to successful professionals or look online for inspirational ideas, stories, or quotes. Unfortunately, an idea generator in your head can't work 24/7.
It is most usuall that companies looking to hire software developers look for those who know more than a few theories or have a few years of experience. Creativity is one of the most important things for a developer.
Following your inspiration is a must-do. This could be a great idea for your next major software development project, career opportunities, networking, and more. As a software developer, you have all the tools you need to turn your inspiration into something incredible. You have a wealth of knowledge in software engineering and planning full-scale projects, so nothing stops you from turning your ideas into reality.
The funny thing is that it can come when you are not expecting it. You can do the dishes or do the wet cleaning around the house, forcing your brain to relax, which will allow it to wander into the most incredible depths of your mind.
We'll share what you need to do when inspiration strikes.
Let the Idea Settle in Your Head – Software Developer Inspiration
You won't experience daily inspiration if you try to force it. Inspiration always comes in the most unexpected moments. You can only direct your thoughts in anticipation of a good idea.
Many aspiring specialists are searching for software developer jobs in well-known software development companies such as Google, Microsoft, or others. However, you will not find offices of such companies in remote corners of the planet. Because of this, specialists agree to work in mediocre companies, where it is difficult for them to reach their potential.
If you are looking for ways to work in the company of your dreams, then you should explore all possible options. Now many companies are implementing nearshore software development, which you can learn more about in this guide, looking for one talented freelance software developer after another in different parts of the world.
This may concern not only your career opportunities but also something else. The main thing is not to resist ideas settling in your head. You can study information about what interests you and at one point a fantastic idea will appear in your head. Do not rush to consider each of your ideas as insanity, because it may turn out to be winning.
Weigh the Pros and Cons
Evaluating the Idea
A fountain of ideas may spring up in your head that you want to bring to life. Not all of them will prove worthwhile in the long run. You need to check if this idea is worth implementing.
Gathering Information and Seeking Feedback
If you are thinking about developing a new major project that should become a hit in the market, then collect as much information as possible and think about whether everything will work out for you. You can get the opinion of your family or professional colleagues, find out if there are similar products on the market, if you can improve what is already on the market, what is your budget, and much more.
Considering Budget and Market Analysis
As you start asking yourself sobering questions, you may notice that you start to lose the spark within you. However, nothing goes unnoticed. Even if you do not dare to take further steps to embody a lean software development project, you will still gain valuable experience. When developing your new project, you can evaluate its success much faster and start developing new software.
Embracing Valuable Experience
If, after asking sobering questions, you do not doubt that your inspiration is leading you to something good, you can think about further planning. Start prototyping and collect feedback at every step of your software development process, after which you will get an impressive result.
Conclusion
Inspiration is only a small part of your success. Much of your success comes from hard work and information gathering. However, this is the first step that will encourage you to move on. The specifics of your job have prepared you to not give up at the first sign of difficulty, so use all your tools to implement your successful ideas.
Recommended Posts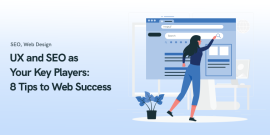 October 24, 2023