---
Updated: November 11, 2021
No Comments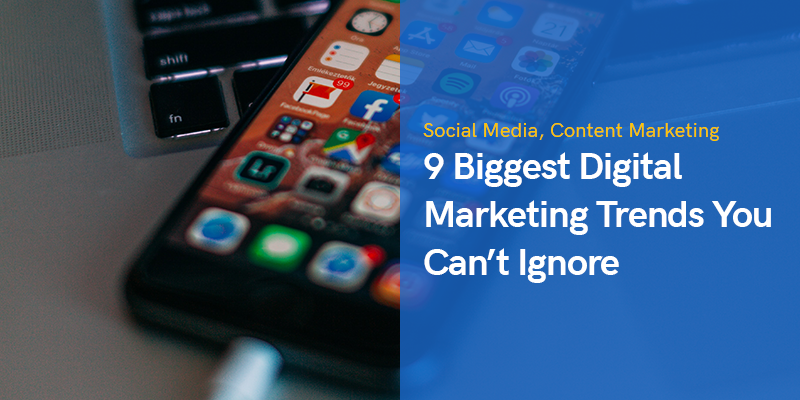 9 Biggest Digital Marketing Trends You Can't Ignore
A lot has happened in the world of digital marketing in the last year or so, largely due to the pandemic.
As a result, many businesses were forced to adapt to changing consumer behavior.
If you haven't been paying close attention, you might have missed out on several new advancements in digital marketing.
In this article, we'll go through the biggest trends in digital marketing that are too significant to be ignored.
No matter what type of business you are in, chances are there are plenty of ways for digital marketing to make a significant impact.
Top Digital Trends of 2021 for Your Marketing Strategy
The digital world grew a lot during the pandemic, propelling businesses forward and allowing consumers to get comfortable interacting with brands in ways they might have never before imagined.
The following nine digital marketing trends skyrocketed this year and have no signs of slowing down as we look forward to 2022.
Consider implementing them into your digital marketing strategy to grow your business, reach more customers, and stay ahead of the competition.
Artificial Intelligence Rules
There seems to be no limit to the ways artificial intelligence (AI) is making an impact.
AI has helped accelerate vaccine development in healthcare and is leading to advancements in vehicles through self-driving cars
In digital marketing, AI is being used by all kinds of companies to gather and analyze data.
You can use AI for more accurate sales forecasting, better communication with customers, and increased productivity.
If you can only implement one of the above seven ideas into your digital marketing strategy, prioritize AI as it will lead to several other trends.
For example, you can use AI to help create personalized messaging for your audience based on data that you've collected or even to develop content (just make sure to have a human look it over if you go this route).
Live Chat with Chatbots
According to Innovation Enterprise, most online conversations (85 percent) are powered by chatbots.
These software applications engage with real customers who have questions about your website, products, or services.
Instead of taking time away from a human, a chatbot can be incredibly helpful for answering frequently asked questions, such as "what are your hours?"
Don't worry; robots aren't entirely replacing humans.
When a customer asks a question the chatbot isn't programmed to answer, it directs that customer to a live human who is ready to answer more complex questions.
Thanks to the chatbot taking care of the more routine questions, human personnel have the time and bandwidth to manage larger customer requests and concerns.
"Quality" Content Is King
Content has been king for a long time, and content marketing has been essential for digital marketers.
These days, people are getting savvier when it comes to recognizing the difference between generic and quality content.
Whenever Google makes an algorithm update, it prioritizes high-quality content, pushing generic, inaccurate, and altogether unhelpful content lower in search results.
That means it's more important than ever to prioritize content, including blog posts, ebooks,s white papers, emails, and social media.
Several tools are available to help you create quality content.
For example, the SEMRush topic research tool can help you develop ideas for your company's blog.
At the same time, Answer the Public offers insight into the questions people are asking around your chosen topic.
Finally, if you don't have the time or skill set required to develop engaging content, you can hire a company like People First Content to ensure your content is unique and interesting for your audience.
TikTok is Huge
During the pandemic, people got bored.
And then they got on TikTok.
TikTok was the most downloaded app globally in 2020, and it continues to be popular today.
People love the format of quick, engaging videos.
The algorithm is unique compared to other social media platforms because it pushes content related to your preferred content to the top of your feed, ensuring that users are constantly engaged as long as they are on the platform.
Marketers can use TikTok for all sorts of reasons, including showing off the personal side of their business and educating followers.
You can create longer videos for YouTube or Instagram, then cut them down to short 10-second clips for TikTok.
Other Videos Are Flourishing
Video, in general, continues to grow and thrive.
While TikTok is great for short videos, YouTube is still an excellent place to publish longer videos that provide value to your audience.
You can incorporate video into your marketing strategy by creating several different types of videos for other platforms and audiences.
Use our tips for video SEO to create videos that deliver the kind of content your audience is looking for when they search on Google or other search engines.
Personalization Is Everything
Today's consumers want to do more than just transact with companies.
Instead, they're looking for ways to build relationships with brands.
For example, Amazon creates personalized wish lists when you log on based on previous buying behavior.
Another example is Netflix, which offers recommendations based on your viewing history and ratings.
That's why personalization is so important.
Using AI, you can analyze data you collect from users to create personalized experiences on your website, social media, and email campaigns.
Live Streaming Is In
During the pandemic, live streaming became popular as a way to replicate an in-person experience.
Now, people are used to watching live streams and are more comfortable with the format.
Businesses can use this technology to live stream everything from company events to product launches, conferences, webinars, and more.
Instagram is moving to a video-friendly platform, so try using Instagram Live for live streams, interviews, and discussions.
Voice Search Is Taking Over Text
Alexa, Google Home, and Siri have been around for several years, so digital marketers have been paying attention to the prevalence of voice search for some time.
Today, experts estimate as much as 20 percent of searches are done via voice search.
This trend will only increase over time as more people get comfortable with voice search and rely more heavily on their digital assistants.
To get ahead, write content that speaks in a conversational tone and answers direct questions people might ask their virtual assistant.
First-Party Data Is More Valuable than Third-Party Data
By January 2022, Google will be phasing out third-party cookies, which means it will be more challenging to buy data from third parties.
This means that it is becoming increasingly important to gather first-party data, which is data that only your business owns and has access to.
As a result, digital marketers will need to get creative when determining what they can offer that's valuable enough for consumers to trade it for their personal data.
Start Building a Digital Marketing Strategy
Hopefully, your business is already incorporating at least some of these trends into your digital marketing strategy.
However, it's not too late to get caught up on digital marketing if you're behind.
Consider which of these trends will meet the needs of your audience and help your business grow as you keep up with today's digital marketing trends and look forward to whatever tomorrow holds in store.
Recommended Posts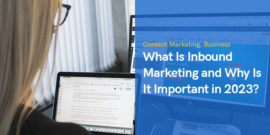 April 14, 2023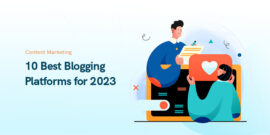 January 19, 2023