---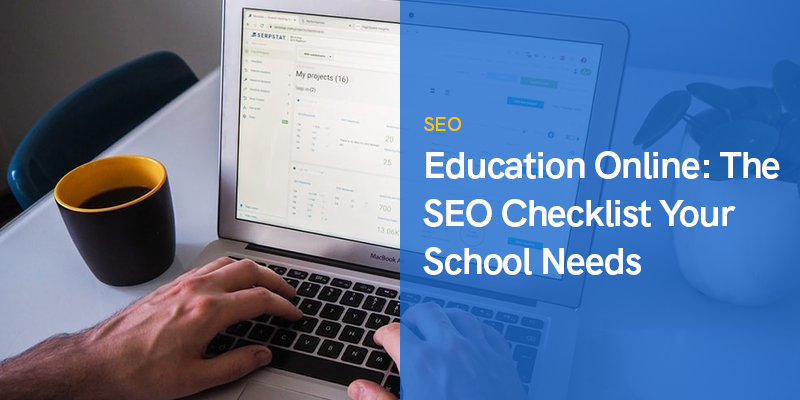 Education Online: The SEO Checklist Your School Needs
Schools are pillars of the community, but that doesn't mean they don't need solid marketing to go along with it.
If you're offering online programs, have special services or operate a private school, then you need the power of the internet to reach parents and caretakers.
Although the primary focus for a K-12 school's online strategy isn't to generate thousands upon thousands of new visitors, it should still boost your presence and provide a helpful, structured digital environment for your viewers.
Before starting your education SEO, it's important to understand what search engine optimization really is, how it benefits a school and what elements you need to focus on to bring the greatest value to your audience.
This guide will cover everything you need to know about SEO for education in five parts.
Skim through and find what you're looking for, or settle down and take it all in.
When you're finished, you'll be prepared to analyze your website, make meaningful changes and start producing high-value content for your school's pages.
What Is Search Engine Optimization?
SEO is a collection of best practices that help a website get seen more frequently in search engines.
It operates primary using keywords, the words that people type into Google or their preferred search engine when they're looking for information.
They can be simple, like "elementary schools in Los Angeles" or more complex, like "types of intervention programs for students with Down's syndrome."
Depending on what your school offers, using various keywords on your website can help parents, therapists and other members of a child's care team find you more easily.
This can result in an uptick in student enrollments as well as decreased call volumes and redundant emails.
When information is readily available to people online, they're less likely to reach out and keep asking the same questions.
For a busy school office, this can be a game-changer.
How SEO Benefits a School
Some of the greatest advantages of education SEO include:
Help parents find valuable academic resources through a blog.
Increasing brand awareness to establish the school as an authority in the educational field, especially in a niche sector.
Attract parents of potential students or potential teachers for hire.
Improve engagement between school and parents/guardians.
Help new members to the community find and choose your school more easily.
While the marketing practices for an elementary, middle or high school differ from traditional business models, they're still relevant in today's digital world.
It can be especially helpful if you're offering new services or have programs other schools don't like distance education, behavioral intervention and special needs support.
Tips for Improving Your School's SEO
The most important thing to do first is understand what elements of SEO are most important and where your site falls short.
There are more than 200 unique factors Google takes into account when ranking pages, and even marketing experts don't actually know precisely how the algorithm works.
Google keeps this out of the public knowledge to prevent people from manipulating the system as they have in the past.
The fundamentals of SEO for any school website will include responsiveness, visual media, keyword integration and updated content.
Responsiveness
Since most people access the internet on their phones, your website has to fit the size of their screens.
Old sites likely aren't designed to scale, meaning their size naturally changes to fit the screen resolution of the viewer.
This can result in some site's being unnavigable or even entirely unusable.
What happens if a parent is on-the-go and needs to find your contact information, or they're trying to research schools for their child but can't even read your site on their phone?
Luckily, responsive web design is commonplace in 2021, so you'll easily be able to find an affordable designer who can update your site.
Working with someone who has programming skills rather than strictly design skills is also recommended.
They can address any outdated, behind-the-scenes components, like your domain's age and site certification, to ensure your site meets all the basic technical SEO requirements.
Visual Media
High-quality images naturally placed throughout your site will bring the school to life online.
You will need express parental permission to feature any images of their children on the web, so please keep that in mind before you start taking any photos and posting them to your site or even social media.
You will also need staff to give written consent that they are okay with approved images of them being posted on a public domain.
The images you use should not overwhelm a page, but they should be used to create emphasis and establish visual hierarchy.
You can even create helpful resources based on imagery alone; a virtual tour of the school can help prospective parents make a decision while easing the nerves of incoming students.
If you aren't able to pay a professional to take images, you may want to look into how to do it yourself.
It's easy enough to take some decent photos if you have the right equipment.
You'll have to pay out of your own pocket, so consider taking out a small personal loan from a private lender to cover the cost of your investment.
A point-and-shoot camera, tripod and possibly some professional editing software will be all you need to get the perfect shots.
Keyword Integration
Keywords are the gateway to your site online; while many parents might just type in the name of your school to find its domain, there are plenty of others who will be researching educational topics or words related to your location or programs.
Research should be the basis of your keyword strategy, which means turning to the web to conduct some searches of your own.
Use a free keyword research tool to find the most relevant and trending ones in your sector.
Once you have a list, it will be easier to create new content.
Updated Content
You should update every page on your site at least once a year.
A blog is a good way to keep your site fresh and current in the algorithm.
It also gives you greater opportunity to incorporate those keywords you've researched.
For added authority and value, consider recruiting some teachers and educational faculty to contribute to the blog.
They could cover a range of topics related to education and wellness, even offering tips to help parents improve their child's learning outside of the classroom.
Remember to always have the spelling, grammar and subject matter carefully reviewed prior to publishing.
If not, you run the risk of having content that is filled with errors and harms your reputation.
Recommended Posts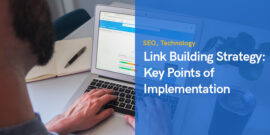 September 11, 2022