---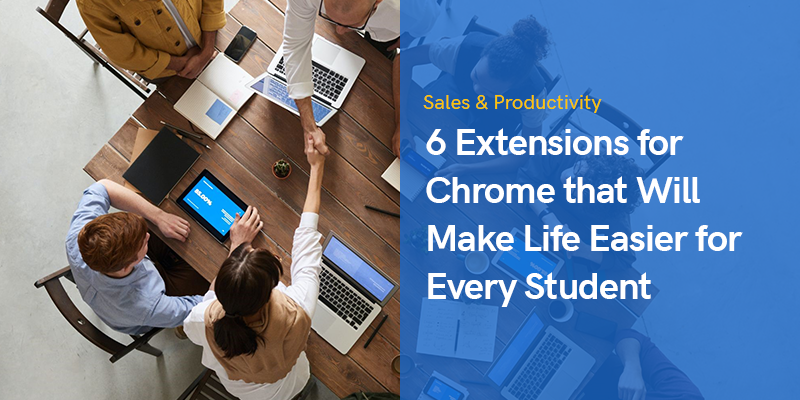 7 Extensions for Chrome that Will Make Life Easier for Every Student
With every passing year, technology becomes a bigger and bigger part of the average student experience of education.
Educational technology is constantly improving, and just about every teacher has found a way to bring digital technology and the internet into their classes.
In many ways, this has greatly improved students' ability to learn, as the internet offers them so many useful resources for just about every lesson college has to offer.
When it comes to the most common types of assignments that students encounter in university, such as essay writing and performing research, the internet offers a whole host of handy resources that have made student's lives a whole lot easier.
Students who struggle with writers' block, for instance, now have so many resources that up until now were not available.
Writing services is a normal part of most students' college experience.
Handy write my essay services offer students a ticket out of these stressful university experiences.
Beyond these types of resources, students can turn their browsers themselves into powerful tools to improve learning.
Google Chrome offers a wide variety of plugins designed to improve the productivity of young people in school.
If you are looking for the best Google Chrome screenshot extensions, check the following article: 10 Best Google Chrome Screenshot Extensions for Screen Capture
Extensions for Chrome that Will Make Life Easier for Every Student
Here are our top picks of Google Chrome plugins and extensions for students:
Lightshot

Lightshot is a handy browser extension that helps students to remember important information that they encounter along their research process.
The plugin allows students to take quick and easy screenshots of useful pieces of text, diagrams, and images that they can then save and add to their notes.
Visor

Studying for long periods of time can quickly take a toll on a student's mind and eyes.
It's common for students who spend many hours in front of a computer screen to experience eye strain and headaches if they do not take the correct precautions.
Visor is a handy Google Chrome extension that dims students' screens and filters out the kinds of light that lead to physical discomfort and make it hard to focus on studying.
This extension is installed even for university computers.
StayFocusd

Every student knows what it feels like to have an important deadline on the horizon and yet find themselves easily distracted by just about anything other than working.
StayFocusd helps to combat this unproductivity by suspending users' access to the most distracting websites on the web.
By using this extension, you can remove the temptation to check notifications and endlessly hit the refresh button on your newsfeed, and properly focus on your schoolwork.
Noisli

Another useful plugin for those who struggle when it comes to focusing, Noisli offers an innovative solution.
Rather than having to choose between listening to distracting music or uncomfortable silence as you work, Noisli offers a range of soothing ambient sounds to fill your space while you study.
The sounds they offer are customizable, so you can be sure to design a study experience that is primed for your specific preferences.
VoiceIn

Some students find it far easier to speak their ideas aloud than write them down.
VoiceIn provides an easy outlet for such students.
It is a Google Chrome plugin that allows students to speak their ideas or notes aloud and have them automatically translated into text.
This allows for a much smoother flow when it comes to developing an outline for an essay or following an idea when taking notes.
Kami

Kami is a Google Chrome extension that enables users to quickly and easily annotate documents and PDFs and save them to their notes.
This speeds up workflow by a massive amount and allows for the easy digital organization of notes across topics and subjects.
Wrap-up
These are just a few of the myriad Google Chrome extensions that students are making use of to improve their quality of study.
With the rapid pace of technological development, the possibilities for digital learning are only set to keep on growing.
Nevertheless, these plugins are a great place to start in order to use Google Chrome for learning.