---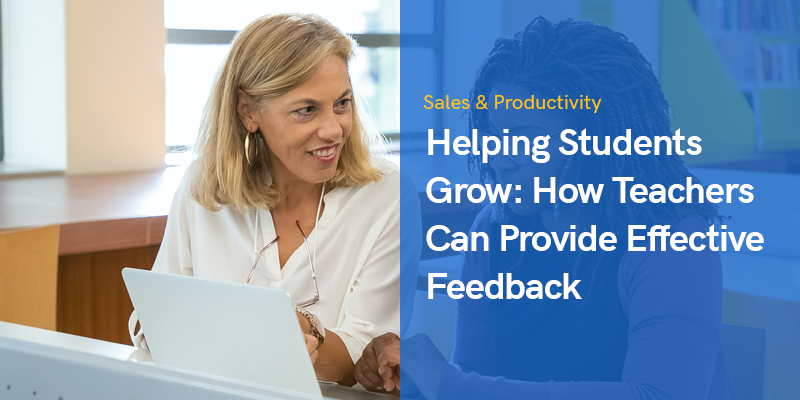 Helping Students Grow: How Teachers Can Provide Effective Feedback
"We all need people who will give us feedback. That's how we improve," said Bill Gates.
If even this world-famous business magnate, software developer, and philanthropist values feedback so highly, there can be no doubt about its importance for young people who are at the very beginning of their learning journey or are starting to walk along their chosen career path.
Timely words of encouragement and advice can help them avoid many mistakes and define the best route toward their goals.
However, many students are wary and sometimes even afraid of receiving feedback.
They see it solely as criticism and a blow to their self-esteem and ambition.
This is why it is so important for teachers to work out a system of effective feedback for their classroom and help their students start to view it as a privilege and an asset rather than a threat.
Every single classroom is unique, of course, and all the students are different, so there is no silver bullet that will help you learn to provide effective feedback under all circumstances.
However, there is one universal rule that applies to all situations: in the words of Robert Allen, a well-known economist, researcher, and educator, "There is no failure.
Only feedback."
Effective feedback can turn any difficulty, problem, or challenge into an opportunity for learning and improvement.
Today students have so many solutions at their disposal that can make their lives much easier.
They can use text editors, plagiarism checkers, essay writing help online, citation tools, and much more.
But so far, nothing can substitute detailed, individualized, and encouraging feedback that the most passionate and dedicated teachers give their students.
How Teachers Can Provide Effective Feedback
So, what are the key tips that will help you make your feedback more effective?
Make Your Feedback Constructive Rather Than Destructive
"Criticism, like rain, should be gentle enough to nourish a man's growth without destroying his roots," said Frank A.
Clark, an outstanding American lawyer and politician.
Start with some positive observations – there is always something to praise your student for.
When voicing critical remarks, pay attention to your tone and the overall delivery of the message.
Psychologists define 'destructive feedback' as feedback that is delivered in a harsh tone and/or criticizes the addressee's personal qualities rather than actions.
Such feedback can seriously damage your students' self-esteem and demotivate them.
Do Not Hold Back Negative Feedback
Without seeing their mistakes and learning to correct them, students will never be able to make progress and improve their academic performance.
However, do not forget to assure the students that every mistake is a learning opportunity and that you believe in them.
Karen Wright from Psychology Today specifies that "what hurts most in negative feedback, then, isn't the overt content of the message so much as the threat of exclusion, abandonment, and ostracism that accompanies it." Thus, your reassuring comments will make your students feel safe and open up for further dialogue.
Make Your Feedback Specific
General praise is pleasant but has no constructive element and is soon forgotten.
Focus on particular details – like this EssayService review – this will show that you have taken time to familiarize yourself with your student's work and truly want to help make it better.
Consistent and Timely Feedback Works Best
When teachers regularly provide students with feedback, it does not come like a thunderbolt from the blue.
Students learn to see it as a routine practice and react to it with much more understanding and enthusiasm.
And, of course, there is nothing better than timely feedback to teach students how they can learn from their mistakes and polish their study skills.
Look Into the Future
Do not focus on past situations that cannot be changed.
Instead, tell your students what they could do to avoid similar trap falls in the future.
For example, if they had trouble finding a reliable writing service, advise them to check essay service reviews first the next time.
This will help your students see making mistakes as a part of the learning process and develop their 'growth mindset.'
Make Room for the Dialogue
Offering your students to react to your feedback, express their doubts and concerns, and ask questions will make them feel noticed, respected, and valued.
Give them a chance to revise their academic attempts.
Come up with follow-up tasks.
Such an approach helps students improve their self-esteem and supports them on the way to taking ownership of their learning.
Be Candid and Authentic
Students will always feel it if you are not entirely convinced in what you are saying or are paying them generic compliments only to make them feel better.
Instead, try telling them of some real-life examples of people you know who have successfully overcome similar difficulties.
Share some personal insights and tips that you have worked out based on your life experience.
This will make your students feel that they are not excluded because they have underperformed or made mistakes.
They will know that you see their potential and want to help them reach it.
Wrapping Up
We hope that these 7 tips will turn you into a feedback guru! Effective and constructive feedback is the core element of a rigorous and supportive classroom climate in which your students will thrive and their talents will bloom.
It will also allow you as a teacher to see that you are playing a crucial role in your students' growth and being a positive change in the world.