---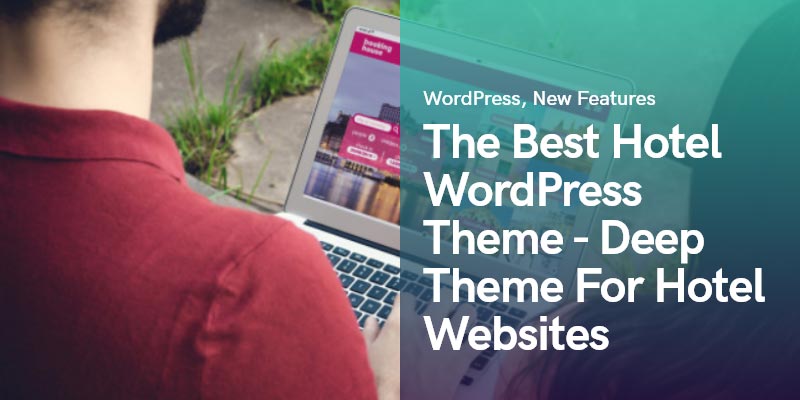 The Best Hotel WordPress Theme for Your Website – Exclusive Version of Deep Theme For Hotel Websites
How much is a hotel WordPress theme important? Are people complaining about your hotel not having a website in this modern era and they not being able to book one of your extraordinary rooms through the world-changing miracle of the internet? are they missing out on your special holiday offer just because you can't inform them without the use of costly traditional means? Are they frustrated because they can't log onto a page and click the "Reserve" button for a room? Then you need to build yourself a professional and well-trimmed hotel WordPress theme so that you don't leave behind in the new digital world.
In this guide, we'll tell you the key features of our hotel WordPress theme and why you should go with our theme. In addition, Webnus team went further and dedicated a WordPress theme for hotels comes with some extra features which we'll go over them thoroughly.
The New Feature of Deep Hotel WordPress Theme: What Do We Have in Store for You?
The advent of the internet solved one of the hotel owners' and their guests' biggest problems, which was finding a way to book a room without the physical appearance of the guest. As the internet matured and took over most aspects of our daily affairs, the traveling industry soon after fell under its influence. Hotel booking websites started to gradually show up and represent travelers and voyagers with a new, more convenient, and straightforward access to hotel room booking without the use of third parties or agents.
discussing your terms of and describing the ideal scenarios you have in mind for that vacation you've waited so long, is a toiling task. Instead, it is way better to take control of everything yourself and plan your travel with much more ease through a well sufficient website. An online platform that provides the best user experience for you as if you were already on your way to your destination.
Now that you're familiar with the gravity of having a hotel booking website let's see what our Deep hotel WordPress theme has for you.
If you are a hotel owner then you'll be well ahead of your competitors in this business as the seamless design of exclusive Deep theme for the hotels gives you an extra edge and provides optimum features for you. Moreover, all of your needs are met in this design.
Just click on the demo of this exclusive theme for the hotels and right after that insert all of the details and peculiarities of your hotel and accommodations for the traveler in any part of the world. The process is smooth and in a few moments, you'll set the required information and eventually your website.
Deep Hotel WordPress Theme Features For Hotel Websites 
Complete Hotel Booking System in This Hotel WordPress Theme
Booking Management
Room Management
Complete Hotel Booking System
Coupon Management
Reports + Multilingual Ready
Offline Payment Gateway
Customer Management
Multi-Currency
Extra Packages Management
Customer Management
Pricing Plans Management
Block Special Date Management
4 Payment Gateways
You can see the 4 demos for a hotel that included in the Deep theme.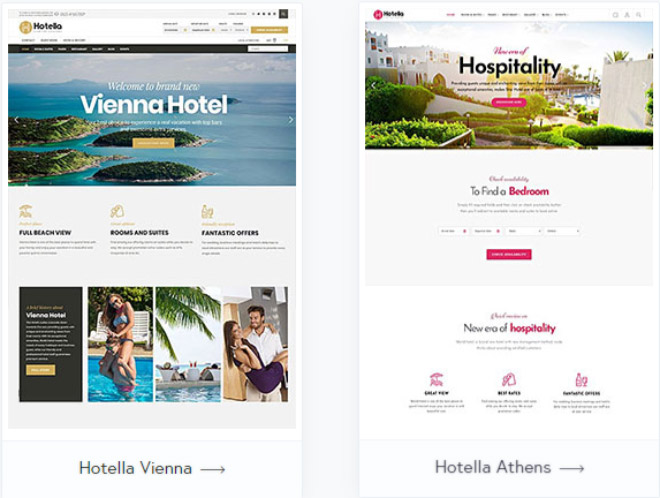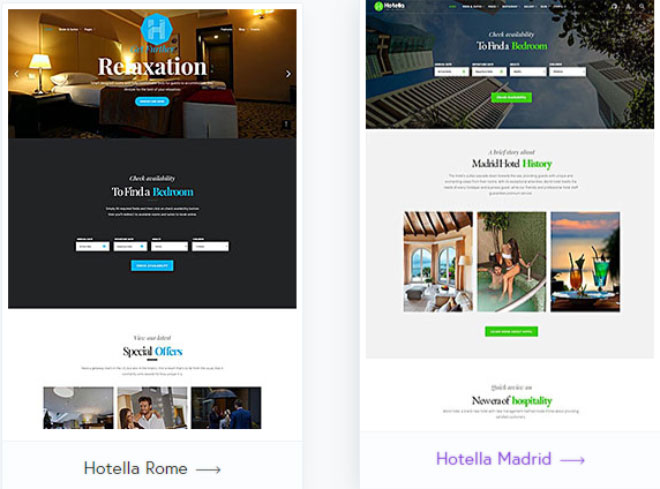 Madrid and Rome
Documents for building a website for hotel and booking using Deep hotel WordPress theme
WordPress Hotel Booking is a plugin available on Deep hotel WordPress theme which has all the features for building a website for a hotel and booking rooms, but that's not all! since it's add-ons give you full independence over designing your website.
You may need even more. Therefore, we provided some of the most useful add-ons in this hotel WordPress theme:
When you activate this plugin, two items will be added to your WordPress dashboard.
"Rooms" for room configurations
and "WP Hotel Booking" for booking configurations.
We will explain these Add-ons at the end of this article. Read the below section to easily and quickly learn about the add-ons.
Room Menu
By clicking on "Add New Room" you can create a new room and add name and description to it.
Also, you have to pick a featured image for every room. There are settings for every single room in the back-end which you can have access to them in the "Room Settings" section.
In the "Regular Price" section you can add a price for a room per day. Above that, there is "Gallery Setting", with which you can add more images from the room.
Add a new item for the gallery and add weekly prices in the boxes.
Room Setting (1) refers to the number of rooms in a suit and it could vary between zero to any possible number.
You can choose the number of adult residence in number 2, but it won't be available for the first time, so you have to go to the following path (as is shown in the image) and add the capacity feature to the room. Then adding the number of residences should be available to you.
The Capacity column refers to the number of residence and Ordering refers to the maximum possibilities for booking the room. You have to specify them so that it is shown in the reservation form. Dashboard > Rooms > Room Capacities
In item number 3, enter the maximum capacity of children (it's not needed to go to any path, just enter the number here from 0 to any possible number)
In item number 4, there are some more information and features about the room which are shown next to the gallery in front-end.
And in item number 5. there are extra packages for the room which could include the extra price for Wi-Fi, bath, or even a special line. You can add these items from the following path: Dashboard > WP Hotel booking >Extra Option > Add New Extra Room.
Choose a name and select a price for it. Also, you can add an icon.
Let's get back to step 5. Save the page and packages will be available. Now you can select a room and pick packages for it.
Other feature of deep theme for hotel websites that give your extra versatility
Alternate Prices in Pricing Plan
After adding rooms, you can put specific prices for a specific period of time for them or have different offers. You can access this feature in the following path: Dashboard > WP Hotel Booking > Pricing Plan 
After selecting the room and range of date for it you can then add different prices for different dates so if a user book a room on those dates, he/she will see different prices.
Coupon:
Block Booking
If you don't want to make your rooms available on specific days, you have to install WP Hotel Booking Block Room on your website and block the date in the following path: Dashboard >WP Hotel Booking > Block Special Date.
All you need to do is to select the days and rooms on the calendar. (Hold CTRL and select the rooms)
Main Settings
Using this article, you can adjust general settings like pages, currency, and settings like this. Additionally, you can access Hotel info, email settings and check out there.
Reports
WP Hotel Booking Report plugin is used for reports. You can see the new submenu by installing that.
Payments
If you are using WooCommerce for payments, you have to install the required plugins.
If you choose WooCommerce for payments, you should not use other payment methods of this plugin.
You can use PayPal instead of WooCommerce. For using Authorize Payment or Strip, you have to install their plugins.
Keep in mind that no payments can take place in Offline Payment, but booking will be done. So, turn this option off and just use it during tests.
Request your payment API KEY from payment services.
Go to Webnus hotel WordPress theme, you'd be able to insert the rooms and the type on your website.
Why Deep Hotel WordPress Theme?
Follow along and in this section learn about all the exclusive features od deep theme. Below you can see all you need to build a wonderful website for your hotel.
Deep Premium WordPress Theme
Our Deep themes are multi-purpose visually-appealing WordPress themes with lots of handy features and fresh looks that can boost up your hotel website and show off the best qualities of your lodge in an unmatched and exquisite fashion. With Deep, you will have easy access to a full demo of your hotel WordPress theme even before you opt in to buy the product. Here are some examples of tools that Deep theme has in store for you:
Visual Header and Footer Builder: If you're searching for one of the most attractive, most customizable, and cleanest tools in the world, then you're in luck. Our Header & Footer Builder can help you with visualizing ideas and insights at the beginning and at the end of each page. The deep theme has one of the world's best Header & Footer Builders with an emphasis on keeping everything visual. Your hotel WordPress theme couldn't look more mesmerizing!
Visual Page Builder: Our powerful and customizable page builders bring unique features to your website, which will make it stand out from all others. The "Elementor" is the frontier in "Drag & Drop" page builders that grant you live design and inline editing. Elementor can be accessed inside Deep theme, and you can use the shortcodes from Deep for Elementor widget to create eye-catching demos. WPBakery, Another famous Page Builder, surpasses the expectations of ordinary website owners. To boost up the experience of our customers, even more, we've also added some unique features to the mix for a  more convenient and memorable experience.
Professional Plugins: The deep theme includes an exclusive set of 30 well-known and premium plugins to give your website building a kick start. These are some of the best plugins out there to satisfy your needs entirely. A number of the plugins in the set include Jet Plugins for Elementor, Yellow Pencil, WPBakery Page Builder, The Grid, Ninja Popups, and etc.
Useful Widget: We all love the mini-icons of widgets on a website page since they give us the feeling and power of doing a whole lot of actions with just one click; they are just too darn cute and practical. Deep themes also pack a bunch of super useful newly-designed widgets according to the new methods.
Speed Optimization: This revolutionary feature was introduced with version 2 of our Deep Theme. Through this addition, CSS and JS elements will be loaded in source code pages, eliminating the loading of extra codes on the page. Because of this, pages' size will decrease substantially, and visitors experience far less loading time when jumping onto your web pages. This theme is optimally coded both for the desktop and mobile and it is light. Therefore, you can get the highest score from the google insight.
Flashy Demos: If you're one of those visionary business leaders who want to up-close observe every little detail and see how his website is turning out to be, then you would, in particular, enjoy Deep Theme Hotel Demos. These world-class demos have been created with utmost precision for hotel owners who want to know how they're website would look even immediately after importing the theme.
Some Extra Features Exclusive to Deep Hotel WordPress Theme:
Right from the get-go, we teased you with a couple of extra features we have thrown into our professional hotel WordPress themes, and time has come for us to fulfill that promise.
Overview of Deep theme Features 
Over 80 Modern Design Demos
Easy Setup & Importer
2 Visual Drag-and-Drop Page Builders
Header & Footer Builders
Library of Section Templates
Permanent Auto Update
Portfolio Publishing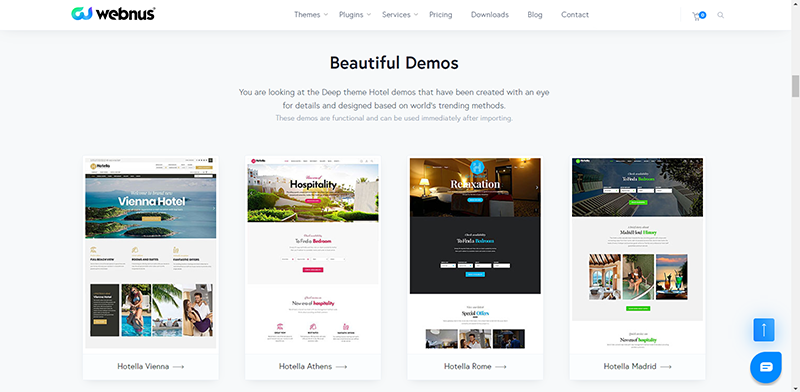 Check out Webnus Hotella WordPress theme page for Deep theme.
Recommended Posts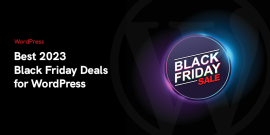 November 13, 2023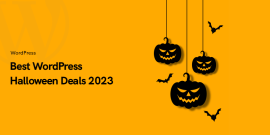 October 23, 2023