---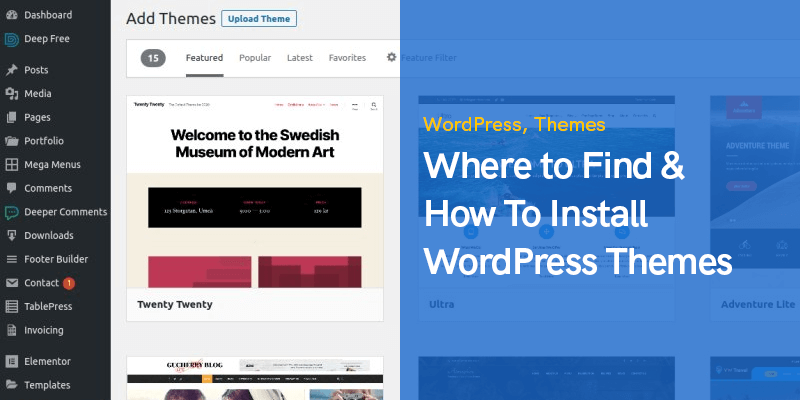 Where to Find & How To Install WordPress Themes
WordPress empowers 37% of all websites on the internet. If you want to build a website, use WordPress. There is no better choice for your business.
WordPress is the best Content Management System to manage content like blog posts, images, contacts, and so on. This is an absolute necessity if you want to grow your business in the coming years.
If you want to start a WordPress site, the first thing you have to do is to choose a WordPress theme. When you know which theme you want to use for your website, you need to install the WordPress theme.
As long as you do not have an Agency that handles this for you, you need to know how to do it. So if you want to know how to install a WordPress theme, you've come to the right place.
Here's what we'll cover in this article:
Where to find WordPress Themes
How to install WordPress Themes
Install WordPress Plugins
Let's dive right in.
Where to Find WordPress Themes?
No matter if you want to create a fashion blog to promote your Amazon Merch business or a blog about business opportunities for entrepreneurs, you need a WordPress theme to run your site.
WordPress is especially great because you can choose exactly how your website should look. Also, you don't need to know anything about coding.
There are MANY themes out there and you can easily choose between one of them. Whenever you change your website's theme, your content stays the same. It's absolutely perfect for people who have no clue about coding.
If you're just starting out, I recommend going with Deep Theme by Webnus. It's one of the best WordPress themes out there.
However, there are also a lot of alternatives. There are plenty of marketplaces out there where you can find a WordPress theme for your needs.
That being said, here're the best businesses you can purchase a WordPress theme from:
Webnus
WordPress Theme Library
Mojomarketplace
Themeforest
Elegantthemes
CSSIgniter
StudioPress
How to Install a WordPress Theme
After you've chosen a theme, head over to WordPress, click on Appearance, and go to the Theme section.

Then, click on Add New.

Then, click on Upload Theme.
You can also manage every other theme you've uploaded to WordPress. From this point on, you need to follow the instructions to install your WordPress theme.
However, you don't necessarily have to upload a new theme. You can also choose one within the WordPress directory.
You can filter themes according to:
Featured
Popular
Latest
Favorites
When you see a theme that you want to use, you can easily install it. As soon as the theme is installed, you can make a live preview. If everything is fine, click on Activate to finish the installation.
Install WordPress Plugins
A great thing about WordPress is that it's 100% customizable. You can easily increase the functionality of your website by installing plugins.
However, you need to be careful about installing too many Plugins. If you install hundreds of plugins to your WordPress site, it will be hard to manage them. Moreover, you'll get security problems with your website because it's unlikely that every plugin owner maintains the plugin correctly over time.
Yoast: Yoast is the most popular search engine optimization plugin for WordPress. All in all, there were more than 5 million installations all around the world. Yoast is created by professionals, so it will take care of the most settings and you should only focus on creating content and structuring those contents.
Deeper Comments: WordPress provides you with a standard commenting system. However, if you want to offer your users a better user experience, your best choice can be Deeper Comments is designed by Webnus, a leading WordPress theme and Plugin developer.
SmartSlider: Smart Slider 3 is the best slider plugin in the official WordPress repository with a 5-star ratings. You can easily build a slider with a drag and drop editor or you import a predesigned template.
Contact Form 7: Contact form 7 is a form creator with which you can manage and customize contact forms.
WPML: WPML is the most downloaded multilingual WordPress plugin with over 600,000 downloads for websites all around the world.
Modern Events Calendar: You can manage your events with Modern Events Calendar (MEC) very easy, fast and in a modern way.
Check out this article to learn more about the best plugins you need to have on your website.
Conclusion
Once you've set up your WordPress site and installed your theme, you need to make money with your site. If your site does not make money continuously, it doesn't make sense to create it.
But what's the best strategy to get more customers for your business fast and increase your revenue?
It's blogging. Through blogging, you can get more visitors to your site, which automatically means you get more leads, and finally, you'll make more sales.
What's important when you start blogging is that you need to write relevant articles.
What does relevant mean?
Well, let's say you sell fitness supplements. It would be good to write about topics like "How to eat healthy" or "How to gain muscle". However, it would be more effective to write an article about "The 10 best protein supplements".
Why? Because people who search for "The 10 best protein supplements" want to buy a supplement. The chance that they will buy your product is ten times higher.
That being said, focus on relevant articles if you want to achieve a high ROI with your site.
Recommended Posts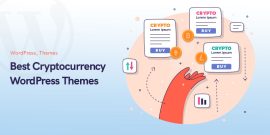 May 29, 2023