---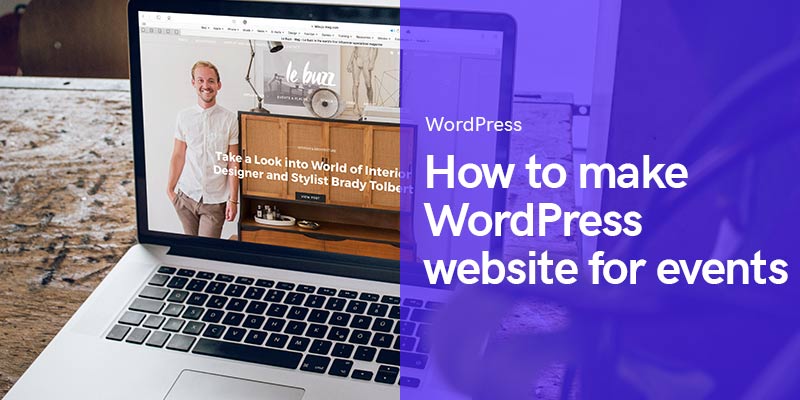 How to Create a Successful Event Website? | Checklist
By creating an event booking website you will be able to manage all your events and guests easier than before. You can create a platform in which all users could observe and choose what to participate without any complications. All services and booking possibilities are crystal clear and all users should do it to choose!
Every time you come up with an idea about starting a website, you probably think about WordPress, which is an excellent choice for any idea you've got such as a starting an online shop, an SEO company or even an event booking website.
In the previous article, we a checklist for choosing the best WordPress theme overall details, but in this article, we are going to talk about an event booking website. You're going to review what you need for such a website.
There are many factors that you have to consider for starting an event booking website. There are many choices on WordPress for this, but which ones are the best?
First of all, you have to choose a good hosting service provider. The most important thing for choosing a hosting provider is to pick a package which is specialized for WordPress.
Of course, there are many cheap WordPress hosting providers that are not equipped to handle many users, but if you are targeting a bigger community for the visitors, you have to think of some more expensive hosting services which provide you better servers for coping with a bigger amount of users. There are very good hosting providers which provide you many kinds of specialized WordPress offers and make sure that your servers are in good hands, but if you want our suggestion, you can look for WP-engine, Blue host, Site ground or In-motion hosting.
Although hosting and the server is one of the technical structures of your site, it directly effects on user experience by affecting on site speed. If you can't handle all of your users, you will lose them one by one.
Special Offer
We provide a special service for those who want to run a new website and want to purchase a hosting service. If you use the provided link and our partners' services for hosting, you can benefit discounts up to 50% and also receive Deep Theme (the best WordPress theme in the world) for free.
After choosing a good hosting provider, you have to choose a theme for your website.
We surveyed lots of choices between best WordPress themes for events and as you know, there are many different options for choosing a theme for your WordPress website of any kind. But if you want to always keep your standards on board, you have to search for multi-purpose themes in WordPress.
Although mono-purpose themes are based on your standard needs for anything they're offering, you have to keep in mind that maybe some time you would change your mind about the design and the services you are providing for your users. In that situation, the problem will be lack of anticipation for your new needs and in that case, you have to find plugins and third parties for eliminating the shortages. This is the exact point that reduces your site speed and which leads to putting yourself in danger of losing your users.
So multi-purpose themes could help you better. One of the best WordPress themes you can find is the "Deep"
Deep is provided by Webnus. A professional and talented team which provided this theme and many other products you can find in the WordPress market.
The Deep theme has got 50 different demos and you can pick one easily as you desire. All of the demos are designed for different kinds of business and they will be installed easily as a piece of cake. It got a great dashboard and you can control everything you think, it's fully responsive and also it got a great mobile version which as you know, is very important these days.
Back-up and Plugins
After choosing the theme the story just starts.
First of all, you need backup and help. The Deep theme comes with a child theme itself and it is very great because you can change everything you want and be sure that none of the updates and systemic changes is going to sabotage your handmade styles and manual codes you've entered.
For more help, you will need plugins. There are many irrevocable and essential plugins for a website, especially when you're trying to run an event booking website. Plugins like Yoast SEO, W3 cache and Jetpack are that improve your SEO status and user experience. The important thing is that your theme should support these important plugins and you could use them easily.
Content
For making the best user experience, you have to create great content. If you want people to attract to your events, you have to create a great gallery of your previous events to show to your users that they can trust you with your events. As you can see, the gallery is one of the most important parts of an event website.
The other thing is the descriptions of your events. You have to make tables for events information and crystal-clear and attractive descriptions for visitors to tell them what exactly will happen in your events. For example, you can see in this modern event calendar page that how your event page should be like.
Video
New trends of Digital marketing says that you need short videos from your previous events. The video got 50000 times bigger effect on the mind than text so if you want to grab some new user don't forget about the videos of course and don't forget about the SEO of the videos.
If you upload videos on your own servers it will have a better effect on your SEO but by doing this, you will slow your site down. For avoiding this, you have to pay more on hosting packages of your hosting service provider. You've got two options in my opinion.
First, you can create a video marketing strategy on YouTube and do it parallel to your website. In this way, you can make money out of your videos on YouTube and also links all your videos from your website to your YouTube account. But when you are new to the market, you got no user that trust you to follow you on your website or YouTube channel. You have to make the trust.
For new starters, I recommend video service providers like Akamai that provides you Video Content Delivery Network (video-CDN). As you know, all the social media links to your site by no-follow links. When links got a no-follow tag in their codes, they lose their value for SEO, so if you want to keep video SEO values on your website, you have to upload them on your own servers or use video content delivery networks. And also I have to add that if you upload videos on your website use Yoast SEO for Videos to get out the most possible from your videos.
By doing these things we can say that you have provided the substrate of your event website from now on we are going to talk about what you should have to do for a user that wants to use your services.
Consider you have a new customer. He or she wants to make a reservation from one of your bookings options. The first thing you need is a calendar which shows dates of events and the repeat intervals. The calendar should have various options for the user to make a reservation or book an event as easy as possible.
The best choice you can make in this matter is Modern Events Calendar.
With MEC you can categorize your events and divide them by category, tag, location, and labels and show them on your calendar. Possibility to add custom codes are provided and also, you can set a registration option for any event on your calendar, so all your events are clickable.
Modern Events Calendar Lite
The Best Events Management WP Plugin
Single day events
Multiple day events
All day events
Event locations system
Event organizer system
Never end events
Monthly calendar view
Weekly & daily view
Slider & carousel view
Grid & list view
Event widgets & sidebar
QRcode module
Repeat events
Shortcode creator
Filtering options
Google calendar integration
Reporting dashboard
Local time
Registration Form
The registration form is obviously crucial for an event website. All your efforts lead to registration, so it should the best and also the simplest part of your website. The most important thing you should do is to customize your registration form regarding an event needs. For example, if you provide 3 different kinds of services you have to make 3 different kinds of forms, so your users could fill it easily without any issue.
Good choices are available in WordPress.org that you can pick. Between the best form builder in WordPress, the best can be WP-Contact From.
Email Service
After booking an event by a user, you need follow-ups. You use it for further information and announcements and Email marketing plans. As you see, a good email service is very useful and important for marketing and remarketing so you need a good email service. Best choices you have should be something like Mail Chimp which is both available on the independent platform and WordPress plugin. There are many good choices in the market for email services.
Social Media
Social Media is on the most important parts of your job. Although your platform of work is based on the website, you have to announce your existence somewhere. Social Medias like Instagram, Facebook and Twitter are the bests right now and you have to keep social media in mind. The only thing that you have to remember is to pick a theme that is completely compatible with social media share buttons.
All job Done
These were the most important parts on an event website. You could use this full guide to start such a website, but if you are running one and wants to get more out of it, you could leave a message for us and we will help you.