---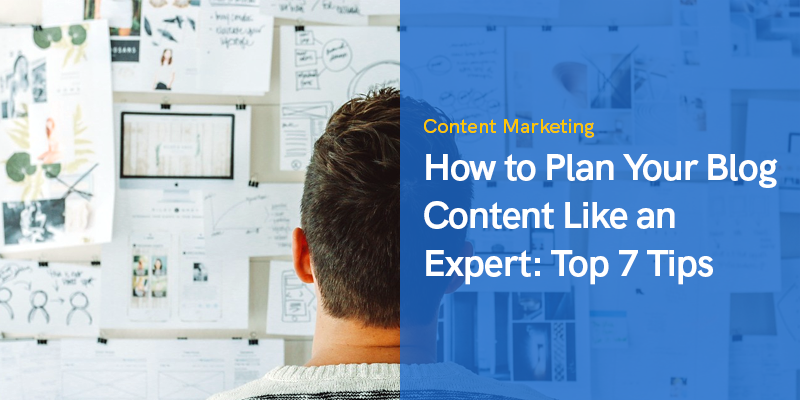 How to Plan Your Blog Content Like an Expert: Top 7 Tips
Many businesses struggle with their blog ideas but still keep providing a new post each week. The benefits offered by efficient blog content marketing can be huge. If you know what to post, how, and when, it becomes really exciting to deal with your blog. Besides, it is always possible to gain more benefits.
Many business owners use their marketing blogs for solemnly advertising issues. Still, it can have more than one purpose. The blog can be a great part of an effective marketing campaign for sure.
At the same time, it can be the best place to share the last updates on your business and recent news. It brings more subscribers who can be further turned into customers.
Once you know all the tips for successful blogging, you can upgrade the role of your blog. It can have more than a single marketing role. Even being an efficient marketing tool makes your blog a significant promotion instrument for your business. To gain all the possible benefits, you need to learn how to plan your blog properly.
You should take care of every aspect of your blog once paying the increased attention to blog content.
In this article, you can learn the most effective ways to plan your blog by the book. Besides, you will get some insights into the blog writing routine.
Top Reasons Why to Use a Blog as Marketing Tool
Before creating your blog, check the main reasons why and how you should use it as a marketing tool first:
The blog is your media
You own your blog content. Thus, you can provide any information in it. You define the main purposes of your content. Besides, you can share the last updates and recent news with your readers once it is your content. It can be an additional channel to communicate with your customers.
The blog is as effective as social media
Once you know the way to share your information through social media, you can use the same approach with your blog. Social sharing is a great way to reach your target audience. Often, blogs can be even more effective than standard social media in social sharing tasks.
Blog improves search optimization
You can use a blog to improve your content and optimize it suitably. Blogs mostly offer well-structured content. Thus, you can use keywords to assure an improved optimization of your shared content.
Blog improves sales
With great blog posts, you can reach more subscribers and turn them into happy customers eventually. Once you know how to show your product in your posts, you can assure improved sales. Customers adore getting the latest information on the offered product. Provide them with it, and it will improve the sales of an advertised product.
Blogs integrate an efficient CMS
You can assure efficient content management once offering blog content that is mostly low-cost and easily used.
Keeping Blog Content Healthy for Search Engines and Visible for Readers
Maintaining a blog on your website, you remember that it can both guarantee you good traffic and higher ranking.
Organic search engine traffic is typically of higher quality and comprises users who are actually interested in the subjects you write about.
As a result, these users are more likely to interact with your material and become loyal readers or even clients. Posts on blogs that are properly optimized can drive traffic for a long time.
Additionally, people tend to view blogs that rank well in search results as being more reliable and credible.
This can be achieved through key SEO techniques, and considering their complexity and numerosity, you should focus on on-page and off-page SEO most crucial factors: keywords and backlinks.
SEO tools and analytics can offer insightful data and information on the performance of your blog.
You may improve your rating by keeping track of the keywords that bring in the most traffic, the most popular content, your readership, and the sources that connect to you.
Give Your Content a Backbone
The main focus of on-page SEO is on your website's content and architecture. It guarantees that the keywords and subjects you wish to rank for on your webpages are pertinent to them.
Your inserting of relevant keywords into your content, meta tags, headers, and other on-page components should be strategic, and automated tools, such as SEO PowerSuite Rank Tracker, can help you with that.
Going through keyword research, selection, mapping, keeping in mind competitor analysis requires deep examination of keyword metrics, such as search volume, keyword difficulty, and more, and factors that impact its SERP positions
Tools provide you with multiple keyword research methods, keyword rank tracking opportunities, as well as a deep understanding of competitors' keyword tactics, letting you find your closest competitors first, then study the keywords they use but you don't, get a quick scan of their top pages.
Embrace those insights about the keywords that work well in your niche.
Support it with trustworthy referrals
Building high-quality backlinks from other websites to your own is the main goal of off-page SEO.
These backlinks not only ensure quality traffic to your page, but also are an important component of search engine algorithms, as they function as "votes of confidence" from other websites.
Variety in the sources of traffic to your blog is what backlinks are owed to.
Even if direct traffic and social media are beneficial, depending only on them might be constricting. It's through backlinks that your page finds a new relevant visitor.
Referral traffic creates you a win-win situation – high-quality referrals result in higher ranking and increased engagement and sharing.
Backlinks from websites that are in your niche or within your expertise might position your blog as a reliable information source in that particular field, which nourishes your ranking growth.
And collecting strictly authoritative backlinks will provide you with long-term benefits improving your domain authority.
How to Guarantee Quality Backlinks?
There are ways to find out whether your current backlinks serve you just right and the new ones will keep building up on your high quality backlink profile.
It can be done with the help of software, although its interface and load time might appear unnecessary in case you need to check a few parameters fast.
One of the applications or services that enable users to access and get data about backlinks pointing to a certain website or webpage is known as a SEO PowerSuite backlink API. But how exactly does it work?
API functions in a simple way saving time and space – you fill out a form, indicate what kind of data you want from the index, including your unique access key (API key), type the command into a web browser, and your data appears in the browser window immediately.
There are several command types and many more parameters, which ensures that you get a precise dataset that would fit your relevant request.
With a backlink API, which can also be integrated with Google Sheets, anyone can request a list of backlinks or backlink metrics for some website, even historical backlink data.
Why does this option happen to be so convenient? It is crucial to have the possibility to quickly check your backlink or update the data on each of them as often as possible.
Google often updates its search engine algorithms. Because of this, a website's ranking may change, leading some SEO experts to refer to this as the "Google Dance." Backlinks may be a factor in these shifts in rankings.
Malicious actors or competitors may try to damage a website's SEO by constructing spammy or low-quality backlinks to it, which is known as "negative SEO" webmasters are always worried about.
In contrast to numerous other SEO strategies that could undergo alterations over time, backlinks' significance for SEO has largely stayed steady earning for itself an evergreen value.
Tips on How to Plan Your Blog Content Resourcefully
To learn how to make your blog better, you should first check the most favorable methods to operate your blog as a highly-efficient marketing tool. With such a purpose, be ready to learn numerous tips and tricks.
It is important to know how to arrange and maintain your blog properly.
It is way more complicated than writing a research task or ask for research paper help from professional writers.
In this case, you have someone to assist you.
Once writing blog content, you should be detail-oriented and the one who knows all the possible secrets, tips, and tricks.
Create and Maintain a Strong Blog Basis to Support Your Marketing Campaign
To make your blog a highly-effective marketing tool, you need a strong foundation. You must work on the basics first. It means you must come up with original and interesting ideas.
First, use your original URL. You can easily use the entire set of tools offered by a self-hosted WordPress. It is better to avoid using any free platforms. Sure, you need to pay attention to the tools you use and the software you install.
Make sure to deal with the latest software and devices. The use of advanced technology is important. Besides, you need to assure proper technical support.
Know Your Target Audience and Its Requests
Before you start your blog, check your target audience and the nature of the requested content. Thus, be ready to learn your readers at the outset and their expectations about your blog content. It is better when you can focus on people who may be interested in your content.
Therefore, imagine that you write your posts for certain people or a single person. It will help you to come up with ideas the most suitable for your marketing campaign.
It is always important to recognize your target audience, its demands, and expectations to succeed.
Once making your blog, be ready to pay attention to every important detail of your blog at all times.
Create Your Efficient Content Marketing Plan
A highly-effective content marketing plan is obligatory. You cannot start your marketing campaign with a blog without a proper plan. Besides, this is a complex process that includes a few stages.
Therefore, try to prepare your plan in advance. You should write down every important marketing event on your calendar.
Planning every event is a part of the plan. You should come up with a hook to gather the required audience's attention. Moreover, you can come up with any additional events to promote your product in your posts.
You must come up with attention-grabbing ads. Besides, it is important to create a weekly calendar to manage your events. You must also assure extended content to be shared. You can use any visual aids you need, including SlideShare tools.
Optimize Content to Improve Efficiency
Content optimization is an important issue. Therefore, you should learn how to write perfect content and optimize it accurately. Every writer must assure original and flawless content. Besides, it should be optimized for search.
It means they must contain keywords and be created for a target audience. One student can reach an assignment writing service for help with papers, and you can focus on the best techniques to assist you with your blog content.
If you must assure optimized and flawless content, check the next key points to get ahead:
Integrate your brand into every post and piece of content;
Assure the strong link between your post and the brand you advertise;
Optimize your blog content for search;
Format content due to the requirements;
Adapt content to the target audience's needs.
With a good list of keywords, external and internal links, you can assure wanted search-friendly pieces of content. It is more than simple custom writing work. It requires some calculations and planning.
Plan Your Content Promotion Moves
It is never enough to simply share new posts time after time. Everything must be planned. Therefore, you must assure a successful promotion campaign strategy.
First, you need to check your main goals. They will help you to plan your moves. Always remain aware of your target audience. You will win nothing if you do not promote your product to the right people.
The plotting of your next moves can take time. Still, better take your time to plan your promotion campaign. There is a lot of work to do. It is more difficult than to order an assignment writing help online.
The planning process usually includes the following stages:
Assure automatic delivery of the blog content to your readers;
Share your blog content via social media platforms used by your target audience;
Add social sharing buttons to your blog posts to let the readers share your content easily;
Expand your target audience once using third-party media and advertisers;
Be ready to improve and modify your blog to the market needs constantly.
Add Efficient Aids to Your Blog Content
To make your blog content more prominent and target-oriented, you can add some aids to your blog. Nowadays, bloggers often deal with video and audio files to promote the advertised product or service.
You can use any aids that add additional interest to your product. Feel free to use any creative solutions, original designs, formatting, etc. Make sure the used ideas and aids fit your product promotion campaign goals perfectly.
Constantly Monitor Your Marketing Results
No matter how good your blog content is, despite the fact that this should remain your primary concern, the healthy approach to keywords and link-building can play a decisive role.
Especially when it comes to finding a quality audience.
Smartly selected keywords and distinct mapping, as well as natural backlinks, built on the principle of link diversity, coming from authoritative resources and placed within an appropriate context will shape a positive strategy for your content visibility and traffic growth.
And remember, you can always disavow a harmful backlink to make sure nothing interferes with your progress.
It is important to stay constantly aware of your progress. Thus, make sure to monitor your content marketing results. Check your metrics and define whether they fit your expected numbers.
Reach for customers' testimonials and feedback. It will give you a chance to adapt to any changes and optimize your content quickly. Besides, with regular feedback, you will be able to improve your content constantly.
Recommended Posts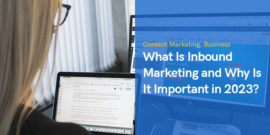 April 14, 2023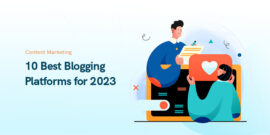 January 19, 2023