---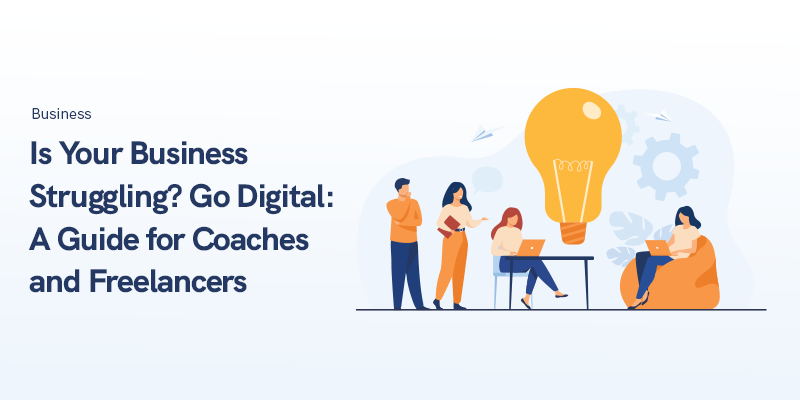 Is Your Business Struggling? Go Digital: A Guide for Coaches and Freelancers
When you think of digitalization, what comes to mind? Is it the fact that your favorite music is now available on Spotify or Pandora? Or how about when you use an app like Venmo to pay for something without having to carry around cash and wait in line at the bank.
Digitalization has changed our world profoundly, but not all businesses are embracing it yet.
Why Is Digitization Important?
In short, it makes everything easier and more convenient. Nowadays, even if people want to go out shopping, first they look for what they want on the Internet to get a feel for the prices and the market, and then go out to shop.
Some of you probably remember those lines in front of the Apple or Sony stores when a new product was to be launched. But now, you can just order it online in 5 minutes and have it in your hands without too much trouble.
As a coach or freelancer, you might not always sell products, but you are selling a service. And you can employ these digital tools to expand your clientele and business.
Just think of how much this could improve how you work – not to mention increasing your sales!
What are the benefits?
So what are some of the things that are gonna help you grow your business by using digitization tools?
Customer support
Customer support should come first if you want to keep existing customers and increase conversion rates. With a poor customer support desk, you can easily break your business. One of the simplest ways to improve customer support is by allowing customers to engage with your brand through different communication channels.
You can also leverage business text messaging services for customer support, recruiting, sales and more. Using business texting software can have a significant impact on the success of your marketing campaigns.
Nurturing leads and increasing sales
Various tools such as Google Analytics give you detailed breakdowns of your business operations and you can use those data to plan and guide your business to better results.
To follow the example above, professional marketers and business leaders also realize that leads prefer to engage with sales reps through messaging compared to phone calls.
Text messaging gives a sales team an edge over the competition by helping representatives communicate efficiently with leads and customers.
It has the highest click-through rate and open rates compared to emails and social media. Almost every mobile phone user is most likely to read their messages. It means when a customer gets a message on their phone they are likely to read and get the information.
Marketing made easy
Marketing is useful to any business that looks forward to increasing its sales. Companies employ different methods when it comes to marketing and reaching out to prospects.
One of these is using digitized campaigns on social media that can boost your recognition and help improve your referrals.
How to do it?
Here I'm going to give you some tips and avenues to try out in your journey to go digital with your services.
Use Social Media To Showcase Your Coaching Or Freelancer Skills
Many freelancers are using social media today to showcase their skills or expertise, build up a following, or develop links with other influencers in their industry. Examples include sharing blog posts about topics related to freelancing.
You don't have to limit yourself to just one social media platform either. For example, while some coaches and freelancers may find networking on LinkedIn rewarding, others might want the instant feedback and customer reach of Twitter.
You just have to think about who your target audience is – which demographic uses which platform?
Once you really get started with social media, it can seem like an endless rabbit-hole of possibilities. But chances are that there's a lot more ROI in it than a newspaper ad or TV commercial ever could.
Learn & Utilize E-signing Options for Paperless Contracts
E-signature options are becoming more and more popular for new contracts between coaches, freelancers, and clients. E-signatures can help create an electronic paper trail so you always know who has the most recent version of your contract – no more wondering if it's still valid or not after months have gone by!
Not only that, but e-contracts also save time on all the printing and mailing involved with making a physical copy for each party. This is especially important if you're working on tight deadlines (and who isn't?) since every second counts when it comes to completing tasks like sending out papers or talking on the phone.
Just be sure to use a reputable e-signature provider like Jotform Sign, Docracy, DocuSign, DottedSign, HelloSign, or PandaDoc.
They all offer free trials so you can test them out and see which one fits your needs best for your business.
Automate Your Customer Reminders With Email & Texting
Have you ever wondered why email providers now send those annoying "you haven't logged in lately – do it now!" emails? There must be some reason why these reminders are automatically sent out, right?
Your customers or clients may forget about their next session or simply wind up needing some extra encouragement to get started. By using email, you can send out reminders of upcoming sessions, pending payments, or even updates on their progress.
Digital marketing likewise includes using digital innovation that consists of push alerts, SMS, and MMS to connect with users on internet-connected gadgets.
And here's where the magic of technology unfolds—imagine supercharging your engagement strategies with API solutions for your transactional and marketing emails. This isn't just about sending messages; it's about optimizing your outreach to a level of efficiency that transforms the way you interact with your audience.
SMS (text message) notifications are another great tool to use with your coaching or freelancing business events like appointments and scheduled Skype calls.
SMS can also be used for payment reminders via PayPal, which is incredibly convenient for both the customer and the freelancer!
Direct text messaging is one of the hottest and most popular customer engagement channels any business can use. Short code texting can transform your sales, whether you are selling, offering service, or delivering tangibles to local customers.
When you use direct SMS to keep in touch with customers, you can build meaningful relationships with your customers. However, you should get a texting service to manage your conversations.
Whether you are sending information alerts, appointing reminders, or marketing, you can quickly achieve success. Bulk texting enables you to reach out to many customers and keep them all in the know.
Make Collaborations with Other Coaches and Freelancers
Collaborating with other coaches and freelancers is a great way to get more work done without having to do it all yourself. If you're providing a service that has multiple steps or takes significant time investment (like design or writing), then splitting the work between freelancers could be well worth your while.
You can also use collaboration to get access to things you don't already have. For example, if you're a coach or freelancer who specializes in language learning but you're not very strong at design work, then hiring an amazing designer could be the best choice!
Another solution is to join freelancing websites that promote your services. When considering how to scale a coaching business, signing up on such freelancing sites is undoubtedly a must.
One such example would be Fiverr. Fiverr is an online marketplace for services starting at $5.
Another one would be Upwork. Upwork is one of the largest online marketplaces where people go when they need help with an idea or project that requires expertise in any field (from design to engineering).
A third example is Freelancer. Freelancer is one of the world's largest online marketplaces for freelance services, with more than 13 million registered users and over 6 billion dollars in annual turnover.
Provide Support Via Video Chat & Messaging Platforms
With this digital age we live in, it is highly likely that most of your coaching or freelance business will be conducted online with not just typed words but images and videos as well!
That's why it makes sense to provide support on platforms like WhatsApp where your clients can communicate with you and ask questions whenever they want.
As a coach or freelancer, this is an excellent way to build trust and authority: you show that you're accessible and available to help even when they can't be in the same room with you (because we all know how face-to-face time is so important!).
Clients are also much more likely to open up when there are no physical barriers between them and the coach/freelancer – it creates a safe space for exploration. It also helps avoid misinterpreting body language or other things that may not come across well in text chat sessions!
Stay Organized with Google Drive/Google Calendar
No more losing track of files, searching for drafts, or forgetting appointments! If you know that your business will be conducted mostly online this is a great solution.
Everything can be saved onto the cloud instead of taking up space on your computer. If you want to make sure no one can access your information without permission, you can also store it all in Google Docs which requires a password if someone tries to open it on another device!
You can share certain documents or folders with clients if you want – for example, a contract that needs to be signed and returned before the coaching program begins.
This solution is also easy because it's all accessible from any device since everything is hosted on Google's servers. For freelancers who may need to work from multiple locations, this is a huge advantage!
Final Thoughts
Thanks to advanced technology, the ways you can digitize your business are endless! The internet is a real tool to increase your profits, thus, it is vital to take advantage of this amazing resource.
Whether you choose to offer your services on freelancing sites or other digital methods, when it comes to the internet, there are many ways to scale a coaching business.
Recommended Posts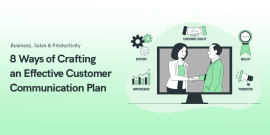 November 7, 2023