---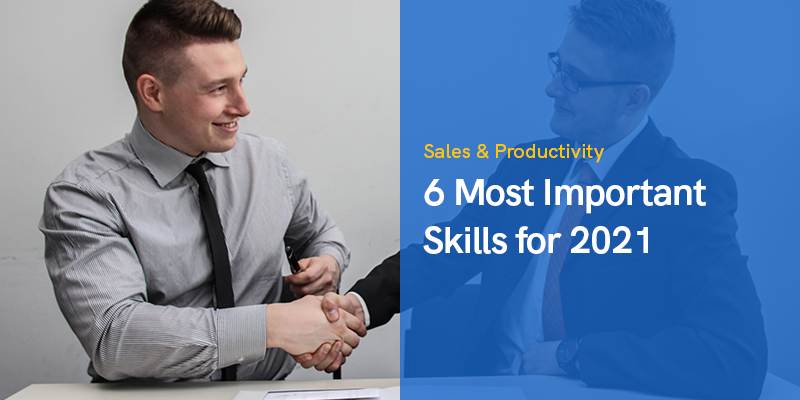 6 Most Important Skills for 2023
2020 turned the tide for most job seekers, workers, and employers. Unemployment rates set a historic record in the U.S. alone. More than 50 million people applied for unemployment benefits from the start of the pandemic to the end of last year.
In many fields, competition among applications is more cutthroat than ever before. So, while standing out has always been a way to tweak the odds in your favor, now it's a necessity if you want to land a job.
But even those lucky few that kept their positions throughout the disastrous 2020 shouldn't get too complacent with their current skillset. Even if they're not too vocal about it, employers want to see every one of their workers develop and improve their key skills, be it technical or soft ones.
So, what competencies are valued the most in the still-in-the-middle-of-the-pandemic year 2021?
First Things First: Hard vs Soft Skills
Unless you're new to the employment market, you must be aware of what hard and soft skills are. At least you've heard of them. To bring everyone to the same speed, let's do a quick recap of what they are:
Hard skills are about specific job-related tasks and experience with software. Think about Adobe Creative Suite and Java programming. The skills are obtained either through training and education or work experience.

Soft skills are transferrable and universal, i.e. they can be used in any field. Take, for instance, communication, creativity, and critical thinking. While there are some courses on soft skills out there, the latter is mostly developed through life experience.
If you ever had in mind something like "When I write my resume, I should add the Skills section", you probably had only the hard ones in mind.
But if you follow through on this, you may find yourself in a pickle. According to LinkedIn's 2019 Global Talent Trends, 92% of recruiters find soft skills as crucial (or even more crucial) for work as hard ones. Zety's survey reflected the same trend: 61% of interviewed recruiters put them above technical ones.
So, never dismiss your soft skills. This is especially true for entry-level jobs that require little to no professional experience.
6 Most Valuable Skills in 2021
Every single recent study and survey on the matter comes with slightly (or even substantially) different results.
Still, there are six competencies that end up on the list most often:
Communication & Teamwork
This is the long-time favorite among hiring managers, and for a good reason. All jobs require communicating with other people to some extent, be it customers, colleagues, or superiors.
2021 comes with a new spin on these competencies. Apart from communicating and collaborating in-person, most workers now need to engage in these activities online, too.
Any remote worker knows: collaborating online is one of those experiences that are a far cry from their offline alternatives.
Time Management & Self-Discipline
Although they mattered before the pandemic as well, in 2021, these competencies rank quite high on employers' priority list.
After all, these two competencies are a prerequisite for any truly productive employee. 
Avoid this misconception, though: time management isn't only about scheduling tasks. It's about allocating your time wisely.
It's about knowing what to do and when to do it. For example, it would be smarter for night owls to put off more analytical or creative tasks until the afternoon or evening.
Basic Computer Literacy
Most jobs out there need at least a basic understanding of how to use a computer as a tool.
So, one can't build a career today if they don't keep up with such basics. Just as with the two previous aspects, the demand for computer literacy soared since the beginning of the pandemic.
In most cases, being "computer-literate" is synonymous with knowing your way around:
Google G Suite (

Docs and Sheets) and/or Microsoft Office Suite (Word and Excel);
Consider enrolling in a course for Excel or Word as part of the Microsoft Office Suite or Google G Suite (Docs and Sheets) to expedite your skill development.

video call apps (e.g., Zoom, Skype, Google Hangouts);

messengers (e.g., Slack, Microsoft Teams, Zoho Cliq);

project management tools (e.g., Trello, Zoho Projects, Microsoft Project);

cloud storage (e.g., Google Drive, Microsoft OneDrive, Dropbox);

basic online research.
Research & Analytical Skills
Speaking of research. Information (and what you make of it) drives any decision-making process.
Don't be fooled: every job will require an employee to make a decision. It's only the scale of its consequences that varies.
Everyone needs to make sense of the megatons of information available within a few clicks today. To do so, it's imperative to possess a strong analytical mindset and critical thinking. In other words, finding information quickly is useless if you can't gain any insights from it or verify it as reliable.
Adaptability
2020 has also taught employers how precious adaptability is as a competence. Yes, it shouldn't be dismissed as a personality trait – being flexible and adaptable is a skill. This means anyone can gain it if they regularly step out of their comfort zone and learn how to cope with new situations quickly.
As a competence, adaptability entails being observant enough to notice changes, showing initiative and strong problem-solving capabilities, and coping well with stress.
Continuous Learning
It is often perceived as an aspect of adaptability, but it deserves to be recognized as a separate highly valued competence. That's because knowing how and when to learn is less obvious than some think.
It's in high demand because the world has sped up. Think about the lifestyle of an average person 10 or 20 years ago. The internet and smartphones weren't as integral as they are now. Adapting to such changes requires the ability to learn.
Honorable Mentions: 6 More Skills That Remain in High Demand
Apart from the above-described six skills that have taken the center of the stage in 2021, the following six competencies remain in demand, too:
emotional intelligence and empathy;

attention to detail;

organization skills;

creativity;

problem-solving;

leadership.
In Conclusion: How to Describe Your Skills in a Resume
Competence assessment is a lengthy and demanding process. It involves a lot of self-reflection, too. But once it's done, the next step is presentation. Here are 3 tips on how to make the Skills section work on your resume:
Keep it short and simple. No one has time to read a paragraph on each skill. Describe them in a list. You're going to be asked about them more substantially during an interview.

Make your skillset relevant. Focus on the requirements the company included in the vacancy description. Don't be too shy to use the exact same phrasing to get past the resume-scanning software.

Ensure it's a bot-beating resume. Most companies use an applicant tracking system (ATS) to scan resumes for keywords before a hiring manager sees any of them. To beat this level, include exact phrases from the listing, keep fonts and design simple, and comply with formatting requirements.