---
Updated: February 26, 2023
No Comments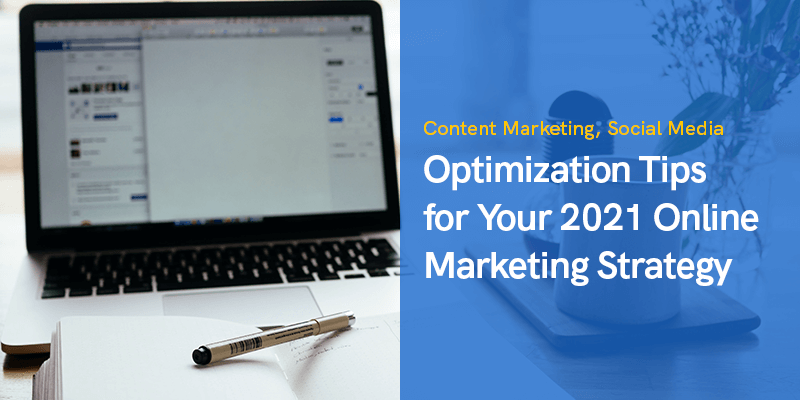 Optimization Tips for Your 2023 Online Marketing Strategy
If your business is growing, then wanting to expand your marketing efforts is only natural. However, with tons of options available, you may not know where to put your focus on.
How do you start? What should you invest in? What should you avoid? These are just some of the questions that may linger in your mind. 
Luckily, you do not have to feel overwhelmed any longer. In this guide, we will discuss the ways that you can optimize your online marketing strategy. Let's get right to it.
15 Tips for Optimizing Your Online Marketing Strategy
Make 2021 a good year for your business with these smart optimization tips:
Get to Know Your Target Audience
How well do you know your target audience? What are their interests? What are their pain points? Where do they spend most of their time online?
You cannot start any marketing effort without understanding your target market first. To know which messages to send and where to send them, you should know what matters to these individuals.
There are all kinds of tools that can help you research your audience, so there is no excuse not to create tailor-made content for them. 
Create Engaging Content
Content is always king. Whether it is your website, a blog post, a video, or an email, every piece of content you publish should be of high quality. It is not only about having visually appealing graphics or inserting keywords in specific places. It is also more than having grammatically correct posts. 
Engaging content should have interesting titles, a distinct voice, accurate data, and a crystal-clear call to action. 
Take Advantage of Automation
With marketing automation tools, you can save your business a huge amount of time and money. These tools help you maintain efficient processes, spend less time on basic tasks, and give you useful data on your marketing campaign performance.
You can use marketing automation tools to track what is working and what is not. They can also help you plot out your campaigns and determine their impact.
Technology has transformed marketing thanks to advanced software like these. Therefore, it makes perfect sense to include it in your overall online marketing strategy.
Leverage Data and Analytics
Any brand that wants to become successful should make use of marketing analytics and analysis technologies.
Take Google Analytics, for example. This handy tool gives you insight into how your website is doing. It shows you how much traffic you have gained over a span of time, where that traffic is coming from, and what your audience is like. 
Besides that, you can also use social media management tools to find out which of your posts are getting the most engagement. And, if email marketing is one of your strategies, then there are tools that can help you check open rates, bounce rates, and click-through rates, among others.
With all this data, you can fine-tune your overall strategy and direct your money and effort to things that are actually working.
Concentrate on Search Engine Optimization
Search engine optimization, or SEO for short, is one other way to up your online marketing game. However, this particular tactic is not optional—it is essential.
Obviously, you want your website to appear first when people search for a certain word or phrase on Google. Otherwise, how will they know that you exist? Search engine optimization helps your website rank well enough for people besides your employees and loved ones to see it. 
To optimize your site for Google and other search engines, you will need to do things, such as:
Keyword research

Keep site loading speed to a minimum

Check analytic tools

Site audits

Fix broken or redirect links

Get backlinks
Maximize Social Media
Social media has made a major impact on the world. Platforms such as Facebook, Twitter, and Instagram have changed the way people interact with one another. Social media has also provided digital marketers with all kinds of opportunities to make their brand known to a wider group of individuals. 
What's great about social media marketing is that it's much cheaper than traditional methods of marketing AND it's more effective. After all, people are spending more and more time using their phones and checking their accounts for the latest updates.
You can use social media to interact with existing followers and attract new ones using on-brand messaging. There are even ways you can see how well a particular campaign is performing. Therefore, if you aren't already on social media, then you are really missing out on a major game-changer. It can do wonders for your brand. 
Make PPC and Retargeting Your Friends
Paid search can help your business a lot. It helps you appear to people while their intent is high and your product or service is something they can use.
One benefit of paid search is that you can enjoy more traffic and conversions almost instantly (depending, however, on what you offer). Another plus is that you can have a low budget and still gain results.
On the other hand, retargeting is the process of displaying ads to people who have engaged with your brand in the past. More often than not, only a small chunk of site visitors will convert during their first time. Most people will bounce. However, you can get these visitors back and committed to converting by retargeting. 
Just a heads up, though—retargeting may not be for you if your site traffic is not that much. You may want to concentrate first on getting users to your website.
Invest in a Quality Web Design
Sure, your company has a website. But, try and see things from your audience's perspective. Can you actually say that your site is better—or at least at par—with the competition?
Remember, your website is the core of every one of your digital marketing efforts.
So, you want to make sure that it is something worthy of your viewers. It should attract their attention from the get-go, load fast, and easily give them the information they are looking for. Also, your site should be optimized for mobile. 
Consider Email Marketing
Email marketing is still one of the most effective channels for generating leads and revenue, but it does have its challenges. There are people, for example, who just delete every email in their inbox without even glancing at the subject lines.
Or, there are emails that simply end up under Spam or Promotions—making their intended audience unlikely to see them.
What can you do then? Well, to optimize your email marketing strategy, you need to keep your goal in mind at all times. Know why you are sending the email in the first place. If open rates are an issue, then why not try testing different subject lines? You can also check whether your brand's emails are being received in your contacts' primary inbox. If they aren't, then there may be spam trigger words.
Here are some other tips to improve your email marketing:
Optimize your preview text.

Stay away from high-resolution images.

Send the right amount of emails (not too many and not too little).

Segment your lists.

A/B test different colors, fonts, CTAs, and the like.
Have a Blog and Keep It Updated
There are several reasons why you need a blog. Obviously, it gives you the opportunity to rank for more keywords and show up on the top results of Google.
But, more importantly, your blog is the perfect avenue to establish your brand as an authority in your niche. It is where you can provide advice, helpful tidbits of information, and show your audience exactly what your brand is. Make sure you update it often with fresh content to build a following. 
Refine Your Marketing Message
You have established your target audience. Now what? The next thing you need to do is create messages with these specific individuals in mind. 
Your audience will be way more interested in your brand if your emails, blogs, and social media posts personally appeal to them. Think about where they are in the customer journey. Never make the mistake of following a one-size-fits-all approach. 
If you are running different campaigns at the same time, then you want to avoid overlapping audiences. Otherwise, you are going to confuse them. 
Encourage User-Generated Content
People always get their things from brands they love. That is why we included promoting user-generated content on this list. You see, UGC is powerful because it shows potential customers that your audience trusts you. 
These are some examples of user-generated content:
Social media posts

Blog posts

Reviews

Photos and videos
Create Effective Landing Pages
When done right, a landing page can help you win customers. You want to make sure that as soon as they see the page, they know exactly what action needs to be done. 
Here are some tips on how to create landing pages that convert:
Make it relevant.

Add content that relates to your campaign.

Establish clear branding.

Add strong calls to action.

Include trust elements.  
Get the Timing Right
Timing is everything. If you know what events may affect your business, then you can plan accordingly and use them to your advantage.
Take, for instance, events like Black Friday and Christmas. These are times when people are more likely to spend. Therefore, you can hold a promo or offer a discount. You can also make your blogs and posts on social media relevant to what is currently going on in the world.
Maintain Consistency Across the Board
This is a no-brainer, but it is often overlooked. By maintaining consistency, you can ensure that your audience enjoys a familiar experience every time they interact with your brand. Think colors, brand logos, tone of voice, and the like.
Throughout their journey, your audience should feel that they got exactly what they expected. You do not want them to feel confused halfway through. 
Wrapping Up
Optimizing an online marketing strategy takes a lot of time and effort. But if you stay committed, then you are setting your brand up for success. Just have a clear idea of what your goal is, how your target market behaves, and what you can do to make every marketing effort get across.
What do you think is the most important optimization tip? Let us know in the comments!
Recommended Posts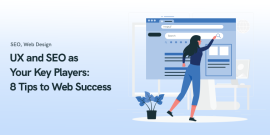 October 24, 2023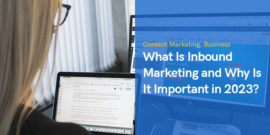 April 14, 2023