---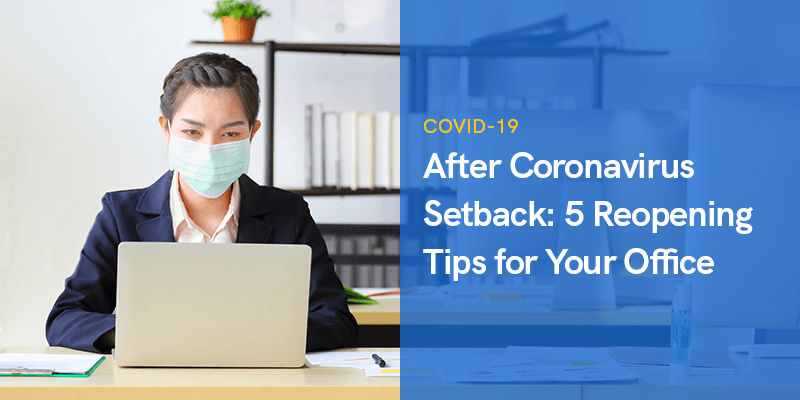 After Coronavirus Setback: 5 Reopening Tips for Your Office
The coronavirus pandemic is upon us and by the looks of it, it's not going away any time soon. But work has to go on – remotely or otherwise.
More than half of American workers have office-based jobs, and if you're among them, you probably miss the little things like grabbing a cup of coffee, chatting with coworkers, and more.
Most businesses are now adjusting to the demands of the pandemic by hiring office design companies to safely reopen their workspaces.
An experienced office fitout company will relocate furniture and workstations within 6 feet to encourage social distancing, this applies to reception areas, break rooms, and workspaces – basically, any place where people meet.
An experienced office design company will relocate furniture and workstations within 6 feet to encourage social distancing, this applies to reception areas, break rooms, and workspaces – basically, any place where people meet.
Reopening Tips for Your Office
Health experts are continuously revising their guidelines to help offices reopen safely based on new research, among the highlights are:
Wearing masks indoors at all times
Implement stagger shifts to limit the number of people who can occupy elevators
Replacing water coolers, coffee pots, and snacks with single-serve, individually wrapped items.
Disinfecting areas like bathrooms and kitchens frequently
Improving air filtration and veneration
Install a sneeze guard glass to prevent the spread of germs
The sheer number of moving parts is daunting – you not only have to completely redesign the office space, but you also have to change staff behavior, right down to how work gets done. This will take time.
Even big tech companies like Google, Facebook, and Twitter are unable to implement OSHA-compliant changes right away and have asked their employees to work indefinitely until the foreseeable future. Businesses in other areas, too, are looking at long-term solutions for work-from-home options.
Human Behavior is Key to Reopening
Simply restructuring the office space and creating new policies is not enough – it is necessary to change norms and human behavior at a subconscious level.
Experts believe that safely reopening offices squarely depends on human behavior. And humans are creatures of habit. In order to make your office redesign plan successful, you must engage at least five sources of influence that shape human behavior. This includes:
A comprehensive moral frame
Peer pressure (in a good way)
Social support
Scorekeeping
Environmental changes
Note: A negative COVID-19 test only indicates that the person doesn't have the virus now, it does not mean the person will not acquire the virus later.
11 Precautions to Follow While Reopening Your Office Space
Below are 11 precautions and best practices that collectively engage all these sources of influence. Not engaging in these practices will drastically reduce the odds of meaningful change.
If an employee tested positive and was present in the office premises for 48 hours, employers should disinfect the area based on the CDC's cleaning and disinfecting guidelines. Trained cleaning personnel should be deployed to disinfect all areas used by the ill employee, especially the surfaces they contacted frequently.
Additional cleaning and disinfection are not required if it's been over 7 days since the ill employee visited or used the facility.
Use wipeable covers to disinfect electronics such as touchscreens, keyboards, ATMs, remote controls, and tablets. As a general rule, use an alcohol-based wipe that contains at least 70% alcohol to thoroughly dry the surfaces.
Employers must create guidelines to protect employees and provide the necessary training for cleaning staff before assigning any cleaning tasks. This training includes information about PPE, when to use them, how to put them on, when to use them take them off, and train them on how to dispose of PPE the right way. This also includes training on the dangers of cleaning chemicals.
Require all employees to stay 6 feet apart at all times. This may include limiting occupants in offices and elevators at any given time, requiring office entry and exit points to remain closed when occupied, closing the kitchen area, and restricting spacing.
Hire an office design company to reconfigure and redesign work desks, stalls, and workstations to create adequate distance between individuals.
If possible, limit one person to one vehicle.
Improve ventilation in the office space by installing high-efficiency filters.
Redesign how employees clock in and out of work so they don't have to resort to touching each other or touching the same equipment. Restrict the sharing of devices like headsets, microwaves, refrigerators, tools, computers, and other equipment.
Keep commonly used doors open to avoid retouching of handles.
Install sneeze guard glass or glass barriers in areas where people are required to meet, talk, and exchange materials, including customer service workstations and secretarial desks.
Employers need to create procedures for handling employees who test positive for the virus after the business re-opens.
Health experts recommend creating policies for 'contact tracing', which involves identifying employees who have been exposed to people with confirmed COVID-19. This means sending notifications to other employees, customers, contractors, vendors, and others.
According to Helene Melby Brodersen, Head of PR, Brand & Communication at Eco Online, "The crisis of the pandemic of COVID-19 has changed many rules on health, environmental, and safety issues. For companies to be on top of the situation, they need to change their processes to adjust to the new rules."
Leading with Example
The behavior at the top brass trickles down to the rest of the organization. To make the new policies a success, leaders must take a stand in front of employees to demonstrate the commitment to best practices.
It's not enough to issues instructions and call it a day, people have developed muscle memory and will simply go through old motions without even knowing it. You have to retrain their muscle memory to adopt a new, safer, OSHA-compliant practice.
Win the conversation with moral messaging to change behavior, which is best done by relating stories of affected family, friends, or clients.
Create Accountability – Show Gratitude
People become complacent with the rules when they see lack of accountability. Employees must be told that they are responsible for both their actions and those of others around them. The idea of 'snitching' does not apply in a context involving safety.
If they see anyone violating COVID-19 policies, they are to politely remind them of proper protocol with a simple, "Please" will do nicely. For example, "Please wash your hands after handling equipment."
The person being corrected should immediately respond with "Thank you" followed by compliance.
These simple acts of gratitude can significantly improve hygiene practice and compliance in a matter of days.
Leaders Should Perform Daily Rounds
Supervisors should use a checklist to measure compliance results and take disciplinary action where necessary.
They can walk in the area unannounced and observe the degree to which policies are being practiced. It is recommended to keep a score and publishing it publicly for everyone to see – embarrassment can be a powerful motivator to follow safety policies.
These scores should be published publicly, every day and denoted with a 'grade'. An example could be Green for 95%+, Yellow for 80%+, and Red for <80%.
These practices may feel inappropriate at first, but when leaders are observed to take practices seriously, they will be able to change norms much more quickly.
Final Word
Lock-down measures are being lifted around the world and the same is expected to happen in the UK very soon.
Thus, you must now start thinking about how to safely bring back employees to the workplace. Set up a plan on how you can implement the above-explained safety measures.
When it comes to modifying your office setting to make it a safer place for employees, you need to choose a reliable office design company.
Recommended Posts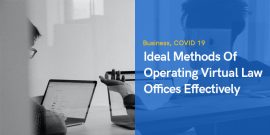 October 11, 2022
November 1, 2020
September 21, 2020