---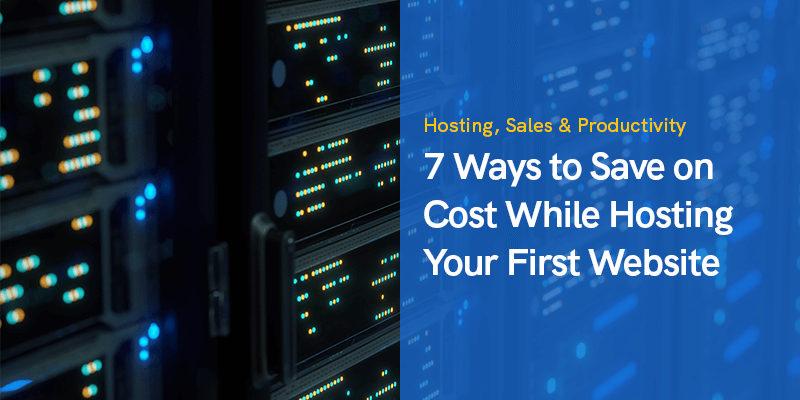 7 Ways to Save on Cost While Hosting Your First Website
In today's internet era, online presence of a business plays a vital role.
It helps your business to get the reach it deserves.
In order to make your company's name felt over the internet, you need to opt for hosting of your website.
Now you must be thinking what does hosting actually mean? Well, web hosting is nothing but buying some space for your website files on the internet. however, there are very different types of web hosting, and VPS hosting like RDP servers online.
Meanwhile, we are not getting into them for now!
Having a reliable website hosting is a boon for a business. It will help to turn your viewers into your customers and ultimately increase your revenue.
But, remember not to be fooled by web hosting platforms.
Many hosting platforms demand a high price which is usually not affordable by most of the business. If you too have been facing this problem, You are at the right place.
This article will take you through ways using which you can save on cost while hosting your first website.
In case you're using WordPress for starting your first website, here is a comprehensive list of best WordPress hosting companies: 10+ Best WordPress Hosting Services
Importance of Web Hosting
As discussed above, web hosting is nothing but the space you buy on a web server to store your web files.
With the help of a web hosting account, your website can be easily accessed by anyone and everyone on the web.
Hosting also protects your data and safeguard it from hackers and viruses.
By opting for any of the best webhosting providers from the market, you can make use of excellent services like Deep WordPress theme, Modern Events Calendar Plugin, Speed optimization, SEO optimization , etc.
Save on Cost While Hosting Your First Website
You just started your business and it is your first website. You must be looking for spending your reserves wisely.
Don't worry! We have compiled 7 best ways to help you save big for hosting your first website.
Making Use of Coupons and Deals
With umpteen web hosting platforms available today, the competition too has increased.
To overcome the competition, many companies like GoDaddy, HostGator, Bluehost, Hostinger, etc, roll out the coupons to save up to 77% on your hosting plan.
You must not miss out on them to avail the services of your choice at a discounted price.
Afterall, saving is the prerequisite of investment.
Opting for A Hosting Plan for A Longer Period of Time
Let's play smart. It is recommended to purchase the hosting service for a longer period of time.
Suppose you have purchased a service for a year, you have to pay huge renewal charges annually.
And, unfortunately, most of the companies do not offer discounts on renewals.
So, the best way you can save huge money is by buying the services for more number of years.
Shared Hosting
Shared web hosting is one of the most economical options.
A shared hosting service is a web hosting service where many websites reside on one web server connected to the internet.
In this type of hosting, the overall cost of server maintenance is shared by many customers.
You can learn more about shared hosting services from the comfort of your couch and with just a single click.
Free Hosting
Free hosting is yet another great option you can look for in case you want to minimize your cost.
There are bunches of websites that offer free web hosting services. Free web hosting sites are a good option to start with.
However, going forward you can consider choosing paid options as and when your business grows.
Domain Name Buying
Most of the top hosting platforms these days offer free domain name service in the package.
You get two offers of either buying a domain name or going with the free domain name given by the company.
If you opt for free domain name, it will be free for some specific period. However, you will have to pay huge renewal expenses for your domain name in future.
Therefore, it is better to buy the domain name at once in order to save your future costs.
Choosing the Services Carefully
Web hosting companies come up with a number of packages. Each package includes a wide range of services.
Out of all the packages you need to ascertain which one best suits your needs.
Carefully list down the services you require and choose the package that includes them. Extra services means paying extra.
Therefore, you can ignore extra services you do not need and save big.
Demand a Discount
It always works! If you have the bargaining power, you must negotiate and ask for a discount.
If you are a new customer, the web hosting company would never want to let go of any new member.
And, if you are an existing customer, the company would still not want to lose a loyal customer.
Therefore, asking for a discount always works and creates a win-win situation.
Other Ways to Save Big While Hosting Your Website
Aren't you satisfied with the above list? Are you looking for more options to save your penny while hosting your website? Do not worry! We have got you covered.
Apart from the above list, you can also have a look at the below points before going for any hosting services.
Buying hosting services during special days of offers
Transferring of domain to new domain provider
Moving hosting provider
Joining a hosting affiliate program
Conclusion
"It's not about how much you make, it's how you save it!" Saving the right amount of money at the right time will help you reach your goals.
Saving is the best kind of investment you can ever make. And, saving rightly is what matters the most.
In this article, we have compiled a list using which you can save on cost while hosting a website.
Considering all the above points will help you save your hard-earned money at the same time let you enjoy outstanding hosting services.
Do share this list with your friends who are looking for ways to save big while hosting their website.
And, don't forget to let us know in the comments below about the point that helped you the most.