---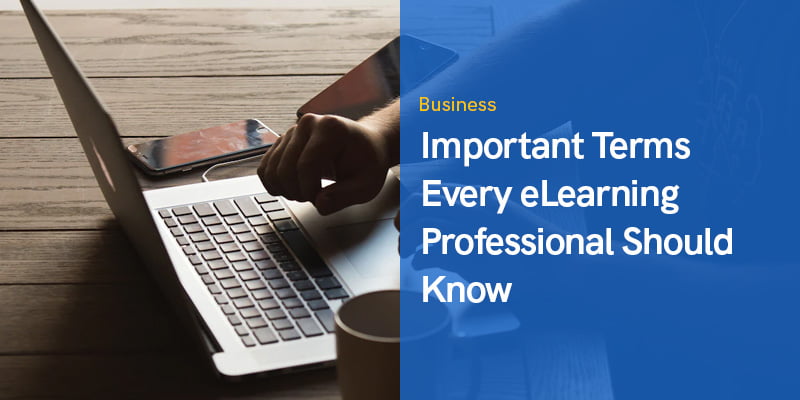 Important Terms Every eLearning Professional Should Know
Every sector has its glossary of terms that specialists must memorize. The eLearning industry is filled with terms, phrases, and abbreviations used to describe the way people learn in digital environments.
Although they emerge to help in the clarification of learning concepts and processes, the seemingly unlimited number of terms can be difficult to grasp.
There are several eLearning terms you should know if you're looking for online professional growth for yourself, learning and training solutions for your staff, or if you're new to working in the field.
The Most Important Terms Every eLearning Professional Should Be Aware Of
This article provides the essential terms and definitions associated with eLearning. As an eLearning professional, you will come across these terms often. Let's go through them in detail:
Certification Management
As the name implies, this module is all about tracking tests, grades, and certifications. This LMS feature is typically used for skill-based online training and compliance activities. Corporate learners who finish the required online training courses and modules receive certificates.
The LMS keeps a record of which certificates they've received and how they performed on the final competency tests.
Reporting
The majority of LMSs have reporting features that make it possible to track a person's development and performance. It also contributes to determining the overall efficiency of the online learning platform. Some may even offer customized reports based on your business strategy.
Data Administration
It all comes down to data management, which includes storing, sending, and securing your data. A decent LMS includes a proper security system to protect against all types of hacking assaults. This also ensures that your data is secure. Additionally, it helps segment the content based on the preferences, characteristics, and qualifications of the audience.
Learning management systems like Thinkific enable enterprises to design, market, sell, and produce their online training while keeping user data security in mind. Taking a glance at the Thinkific review shows that this specialized LMS is a no-brainer for content security, data administration, and creating good-quality training.
Offline Learning
When the internet connection is unavailable, it is preferable if you can learn offline as well.
All activities may be readily performed when the program is offline and then synced with the information once the program is online, increasing the benefit of offline learning.
SCORM
SCORM stands for the sharable content object reference model. SCORM is nothing more than a collection of standard sets for content creators.
Your LMS can easily transition to other suitable LMS online platforms if it complies with SCORM. If you see the term SCORM compliant in an eLearning management system, it means that you can integrate any data that adheres to this standard.
Assessment
Assessment is an essential component of any eLearning management system. Through the eLearning portal's assessment engine, you may conduct both qualitative and quantitative assessments.
You may quickly create multiple question sets, time constraints, and objective question answer sets. You can provide fast feedback to each user.
Authoring Tools
With the help of this software, anyone can write online training materials and add different types of material to develop an interactive online course without having to pay for an external program.
This makes it possible for you to create and disseminate online training materials without the use of any external software.
Skills Monitoring
This is best suited for corporations where it is critical to track the abilities and performance of all workers. It assists an organization in identifying performance gaps among its employees.
This tracking can aid in the personalization of staff training based on their performance.
Gamification
The integration of gaming concepts into non-game content encourages online learners to solve challenges. It might be as simple as a virtual achievement badge or maybe a reward system based on points.
Many LMS solutions provide gamification elements for making your eLearning course more engaging. For instance, you could use eLearning templates to create appealing badges that online students could collect as they progressed through the online training module.
Support For Multiple Languages
You can create and submit multilingual eLearning materials that can be customized for various audience types using an online portal.
By giving customers choices, they can choose the online training materials based on their preferred language. It automatically recognizes the language based on the location using the geolocation feature.
Cloud-Based LMS
SaaS or on-demand LMS refers to a learning management system that is hosted online. The online platform can be accessed from anywhere and at any time to suit your needs.
Self-Enrollment Facility
People are pleased when the sign-up process takes very little time. An LMS with enrollment capability is generally useful because it allows for flexibility in enrollment without the inconvenience of filling out manual paperwork.
This capability is also useful if the LMS is to be made available for signup and online learning to a large number of groups.
Conclusion
As the number of people interested in online learning for both learning and teaching purposes rises, you must become familiar with the terms mentioned above to help you along your eLearning journey.
To gradually expand your professional vocabulary and improve your skills, make it a point to learn the aforementioned LMS terms by heart.