---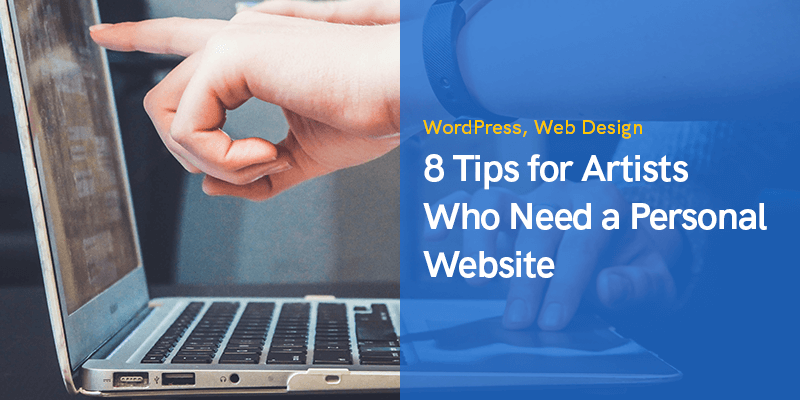 8 Tips for Artists Who Need a Personal Website
Nowadays, everyone seems to have a personal website. Almost every business has a website, and so do many individuals.
A website is a window through which you can market your business and share your expertise with a global audience.
You can grow an audience, connect with people, and sell products or services.
Unsurprisingly, a personal website can be useful in the art world, too.
This article will discuss tips you need to follow to get that website up and running.
But first, let's answer this question: Why do you need a website as an artist in the first place?
Why Do Artists Need Personal Websites?
As an artist, it has never been easier to go directly to the consumer.
Through the internet, you can connect with people worldwide who like your work and sell that work directly to customers.
Your website, therefore, is a portal through which you can share your experiences and talent. Art enthusiasts now make art purchases online, too, even without seeing the physical object.
According to Statista, in 2019, paintings were the most bought common fine art medium online.
The purchase of paintings was followed by prints, photographs, drawings, sculptures, and new media art:
According to Hiscox, more people are purchasing art online than ever before.
Online art sales are forecast to reach $9.32 billion by 2024.
In other words, if you want to succeed as an artist, don't just rely on art events and art galleries to showcase your work. Have an online presence, too.
That's where many of your potential clients are as well. You can market yourself online through social media and your website.
Social media is a great way to market your art and engage with a large audience.
However, social media companies can easily change their search algorithms, spam you with ads, remove posts they think are inappropriate, and so on. Your website is where you make sales.
You have complete control over your website. As a site owner, you can share content through your blog, list artworks in your portfolio, and more.
Essentially, through an artist website, you run your show.
8 Solid Tips For Artists Who Need Personal Websites
Now that you know the importance of artist websites let's look at some tips you should follow to create one.
Remember, your goal is to establish an online presence and generate sales.
If you can do both those things, you can turn your passion for art into a profession.
Pick a Domain Name and Hosting Mindfully
One of the biggest decisions you'll have to make about your new website is picking a suitable domain name.
Ideally, you want a memorable domain name. The simplest option is to choose your name. People who know you will remember your name.
Hopefully, that would make it easy to remember your domain name.
If you don't want to use your name as the URL of your website, putting two words together is effective.
You'll notice that many of the most popular sites on the internet took this approach to come up with a memorable website name.
For instance:
Secondly, you need to pick your website host. Pick a web hosting that performs well.
Good hosting has a high uptime, which means your website is always accessible. You also want a provider with a fast server response time.
The server response time will impact how long it takes for your website to load. Cost is a consideration, too.
The best solution will offer high-quality services at an affordable price.
Use a Reliable Content Management System
The Content Management System is the platform that you use to manage your website.
Most of the great platforms, like WordPress, for example, are easy to use with a minimal learning curve.
Spend time researching which Content Management System (CMS) you want to use.
There are lots of helpful resources online about how to create websites.
It can be difficult and costly to change your CMS after setting up your site, so try to get this right. If you want my recommendation, I'd suggest WordPress.
It's the most popular CMS and used by the majority of websites you visit.
As I mentioned, it's beginner-friendly, which is what you want.
Pick the Right Theme
You want a website that is aesthetically pleasing and easy to navigate.
If visitors to your site arrive on a mediocre homepage, they won't even bother to look at your artwork.
However, if your website design wows from the start, then you have a higher chance of getting them to visit your portfolio.
Picking the right theme is very important then.
Apart from being aesthetically pleasing, it should align with who you are as an artist. It should also load quickly.
The amount of time a site takes to load has a significant impact on user experience.
If you're using WordPress, the Webnus Deep Theme is a great choice.
Deep comes with 45+ elements that you can modify and use as per your needs.
For starters, Deep would be an easy-to-setup theme which you can modify as you go further.
Hire a Good Copywriter
You need to be able to persuade people to buy your artwork.
Consider hiring independent contractors for specialized tasks such as marketing, website design, or shipping.
When hiring independent contractors, it is important to make sure that you are paying them fairly and according to the law.
You should also make sure that you have a clear contract in place that outlines the scope of work, payment terms, and deadlines.
The artwork alone may suffice, but statistics have shown that images, coupled with good copy, sell even better.
The thing is, good copy is difficult to write. According to Quicksprout, copywriting is both an art and a science.
It is an art because it requires creativity and thinking out of the box.
It is a science because it requires a deep understanding of human psychology and behavior, too.
In other words, to write good copy, you need to have had years and years of study and years and years of experience.
It's best to hire a good copywriter to do that for your website then.
You can use an employee timesheet to monitor the hours the person spends on your website so you can compensate them fairly.
"About Me" Section
The About Me section is one of the most important sections on an artist's website.
The artist shares their mission statement and some personal information with a visitor on the About Me page – it's the artist's biography.
Make sure, though, that you keep your About Me section short and sweet.
Don't bore your visitors with a 1500-word piece on why you decided to get into art.
Give visitors just enough to know you as an artist. Don't give them your entire life story.
Benjamin Hardman, an Australian freelance landscape photographer, based in Iceland, has a great About Me section on his website: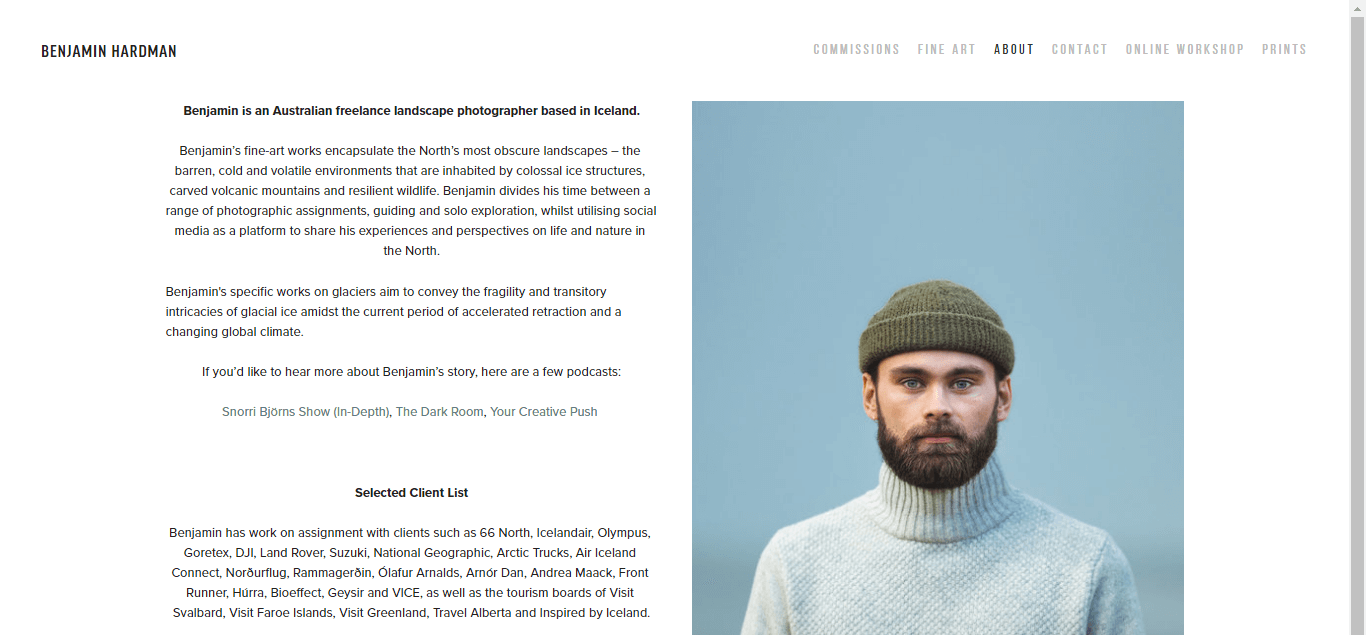 Benjamin goes straight to the point and tells his website visitors what his work is all about.
He didn't share how he got into art in long, winding paragraphs.
Instead, he included a list of podcasts they can click on if they want to learn more about his life story.
Showcase Your Work
You want people to be impressed by your portfolio when they visit your website. Make sure the pictures you take of your artwork are of high quality.
If you have the budget, it might be worth hiring a professional photographer.
Include the following details in each of your pieces: title, year of the piece, dimensions, medium, and, if possible, the price.
These are details that potential buyers look for before making a purchase.
Andrew Shea, a painter, does this with all his work uploaded on his website: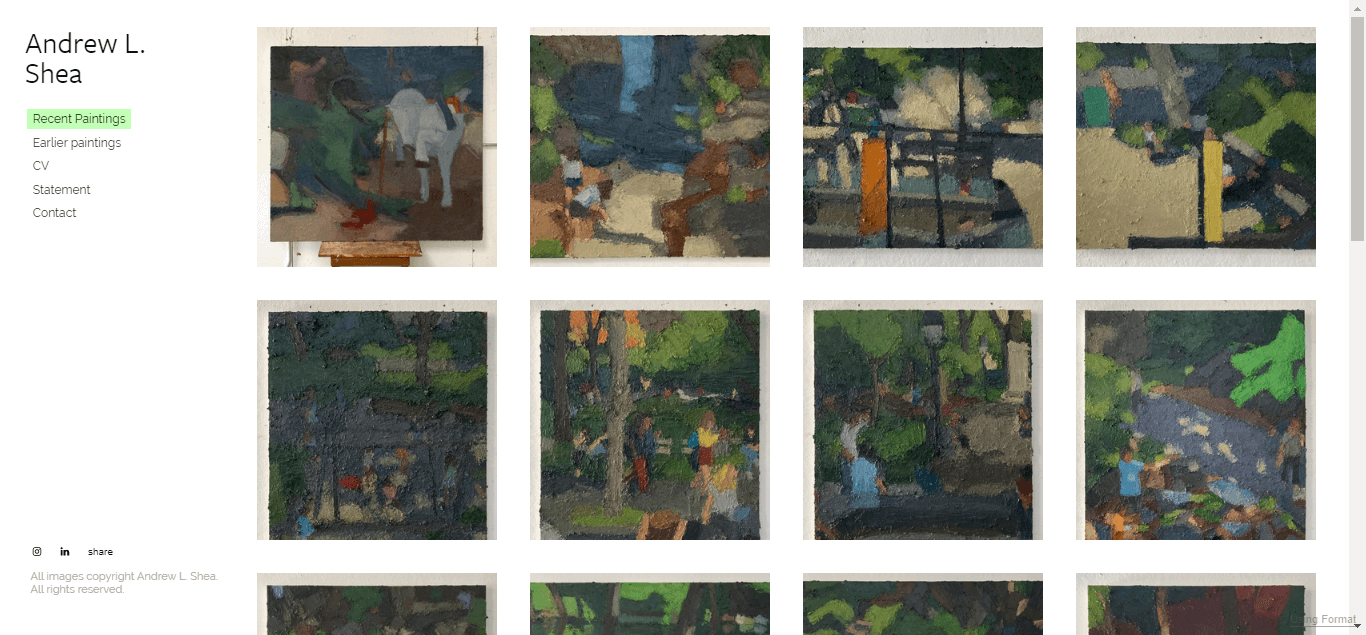 Visitors may contact him if they are interested in his work. Include the best work on your website gallery.
Ideally, all of the art you showcase in your gallery should be available to purchase.
Showcase Your Achievements
It doesn't hurt to say what you've accomplished as an artist on your website.
Your accomplishments, after all, will make you stand out from the other artists, and build a unique brand for yourself.
So if your work has been shown in galleries across the US, say so.
If your work was described as "groundbreaking" by an art critic, then tell your visitors.
Wim Delvoye, an artist based in Belgium, for instance, includes a list of his exhibitions and their respective dates, and the publications written on him: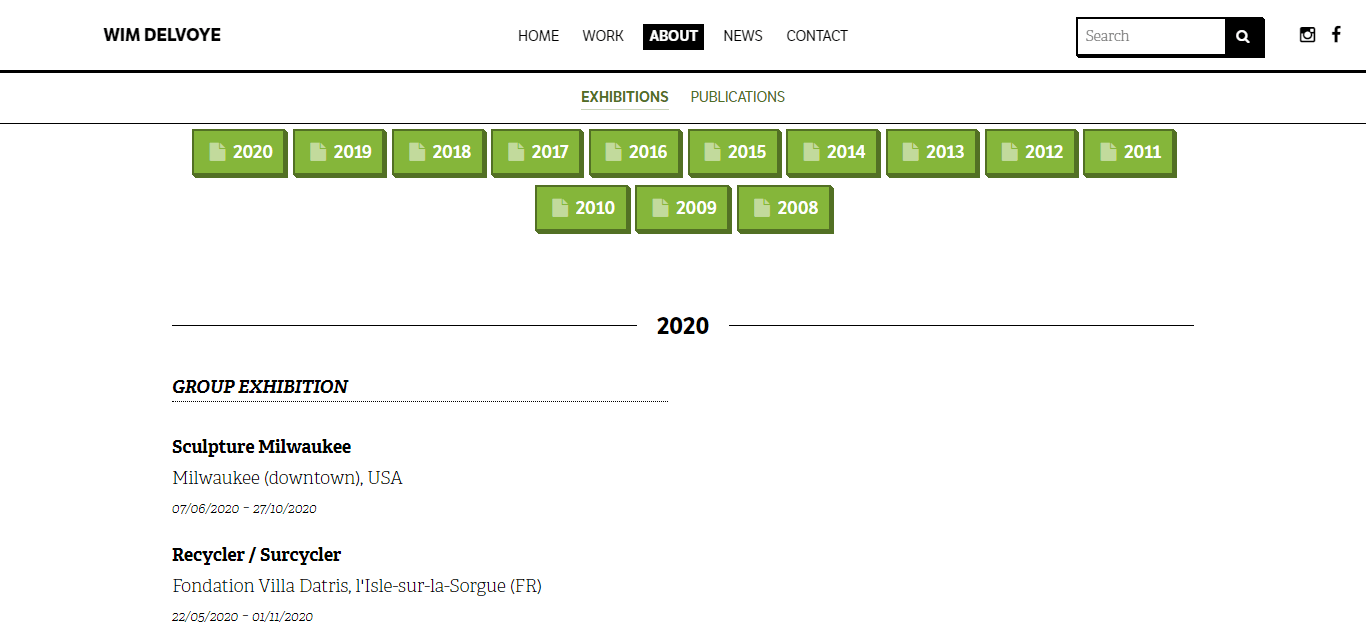 Make sure, however, that you don't overdo it.
When you showcase your achievements, you have to make sure you sound like you're merely stating facts and not come across as an arrogant person.
Enumerating your accomplishments can help you get those sales, but overdoing it can result in lost sales.
Contact Details & Appointment Booking
Your website should include your contact details.
You never know when a website visitor has a question about your artwork.
Those contact details can be your email address or your phone number. You can even include your social media accounts.
Make sure, though, that you regularly check those email addresses and social media accounts you left on the website.
If you left a phone number, make sure you don't leave that phone unattended.
If you don't respond quickly, you might end up losing a sale.
Include appointment booking details on your website, too.
Some website visitors may be interested in meeting with you for other projects. Don't make it difficult for them to reach you.
Bottom Line
Artists, like other businesses and employees, can leverage the Internet to succeed in the art world.
With artist websites, they can promote their artwork to art enthusiasts.
They make it easy for art enthusiasts to look for great art, too.
Since their work can be found online, potential buyers don't need to leave their homes' comforts and go to a gallery just to make a purchase.
In this article, I've shared some of the tips you need to follow to build the perfect website. Now it's over to you.
If you follow the tips and continue creating that great art, you will have those buyers always lining up to make that purchase.
Recommended Posts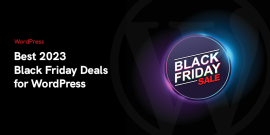 November 13, 2023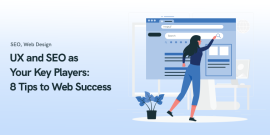 October 24, 2023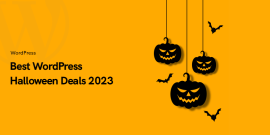 October 23, 2023