---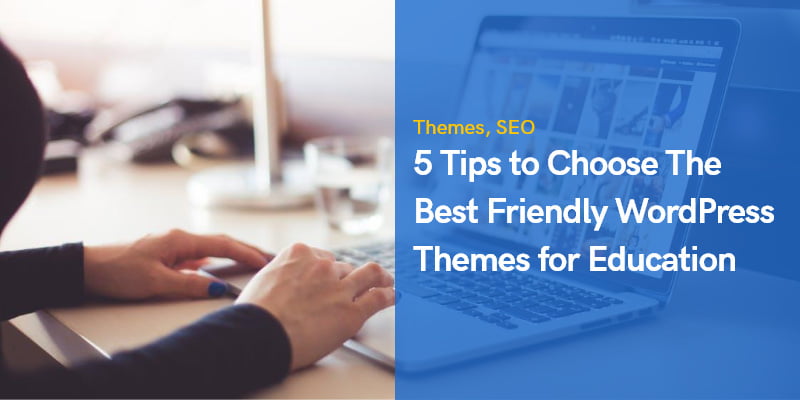 5 Tips to Using SEO – Friendly WordPress Themes for Education
WordPress themes and using SEO play important roles in promoting brand awareness and improving user experience. However, the majority of website owners tend to forget about the Search Engine Optimization aspect of their WordPress themes.
Choosing a WordPress theme that is SEO-non-friendly can be a huge problem especially if you want to be at the top of the search engine results page.
Further, you need to ensure that your chosen theme isn't sluggish because it can drive away visitors quickly and increase your bounce rate. Choosing the right one will lead to higher rankings, more organic leads, and revenue.
You should always choose one that goes hand in hand with your project. In this post, we are going to help you understand why having an SEO-friendly theme is important for your site and some of the best education wordpress themes that you should consider.
Your theme is an essential part of SEO
WordPress themes play an important role in determining the success of your website especially when it comes to SEO. However, it's not usually done directly. Installing a new theme won't directly improve your rankings or hurt your SEO.
However, if you monitor the aspects that determine SEO rankings, you'll notice that some aspects of user experience are either doing well or poorly. So, what does a WordPress theme have to do with the user experience of a website?
WordPress themes contribute a huge part to user experience on-site ranging from loading transition to sentence structure, themes affect various aspects of user experience such as fast loading, responsiveness, optimized interface, and other many factors that play an important role in a website's performance.
Choosing The Right Theme & Using SEO in Them
Here are some of the things that you should focus on to ensure that you choose an SE0-friendly WordPress theme for your education website:
Well coded
You probably know that themes are simply strings of code in the backend. Developers write lots of lines of code to create a good one that can be used by lots of websites. As a site owner, you should always ensure that you choose a well-coded WordPress theme.
Well-coded themes are usually fast and safe. However, if you don't know anything about coding languages, you might have a hard time looking at the code and knowing whether it's of high quality.
You should always go for a wordpress college theme that offers frequent updates and is popular, reputable, and experienced. As a college student, have you ever asked yourself, "where can i pay someone to write my research paper?" There are a lot of coursework experts online.
You need to pay someone to write my research paper so that you can find time to conduct extensive research on the developer to find out whether they are suited for the job. Delegate essay writing tasks to a capable online research service to get a good grade in university.
When you do this, you'll have the chance to go through the reviews and comments left behind by other users. Most of the time, you'll get valuable information that will help you make an informed decision.
Fast loading and efficient
A theme is the backbone of your website. It has a huge impact on how fast it loads for visitors. And how search engines will evaluate your site's ranking. Popular search engines such as Google tend to rank websites that load fast higher than the slower ones to create positive user experiences.
If your site is slow, visitors will leave before they find what they were looking for. Therefore, search engines will keep them off the first search results page.
You can only find out whether a theme is fast-loading by testing it on your site. When you activate a new theme, perform a speed test using effective tools such as Pingdom, Page Speed Insights, and GTmetrix to name a few.
You don't have to use the theme for a while to find out how it performs. All you have to do is change back the website to its original theme to discover whether it's loading fast or not. Performing a speed test will help you determine how long it takes for a visitor to load the website with different themes.
Responsive
A responsive theme quickly adjusts its layout to the resolution and screen size. They are user-friendly on smartphones and other mobile devices. And this positively impacts SEO. Responsive themes improve user experience and play an important role in SEO because it improves ranking on search engine.
A research study conducted by Google Search Central found that a responsive web design is one of the easiest design patterns to maintain and implement. In our modern world, mobile friendliness is an important aspect of every site.
More than 80 percent of users on the web access websites with their mobile phones. You should always use one that has a responsive design.
Regular updates
Reputable themes usually have regular updates. In most cases, these updates are done every month to improve the features. It's important to find a theme that offers regular updates for the safety and security of your site.
A research study conducted by Hacks found that 90 percent of hackers attack WordPress sites. And in most instances, hackers target websites with outdated software. Therefore, you should always use pick a theme that offers updates regularly to keep your site healthy and safe.
Free of malware
A website that has malware-ridden themes cannot be ranked highly by search engines. They may eliminate you to protect users from getting infected. Some free WordPress themes usually contain malware.
They may steal your site's data or create pop-up ads that spread malware. Don't assume that a theme is good for you just because it loads properly. Theme developers with bad intentions usually hid malware so that users can't detect it easily.
Fortunately, WordPress has a wide range of malware-scanning plugins that can help you detect and eliminate malware from your website.
Examples of SEO-friendly WordPress themes
While not every WordPress theme is optimized for SEO, using a well-optimized WordPress theme that is user-friendly can help you stay a step ahead of your competitors. Some of the best educational themes for schools include:
Deep: Deep is a popular multipurpose theme for developing any type of site you want. It has lots of templates and plugins that can be used to build a powerful website.
GeneratePress: This is a free WordPress theme that is popular due to its lightweight code and amazing SEO features. There is also a premium version that allows you to access the Site Library and various modules.
OceanWP: This is a user-friendly WordPress theme that is highly optimized and comes with top extensions to support different features of your website. It can be used on different types of websites.
Astra: This is one of the best SEO – optimized themes in the digital world because it can be built on any site. It allows you to customize anything from layouts to typography. It also works great together with popular page builders such as Thrive Architect and Elementor.
Conclusion
Your site is largely determined by how SEO-friendly it is. Therefore, choosing the right theme can greatly improve your site's performance in the long run. You should always go for a clean, secure, quick, compatible, and responsive theme.
Recommended Posts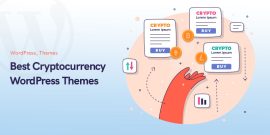 May 29, 2023