---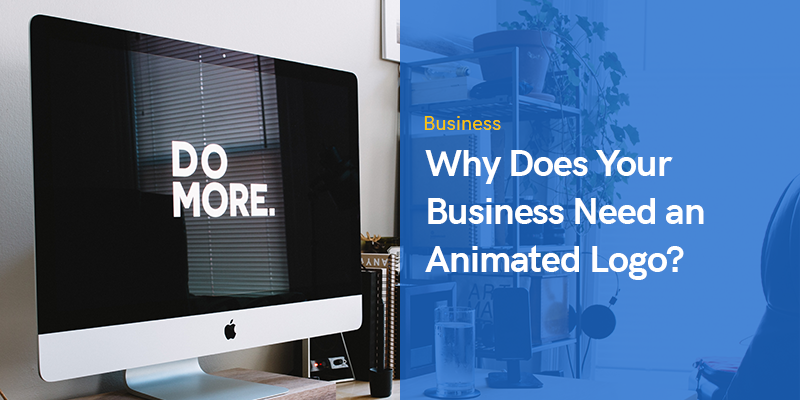 Why Does Your Business Need an Animated Logo?
Are you planning to design a logo for your business? Or want to redesign your logo to build a strong presence over the web and take your business to new heights? Probably yes! If it's so, then have you ever thought about animation or video? If not, then you must think about creating animated logos for your brand.
Indeed, many organizations think that creating a logo animation video is rocket science; that's why many companies say no to animated logos.
But actually, it's not the case.
As per the research, it is found that people prefer watching animation anywhere they can.
Many of you might have the misperception that animations exist for video.
You can use animation for your logos as well.
If your company invests in making animated logos, you will see a huge improvement in your business growth.
Thinking How?
Here are some reasons why you should create animated logos for your brand.
6 Reasons to Create Animated Logos for Your Brand
Let's get started…
Improve Brand Awareness
Just think a moment; what's the primary objective behind creating a logo? If I am not wrong, then every organization is implementing various strategies just to promote its brand awareness.
By creating animated logos, you can easily make your brand more recognizable to the customers.
Animated logos are more memorable as compared to static logos.
People will start associating with your brand through your logos, which will help you make your brand look different from the crowd.
When it comes to animated logos, MTV logos remain in our heads.
So, if you also want your brand to make a difference, then give an extra touch to your logo through animation.
Hold Viewer's Attention
Nowadays, the consumption of online content is increasing day by day.
That's why every business is focusing on giving an extra edge to rank their website in the top results.
Due to more competition, it is becoming very challenging for organizations to hold the attention of potential customers.
Are you also going through the same phase? If yes, then animated logos will help you in keeping your brand ahead of the game.
Brands that embrace logo animation video experience more success in increasing sales as compared to others.
Indeed, a logo is the first representation of your brand.
Once you successfully build a nice first impression, then you can easily attract the user's interest and increase their chances of making a purchase.
Better Storytelling
Another advantage of creating animated logos is that you can connect more strongly with your viewers.
Animations remind them of their childhood and help them understand the concept you are trying to explain.
Adding a small emotional touch to the content will not only raise the visitor's interest to view but also keep them hooked.
If you use static images, then you will probably break the emotional connection that ultimately affects your brand reputation.
So, if you want to provide a seamless feel by sharing informative content and extraordinarily design, then I would recommend you to incorporate animated logos to complement your business website.
Cost-Effective
Many of you might be ignoring this strategy due to cost.
Seriously? Do you think animation is too costly? The answer is No! Animation is one of the most cost-effective ways to hold your audience's attention and boost your brand awareness.
Once you add an animated logo to your website, you will see how the ROI increases over the long term.
This might seem surprising to you, but actually, this tactic can lead you to new heights.
So, if you want to give visitors a chance to stay on your site without breaking your banks, then start customizing animated logos for your site.
If you are new to animation, then you can also outsource animation services to the best animation video production companies at an affordable cost.
Evoke Emotions
Usually, people get interested in reading content that is both fresh and unusual.
The same goes for the website.
If your website is unique and appealing, then they will surely get excited to know what you offer.
And animated videos are the only source through which you can surprise your audience in a good way.
Animated logos will not only help you bring some positive emotions but also allows you to boost the excitement level of your target audience.
Always remember, the more the people get evoked, the higher the conversions and the better the ROI.
Increase Sharing
Indeed, getting more sharing and references is the objective of organizations.
It is found that people make decisions very fast if their friends and family members refer to it.
So, if you wish to see your website in that list, you need to give your audience some extra, and animated logos can help you in that.
As your logos are everywhere on the website, thus it is one of the easiest ways to make your brand recognized.
So, what are you waiting for? Start animating your logos to make your website a valuable asset for your brand.
Prefer reading- Boost Your Website's Presence with These 5 White Hat SEO Tactics
The Final Verdict
Consumers now do proper R&D and watch online content to make any decision.
So, it has become more important for every business to build a strong online presence.
Thus, if you want people to know your brand, then you need to add some extra elements to your website.
Well! That's where animated logos come into play.
Hopefully, the above reasons are enough to make you redesign your static logo into an animated logo.
So, get started with your logo now and turn your website into a valuable asset.
Happy Designing 🙂