---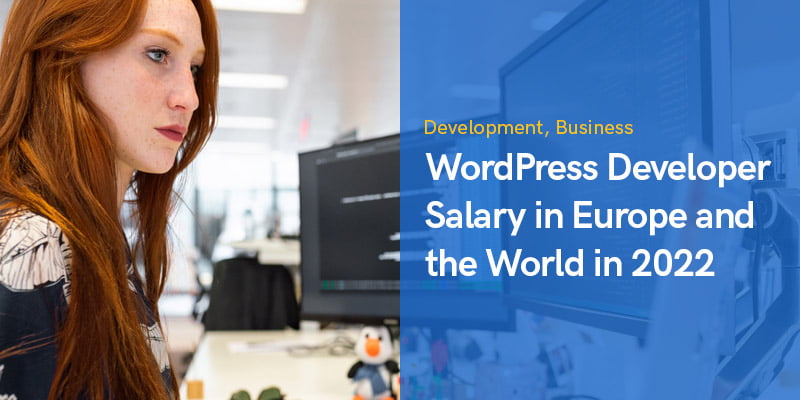 WordPress Developer Salary in Europe and the World in 2023
In 2003, WordPress was first developed as a content management system for bloggers. However, over the years, it has emerged as the preferred option for developing websites worldwide.
While a lot of people are concerned about how generic WordPress sites are, the reality is that a website's originality is typically a result of the developer's talent.
Therefore, it is crucial to engage skilled developers. Yet, the obvious issue is what the typical WordPress developer's hourly rate might be as you plan to launch your site.
Hence, this article was crafted to assist you in choosing your WordPress-based storefront equipped with the relevant knowledge.
Why Hire a WordPress Developer?
While anyone can build a website using WordPress, which is open-source software, in a matter of days, there are clear benefits to hiring a developer with years of expertise under his belt. Some of them are as follows:
Only qualified developers can handle tasks like design implementation, eCommerce plugin settings, and APIs with competence. Without the necessary expertise, if you choose to do these tasks yourself, you risk infecting your website with bugs.
Another very important reason to employ a trained developer is that they can more skillfully use plugins to alter the appearance and improve the functioning of your site.
Lastly, if you don't hire a skilled developer, you can find yourself spending a lot of time customizing the website for yourself, testing it, and checking the settings when you're out and about. For many SMBs, time is a precious resource.
A committed WordPress developer can complete tasks up to 2-3 times faster than a novice. In conclusion, hiring experienced engineers can significantly shorten the time it takes for startups and SMBs to reach the market.
WordPress Developer Price Components
There are two major ways to hire WordPress developers: either you hire one permanently, or you use staff augmentation services or outsourcing firms. What accounts for the majority of the WordPress developer compensation is the preferred hiring strategy.
If you permanently hired a developer to your in-house team to build and manage a website, you would have to factor in the WordPress developer salary in addition to hiring fees, infrastructure costs, paid vacations, and sick days. Because of this, even if the hourly rate might not be large, the overall cost will be considerable.
As a result, the majority of companies employ the second hiring method. This hiring procedure maintains the highest level of work while saving time and resources. In this instance, the WordPress developer hourly rate is paired with the additional expense of the outsourcing company.
Other Factors that Affect WordPress Developer Hourly Rate
A WordPress web developer's hourly pricing is influenced by at least four major factors: Skill set, experience level, the complexity of the project, and where they are located.
HubSpot estimates that the salary gap between inexperienced and seasoned WordPress plugin developers might be as much as $110,000 annually. As a result, it is obvious that experience plays a significant role in determining a WordPress web developer hourly rate.
However, it's crucial to remember that having too strict experience requirements will significantly shrink the pool of qualified applicants. Take into account the over 9000 WordPress developers available on PeoplePerHour.
However, that number will be considerably diminished once people with fewer than 50 finished projects have been removed. Therefore, as experience requirements rise, a WordPress developer's average hourly rate will rise, and their availability will decline.
The same can be said for aptitude. WordPress developers with more proficiency in PHP, HTML, and CSS will typically command higher rates on Upwork than programmers who do not have similar skills.
With the inclusion of any additional skills, such as proficiency with GitHub, JavaScript, PHP, Photoshop, or PSD-to-HTML, the developer's hourly rate will rise. The cost will also change according to the role of the developer: a programmer hired only to troubleshoot will charge less than one hired to develop a complete WordPress site.
Another element that may have an impact on the hourly fee charged by WordPress developers is the intricacy of the project. For instance, a WordPress front-end developer salary will be significantly higher if he needs to build plugins from scratch rather than using pre-made ones.
This is because developers who can build and customize plugins are paid more.
How Much Does It Cost to Hire a WordPress Developer in Different Locations in the World?
Now, let's get to the question at hand: how much does a WordPress developer cost?
Despite the fact that US developers usually charge between $60 and $120 per hour, you can hire remote developers from all over the world to save money without compromising the quality of the project's outcome. We'll look into the prices WordPress programmers in various parts of the world charge.
According to Glassdoor, the most expensive places to recruit developers are in North America and Western Europe. A WordPress theme developer in the UK earns, on average, £39,534, or $51,777.
Although this is less than in the US, it is still more expensive to hire there, even though the same research gave the US credit for a wage of $71,474. A little farther north, in Sweden, WordPress developers make about $45,000 a year, therefore, presenting a cheaper alternative for offshoring.
However, hiring coders is most affordable in China and India. For instance, an Indian developer could earn between $11 and $20 per hour, which is far less than what an American developer would earn.
Although outsourcing to China or India is less expensive, there are several disadvantages, such as poor communication and poor product quality.
In this case, Central and Eastern Europe would offer the perfect balance between price and cost. In terms of quality, programmers in nations like Estonia, Ukraine, and Poland are hardly inferior to those from the United States. These nations have already established themselves as modern digital nations.
Their hourly rate is also a pleasant benefit for business owners who are trying to save money.
Conclusion
Today, creating a website is very simple and you may create your company website using this CMS as well. WordPress already powers the websites of several businesses, from modest startups to well-known multinational firms.
The availability of developers from various nations makes it simple to discover top-notch developers, even though the WordPress developer's hourly rate may have an impact on the decision of who to hire. Follow the offered link to obtain assistance in selecting the ideal WordPress plugin developer salary budget for your company!