---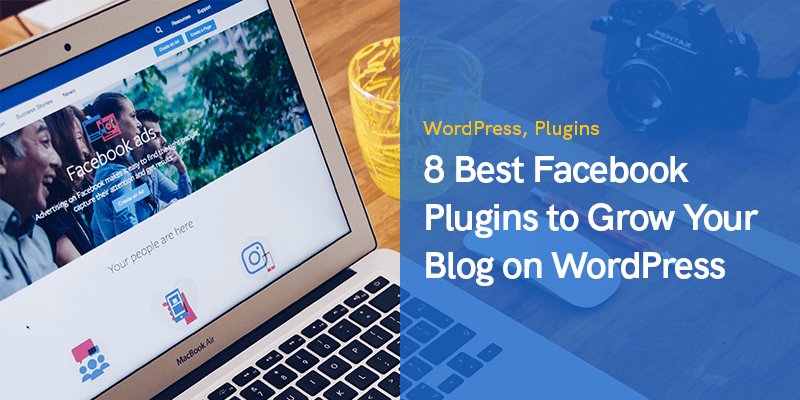 8 Best Facebook Plugins to Grow Your Blog on WordPress
If there's one platform which is exponentially growing, it's none other but Facebook.
The social media platform alone houses around 2 billion monthly active users.
Hence, if you're one such individual seeking to increase your website exposure, it's important that you integrate your WordPress website.
While there are plenty of plugins which may enable you to maximize your online presence, Facebook plugin is the right option.
Best Facebook Plugins for WordPress
Today, we are going to share some of the best cherry-picked WordPress Facebook plugins to help you grow your website and attract more traffic abundantly.
So without further ado, here are the best Facebook plugins to help you grow your blog exponentially:
RafflePress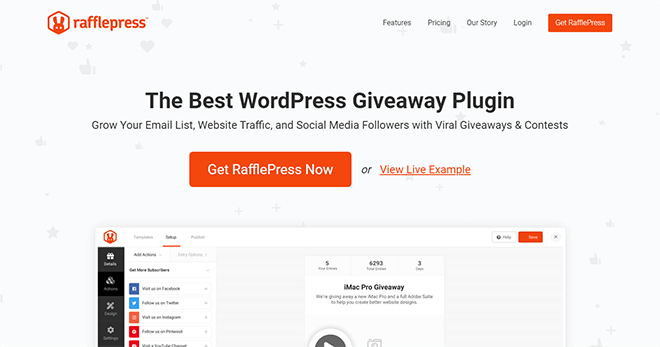 One of the fastest ways to grow your online traffic is by running contests on Facebook.
It can attract a ton of likes and engagement for your Facebook page.
With RafflePress, you can create remarkable contests and giveaways which can help populate your WordPress presence like no other.
We asked a web design agency in Dubai why they believe RafflePress is the perfect social plugins on WordPress and they responded,
A great thing about having RafflePress as a part of your WordPress website is that it offers a built-in giveaway template allowing you to readily increase your Facebook fan following.  
When you use RafflePress, it will allow visitors to participate in the contest on your website through your Facebook page.
Creating a contest is very easy with RafflePress. You can create contests using a drag & drop builder.
Just assign entries and actions with just a few clicks of a button.
Whether you wish to grow your email list through Instagram, Twitter or some other social media platform, RafflePress is your best bet.
It's your one-stop-shop for all for creating contests.
Shared Counts
Want an easy plugin which can allow you to quickly add social sharing buttons to your WordPress posts? Look no further than Shared Counts.
Here's a social sharing plugin that can include buttons for Facebook, Twitter, LinkedIn, Pinterest and more.
Here's a plugin which is highly optimized to deliver better speed & performance when it comes to social shares.
It shows accurate share count results for different social websites.
There are multiple button styles so you have plenty of options to use.
Now have absolute liberty to choose any button type for effective social sharing of your business.
Pixel Cat – Conversion Pixel Manager
What if I tell you that you can add a Facebook pixel for retargeting through your WordPress website?
Pixel Cat, the conversion pixel manager is a plugin which allows you to create customized ads which you can display on Facebook.
With this plugin, you can see who visited your website when and how.
If you're running a WooCommerce store and want to track your online shopping customers so you can best retarget them, Pixel Cat can allow you to display better ads in their Facebook feed.
For those of you who feel interested in using this plugin, Pixel Cat also comes with a Pro version giving you the extra edge when it comes to Facebook plugins and integration.
Social Reviews & Recommendation
Are you searching for a plugin which allows you to display Facebook page reviews on your WordPress website? Look no further than Social Reviews & Recommendation.
Here's a plugin which allows you to easily connect your website with your Facebook page and display Facebook users' reviews without breaking a sweat.
The plugin allows you to build social proof on your website and increase the trust of your brand exponentially.
Just like other plugins, Social Review & Recommendations have two versions.
There is a free version which works absolutely fine but if you want to move ahead of the curve then a "Business" version is your best bet.
With the "Business" version, you can display reviews in a rich snippet format making it more highlighted for the viewers.
Widget for Social Page Feeds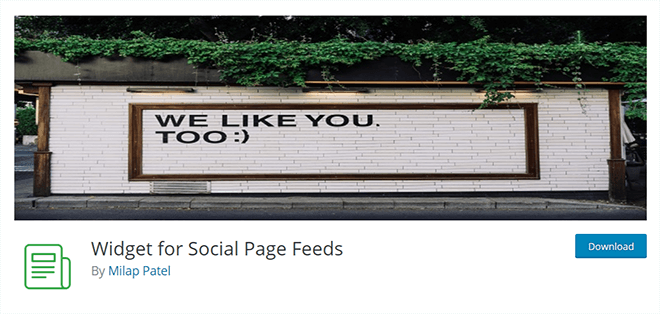 Want to place a Facebook page in the form of a widget anywhere on the website? Widget for Social Page Feeds (formerly known as Facebook Page Like Widget) is a page plugin which allows you to display widgets on your blog's sidebar.
Here's an extremely easy to use plugin which allows you to add a Facebook Like box anywhere on your website by introducing a shortcode in your WordPress syntax.
There's plenty of things which you can do with the Widget for Social Page Feeds plugin.
You can hide profile pics, include a page cover, optimize the page like box's height and width.
You can even select a language in which you want the Facebook Like option to appear.
So if you want a mind-captivating Facebook Like option to appear on your website, here's a plugin to help you do just that.
Nextend Social Login & Register
Do you have a sign-up feature on your website which allows your users to interact with your website using a personal dashboard? With Nextend Social Login & Register, you can allow your site visitors to log-in and register on your platform through their social media accounts such as Facebook or Google.
Here's a plugin which works seamlessly with different social accounts.
It gives absolute liberty to individual users so they can use the default sign-up method.
Once registered, you can either choose to use the same social account or some different account from some other social media platform.
So if you haven't considered using a social media login plugin for WordPress yet, now is the best time.
Social Snap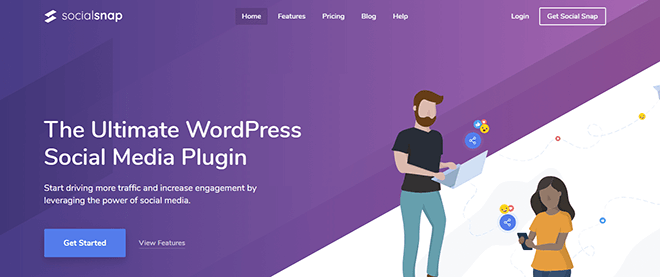 If you want to bring more traffic to your website and increase your website sales, Social Snap is the best WordPress plugin.
Here's a plugin which is particularly designed keeping the standards in mind.
It ensures that everything in Social Snap runs smooth, fast and effectively when it comes to social sharing.
You can integrate the plugin at the backend of your website to automatically post your website content on different social platforms including Twitter, LinkedIn, Facebook & Instagram.
If you are someone searching to formulate a social proof to help grow your Facebook following, here's one of the best social sharing tools available just for you.
With Social Snap, you can do a lot of things.
From boosting old posts to auto-scheduling content shares.
Normally, where you've to pay to access different plugins at the same instance, Social Snap offers you all the features in a single package.
Fauto Poster
Have you recently published something interesting on your website? Let the world know what you've researched.
With Fauto Poster, you can share any article of your choice on any Facebook page or profile as per your choice.
When you activate Fauto Poster, you can connect the plugin to your profile and authorize it from the backend of your WordPress website.
With Fauto Poster, you can choose the type of content which you wish to share with your target audience.
You can share posts, pages, and custom post types of all kinds.
If you are bulk sharing and there's a certain post type that you don't wish to share, then you can deactivate the option with Fauto Poster.
What makes Fauto Poster a reliable option is it's incredibly lightweight.
The plugin is incredibly easy to install and you can configure it quickly without having much hassle.
The pro version of the plugin allows you to automatically schedule your posts on different social platforms.
Concluding Thoughts
Here were all the best Facebook and other social platform sharing plugins which I believe is extremely valuable if you're planning to populate your blog.
WordPress is a versatile CMS offering plenty of plugins and themes providing maximum flexibility to the audience.
Above discussed are a few plugins which can help you create significant traffic to your website and grow your business dramatically.
Recommended Posts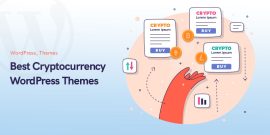 May 29, 2023