---
20+ Best Event Management Software List (2023)
In this article, we are going to introduce 20 best event management software for creating and managing events for your business or online classes.
This final version at your hands, is by far the most comprehensive article to learn, compare and choose between the best event management software list for your purpose.
The present article's been written and prepared after a lot of precise research and explorations on event management software topic and surely, if you want to choose the right event manager for your business or online classes or appointments, this article has all the information for that and you won't be needing any other sources to come to a conclusion.
We wrote another comprehensive article about best WordPress event calendar plugins and theme which you might be interested in: 10 Best WordPress Event Calendar Plugins & Themes
In a hurry and can't read the whole list? Here are the 20 best event management software list for a quick view:
| Event Management Software | Rating | Free Trial |
| --- | --- | --- |
| Modern Events Calendar | 4.3/5 | ✓ |
| Eventbrite | 4.6/5 | ╳ |
| Aventri | 4.3/5 | ╳ |
| Cvent | 4.4/5 | ✓ |
| Bizzabo | 4.6/5 | ✓ |
| Gather | 4.6/5 | ✓ |
| EventMobi | 4.8/5 | ✓ |
| Events.com | 4.7/5 | ✓ |
| EventBank | 4.6/5 | ✓ |
| Event Calendar App | 4/5 | ✓ |
| Brushfire | 4.7/5 | ✓ |
| Eventsquid | 4.8/5 | ✓ |
| ePly | 4.6/5 | ✓ |
| ClearEvent | 4.3/5 | ✓ |
| Eventify | N/A | ✓ |
| Oveit | 4.8/5 | ✓ |
| Arlo | 4.7/5 | ✓ |
| EventOn | 4.3/5 | ╳ |
| Stachethemes Event Calendar | 4.5/5 | ╳ |
Best Event Management Software List
Modern Events Calendar
The first item of our best event management software list that we would like to review is the Modern Events Calendar which of course is one of the best event management software & WordPress plugins in managing events.
Modern Events Calendar (a.k.a MEC) lets you create great-looking event displays right out of the box, along with advanced features like ticketing and a custom event display builder.
It offers a comprehensive set of features an event management software must have. However, most importantly is the way it displays the events and for sure its awesome interface design.
Developers and designers of Modern Events Calendar focused on this item more than anything else. They added more than 50 calendar views all based on the latest design trends in the web design world which brings a unique experience to its users.
You can even integrate with Elementor for more design flexibility, and WooCommerce for more ticketing/payment flexibility.
The core benefit of Modern Events Calendar is that it lets you create an events calendar that looks pretty great out of the box. That latter part is important because some popular event management software require a lot of custom styling to make them look good, which is tough if you don't know your way around CSS.
There are also variety of addons that can create a more professional environment for your users.
Eventbrite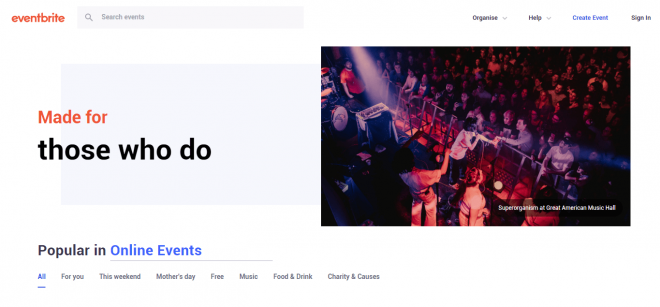 Eventbrite is a global ticketing and event technology platform that provides creators of events with tools and resources to plan, promote, and produce live experiences.
The vendor says event organizers can benefit from Eventbrite's self-service event planning tools including email invitation creation, RSVP tracking, and ticket selling.
Ticket sales can be managed online via the ticketing website or through integration with social media sites including Facebook, and real-time sales data aims to help event planners assess attendance and profit.
The platform includes powerful discovery channels and robust marketing tools, which, according to the vendor, facilitate high conversion rates. Eventbrite's goal is to help users zero in on the most interested event-goers and sell more tickets to their events.
Aventri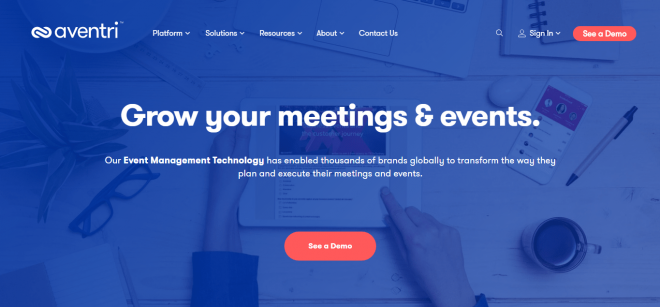 Aventri's all-in-one event and meetings solution has powered over 300,000 events, helping customers realize their event, and ultimately, their business goals by driving savings and increasing returns.
This event management technology gives you the power to collect, manage, and analyze attendee and event data, so you can make more strategic decisions and improve future events.
Cvent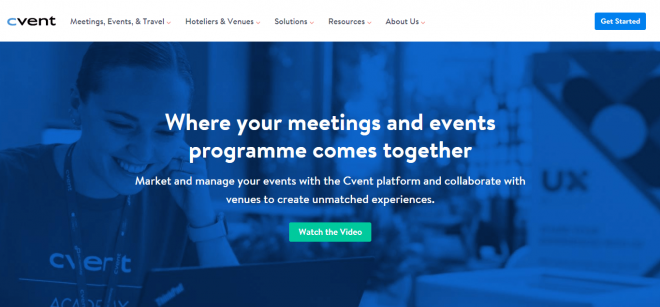 No matter your industry, Cvent has experience in helping organizations of all shapes and sizes to better plan, manage, market, and analyze their events and meetings.
Cvent is a leader in event marketing and management, online event registration, venue sourcing, and mobile event app technology – with over 300,000+ active system users.
Cvent modernizes the traditional processes associated with event management. With our integrated platform, planners can more efficiently find venues, plan events, engage attendees, measure the impact of their events, and much more.
Bizzabo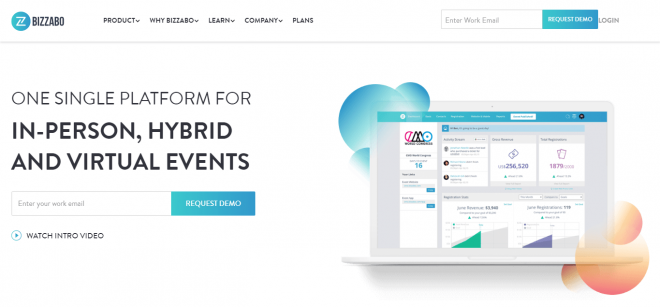 Bizzabo enables event marketers to transform meetings and events into successful lead acquisition, customer retention, and connections-building engines.
The event solution is the single source of truth for organizers to manage events from start to finish. Bizzabos Virtual Experience Solution empowers event marketers to easily broadcast events of any size including team meetings, town-halls, conferences, and more.
Bizzabo powers events for brands like Forbes, INBOUND, Dow Jones, and more.
Tripleseat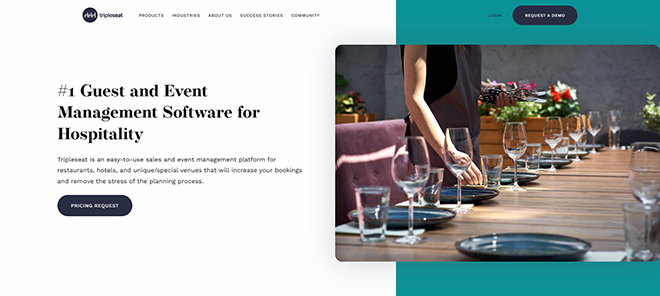 Tripleseat enables catering companies of all sizes to manage and grow successful catering events businesses.
That's why independent caterers, national restaurants, food trucks, hospitality groups and private venues use Tripleseat to power their catering events.
From private-equity backed growth concepts to James Beard award-winning restaurants.
EventMobi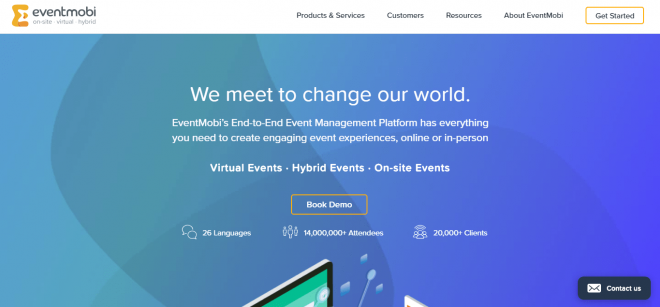 EventMobi is the trusted mobile event app platform for over 10,000 event planners in 72 countries.
With a fully customizable mobile event app, built-in audience response, networking, gamification, registration and reporting tools, EventMobi allows you to engage your attendees like never before.
EventMobi has reached over 10,000,000 attendees worldwide.
Events.com
Events.com connects people with the experiences they love. Its mobile-first event management and registration platform helps event makers manage, market, and monetize everything from low-key fundraisers to massive festivals and marathons.
With its end-to-end event management solutions, including sponsorship and marketing tools, Events.com gives organizers access to a suite of tools at every step of planning.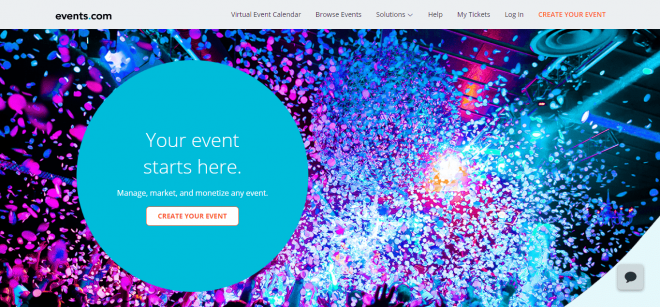 EventBank (Glue Up)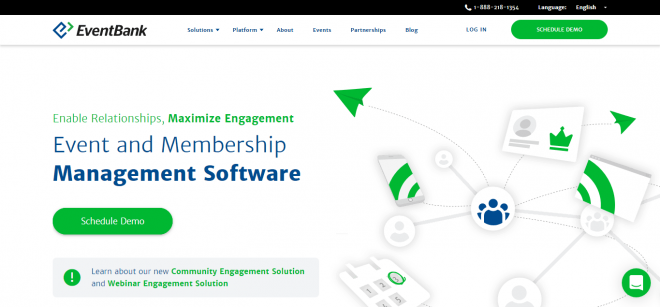 EventBank provides solutions designed to streamline operations, modernize processes, and eliminate engagement challenges.
Their products combine the best event management, membership management, email marketing, CRM, and mobile apps into an all-in-one cloud platform.
EventBank is present in more than 40 countries and has offices across Asia, Europe, and North America.
Event Calendar App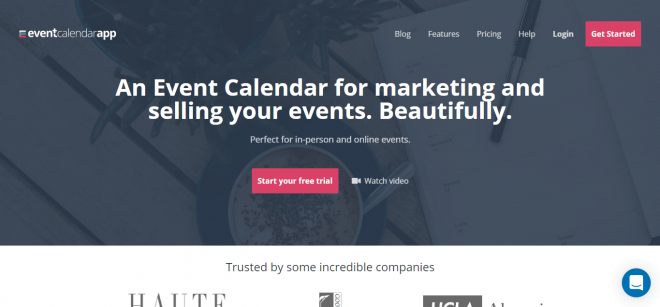 Event Calendar App is an event calendar for marketing and selling your events on your website. With the help of this platform All of your invites and RSVP's are all together. You can send reminders, and track who has responded, and who has not.
Brushfire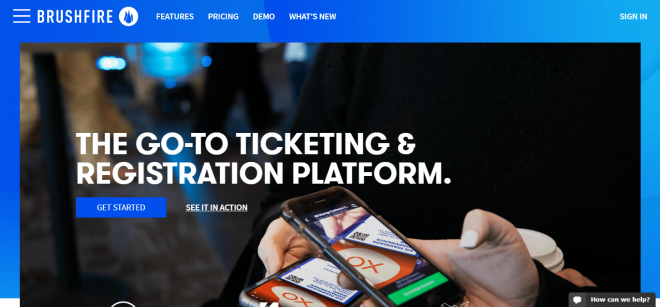 The aim of Brushfire as told by its creators is to be the go-to ticketing and registration platform our clients deserve.
They claim that they are providing great software and service that never stops improving for the church, non-profits, and secular organizations. Some of Brushfire's mentionable features are assigned seat ticketing, general admission, and support for types of events.
Eventsquid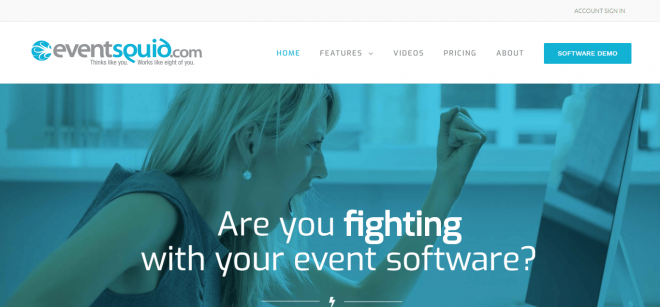 Eventsquid is one of the best event management software & another useful platform for organizing your events professionally.
Some of its features are Unlimited events including VIRTUAL events, Unlimited users, No credit card fees, Modern and easy to use for event hosts and attendees, Website creation, customized registration, free web-based mobile app, session ratings, speaker ratings, payment processing, speaker/agenda management, space layout, CEU's, etc. Massively flexible configuration options serve virtually any event business model.
ePly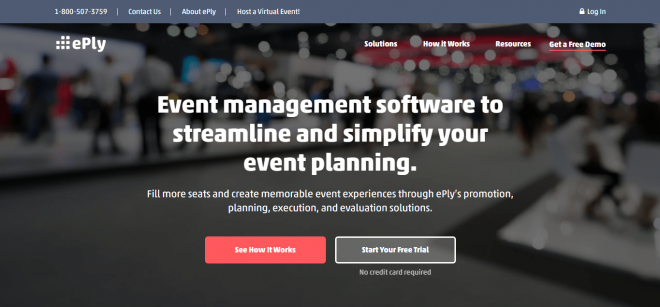 ePly is your go-to partner for fast, easy, successful event planning. Our simple, scalable online event registration platform is powered by a team of experts, ready to provide you with one-on-one support. Ideal for association, university, government and corporate events.
ClearEvent
ClearEvent is Ideal for planners of Conferences, Fundraisers, Expos, and Galas & Corporate Events.
Trusted by event agencies, solo planners, associations, trade show planners, corporate event groups, and municipal teams.
Eventify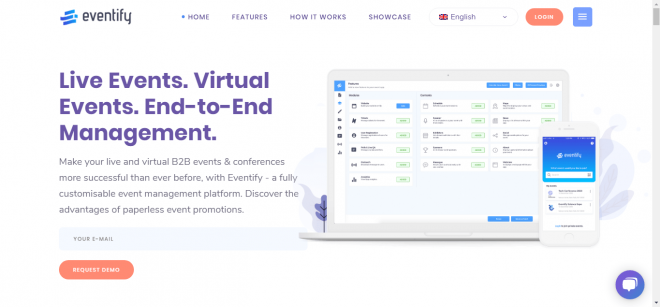 Eventify is an event management app to help simplify your business, automate processes, and run better events.
With eventify you can Build a professional full-featured, flexible, mobile-friendly website for all types of conferences, trade shows, exhibitions, workshops, meetings, and other B2B events in 15 minutes.
This digital event app builder platform ensures that your event portal is responsive, has smooth navigation options, is user-friendly, and completely glitch-free.
Oveit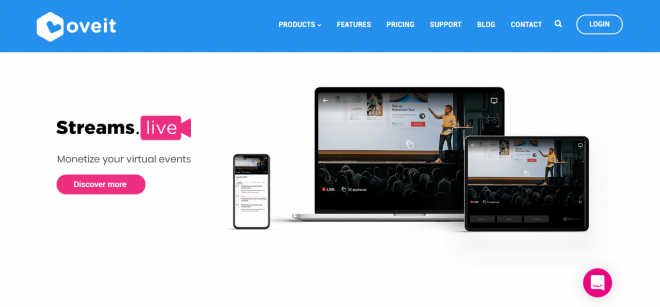 Oveit helps events and venues register attendees, engage audience and provide cashless payments.
Our closed loop payments solution for festivals, conventions and venues uses a cutting edge technology to make sure payments are always processed, even when the internet is down.
Arlo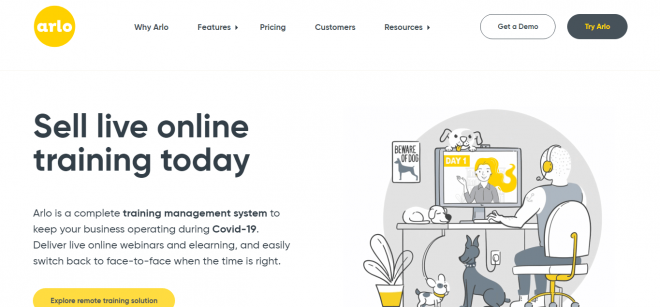 Arlo is a cloud-based training management system for managing, marketing and delivering physical and online training.
It provides streamlined event scheduling, online registrations, invoicing and receipting, runs marketing activities, and manages client records and relationships.
The service can be rapidly deployed and seamlessly integrated within your website and connected with your other business applications.
EventOn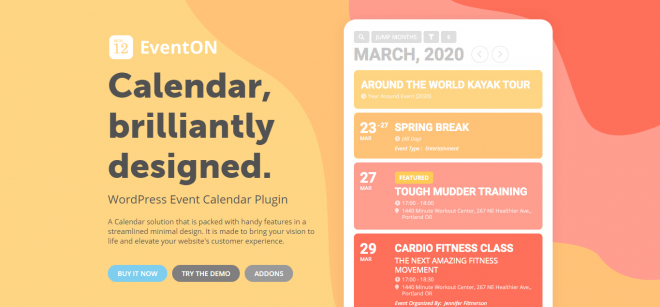 Yet another great premium event management software is EventOn, the #1 best seller Event Calendar WP Plugin on codecanyon. The most prominent feature of EventOn plugin is its minimal design language.
EventOn most of all has a minimalistic design and also great looks.
It offers different choices to the users for creating events and more interestingly it has a shortcode generator as well.
Using EventOn you can create events with various repeating options and also using its shortcode generator you can have different views for your calendar. The title of the event is very attractive and makes real interactions for the audience.
EventOn allows for customizing the colors and appearance to an extent and therefore when changing the titles and the views, you surely will have a colorful experience. Bear in mind that not including Google Calendar synchronization and also not supporting auto-updates are two of the cons of this very appealing event management software.
EventOn, one of the best event management plugins has the ability to add more event displays as you scroll down the page. This is especially favorable for fast loading of any web pages. This is made possible with AJAX coding which allows you to display some of the key events in the header of your page before using all server resources.
Other notable features of EventOn include searching through events, submitting monthly and even yearly events, filtering events based on customized categories, assigning thumbnails for events, supporting Google Maps, and exporting events as ICS files.
Stachethemes Event Calendar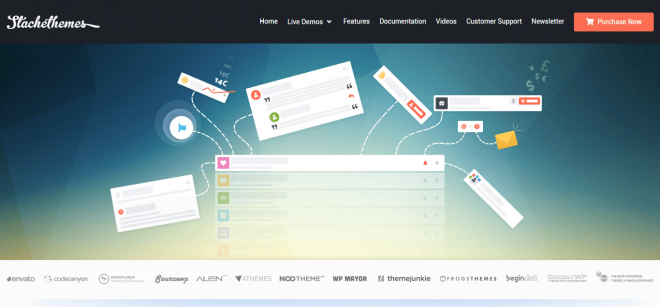 Stachethemes Event Calendar is a unique approach to the classic event calendar concept. Fully responsive with modern design, this event management software will display your events in easy to read and navigate way.
The plugin is in our best event management software list which is packed with a rich arsenal of features and options to help you create fully detailed and informative events quick and easy!
If you are looking to create a modern event site complete with an attractive and minimal design, look no further than Stachethemes Event Calendar. This premium WordPress event calendar plugin by Stachethemes on codecanyon offers you an intuitive UI so that submitting events to your site is a breeze.
This plugin is loaded with many amazing features like easy location management, photo gallery, guest list, weather forecast, recurring events and email reminder option.
You can also display the special guests attending your event. The WooCommerce integration in Stachethemes Event Calendar helps you sell products and manage your online store easily.
By displaying weather information, your visitors will be well-informed on how to dress up for the occasion.
With an impressive 4.5 stars out of 5 rating at the CodeCanyon plugin marketplace, Stachethemes Event Calendar is a well-supported and reliable tool for adding events calendars to a WordPress website.
Meetup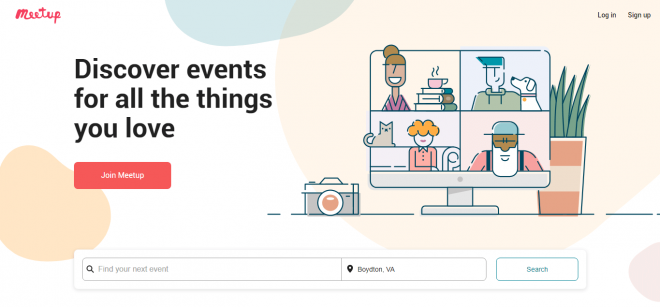 Meetup is a website that allows users to organize get-togethers with others who enjoy the same activities.
Some common examples include sports teams, book clubs, and social groups. By signing up, you can find a group that suits the activity you're looking for, or create your own group to bring others to you.
Meetup is a platform for finding and building local communities. People use Meetup to meet new people, learn new things, find support, get out of their comfort zones, and pursue their passions, together.
Meetup is a platform for finding and building local communities. People use Meetup to meet new people, learn new things, find support, get out of their comfort zones, and pursue their passions, together.
On Meetup.com, it couldn't be any easier. Just enter your name and email, choose a password, and you're ready to start meeting singles in your city.
That's it! Other information can be added to a small site-wide profile – like hometown, gender, birthday, a photo, and a short bio – but it's all optional. Unlike the hours spent agonizing over crafting the perfect profile on traditional dating sites, Meetup lets you get straight to the fun part:meeting other singles.
To get the most out of Meetup.com, add interests to your account and opt to receive emails about new Meetups in your area that match your interests. You can also connect your Facebook with your Meetup.com account to find out what Meetups your friends have joined.
What's The Best Event Management Software for You?
Well it totally depends on your business objectives, your events types, personal desires and of course the features each one of the best online event management software we introduced provides.
We suggest you take a quick look at their designs, pros and cons and compare them with your pre-written needed industry features that you have for your business purposes so you can come up with a conclusion.
And for starting, we suggest you choose an event management software with at least 2 weeks of free trial with no-question-asked money back guarantee to avoid further problems.
For that matter, we totally suggest MEC (Modern Events Calendar) if you have a self-hosted WordPress website or ClearEvent if you don't own a website and you want to host your events online.
Recommended Posts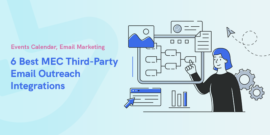 July 24, 2022