---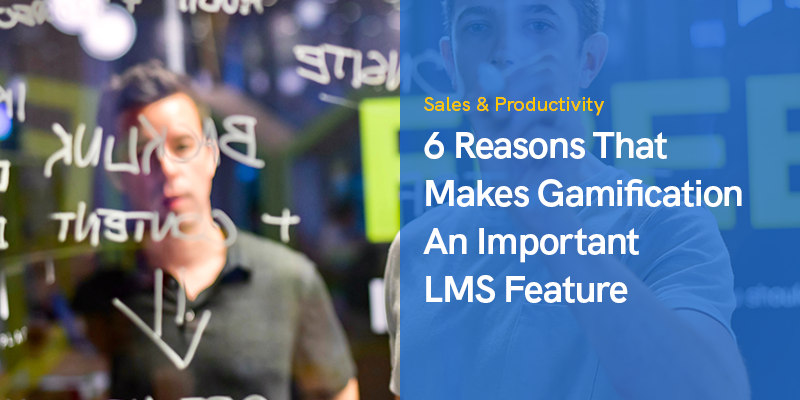 6 Reasons That Makes Gamification An Important LMS Feature
Of all the features a company looks for in a Learning Management System (LMS) today, gamification is mostly in the top five.
Although it sounds like something that is meant for fun and not for the purpose of training employees, the gamification feature of a LMS software has emerged as a major reason for increase in employee engagement with training courses.
Gamification pushes employers to think why can't learning be fun? Turning complex learning concepts into a game-like structure is a great way to help employees acquire new skills.
It gets employees excited to learn and makes them forget that they are in fact, learning.
It is also found to be very powerful in fueling employee motivation to complete a course.
Gamification goes beyond reward points and badges.
Its psychological impact of giving a sense of achievement resonates with the learners which compels them to carry on learning.
This has led to its heavy adoption and justifies the favouritism when it comes to choosing LMS features.
Reasons That Makes Gamification An Important LMS Feature
Let's look at why gamification is so popular and what makes it so important to be a part of your LMS features list:
Increases Learner Motivation
It is not uncommon for people to be enthralled by the idea of a reward, and gamification encourages them to perform well to earn a reward.
With quizzes to assess their knowledge of a particular topic and reward for high scores, employees feel motivated to learn in order to gain high ranks.
This makes it easy to get employees to learn as opposed to the traditional learning courses where employees need to be pushed constantly to learn.
Increases Productivity
Motivation plays a major role in enhancing employee performance.
Since gamification motivates employees to learn, it enhances their skill set.
This not only helps them perform to the best of their abilities, but also increases their productivity. Games like a puzzle or sudoku can also enhance their learning skills.
This directly influences the business revenue and leads to a greater ROI on the training.
Enhances Teamwork
Collaboration is crucial for a team to perform together to produce good results.
Gamification helps in breeding healthy competition in a team.
It encourages employees to outperform each other to gain a higher position on the learning leaderboard.
This not only increases the competitiveness of the team, but also fosters better collaboration between team members.
Makes It Easy to Learn Difficult Topics
A lot of times employees need to learn complex topics that are essential to enhance their skill set.
But it is not necessary that they should be explained through text or images.
Explaining difficult concepts through storytelling combined with game-like elements helps employees understand them better without having to spend hours on a single topic.
Encourages Stress-Free Learning
A high number of employees feel stressed in the workplace due to the inflexible working hours, lack of physical activity, stricter deadlines etc.
Making training courses unengaging can make them averse to the idea of learning in general.
On the contrary, offering learning through games can help them relax while at the same time helping them learn new concepts.
Gives Employees a Sense of Accomplishment
Gamification has been proven to drive significantly better results when it comes to rate of course completion.
This is because employees feel engrossed in the way training is being delivered.
Accomplishing learning goals and achieving reward points in assessments makes employees feel great about their own performance.
This boosts their morale and makes them more confident about their knowledge.
Conclusion
Companies must invest in a gamification LMS to encourage employees to participate in learning activities that are important.
This way you are not only helping them learn what is important but also making it easier for them to learn.