---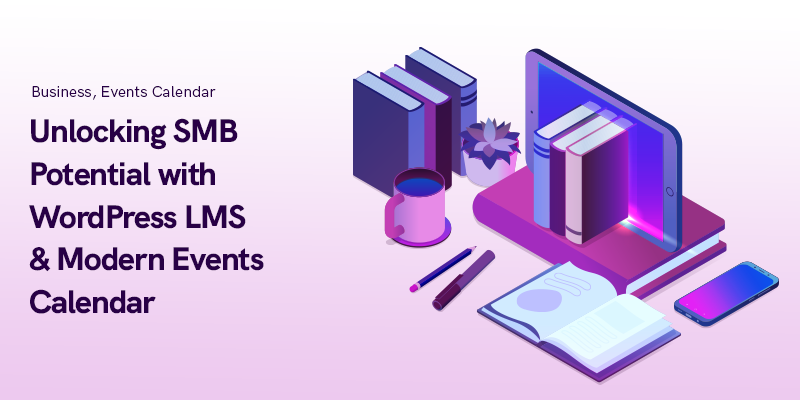 Unlocking SMB Potential with WordPress LMS & Modern Events Calendar
The world is changing at a breakneck pace, and businesses that can keep up with the changes are on their way to success. Small and medium-sized businesses (SMBs) form an important part of the business landscape.
These businesses have massive potential for growth, but they also face several challenges.
One of the significant challenges that SMBs face is scaling knowledge among employees. Employees cannot perform to their full potential without proper training and support.
Luckily, a solution has been around for quite some time now – LMS for Business.
You might be thinking – what is LMS? Well, it stands for Learning Management System, a software application designed to manage learning content effectively and efficiently.
Why do SMBs need LMS?
Have you ever worked in an organization that doesn't invest much in employee training?
You probably know how frustrating it can be to figure everything out yourself or learn through trial-and-error methods. That's where an LMS comes into play.
LMS helps organizations create centralized training programs available digitally, saving your trainers time and money while ensuring staff get access to comprehensive courses that will provide them with all the skills they need for optimal job performance.
How does an LMS work?
An LMS provides online courses via eLearning modules complete with interactive videos, quizzes, and assignments that align learning objectives allowing SMEs (Subject Matter Expert) / Trainers / HR Managers expertise reach across borders as per demand without any geographical constraints helping save costs without worrying about no-show rates of attendees during classroom training due to traveling limitations since its all virtual! 
These eLearning modules act as bite-size increments delivering complex information in small doses instead of conventional long-form coursework videos, enhancing knowledge retention and reducing cognitive overload.
Moreover, the LMS software stores all training information, including certifications, completed courses, and quizzes, to make them secure in the digital space and easily accessible 24/7.
Modern Events Calendar Plugin for WordPress LMS Solutions
Modern Events Calendar is a popular plugin for WordPress that enables users to create and manage events with ease.
While the plugin is often associated with event management, it also has powerful features that make it an ideal solution for creating and managing training courses on WordPress.
One of the key features of Modern Events Calendar is its ability to create recurring events.
This feature makes it easy to set up training courses that occur on a regular basis. Users can set up daily, weekly, monthly, or yearly courses and specify the duration and start and end times for each course.
Another powerful feature of Modern Events Calendar is the ability to create customizable event registration forms.
Unlock the Full Potential of Your LMS Solutions with Modern Events Calendar
Discover how this powerful plugin can enhance your training programs and increase engagement. Click here to get started now and take your courses to the next level!"
This feature allows users to gather important information from course attendees, such as their name, email address, and other relevant details. The plugin also supports multiple pricing options, making it easy to set up paid courses and manage registrations and payments.
Modern Events Calendar also provides a range of customization options, allowing users to tailor the appearance of their courses to match their branding.
The plugin includes a range of pre-designed templates, as well as options to customize fonts, colors, and other design elements.
Overall, the Modern Events Calendar plugin provides a powerful solution for creating and managing training courses on WordPress.
Its recurring events feature, customizable registration forms, and range of customization options make it an ideal choice for organizations looking to create and manage online training programs.
Benefits of using LMS for SMBs
Cost-effective
Hosting virtual learning events makes scalability much more affordable despite budgetary restraints. Setting up a classroom-based training program can be expensive to implement; it requires significant upfront investment and also requires physical space like classrooms or conference rooms with their equipment.
Improved employee engagement
Engaged employees have better job satisfaction & work productivity as they're invested in what they're doing.
An external trainer can give more personalized attention to employees even if HR is unclear about the requirements due to limited SMEs, which adds value in building an engaged workforce.
Time-saving measures
Most businesses don't have time (and money) to pull staff away from daily operations for training purposes, which often leads to missed deadlines, affecting project deliverables or client satisfaction.
Thankfully, there is an alternative — Online learning exists across different platforms such as Kajabi, Teachable, Thinkific, etc., besides using an LMS that gives employees flexibility so they can take courses anytime on any device without affecting day-to-day tasks overcoming time-zone barriers along with work-life balance making lives simpler.
Customizable content
One size doesn't fit all when it comes to employee training programs and ongoing education plans where managers want them focused on goals emphasizing skill development tailored per individual need.
Thus, customizing material based on feedback data becomes highly valuable, saving precious time via pre-determined workflows and reducing email clutter.
How can it increase sales?
Most businesses rely on Salesforce to train their salespeople, but training your staff by integrating a sophisticated LMS with Salesforce can help your company bring about better results with relatively less effort. Employees can follow a learning path provided by the LMS integration, which makes learning enjoyable and engaging, in addition to providing the proper material structure. The Salesforce-LMS integration provides sales staff with customizable and helpful training that pushes them to perform better.
The integration of LMS for Salesforce provides a unified learning experience that engages people in the workplace. By granting full access to crucial data, it offers total control over staff performance management and training. Furthermore, it provides all of the necessary eLearning options in a single place.
With the Salesforce LMS integration, you can train sales representatives using real-world examples and help them better comprehend their target market. The integration also makes it easy to keep track of every component of your sales training.
What are the benefits of Using a LMS?
Here are the key advantages of using LMS for training your staff.
Ensuring Content Security and Maintaining Brand Value
Because the data is stored on the cloud, there is no chance of losing essential information in any format from any device. As a result, the learning team can access the program via LMS at any time and from any device without placing the course material at risk.
Make Technology Work for You
To make things more interesting, LMS enables the use of slideshows, gamification, and videos in sales training. You can include videos, SCORM packages, and other elements in your online courses that can be accessed from anywhere and at any time. Gamify your courses by including a range of question types, such as rating quizzes and multiple-choice, to assess your learners' progress and successes.
Although it sounds like something that is meant for fun and not for the purpose of training employees, the gamification feature of a LMS software has emerged as a major reason for increase in employee engagement with training courses.
Widely Accessible Training from Any Location
Every learner's training is distinct from that of their coworkers. This means they won't have to wait for anyone on the team to catch up on any level of training. Companies operating across time zones and dispersed around the globe benefit from this type of flexibility as well. It is because learners can access training content from anywhere and begin their learning.
Simple Training Progress Management
An LMS doesn't just provide training materials and tools to aid learning but also monitors the progress of training courses on its own. Leaders may ensure that the training goal for each employee is met on time by assessing individual learners' progress.
Repetition In Logical Terms
Another wonderful technique is to use the power of effective repetition to cement what the employees have learned. With a Salesforce-LMS integration, this repetition can be made contextual to real-world scenarios.
This improves the impact of training and enables employees to remember better by letting them make connections between training information and the situations they face at the workplace.
Reasonably Priced and Ideal
An LMS is not only affordable, but it is also an excellent solution for employee training. The training expenditure will be significantly reduced as there will be no new instructors and no printed training materials. It is adaptable and can handle modifications to the training material at any time without incurring additional costs.
Plan And Monitor Your Training
The most important and final step in running a successful in-field training program is keeping frequent notes on your salespeople's performances, tracking their growth, and giving them feedback so they can see their progress and get better as they learn. Planning becomes the norm while using an LMS solution.
The simplest way to keep everything in one place and manage feedback is with an integrated LMS, which can keep track of your observations on an employee, alert you when it's time for an assessment, and help you assign future programs and courses to your salesperson based on their capabilities and weaknesses.
Use WordPress
A significant advantage of using WordPress for LMS solutions is its scalability. SMBs can start small and expand their online course offerings as their businesses grow.

Here I'll give you a few examples of the best plugins for WordPress and their use case.
For those interested in converting their websites to student-ready learning platforms let's check out the best WordPress LMS plugins available online:
MemberPress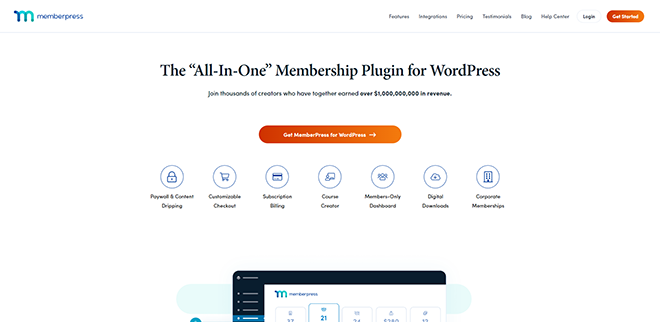 MemberPress is one of the most famous LMS plugins for WordPress that allows you to create online courses seamlessly.
With this plugin, you can also create multiple membership tiers and subscription models.
MemberPress also has an easy-to-use interface that enables users to configure their personal online classes without advanced technical experience.
LearnDash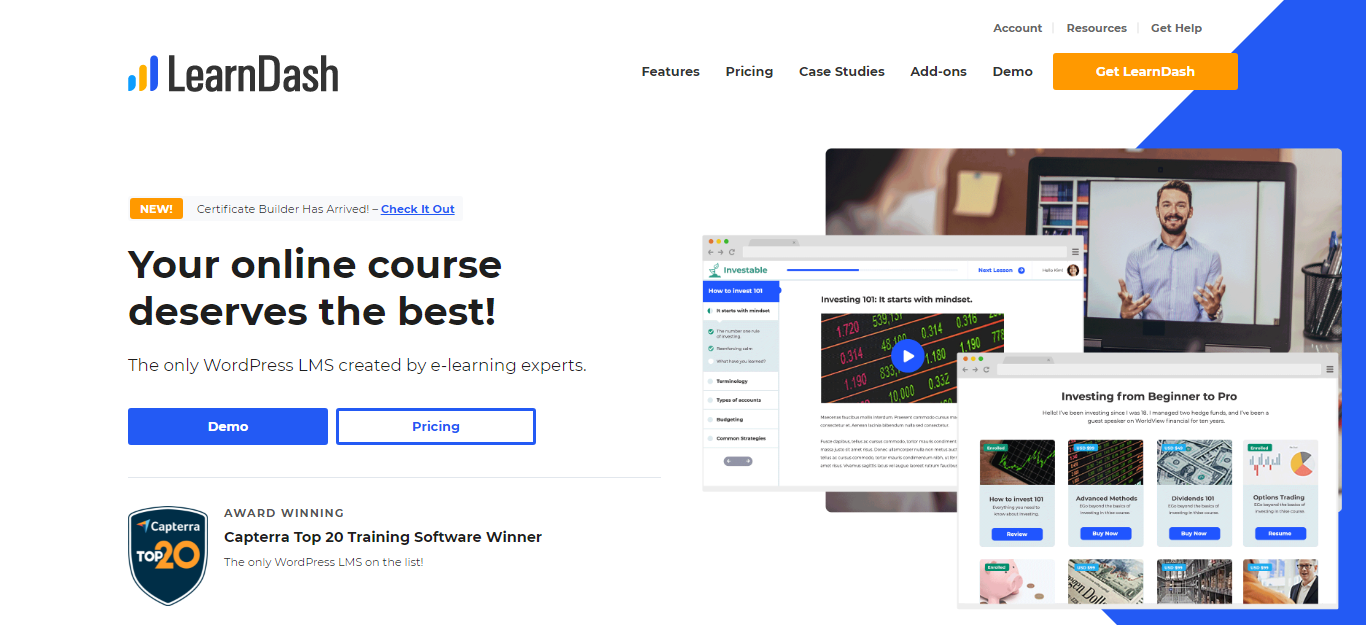 LearnDash is a marquee LMS plugin for WordPress sites used by top universities and online learning platforms.
This plugin's simplistic nature and interface make it a popular choice among educators and e-learning institutions.
Besides, LeanDash offers a 'drip feed' option that enables you (the moderator) to create a schedule option.
You can also use the advanced quiz option to create different types of questions.
Another standout feature available on LearnDash is the amazing product support and accessible user guides.
These features make LearnDash the perfect choice for both absolute beginners and experts.
LearnPress
LearnPress is an LMS WordPress plugin that uses the freemium model.
The plugin can be used on multiple sites for free, although you still need the premium version to access the entire range of features.
With LearnPress, you can create multiple quizzes instantly.
You can also jazz up the learning material by adding presentations and other forms of media.
LearnPress's premium features also enable you to monitor and evaluate learners' progress.
You can also add multiple payment options like Stripe and 2Checkout for seamless transactions.
Sensei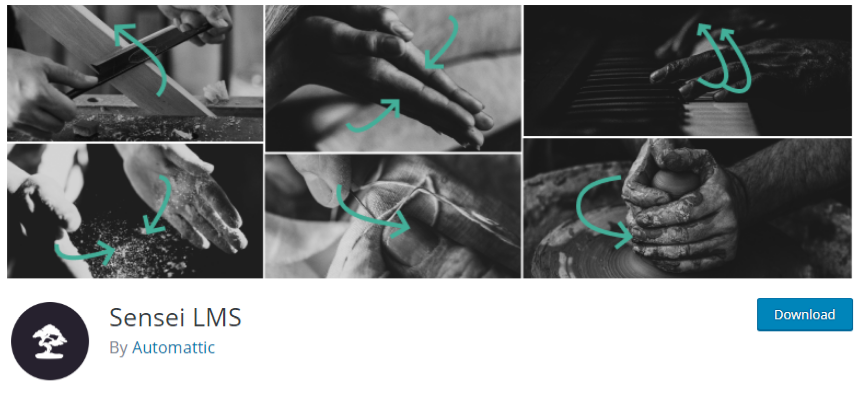 Sensei is a masterful WordPress LMS plugin that provides a lot of flexibility and handy features for creating online courses.
This plugin is a product of WooCommerce but is compatible with WordPress sites.
With Sensei, you can create courses and sell them on your website without any issues.
The only drawback with Sensei LMS is that it doesn't support third-party integrations.
Teachable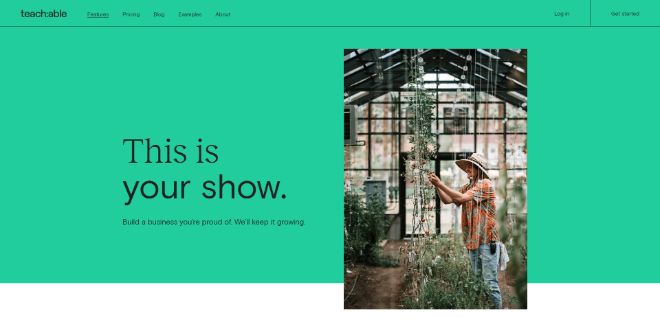 Teachable LMS is unique because it functions both as a plugin and a standalone tool for creating courses.
If you have a website, you can use the plugin to add the course to your WordPress site.
Else, you can create the online course directly on the Teachable subdomain.
Teachable provides multiple quiz options with various question formats.
You can also add a forum for student participation and discussion.
With the premium version, you can use the drip course and coupon generation features.
Teachable also provides PayPal and Stripe payment options.
Tutor LMS
When it comes to free-to-use LMS plugins for WordPress, Tutor LMS tops the charts.
This plugin works well for teachers and website owners with limited technical know-how.
Tutor LMS stands out because it enables the site's owners to create unlimited courses without any hassles.
The plugin also provides a dashboard for the students.
You can also use the course review and rating features to evaluate students' performance.
With this LMS plugin, you can add controls for course difficulty and course teasers.
You can also add video learning materials directly or embed the link via YouTube.
MasterStudy LMS
The MasterStudy LMS plugin for WordPress comes packing several features for creating online courses.
The website makes it easy to create and manage your online courses.
You can also integrate payment portals like PayPal and Stripe.
With the sleek MasterStudy LMS user interface, you can create beautiful courses and include multimedia content for learning.
You can also create a tiered subscription model for users.
MasterStudy also provides course progress trackers, timers, and certifications.
WP Courseware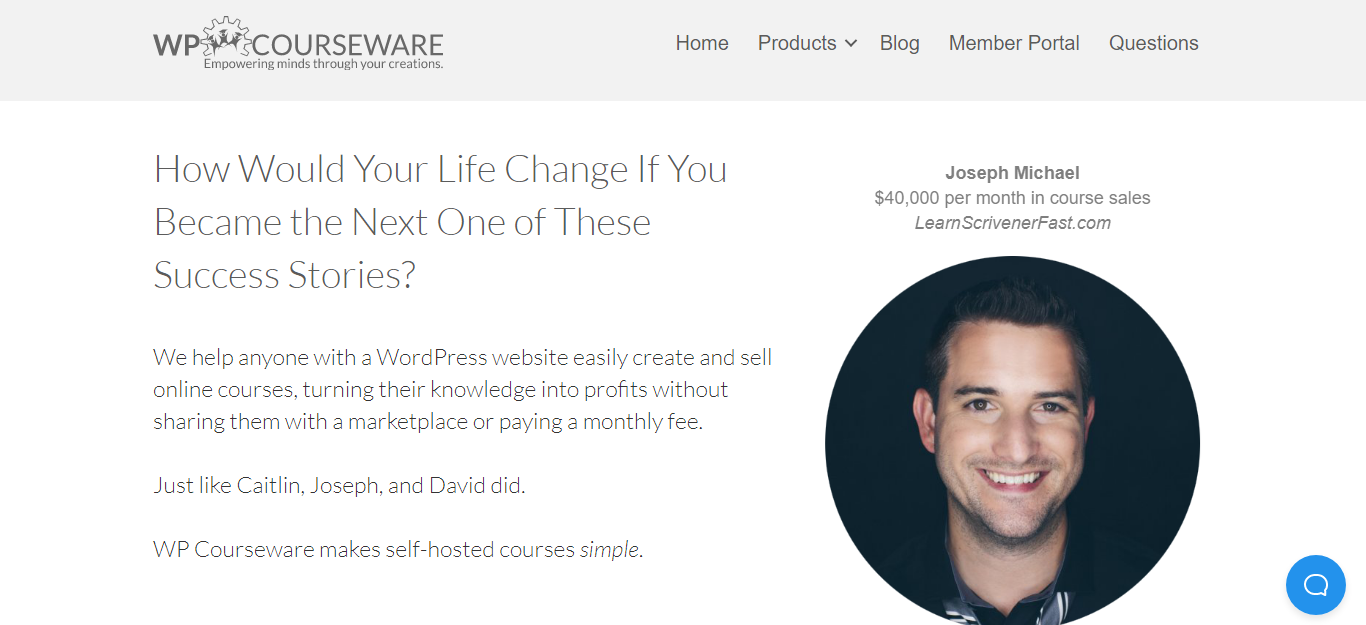 WP Courseware allows you to create custom courses for your website.
This feature-rich plugin enables you to include course prerequisites and drip content features.
With the WP Courseware plugin, you can include teacher and student profiles and question banks.
You can also improve the user content with custom emails and an engaging user experience.
WP Courseware also allows the course owners to monetize their content.
You can also add payment portals to manage the subscriptions.
LifterLMS
LifterLMS is an LMS plugin that is easy to set up on your WordPress website.
The plugin's primary strength is that it prioritizes the students' learning experience.
You can also create multiple course tiers for your online classes, regardless of the size and specifications.
With LifterLMS, you can always create content with media files.
The plugin also allows discussions and gamification modules.
You can also create certificates for every completed course.
Reasons That Makes Gamification An Important LMS Feature
Gamification is the new craze; and for good reason. It is a framework for education that is being utilized in a growing number of education and training programs all over the world. It simply makes learning fun. So how can LMSs train your staff utilizing gamification methods and strategies?
Increases Learner Motivation
It is not uncommon for people to be enthralled by the idea of a reward, and gamification encourages them to perform well to earn a reward.
With quizzes to assess their knowledge of a particular topic and reward for high scores, employees feel motivated to learn in order to gain high ranks.
Increases Productivity
Since gamification motivates employees to learn, it enhances their skill set.
This not only helps them perform to the best of their abilities, but also increases their productivity. Games like a puzzle or sudoku can also enhance their learning skills.
Enhances Teamwork
Collaboration is crucial for a team to perform together to produce good results.
Gamification helps in breeding healthy competition in a team.
It encourages employees to outperform each other to gain a higher position on the learning leaderboard.
Makes It Easy to Learn Difficult Topics
A lot of times employees need to learn complex topics that are essential to enhance their skill set.
But it is not necessary that they should be explained through text or images.
Explaining difficult concepts through storytelling combined with game-like elements helps employees understand them better without having to spend hours on a single topic.
Encourages Stress-Free Learning
A high number of employees feel stressed in the workplace due to the inflexible working hours, lack of physical activity, stricter deadlines etc.
Making training courses unengaging can make them averse to the idea of learning in general.
On the contrary, offering learning through games can help them relax while at the same time helping them learn new concepts.
Gives Employees a Sense of Accomplishment
Gamification has been proven to drive significantly better results when it comes to rate of course completion.
This is because employees feel engrossed in the way training is being delivered.
Accomplishing learning goals and achieving reward points in assessments makes employees feel great about their own performance.
Use Event Managers
These tools can empower SMBs to grow and succeed by providing seamless online course creation and event management capabilities and aims to showcase the advantages of this powerful combination and demonstrate how it can help SMBs reach their full potential.
Conclusion
Overall having an LMS provides small businesses with a lot of benefits, such as engaging employees during work hours while achieving higher retention rates resulting in increased profitability through improved performance metrics while keeping costs low.
We've seen how effective Learning Management Systems are in sharing specialized knowledge within organizations, especially amongst growing SMBs, providing valuable resources to employees needing help coping with increasingly complex job duties.
Whether you need virtual customer service training or are looking for ways to enhance your existing HR program, an LMS can help businesses scale knowledge faster and more efficiently while staying within budget constraints.