---
How to Hire Developers? – Top 6 Best Websites For Recruiting Developers in 2023
Recruitment is complicated for companies in need of IT specialists, for example, when a company needs to hire developers. A LinkedIn study reveals the median time to hire a software engineer is 49 days. The high cost of IT services and the need for narrow experts increases the time to hire and drain the companies' resources.
Luckily, the gig economy and outstaffing are gaining popularity. Hiring professionals offshore can be cost-effective and with online access to talent pools worldwide, finding the right people becomes easier.
In this article, we discuss the best websites to find and hire IT specialists.
Global Software Companies offers a quick questionnaire that gives you a custom recommendation for the best software outsourcing company. 
Tips On Hiring a Developer
Before we go any further with the websites to hunt developers, let's figure out the basic things you need to know about distinguishing talented developers for your business.
Here are four tips on hiring developers.
Outline your company's needs in terms of technology. Navigate through modern tech stacks and understand what suits your project.
Assess candidate's proficiency. Before you hire remote programmers you should also run through the developer's portfolio and testimonials to get a picture of him or her as a specialist.
Choose for the future. Prepare a list of questions that reflect your company's culture for further interviews.
Attract experts. As the competition for top talent is high, don't forget to provide reasons why candidates should work with you.
If you need more insights on how to win great software developers, read our article about choosing software development services.
Where to Find Talent? Top 6 Websites to Hire Developers
The Internet offers many services to find a workforce. We'll focus on services that gather specialists of different levels, so you can find a suitable candidate for a simple bug fix or a dedicated team player.
Flexiple
Flexiple with its vetted talent network of more than 50,000 engineers, helps companies hire the dream tech talent on contract as well as full-time roles.
For 6+ years, they have been taking care of all parts of hiring, from finding the right candidate to evaluating their skill set and finally matching them with the best roles.
With a talent network spread across 60+ countries, they are an ideal hiring partner for companies looking to build a dream tech team.
Time to hire: Find a match in three days from posting a job
Price: Pricing is personalized depending on the type of hire
Talentica Agency
Talentica Agency is an IT recruitment agency. Since 2020, Talentica has found over 20k tech specialists for +650 companies. The agency has access to a developer's talent pool across the globe (Brazil, Poland, Romania, Ukraine, Middle East, and more).
Talentica's services are straightforward. You need to file a three-step application where you mention the requirements for candidates and your contact information. You can also schedule a meeting with the manager to discuss details.
Time to hire: from one day after signing the contract.
Price: Pricing is personalized for each client depending on your needs.
Upwork
Upwork is an online platform that unites freelancers of different specialties across the world. It offers access to 1,665 IT and Development skills. Upwork focuses on collaboration so you can communicate with contractors, track progress and make payments through the platform with ease. All freelancers are strictly verified by Upwork.
To hire a talent via Upwork you should register to the platform and post a job. Then, job-seekers will send you proposals. You can also buy ready-made projects freelancers posted on the platform or use the Talent Scout service so that Upwork does the recruitment for you.
Time to hire: from 1 day to several weeks depending on your availability.
Price: Posting a job is free, the payment fee is 10% of the payment.
Fiverr
Fiverr is similar to the Upwork freelance platform. Fiverr community offers development services such as creating websites with builders such as WordPress, e-commerce development, chatbots development, and IT support. The platform is growing so new categories will emerge soon.
After registering to the platform, you'll have access to the offerings from freelancers called gigs. Choose the suitable gig and pick one of the plans the seller offering or contact him or her directly to discuss details.
Time to hire: from 1 day to several weeks depending on your availability.
Price: The platform is free for hiring talent.
Red Jumpers
Red Jumpers is a partner agency that brings together IT companies and helps them share expertise and find talent. The agency grants each partner access to over 4k CVs of professional developers, engineers, and testers, who are thoroughly selected and verified. The community has more than 700 partners who have diverse experiences and are ready to share them.
To hire developers with Red Jumpers you need to send a request, sign an agreement and outline your needs. Then, you can access relevant CVs and talent requests via a custom application.
Time to hire: Find a talent – 48 hours tops. Project requests – 7 days tops.
Price: Pricing is personalized for each partner depending on their work results.
Gun.io
Gun.io is a platform for hiring developers on a freelance basis or full-time and remotely. The platform vets each developer by their skills and experience. The platform already has more than 10,000 candidates ready to join new projects. Gun.io handles time-tracking and payments to let clients focus on collaboration.
You can hire a freelancer or a remote developer by signing in to the platform and setting your requirements. Then you can review suitable candidates and schedule interviews right on the platform.
Time to hire: up to 48 hours.
Price: Hiring a freelancer – starts from $75/hour (Gun.io fees included). Hiring remote workers – 15% of first-year's salary (one-time payment).
Guru
Guru is a workforce marketplace to post a job opportunity. There you can find freelancers and dedicated teams with multiple expertise starting from education and marketing to software development and engineering,
To hire a specialist you need to post a job, receive Quotes from freelancers, and choose the best of them. Agree on the work scope and other conditions and collaborate on the platform.
Time to hire: You'll receive the first Quotes within a few hours after the job posting.
Price: Membership is free. The payment fee is 2.9% of each invoice.
Arc
Arc stands as a remote developer marketplace fueled by AI capabilities. It effectively links employers with extensively evaluated international talent.
The recent addition of HireAI, an AI recruiter, amplifies the hiring process by swiftly presenting candidate matches sans the need for manual searches. This tool identifies top contenders through automated screening, leading to a 4x faster hiring pace with vetted candidates.
Time to hire: 72 hours
Price: Free job posting for unvetted developers OR 15%-20% first-year base salary. Additional multi-hire package discounts upon request."
Bonus: Ways to Find And Hire Developers At a Low Cost
Winning the best talent isn't easy considering the current competition on the market. Statistics say that top-rated developers have on average 3 to 5 job offerings per week from different companies. Companies allocate budgets to recruit developers that often don't pay off.
So are there ways to hire developers at a low cost? Here are cost-effective hiring tips gained from experience:
provide the working atmosphere that retains employees,
provide employee referral program,
bring automation in recruiting,
develop your social media,
work on your company's brand.
Wrapping Up
No matter what your business's size is, the mentioned-above workforce marketplaces can provide you with plenty of tech specialists at reasonable prices. If you need to finish simple tasks, Fiverr or Upwork is a great choice. Recruitment agencies such as Talentica or Red Jumpers are more convenient when it comes to hiring a team for a specific project.
Recommended Posts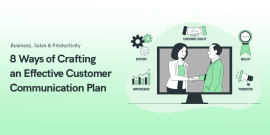 November 7, 2023