---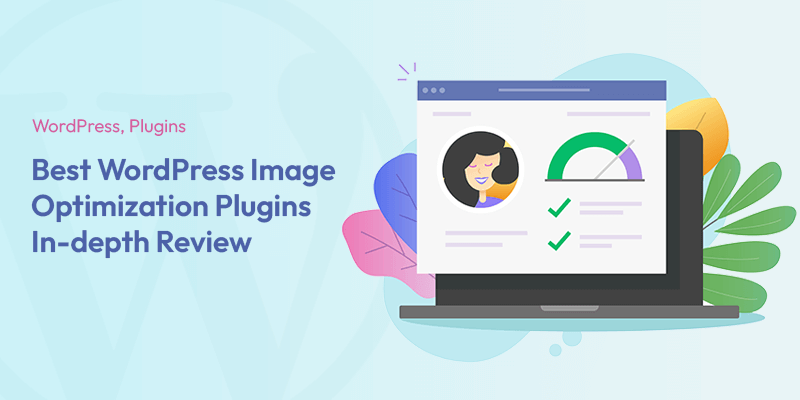 Best WordPress Image Optimization Plugins in 2023
Pictures give WordPress websites, blogs, personal pages, and every other synonymous form a pinch of life, spirit, and visual traction. Without them, words go on an unchecked and dull crusade on screens, boring everybody and rendering writings undesirable for Google. That's when WordPress image optimization plugins swoop in and rescue the day.
Check the following article: Speed Up WordPress Website
What Do WordPress Image Optimization Plugins Offer Us?
Images operate like digital road bumpers that shake us in the dire moment that everything feels still and numb from reading rows and rows of words. But, they must be tuned, placed in the proper position, and in non-disturbing internals where they can actually be impactful and refreshing.
And that's what image optimization tools do! They help frame the right balance between image numbers and sizes before the WordPress websites turn into disastrous epitomes of using pictures wrong!
These handy plugins enable us to perfectly edit, resize, optimize, and recolor pictures as we see fit. They are literally inseparable from any website design and SEO effort and boost viewership on these digitally coded sheets. Atop that, they aid in having the perfect easy-to-load, not-too-heavy pages that put smiles on bloggers and webpage owners' faces and pique viewers' interest, especially in this age of "everything virtual."
Doesn't WordPress itself optimize images?
No. you need to have a dedicated plugin. And it automatically reduces the size of the images to improve your website performance and loading times. You can also do it manually but it takes a lot of time.
Should I use PNG or JPG images on WordPress?
Generally speaking, PNG is a better option if you want your images to look sharp. But if you want to show graphics or charts and things like that, go for JPG.
Does image optimization reduce image quality?
Some quality is lost, yes but generally it's not noticeable. RAW images are too large and contain too much data. Using a good image optimization plugin helps retain great quality at a reasonable size that doesn't compromise website speed.
Best WordPress Image Optimization Plugins
So, here's our recommendation for the top WordPress image optimization plugins in 2022 that can plunge you into having the best pictures onto your digital tabloids.
ShortPixel Image Optimizer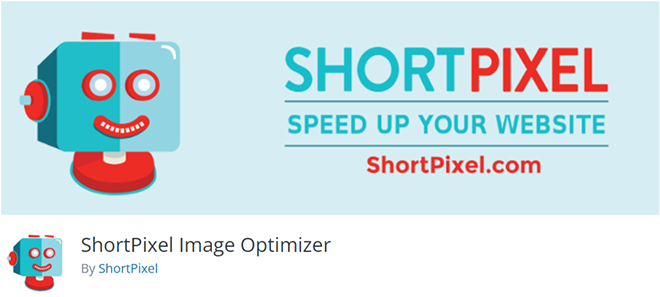 A great freemium plugin in our Top WordPress Image Optimization Plugins list in 2022. ShortPixel Image Optimizer comes with all the features we hope to have: it compresses, resizes, edits, and enables you to have a better-looking webpage. It helps with website viewer boost, SEO compatibility, and designing a compelling experience for all users across all platforms, and that's why over 200,000 sites have reportedly installed its API and go busy with its handy features. A quick look into the program enlists lazy loading, smart automatic cropping and compression, and many time-saving and website-saving features that we'll cover in full.
ShortPixel Adaptive Images
Serving images from a dedicated global CDN (Content Delivery Network), ShortPixel provides fast and furious access to images from every corner of the world. It automatically and smartly resizes and adapts pictures based on the user's current device. Automatic smart cropping is another great virtue of ShortPixel Adaptive Images service that cuts images without causing damage to the critical visual prospects. Also, image manipulation services can do this for you.
Features
The free version comes with three compression levels: lossy, glossy, and lossless conversions. As it states, in the lossy version, the quality is sacrificed for end results which are lower image size.
Automatic compression
Lazy loading
Automatic image resizing
Choosing thumbnails for compression
PDF optimization
WebP image support
Local image backup
Interface
If you're familiar with Imagify, you'd definitely spot the similarities here too. However, with ShortPixel, extra tabs have been introduced to the interface panel to open up space and advanced options for users — but only a couple of them. Navigate thoroughly through these menus to get the whole experience and the most-suitable configuration that serves your website right.
For activation, as always, head to their website, extract the requested API and add it to your WordPress web page, which can be injected into multiple websites without it crashing down.
Afterward, utilizing ShortPixel becomes a walk in the park; it's a super user-friendly adventure, even for newcomers.
It's suggested for most newbies or everyday users to leave the advanced settings on recommended settings as it provides the best set of rules for automated image compression, back, resize, and process.
Pricing
With ShortPixel, you get 100 free images monthly, and you can go infinity on image sizes. Above that and you have to pay for paid plans. Their payment methods start at $4.99 for 7,000 photos. It's also worth mentioning that nowhere are you allowed to edit images above the 100MB threshold in these paid plans.
Smush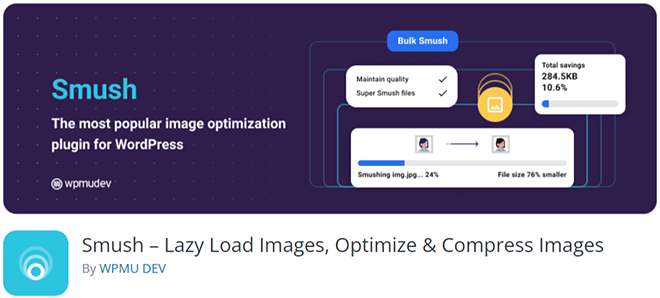 Smush is the prophesized Messiah for the lost image-optimizing beginners who find themselves hands-tied and frustrated when grappling with WordPress images. Another member out of the WPMU DEV family focuses on making every WordPress image process non-manual, and it's reported that it has reached over one million installations.
With over one million installations, Smush stands tall above many other WordPress image optimization plugins in 2022 and probably for the years to come. It's completely free, user-friendly, fast, empowering, and extremely useful. The only major flaw in its system can be narrowed down to the fact that almost all WordPress image optimizations are limited since the image-size threshold is less than 5MB.
Features
We can't start rambling about Smush skipping the basics: it helps with resizing, compressing, coding, and basically anything that's required from an image optimizer. On queue, the software begins with already-existing images optimization, and it moves to better new images as soon as you upload them.
It also provides lossy and lossless image transactions without sacrificing time or speed. Another great point in its list of features is the ability to wipe metadata off the images after one has been created.
Automatic lossless compression
Automatic resizing (Up to 5MB)
Thumbnail size selection
Gutenberg block integration|
Multisite compatibility
Strip EXIF metadata.
Lazy-loading functionality
Image resizing support
Bulk optimizer (up to 50 images at the same time)
Detection system for unoptimized pictures
Interface
As always, the journey begins by putting the provided API into your WordPress panel. Now you're equipped with one of the very best WordPress image optimizing systems.
After installation, you'll land in a delightful yet massively impactful user dashboard where options are clear, buttons are big enough to not miss blindfolded, and everything just feels it's been obsessively mapped out.
Pricing
The free Smush takes care of business, and most users have never complained about anything in the no-pay iteration. However, for those curious, the premium feature is called "Smush Pro" and comes in full-sling with modern and intriguing advanced features such as it removes size boundaries.
You can also have the Smush Pro as part of the complete WPMUDEV development package for a total of $82.50. Here are some other features that are only available on paid-method purchases:
Image serving from a CDN
Back up the original image.
Automatically convert PNGs to JPEGs
EWWW Image Optimizer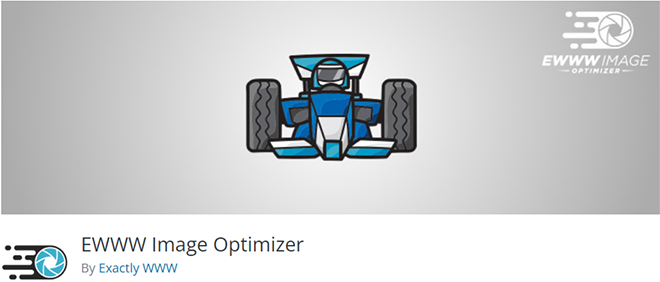 Basically, no WordPress Image Optimization Plugins 2022 article goes published without an EWWW Image Optimizer surfacing up somewhere in all of them. It's the Godfather of all image optimization software in the market.
If you're having a problem with website visibility or your SEO strategies haven't been fruitful especially in the imaging department then you'd definitely benefit from EWWW.
One of the main reasons EWWW image optimizer is so prevalent in the eyes of the community is because of how it relocates the load to the user's own server, something amiss among other software of the same category. This is also synonymous with users not having to share or borrow resources from other services to upload or process images.
However, something shared between EWWW and others are that it also has an API that you need to incorporate into your WordPress page to start working.
Features
EWWW optimizer automatically sizes up images and makes the necessary altercations to make them WordPress-friendly. It also expands users' capabilities by giving them the option to beat around the bush of 150MB files, which barely any other WordPress image optimization tool can match. Furthermore, there's no need to point out that lossy and lossless formats are easily achieved through EWWW optimizer.
Interface
Though the outline isn't EWWW optimizer's sharpest characteristic, it still gets the job done without leaving any room for doubt.
However, the interface has gone through some noticeable changes in recent years, making it much nicer to traverse and use.
The interface still upholds the tradition of massing a lot of buttons and options. This has two sides to it: for the control-maniacs, this is godsent, while for more casual and new users, it might look like a handful that they're forced to learn. And, yeah, of course, the latter can always take the simpler road of recommended settings.
No speed limits
JPG, PNG, GIF, and PDF
Four compression levels instead of the casual three on other tools
Dynamic images
Multiple-device-friendly image resizing and compressing
Image format conversion (Adapting Steering)
Ability to daily schedule tasks
Comprehensive database
Pricing
This impressive have-it-all WordPress image processor is an unlimited free-to-use at its core, but paid plans have been embedded to satisfy more professional needs. Here is the paid material:
Connect to the cloud optimization service for compression, CDN, etc.
Unlock all the compression methods and some other features.
Compression plans with a price tag of $0.003 for an image
Kraken Image Optimizer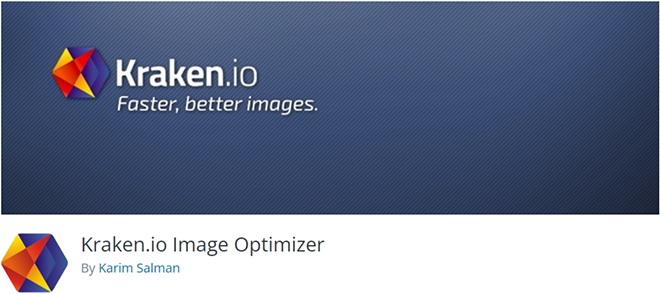 Kraken Image Optimizer is next on our list of WordPress-dedicated image compressors. It's the WordPress plugin version of the long line of the famous, Kraken.io web interface that has been improved in flexibility and simplicity.
Kraken works flawlessly with various devices and shows no sign of interruption after being installed on mobiles, tablets, and desktop sets.
Features
Like most of the items among the top WordPress image optimization plugins, Kraken compresses images for webpage purposes, but it doesn't end there; with Kraken, you receive a Page Cruncher and a dropbox compatibility. Also, the lossless and lossy compressions are available through the Kraken image optimizer.
You can add Kraken to your WordPress, taking over image optimization. Here are some other crucial features:
Automatic image resize (based on the maximum designated section)
Web interface pro
Kraken.io zip uploader
WordPress & Magneto plugins
Bulk action menu (multiple actions)
Manually choose JPEG quality setting and chroma subsampling scheme
Thumbnail selection for resizing
Support of JPEG, PNG, and GIF
Save EXIF metadata
Statistics report
Kraken lacks WebP image support despite the meaningful attributes, which leaves a bitter taste in the user's mouth.
To set up Kraken on your WordPress, first, you should enter the API key in your website for it to become functional. From this point onward, it's an easy down-slope to finalize the addition. Everything you require is summed up into one Settings page through which you can activate or deactivate numerous features.
Interface
We move on to the Kraken interface, assuming you've already removed the API from their web page and added it to your WordPress scene.
The interface doesn't generate much room for debate as everything is neatly shelved on one page. It almost borders at the word "perfection" of conveniently placed tabs, buttons, and lists all in harmony with each other. Here's what you turn on/off on the interface panel:
Automatic optimization
Automatic resizing
Thumbnail selection
Whether save EXIF metadata or not
Pricing
The freemium Kraken comes loaded and ready to bear with problem-solving and free options. However, you can unlock its full potential by subscribing to one of the payment plans.
Kraken offers a one-time working table of 100MB worth of images, charge-free. Besides that and you have to dip into your pockets.
The premium plans start the $5 per month, which gives you 500MB of space.
Imsanity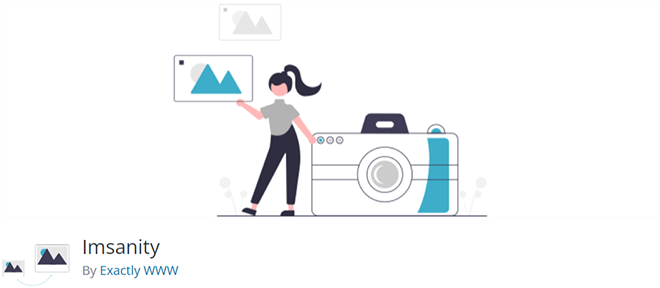 A breath of fresh air from all the WordPress Image Optimization Tools in 2022 and API-adding as Imsanity is basically an image resizer rather than an optimizer, which makes it quite fast. It also doesn't bother users with third-party or cloud-service extravaganza.
So, if you ever needed a simple WordPress plugin that strips itself from the image optimizer fuss and enables basic quick and clear image resizing, then definitely look into Imsanity.
Such simple yet demanding capability has attracted over 300,000 cases of installation, showing people still crave simple yet effective.
Imsanity support different language, all of which are available on installation.
Features
Through Imsanity, you can preconfigure width, height, and image quality. When an image surpasses the predetermined value sets, Imsanity detects and takes action to reverse the unwanted. The plugin's algorithms force it to resize the image to the predefined settings. These make it perfect for websites and WordPress owners with identical image needs who don't require high-definition visuals. Other features include:
Automatic scale-downs
BMP, PNG, JPG conversion (for better compression and resizing)
Bulk resize feature to resize existing images (free up disk space)
Selectively resize images directly in the Media Library (last view)
Allows configuration of max width/height and JPG quality
Once enabled, Imsanity requires no actions on the part of the user
Uses WordPress built-in image scaling functions
Imsanity is constantly updated, and new features rush in every other month. So keep in mind to update the WordPress plugin if you choose to go with it.
Furthermore, Imsanity doesn't do resizing beyond the WordPress borders and default compression rules. For extra image resizing left by Imsanity, you might need to install another WordPress image compressor to fill in the gap.
Interface
Imsanity is has a user-friendly interface with not a lot going on. Once you're finished with API incorporating and signing up to the software, a one-pager shows up with FAQ and Support buttons.
All predetermined values are at hand on this page with control boxes that let you change these values. The interface panel also includes the checkboxes for format conversions with a "save changes" button to top it all off.
Pricing
It should be obvious that such a short-stacked resizer only comes free for all.
WP Compress
If image fine-tuning is your game and speed and ease are your motto, then WP Compress should be your go-to WordPress image optimization tool in 2022.
WP Compress is a well-built, automated, top-tier solution to any image compression and optimization on the web and especially WordPress sites. It's fun, easy to handle, and offers a lot for its light-built friendly design. It offers fully-automated image management on top of white-labeling to clients.
Features
WP Compress can shrink images both locally and on the cloud-based turf. The online feature combines Hybrid CDN intertwining Google Cloud and BunnyCDN for the highest-pace image serve possible. It also offers adaptive images, retina device support, and lazy image loading.
Here's a more in-depth look into the features you get:
Three layers (level) of compression — one lossless and two lossy
Adaptive Images Functionality
Centralized management portal
Local image optimization
Local & Live optimization modes
Detailed client reporting
Remote configuration optimization
Bulk website linking
Fully automated procedure and bulk actions
Automatic resizing
Image backup is available
Preserve EXIF data
Live chat support
Next-Gen WebP images
From the ground up, everything is done by WP compress most conveniently. It automatically converts images to the best format (next-gen WebP in this matter) and, afterward, reshape them depending on the viewer's device. It's worth mentioning that the lazy loading quality elevates the experience as the website's performance is sped up.
Interface
There's not much to describe in this department as the one-tab settings pay speaks for itself. After API adaptation, you have the liberty to go with recommended settings or tweak the tool to your liking — all of which obviously happens after you've added the designated API to your WordPress page. Other options on the interface are conveniently placed and easy to access.
Pricing
For such a beautiful creation of a WordPress image optimization tool, you'd think that the pricing model would burn a hole in your pocket. Well, we're here to say that's not the case here!|
You're off the hook for the first 100 images and don't have to pay anything. Afterward, the payment access starts at just $5 for up to 1,000 photos.
But here's the golden ticket. WP Compress doesn't count thumbnails as separate images, which is a massive plus to the whole experience — unlike many other image optimization plugins out there.
Optimole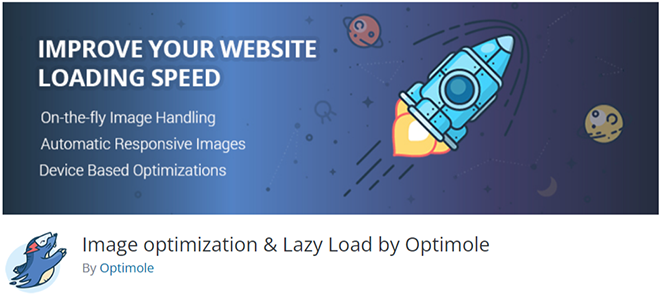 Optimole is a human-free one-stop image optimization service for those of you who run into trouble when inserting pictures into WordPress.
Optimole runs cleanly and without hiccups, giving full access to the images that need processing. Most of its features run smoothly behind the curtains, ridding users form unnecessary software scenery.
Features
You can resize, compress, modify,  and even achieve lazy loading. It also enables access to AWS Cloudfront CDN for speedy global access, which removes delay from image pick-ups on WordPress websites.
Dynamic image serving is perhaps the most exciting aspect of Optimole, outshining every other part. As one of the top WordPress image optimization plugins in 2022, we surely expected the developers to incorporate such a convenient service into the already-great image optimizer. It shows professionalism and respect towards users by transforming URLs into cloud-based ones that pop up for new entries to the website. Here's a look at the other essential features:
Lossy & lossless algorithm
Four types of compression levels: Auto, High, Medium, Low
Supports Retina, JPEG, PNG, WebP, and SVG formats
Real-time image optimization
Smart image cropping
Automated resizing
Automated watermark adding
Lazy loading
Image replacement
Optimization based on user's device
Smart cropping (preserving the original quality)
Monthly report & monitoring
Interface
The setup is a fast and hassle-free two-step action: 1)signing up to the tool and 2)adding the API.
After adding Optimole, the user-friendly main menu is displayed with a modern appearance and grants you absolute authority over each aspect of the program. Everything is split between two tabs: Dashboard and Settings. Although some other WordPress image optimizers squeeze everything into one page, the Optimol's neatly-arranged features and buttons in two sections aren't too bad — it just needs more time to maneuver.
Pricing
For up to 5,000 unique visits per month, Optimole won't charge you anything. Some might think this as a dent in the whole system as it might be sufficient for WordPress bloggers, eCommerce, and other high-traffic webpages that don't truly benefit from this number. Despite the slightly disappointing fact, here are the plans available when you want to go above and beyond the free amount:
Starter → $22.52/month, 25,000 visits monthly
Business → $46.12/month, 100,000 visits monthly
Business 2 → $81.52/month, 250,000 visits monthly
Business 3 → 175.82/month, 750,000 visits monthly
Business 4 → $282.02/month, 1.5M visits monthly
Business 5 → $423.62/month, 3M visits monthly
They also offer a generous 7-days unconditional money-back guarantee.
reSmush.it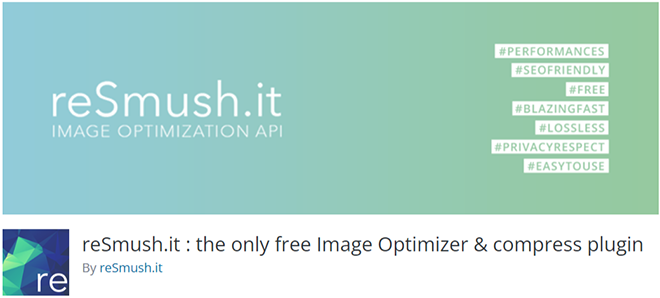 If you're looking for a free and quick plug-and-play plugin that takes over and releases you from complicated manual image optimization, then reSmush.it is the answer you've been looking for. reSmush.it is one of the best choices among the top WordPress Image Optimization Tools in 2022, with excellent features and an easy-to-learn interface. They have put in place and upheld high customer-care policies, which has helped them to portrait a compelling brand awareness.
Features
When you've uploaded a new image, it goes through reSmush multiple image-processing algorithms, which decide how to compress your file. Afterward, the software creates a copy of the original picture and proceeds to apply changes to the copy, so you're original photos are always protected. It also has a sliding scale for optimization level for finer control over compression level.
Although image-resizing and compression are free with this program, the only-5MB-images-or-less bottleneck available on the free version is somewhat a disappointment at times. To add salt to the wound, reSmush doesn't offer different layers of compression nor WebP compatibility.
However, the cleanness and handiness of reSmush have convinced over 400,000 CMS-owners to add it to their arsenal and take advantage of its mechanics to handle small and large image optimization operations.
Image size-reduction
Supportive of JPG, PNG, GIF, BMP, and TIF pictures
Bulk optimizations (in just two clicks)
Selective image exemption (from compression)
Preserve or delete image metadata
Schedule image optimization in advance
Backups
Interface
reSmush interface is nowhere afar straightforward and transparent. The interface is shaped in the form of a few boxes with clear instructions and manuals that help both newcomers and tech-savvy clients to personalize their preferences and monitor actions.
Pricing
It's an odd statement that the development team behind reSmush.it hasn't included any payment methods, and everything is free. Why strange, you may ask? The 5MB limit makes this software impractical for more professional and intense situations where websites need to work with hefty-sized images. As a result, this application loses the race to some of the more all-encompassing WordPress image optimizers that offer paid plans.
Imagify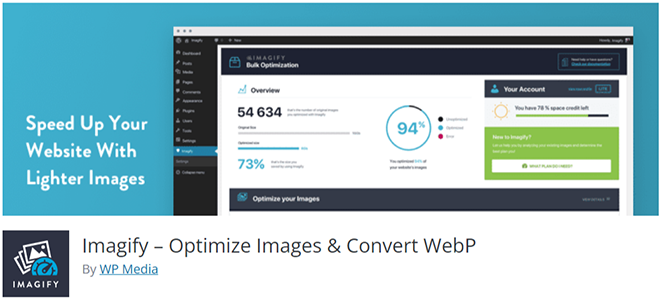 From the very minds behind the WP Rocket caching/performance plugin births an immaculate and resourceful WordPress image optimization plugin in 2022 called Imagify. A not-complicated and fun tool to compress WordPress-page pictures while saving time and preserving and sparking interest in viewers. Although some might say that its capabilities are limited to shrinking images, some stand by their statement that its great looks and easy-to-use feature make up for this downside.
Features
Imagify offers three versions of optimization and compressing modes: Normal, Aggressive, and Ultra. You can choose the Normal method, a "lossless" output, or sacrifice quality for size by pressing the Ultra option.
Allows WordPress image creation
Automated optimization
Manual optimization
Bulk image updates
Image backup
Custom folder setup
This freemium software has reserved a stable spot in our WordPress Image Optimization Plugins list for 2022 for a good reason: users don't get tired of using it, and it gets the job done in the best way possible.
Interface
First things first, remember to extract the API and add it to your website. Then, you'd feel happy that you've set up such an aesthetically-appealing image optimizer.
Imagify has without a doubt shaken things up in the professional-looks department as it serves in style. Three essential lists are broken down as General Settings, Optimization Bar, and Display Options menu. On top of these, the settings page is there for personalization and customizations.
Buttons are large enough on the face of this WordPress image optimization plugin. It also lays out visual comparisons for those who want to know precisely how their images change.
Compression levels are shown for selection on the top side of the interface. Moving further downwards and you are granted such options:
Whether to create and display WebP images.
Automatic resize options. You can set a max-width and then preserve the aspect ratio.
Which thumbnail sizes to optimize.
Pricing
The first 20MB of images each month are freebies. This gives ordinary users some space to adjust their WordPress images and take care of their visual needs. However, if your web page is more demanding, you need to move to a paid plan and premium version.
The sign-up for a monthly plan starts at the minimum cost of 4.99$ per month that spares you 1GB worth of images. On the other hand, the one-time program provides 500MB of pictures for a tag of $5.99.
Wrap-up
There are a plethora of WordPress image optimizers out there, but our list of Top WordPress Image Optimization Plugins 2022 pins down some of the most popular and noteworthy of them all.
It seems that even the simplest image optimizers and resizers are switching to more cloud-based and CDN-centered services and technologies to meet the ever-growing demand of a fast-paced market.
We recommend moving to some newer ones that don't necessarily flatten your tire and slow your WordPress website.
Recommended Posts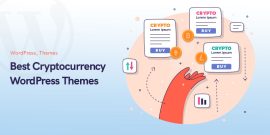 May 29, 2023