---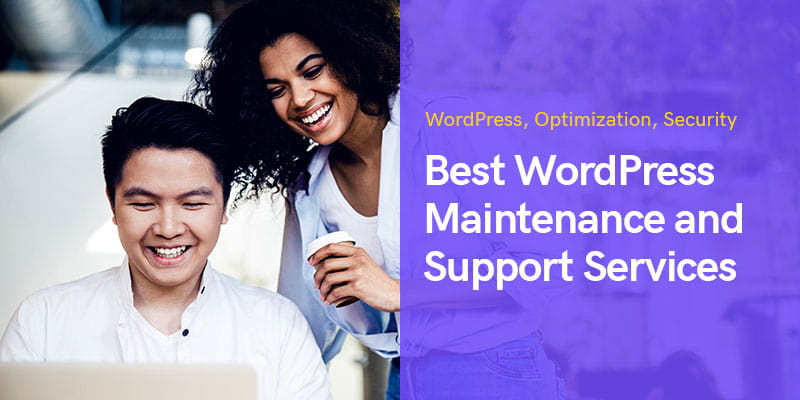 22 Best WordPress Maintenance and Support Services in 2023
A WordPress website is like a child; needing constant care, endless love, strong support, and a fulltime caretaker.
And, which parent doesn't want the very best WordPress maintenance and support services for their infant who's someday going to grow up and take over the eCommerce scene?
Many support service providers dwell on the web, with heft amounts of claims, tools, offers, premium packages, and hand-outs that are enough to drive anybody mad. This is bad, not to mention time-consuming and in some cases dangerous.
Best WordPress Maintenance Services
Our list of the best WordPress maintenance companies distinguishes the very prominent and noteworthy names in website development/protection/improvement from the rest.
Webnus Maintenance Services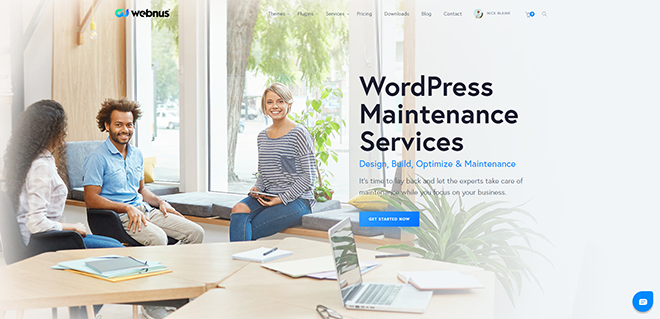 They have been in the WordPress maintenance theater for a while, albeit operating in low-key. With WordPress site maintenance services, building, designing, optimizing, and protecting a website is at hand. They take charge of improving websites so worried and busy owners don't have to. Through them, you can enjoy a relaxing and hassle-free experience as your website grows.
With over 10 years of knowledge in template and plugin designs, they know everything there's to know about the landscape. And their experts will prove this to you as you slowly find yourself liberated from daily website checking.
Webnus doesn't let anything go unnoticed when tasked with upholding a website, taking care of its design, and even putting in event-related addons such as the MEC plugin or setting up booking systems. They also invest a lot of effort in speed optimization through masses of optimizers at their disposal. Here's a list of extra WordPress maintenance and support they have to offer:
Security Monitoring
Daily Backups
CDN
SEO Optimization
Updates
Weekly Reports
Premium Themes & Plugins
Uptime Monitoring
Continuous Support
Malware Protection and Removal
Site Migration
Webnus WordPress maintenance plans:
Bronze $99
Silver $299
Gold $599
Diamond $999
It's notable that with this listing, the bronze plan will be activated for 12, silver for 9, gold for 6, and the diamond plan will be online for 4 months.
Also, diamond users will enjoy additional services such as lead generation, email marketing, advanced email marketing and email automation, dedicated server setup, Jetpack pro, online shop auditing, affiliate system setup and management, EDD setup and management, IT consulting and research for software, professional marketing consultation, and much more.
Maintainn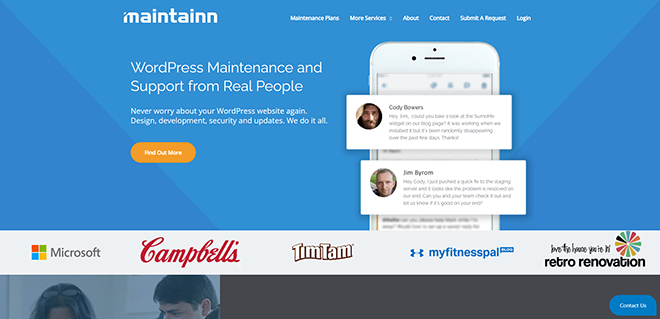 Suppose you're looking for 24/7 undisrupted support that can cover all your website design, development, and WordPress needs. In that case, Maintainn is the way to go.
Maintainn has been called one of the leading WordPress maintenance and support service companies out there, performing exceptionally well. To them, the website size and the brand's presentation are nothing unbearable and of secondary importance. While in their hands, your website will be safe, constantly updated, and risk-free.
Maintainn customer support is available in the shape of live chat and email inquiries which will be answered and fielded in the quickest time possible. Besides a capable support team, a dedicated developer can also be assigned to each client to put their minds to ease and streamline the connection with custom feature crafting. They also offer a hosting service.
More to the subject, Maintainn provides weekly updates, WordPress elements updates, website migration/development, website downtime solution, security monitoring, and much more.
WP Buffs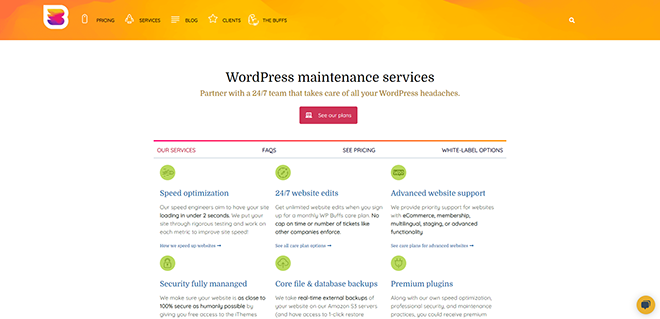 With their customer support dabbed as "Incredible," WP Buffs has much to offer as one of the most effective WordPress maintenance services.
They extend three reasonably-priced plans for website management and updates.
The threefold masterpiece starts from entry-level plan 24/7 website update management ending at the top-level policy with speed optimization and website edits. They really shine in their all-the-time support services.
WP Buffs, alongside its minimum of one daily backup on Amazon S3 cloud, provides ongoing security and white-label program, emergency support, and even website monitoring.
The level of care and personal attention aimed at individual and business websites WP Buffs spares opens up options for owners and relief from enslavement to WordPress website needs. Other users have too described the services as beneficial, issue-resolving, and simply over their expectations.
WP Site Care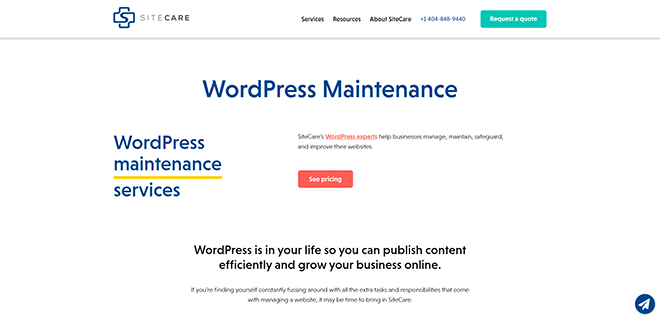 Another great example of website care, WP Site Care, has been around since 2012, and it's not going away anytime soon.
As one of the best WordPress maintenances and support services, WP Site Care has gained a reputation across the board as a reliable and leading service provider. Their number one priority is to open up space for their customers and take the load of maintaining a website off their shoulders. They offer much-needed backup, security, and maintenance plans.
Same as other WordPress maintenance providers, they put out differently-priced plans to satisfy a large variety of users and website owners.
Their support team is always available to get rid of your problem in the most professional manner.
And, evidently, besides the reasonably tagged $99 and $79 standard monthly subscription fees, they offer a monthly premium subscription at the price of $349 (if paid monthly) and $299 (if paid annually).
A user supposedly opting for this golden model will benefit from SEO and speed optimization tools alongside convenient social and security audit services.
WP SitePlan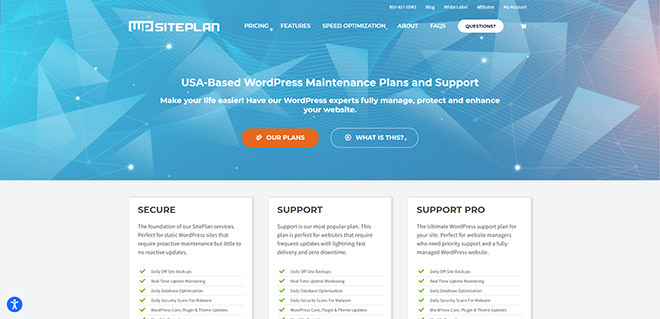 If you're mainly concerned about your newly-established WordPress website's health and security, then WP SitePlan is the way to go.
The primary attribute of WP SitePlan is to protect you against hackers, spamms, and any other kind of malicious online attempt that can put a pause in your day-to-day activities.
WP SitePlan teams consist of WordPress experts who know the inside out of the WordPress platforms like the back of their hands. They're quick on their feet in updating your website's security features and arming it with the latest state-of-the-art anti-harassment tools.
Same as other WordPress maintenance services, they've cracked down their protective/website services into three segments for different types of users and web owners:
Secure starting from ($29/month)
Support starting from ($89/month)
Support Pro starting from ($199/month)
WP Tech Support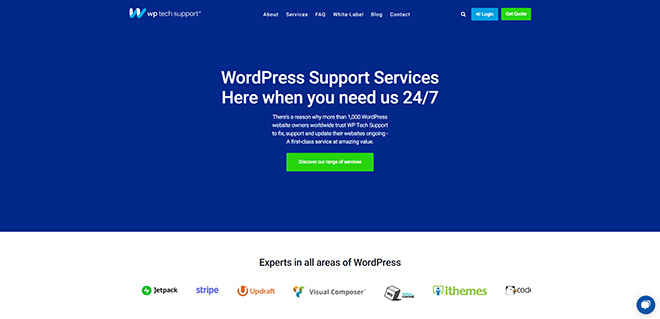 When website maintenance, emergency fixes, and obviously online presence growth enter the scene, so would the name of WP Tech Support.
WP Tech Support has many upsides to its name. For example, the entry-level plan offers pretty much anything a user might need. Furthermore, it specializes in IT-based services: web development, SEO optimization, and any other related IT services. It also heavily invests in client facilitation and industry growth.
The spread of WP Tech Support arms covers small, medium, and large businesses. Its shortcomings in phone-call support and repeatedly low-price plans are remedied with a user-friendly interface and great prices to start with. It also redeems itself by offering business/marketing-exclusive services in addition to malware-removing options, website optimization aid, emergency fixes, and speed optimization.
WP Tech Support plans start at the low-priced bottom of $45, soaring up to only $145 per month for the most advanced plans.
WP Curve(GoDaddy)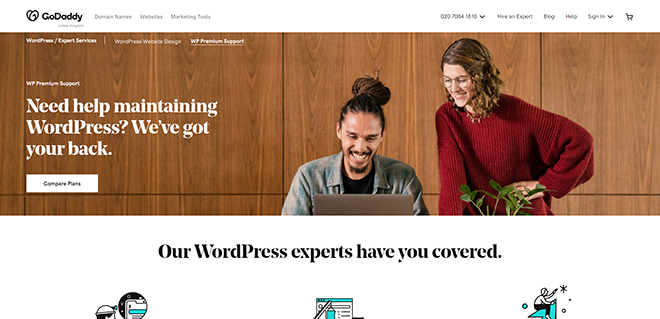 Acquired by GoDaddy a few stones back in the road, the company has chosen WP Premium Support – GoDaddy as its outgoing facet. Ever since, it has stomped the market by becoming the fastest growing company with day-to-night and night-to-day support staff to save countless hours spent on WordPress issues.
The company offers unlimited minor issue resolves through the monthly plan as part of their WordPress maintenance and support service.
These minor issues expand from maintenance or security to speed and conversion optimization but not plugin/theme updates. GoDaddy can help you with theme modifications, database management, image optimization, URL redirects and more, and before they complete any task they'll back up your website, so it can be restored if necessary.
The support team is always available in "live chat," and it usually takes them a maximum of 8 hours to turn things around. For only $99 a month, the premium plan is activated for users who want a more encompassing service that takes care of their offsite backups, security hiccups, and much more with a proactive core.
Here's the listing:
Starter Plan ($49.99 per month)
Basic Plan ($79.99 per month)
Deluxe Plan (most popular – $99.99 per month)
Ultimate Plan ($149.99 per month)
The WP Butler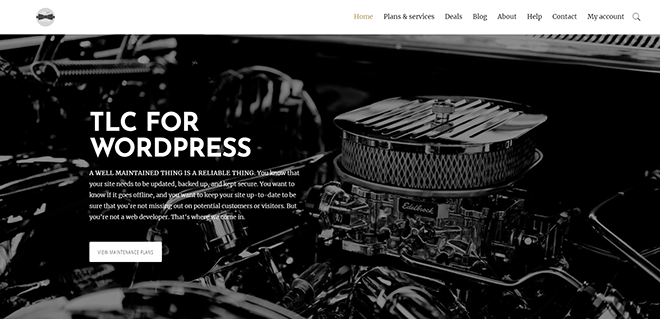 If you're seeking out a more personalized path to WordPress maintenance and support service, then WP Butler is there for you; it can't actually get more tailor-made than this.
More often than not, other solutions look as incompetent to fulfill customer needs; as they offer too much or too little. With WP Butler, however, that's not the case. WP Butler gives customers the option to pick out their desired tools as they browse through the service provider's options. This doesn't mean they don't provide predefined plans, though. It only makes sure that users pay for what they actually need. These custom-made plans fit different levels of business; from personal and local to big multi-branch international brands, everyone takes home a piece of their fantastic services. It also helps with cutting down the overall price.
The predefined plans are as follow (starting at only $30):
Small business plan
Business plan
Enterprise plan
Blogger plan
The services available through WP Butler are WordPress update, security checks, malware protection, backups, uptime monitoring, and etc.
WP Maintainer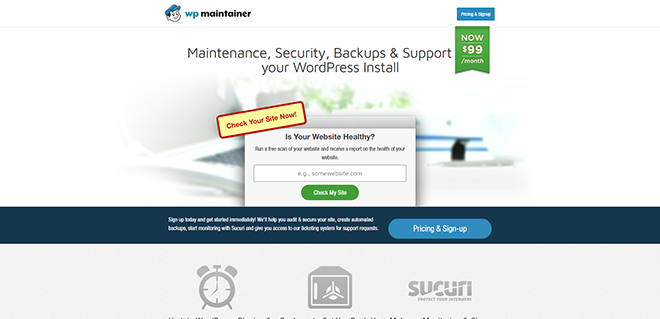 In case of a budget emergency, you should definitely call these guys; they are well-trained craftsmen of the art, rounding out perfect solutions for any situation.
The real beauty shows itself when reviewing the price tags for WP Maintainer plans; they could be putting competitors out of business. With their one-price-for-all policy, they have both bought themselves some criticism and respect across the sector. Their services are tagged around $99 per month.
This package encompasses a one-stop, all-in-one kit for everybody. Besides doing website migration and complete website security, they promise to take care of WordPress updates, offsite backups and offer compatibility support. They also enable website control through malware monitoring and cleanup.
FixMyWP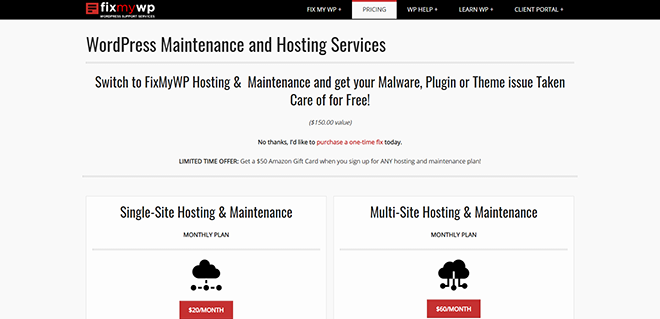 FixMyWP is a Greek company presumably operating from within the boundaries of Greece. However, that doesn't throw a dent in their performance and excellent customer checkup.
Wherever the company, they put their money where their mouth is, and Trustpilot reviews testify to that. The support staff will most likely get back to any request within 24 hours of request submission via email and in a positive mentality.
They have shown great promise in scanning WordPress websites for harmful activities or hack attempts, as pointed out by several reviewers who mentioned it in their feedback. They are also equipped with the necessary tools to install, modify, edit, and restore WordPress themes.
Both newbies or experienced WordPress users will be delighted by the level of efficiency and professionalism FixMyWP, and their employees bring into the game.
They are also capable of adding new features to template pages and theme customization. As teased on their homepage: "enjoy a strees-free experience while running your WordPress website."
Starting Fee: $50 per month
GoWP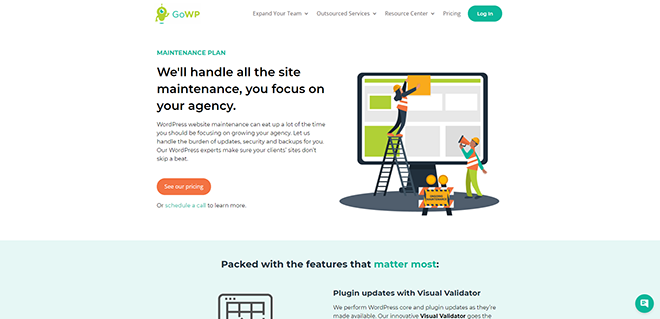 GoWP is the perfect balance of business growth and WordPress maintenance. They pride themselves on keeping the balance while piling on years of experience.
First of all, let's take a look at their business-growth aspect. GoWP offers WordPress and copywriting services. They have 24/7 content edits alongside landing page builds. Through these profitable actions, website owners can obtain services to boost their own products/services and profit by getting more traffic and conversions. The GoWP team sticks to its word on delivering on time and in alignment with the budget restrictions. In addition to market-expanding programs, they announce programs for business owners through which they can learn how to grow and become more profitable.
That being said, GoWP also has a commanding track record in handling website-related work: backups, security, and updates. It's not such a shock that they come recommended as one of the best WordPress maintenance and support service providers by some of the top names in the industry. GoWP also takes advantage of Visual Validator for when it wants to update plugins.
TotalWPSupport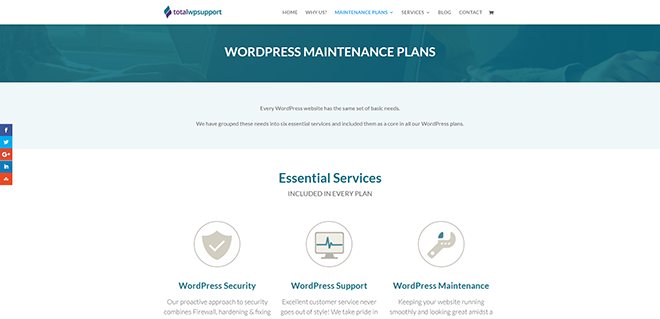 As plainly marked on their home page, they support small to medium-sized websites. TotalWPSupport has all the power to meet ordinary WordPress website needs without a flaw; a satisfactory solution for those who don't want to splurge cash.
They take care of any website's basic requirements and keep a sharp eye on its health. Furthermore, some basic services such as support, maintenance, eCommerce, security and anti-malware capabilities, and website aesthetics is written down in their "user agreement" as part of what they can put forth.
Here a sneak peek into TotalWPSupport plans:
Essential Plan starting from ($49/month)
Premium Plan starting from ($99/month)
Professional Plan starting from ($299/month)
SkyrocketWP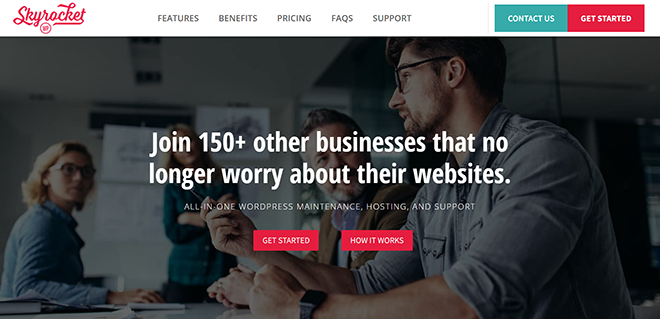 It's hard to pin down a customer who's gotten fed up with SkyrocketWP and left them as one of the best WordPress maintenance and support service providers out there.
Usually, SkyrocketWP's customers stay for the long run as they support most of the very excellent services available for a healthy and smooth-running WordPress website. They have even proudly hacked this on their welcoming page!
The Skyrocket team is quick on its feet and an absolutely delightful caretaker for those who seek to establish a fast yet harmonious and functional website. With their hosting power emitting from Kinsta, they have taken many into their care and made them happy. The price tag for basic plans hovers around the frugal digit of $49 per month. And, the prospect of Kinsta-hosting backing these plans gives them even more economic sense! The basic program includes website improvement, security monitoring, and many more.
On the other hand, the pricier plans quench the thirsts of the more care-intensive website and business owners. However, don't be alarmed because the price for the better plan is only $79. Right after purchase, you'll witness a swarm of premium features penetrating your WordPress website, optimizing it, and stashing away updates for any future loss. This plan also provides a form builder and a lead capture widget.
All in all, SkyrocketWP is a terrific option for those in a hurry or doubt. Everything you need is less than 24 hours away, with the support team patiently and gladly waiting to take your inquiries via phone or the chatbox.
WP Tangerine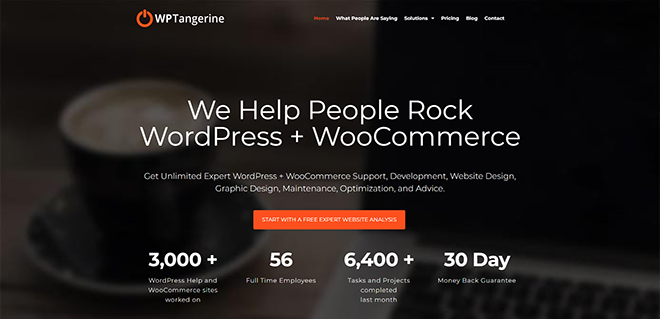 If you have second thoughts about subscribing to WP Tangerine and its WordPress support services, this part is for you.
Like other WordPress guardians, WP Tangerine allocates WordPress development, site management, monitoring, and design and support services to users. Since its foundation back in 2015, it has been dead-centered on web services and mapping out efficient paths to send out help to WordPress website owners.
WP Tangerine doesn't favor clients, support-wise at least. The only difference between its Basic Plan, Pro Plan, and Pro Plus Plan lies within the number of websites it takes under its wings under each name; one, three, and six in respect. None of these plans exclude the ordinary run-of-the-mill support assistances with an urge of speed: less-than-a-day turnarounds, plugin and theme updates, unlimited backups and restorations, and uptime monitoring. The rise of eCommerce and WooCommerce has pushed WP Tangerine founders Matthew Goff and Marcus Krupp to work in in-demand trendy plugins for betterment and easiness of online sales.
Vepp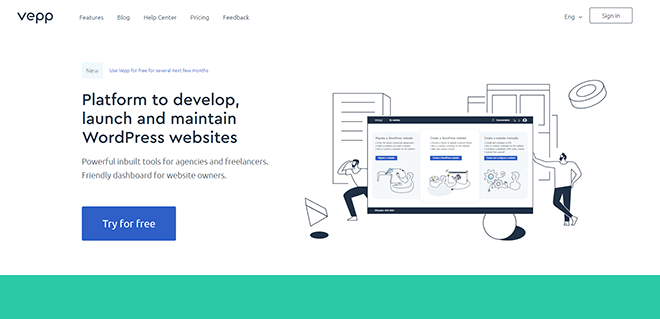 One of the best WordPress maintenance and support service providers is, without a doubt, Vepp.
Vepp brings attention and care to WordPress website performance and design. Throughout the years, they've built reliable and two-way connection alleys with their users while enabling them to handle website matters such as hosting and maintenance.
Additionally, Vepp gives affordable and trustworthy options and plans to its customers. Combine that with amazing features, and you a get WordPress maintenance and support service provides whose offers are hard to pass. This powerful platform enables its inbuilt tools and user-friendly dashboard for clients of bigger sizes to freelancers working on the go.
They also boast in their ability to sustain WordPress websites, maintain them, and handle out easy-to-do website migrations that are by no means a stretch from reality.
Valet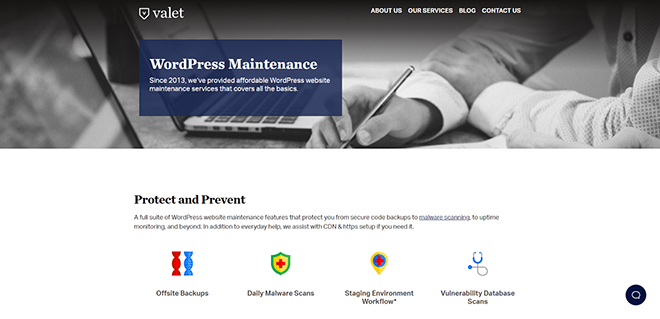 Valet company has a plethora of experts who have spent their prime years in web development and website maintenance. Due to this, they have acquired extensive knowledge of handling WordPress websites and sustaining them for life.
As one of the best and most extinguished WordPress maintenance and support service companies out there, Valet has always been a safe choice for customers facing website catastrophes.
Their support link is just fantastic. Valet even offers to walk you through their plans and give you a roadmap of their services for a better, more rounded subscription payment. They are as sharp as it gets regarding plugin suggestion, theme selection, development issues, and most practical SEO plans.
However, with knowledge and skill comes a hefty price tag in comparison with other less pocket-tearing brands. But, this isn't a bad thing as they're deadly accurate and unbelievably effective. Here are the plans you can get with Valet:
Personal Plan (Starts at $250 per month)
Business Plan (Starts at $1750 per month)
Innovative Solutions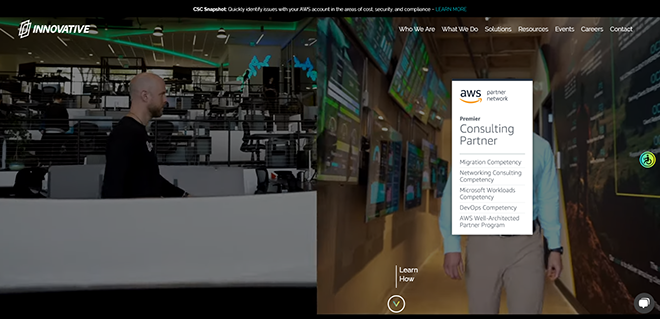 From a personal, friendly blog with a couple of hundreds of views to large eCommerce giants with thousands of hourly visits, Innovative Solutions is the solution for everyone.
Innovative Solutions spreads its plans from simple to advanced so it can cover all corners of web development and website care. Those in search of the best WordPress maintenance and support service have probably already heard its name a couple of times. Their plans are reasonably affordable, and they offer customizable plans too. This gives business owners, bloggers, and even freelancers to cherry out the plan that fits them the best without having to burn a hole in their pockets just to keep their WordPress website fresh and smooth running.
Innovative Solutions focuses on making the websites as afloat and smooth as it gets with the theme, plugin, and core files updates. They also provide backups and developers insight over the website for any kind of vulnerability breach.
Innovative Solutions Pricing Plan:
BRONZE: $99 Monthly
SILVER: $99 Monthly
GOLD: $99 Monthly
PLATINUM: $99 Monthly
PLATINUM PLUS: $99 Monthly
FixRunner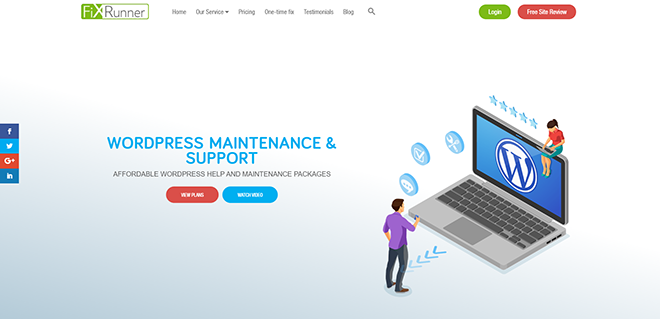 A name well known for its speed in providing services, FixRunner doesn't slow down in the run for taking first place among the world's best WordPress maintenance and support service providers.
What makes FixRunner a force to reckon with is their excellent planning for users; users have the option to test out their services even before going all-in for the purchase. FixRunner offers both continuous and one-time WordPress care plans. This way, users uncertain about the quality can taste the quality and how it feels to leave things up to the service provider. And, if happy, they can hop on board and enjoy a lifetime of relaxation and not worry.
With over 98% excellent reviews on trust pilot and users chanting in glee about it, FixRunner has fixed a good spot in everyone's minds.
FixRunner also includes uptime monitoring, backup, security, on-page SEO service, timely updates, and much more in its arsenal.
Codeable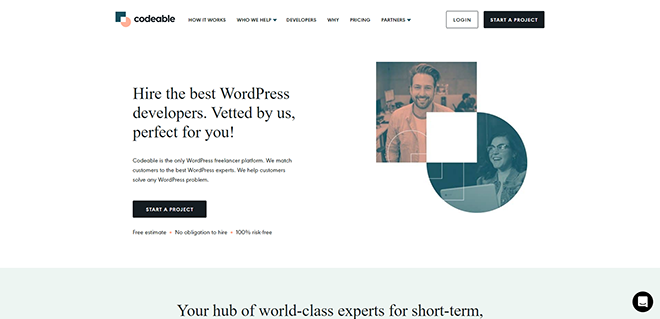 Codeable situates itself around freelancers and helps users find remote workers. It also works on WordPress websites and anything that comes with them.
The expert Codeable team has a firm grip over site and theme building and plugin design for customers; traits interesting for anyone with a WordPress website. These individuals know the ABC of web development and WordPress design and development, ensuring customers their websites are in safe hands. No problem is out of their area of expertise.
Many major blogs and prestigious names have crowned Codeable as the best outsourcing platform for WordPress maintenance services. It carefully picks the freelance WordPress experts and has collected a myriad of professionals who know what they're doing. Afterward, Codeable connects the right candidate to the right website, providing personalized and effective service to business owners who want to ensure their website's proficiency and smoothness.
Codeable Pricing Guide:
Custom Plugin Development: from $ 960
Custom Theme Development from: $ 980
Speed and Security Optimization: from $ 420
Website Design and Development: from $ 2500
E-commerce Site Design/Development: from $ 3200
TemplateMonster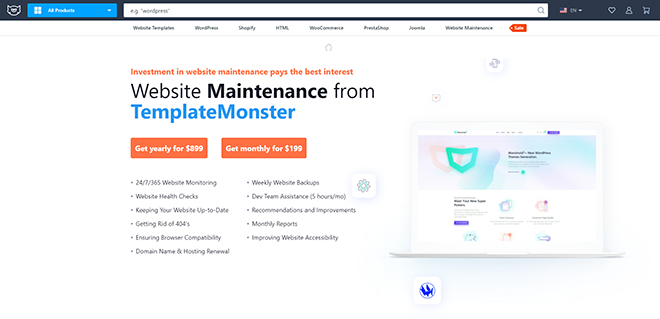 If high-quality WordPress maintenance and support service is your goal, then TemplateMonster should be your game. Post-purchase, the team will contact website owners for more details on the road ahead and access to the admin panel. Afterward, a group will be assigned to website maintenance with permission to site hosting and the admin panel.
In today's world, TemplateMonster helps business owners release and saves them the headache of coping with unresponsive WordPress designs and websites; thus, they can focus on business growth as probably most of them genuinely want to. TemplateMonster keeps a tide grip around the features of a website and keeps it healthy and running for the long haul.
What can you expect from them to perform? Here's a list:
Reports
Backups (Weekly)
Dev Team Feedback
Updates
Periodic Website Health Checks
Uptime Monitoring
TemplateMonster supports mainstream platforms such as WooCommerce, WordPress, Shopify, etc.
Developers run troubleshoots and take care of many objects such as CSS files, plugin configuration, HTML modification, and even inputting website content. They also know how to install themes and set up color schemes and logo insertion. Tons of other life-saving features are available for those who sign up with TemplateMonster for a reasonably annual subscription of $899, making it one of the best WordPress maintenance and support service companies available.
SuperbThemes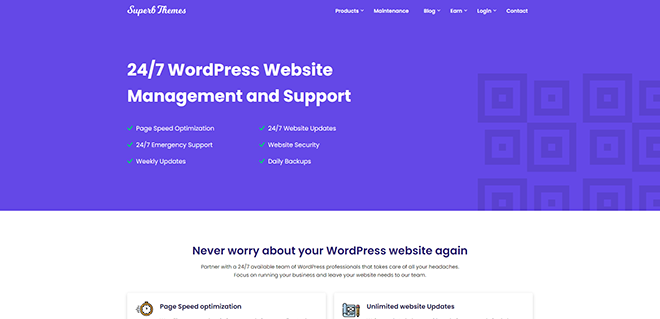 SuperbThemes operate in the theme of a well-established and highly-recommended web development company that holds a candle to every big name in the industry.
Since 2015 and their launch, they began the adventure with simple plugin tweaking. However, it didn't take the team long to improve and shoot for the stars. As once a plugin-supporting company, they eventually grew up and moved away from their traditional SEO optimization for blogs and websites. Today, they nurture WordPress websites in any aspect imaginable and have become a 24/7 WordPress maintenance and support service provider.
Their services scope from $99 to $249 per month – a little spicy for some without a doubt – but in return, the team makes short work of content building, website updating, and walking with the customers 24/7.
Newt Labs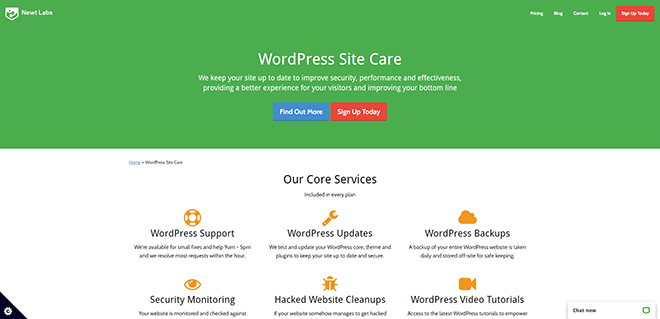 As a UK-based WordPress support company, Newt Labs provide everything; hack cleanup, updates, backups, and security scans.
Their plans start at £59 for proactive protection and maintenance. However, in case of emergencies, they offer one-time fixes for £75 and emergency cleanups for £175. The basic plan includes fixes, WordPress updates, security scanning, and hacks cleanups.
Their better plan (performance plan) hits £119 with cloud hosting.
Many other premium features are included in this plan, such as Let's Encrypt SSL certificates, Cloudflare integration, uptime monitoring, website performance optimization, and website staging. The image optimization WordPress plugin WP Smush Pro is provided in this plan and version control to help you keep track of changes.
On the very top, the most expensive Newt Labs plan costs around £239 per month, cut down to £199 if paid annually. This plan comes with broader-brand hosting, hourly backups, and a secondary backup. If users don't find these plans to their satisfaction, Newt Labs also offers a 30-day money-back guarantee.
This English company offers WordPress support services throughout the local daytime, so customers need to contact them in due hours.
Recommended Posts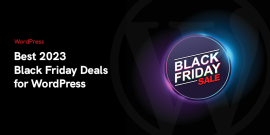 November 13, 2023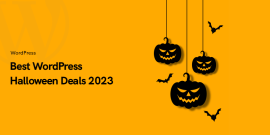 October 23, 2023