---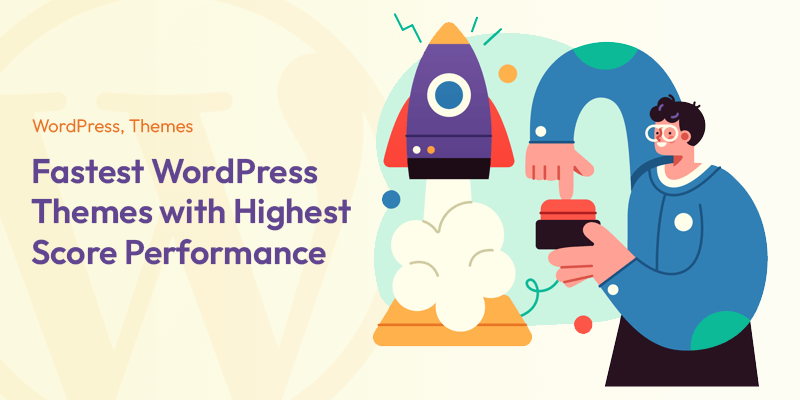 10 Fastest WordPress Themes with Highest Score Performance in 2023
It seems like a fool's errand to search for the quickest WordPress theme. Are you going to run tests on each theme you're interested in and compare the millisecond load times?
How are you going to accommodate for variations in hosting speeds between developers and their online demos? What if the findings of the testing tools are inconsistent?
It is implausible to believe that the ordinary WordPress user will continuously run performance tests on preferred themes. It's difficult to exclude external influences, and there are just too many WordPress themes to consider.
That is why we took care of the task for you.
What Factors Contribute to The Speed of A WordPress Theme?
There are various techniques to optimize a WordPress theme for performance. Consider a handful of these aspects in further detail below.
Lightweight
Themes that include a large number of high-quality graphics and effects might be rather large. High-quality photos can result in large file sizes, and animations and effects might need a significant amount of code, both of which impede the speed of your website.
Simple themes with the bare minimum of functionality will be lower in weight and contribute to the speed with which your site loads. Using plugins or custom CSS, you may easily add more design elements and effects later.
CSS and JavaScript Asynchronous or Deferred Loading
While CSS and JavaScript files might cause a website to slow down, each theme requires some of this code. CSS and JS are responsible for the aesthetics and interactivity of a web page.
These scripts may be loaded in one of two ways: synchronously or asynchronously. Synchronously implies that each file loads in the order in which it appears on the web page. As a result, when the browser sees a script, it will pause the loading of other components on the page until the script is entirely loaded.
Asynchronous loading, on the other hand, permits the loading of several files concurrently, which may significantly improve the performance of a web page.
Certain themes are intended to load these scripts asynchronously or to delay their loading until they are required. These themes will load quicker than ones that default to synchronous loading.
Design that is responsive
The majority of themes have a responsive design, which is critical for providing a quick mobile experience. Because responsive design automatically loads your website according to the visitor's screen size, you don't require a separate mobile site. This implies that Google's crawler only has to visit your site once. If you maintain a separate mobile site, all of your website's assets must be copied for the mobile version — which might add up in terms of bandwidth and upkeep.
Because responsive design needs just one piece of code, Google recommends it as a preferred design pattern.
Compression Using GZIP
Compression is the practice of lowering the size of files in order to speed up the transport of content from servers to browsers. The less data that has to be sent, the quicker your browser will load the website.
GZIP is the most widely used compression technique today since it can compress data up to 70% faster and with less resources than other methods.
Themes that use GZIP to compress their components will often load quicker than themes that do not.
HTTP Requests Reduced
Each HTTP request — for pictures, stylesheets, scripts, and fonts — increases the total load time of your site. As your site increases in popularity, these HTTP requests accumulate and ultimately cause a visible delay between what the user clicks and when the page loads.
Both the number of files requested and the size of the files sent may impact the amount of time it takes for a page to load.
Themes with fewer and lighter files will generate fewer HTTP requests and will therefore load more quickly. The most accurate technique to determine the number of HTTP requests made by a theme is to put it through a speed testing tool.
Ranked: The Fastest WordPress Themes
While it is hard to determine which theme is the quickest (a theme may be #1 in one test but #5 in another), we may attempt to rate them based on the data obtained.
Deep Theme
While there are plenty excellent WordPress themes accessible for developers, if you want a personalized design, you should go for contemporary and well-designed themes such as Deep. It can meet all of your design requirements and also help you save money on the plugins you'll need to create your website.
Additionally, using a built-in header builder enables you to effortlessly modify your website and differentiate it from your competition.
Deep is a versatile WordPress theme that can be used to create any kind of website you can imagine. It has a plethora of themes and premium plugins that may be used to create the most powerful WordPress website possible.
Deep is one of the finest WordPress multipurpose themes because it is a wonderful multipurpose theme that gives a large number of options, as well as the use of several premium plugins and page builders.
The Deep theme enters with breakneck speed. Additionally, it is a suitable theme for creating a website for any sector.
While Deep is not the lightest theme available, you can speed it up significantly by applying performance best practices, and you may find the added design freedom to be worth the trade-off.
Binder Pro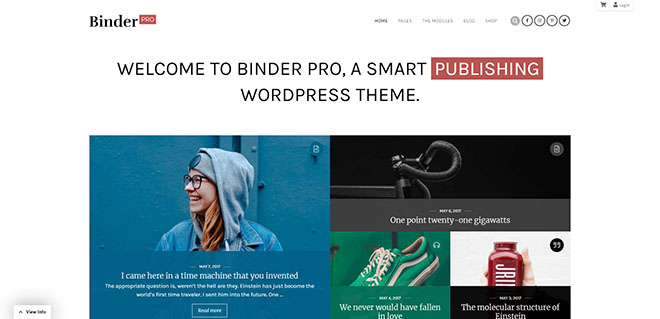 Binder Pro is a significant step forward in terms of design quality. When you launch the demo, you'll immediately see that this is a premium theme. With a variety of example websites to pick from, there is a design for practically every application.
Each site has been thoughtfully created with intelligent colors and layouts; the demo is also fully translated and compatible with the majority of WordPress plugins. Additionally, it has a slew of customization possibilities for every aspect of the website. Without a doubt, one of the most superior premium WordPress themes on our list!
The Binder Pro sample themes are of exceptional quality, and each one is easy to install and customize as your own. However, you do pay a premium for it.
Mai Success
For some reason, Business Pro is also known as Mai Success. Despite this, it's a fantastic business or agency theme with an amazing design and some very beautiful details. This is a theme that comes with a single demo but can be tweaked to fit practically any niche.
Mai Success is built on the robust Genesis Framework, which ensures quick page load times, extensive customizing choices, and simplicity of use. Additionally, pages load rapidly and enable the usage of a variety of extra features.
You pay much more for Business Pro than Astra and get just one theme rather than over a hundred. However, what you do get is a well-designed, well-balanced website that has a highly professional appearance.
GeneratePress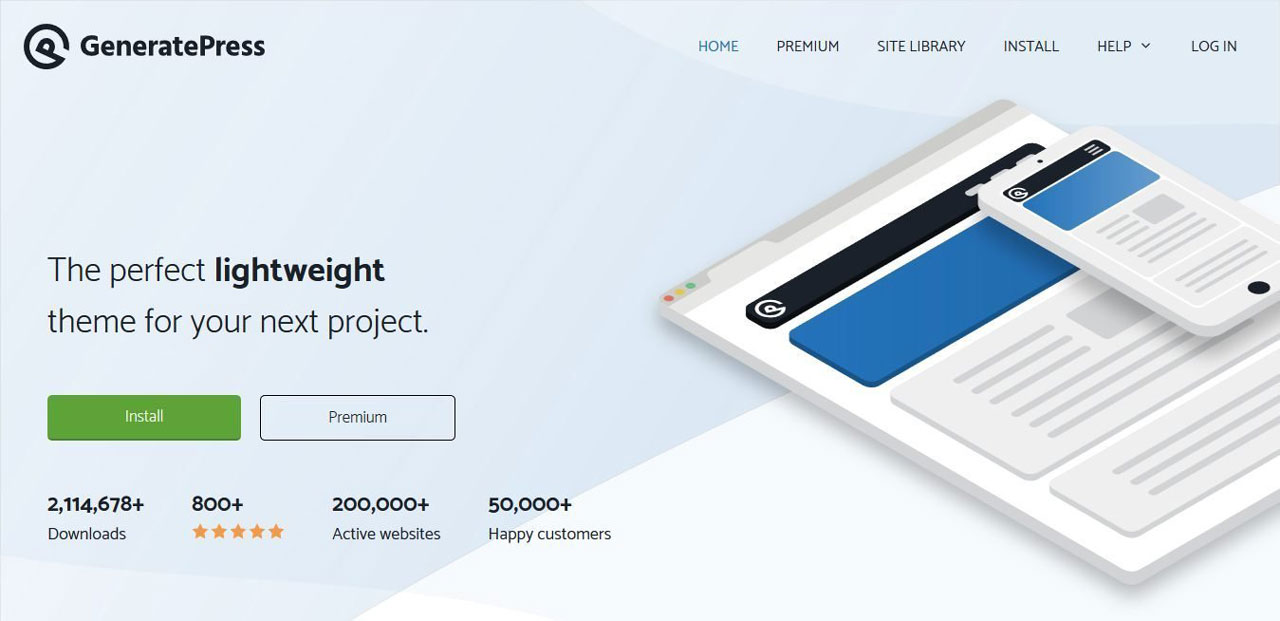 GeneratePress is a versatile premium WordPress theme that can be used for almost anything. It's a versatile theme with a variety of eye-catching demos, extensive color and typography settings, and compatibility with the majority of WordPress plugins.
It builds pages using the WordPress Customizer and is simple to use regardless of whether you know how to code or not. Some of the demos will need some effort to get them up to the same level of quality as the others, but they are definitely worth investigating nonetheless.
Hestia Pro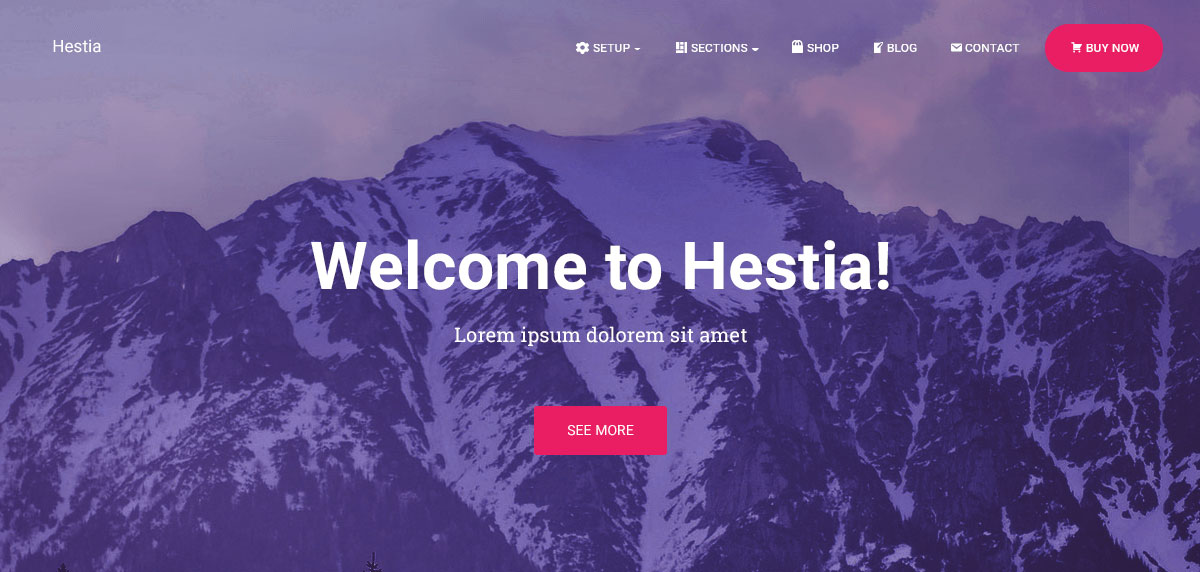 Hestia Pro is a frequent feature in our list of the best WordPress themes, and for good reason. It's a well-coded theme that delivers exceptional speed, a plethora of customization possibilities, compatibility with popular page builders, and an audience-friendly contemporary flat design.
This is a versatile theme that will need some effort to customize into a one-of-a-kind website but is well worth the time spent. It's well-balanced, has some beautiful visual elements, and gives you the ability to customize your pages anyway you want.
Gutenshop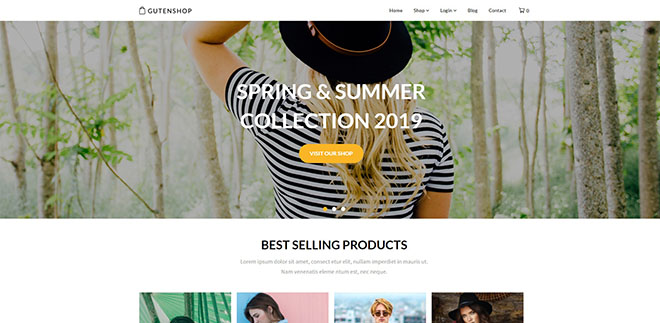 Gutenshop is a premium WordPress theme with a modern design and a handful of eye-catching demos. Both have clean lines, sharp edges, plenty of white space, and all the other characteristics that make an eCommerce site successful.
While Gutenshop provides a free version, the premium version includes a slew of additional features such as Elementor compatibility, live chat support, product sliders, social network integration, and the opportunity to edit the demos or create your own layout from scratch.
Edme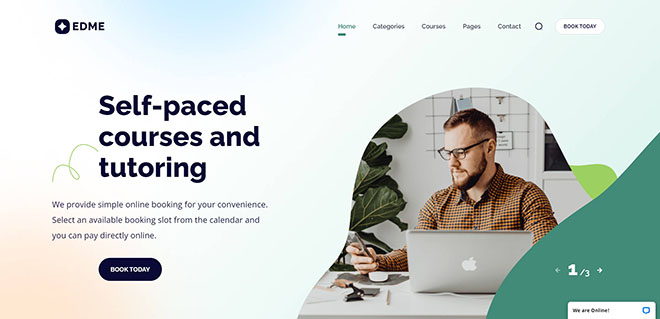 Edme is a premium theme designed specifically for educators and coaches. Not only is it physically attractive to kids, but it is also jam-packed with incredible features. You can quickly and simply develop and offer courses, collect fees, and schedule sessions.
The theme is designed using Elementor and is compatible with the majority of available plugins. Additionally, it contains the Stratum Elementor Widget, which enables you to include extra functionality into your websites. Additionally, it enables you to add rich features such as course ratings, reviews, author biographies, and much more.
You may add several courses with various mentors to the same website, and it meets the high quality expectations of your students, which is why it made our list.
Neve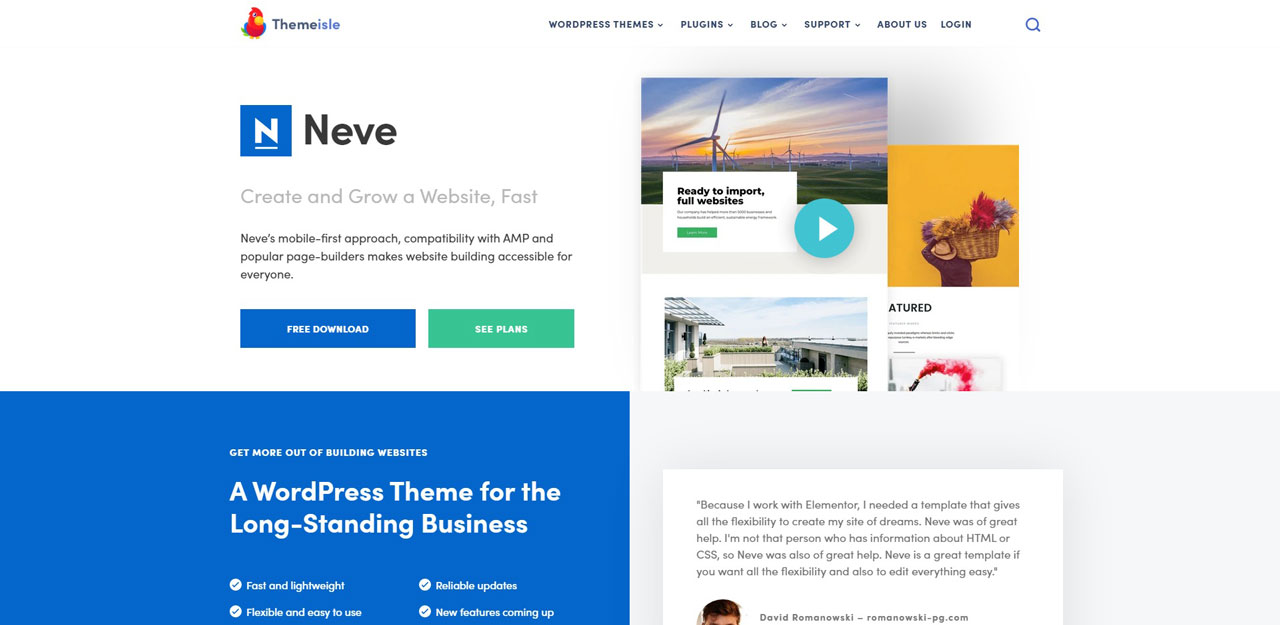 Neve is a contemporary multipurpose theme that comes with a slew of high-quality demos covering the most popular genres. Due to the fact that it is a mobile-first theme, it functions seamlessly on all screen sizes and provides a great user experience regardless of the device used.
The demo designs are all well-balanced and include respectable color selections, compatibility with the majority of drag-and-drop page builders, excellent typography, and a range of page features depending on the specialty. Additionally, pages load rapidly, and the theme is compatible with the majority of WordPress plugins.
Genesis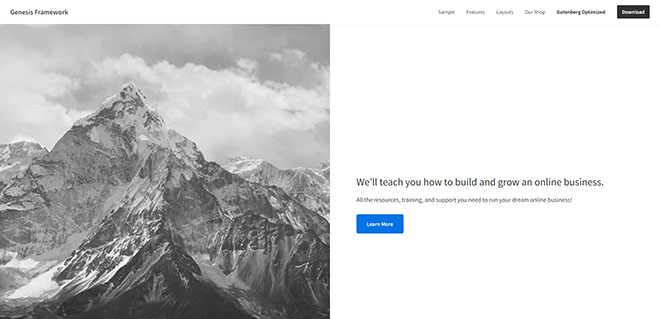 Genesis is the framework's central subject. It's a pretty simple monochromatic design that demonstrates the framework's capabilities. Although the sample is set up as a blog, it could easily be converted to a company or agency website.
Genesis offers extensive customization possibilities, a built-in theme customizer, and one-click installation. This sample will take some adjustment to make it uniquely yours, but it includes all the necessary tools.
OceanWP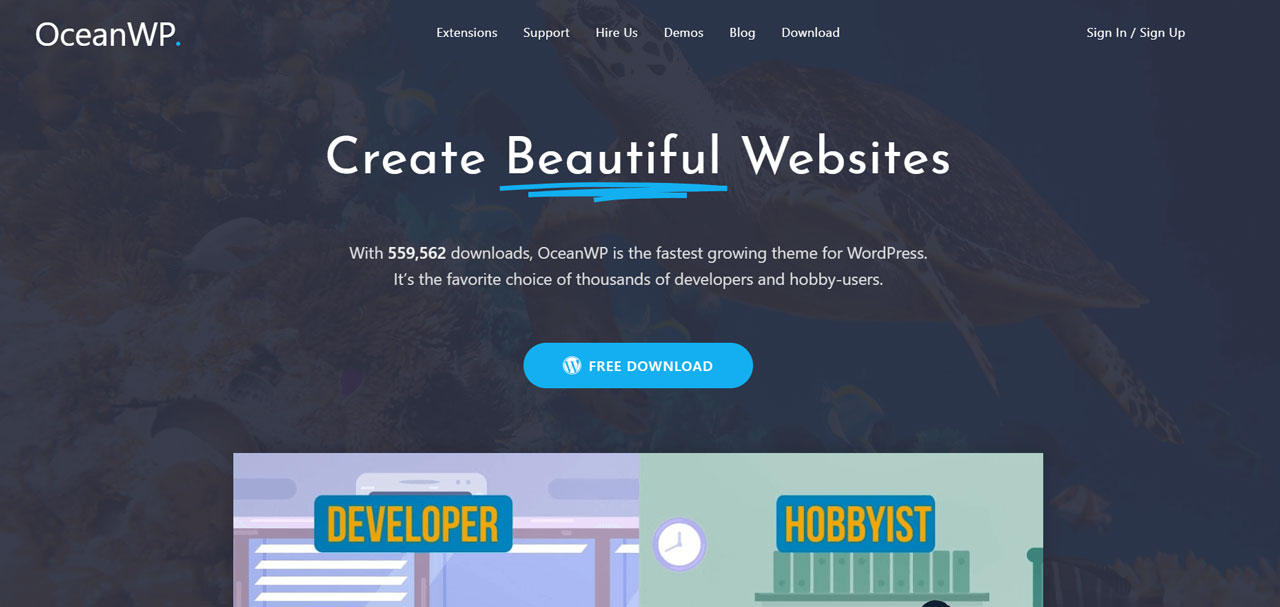 OceanWP is a high-performance WordPress premium theme that comes with a slew of well-designed child themes. These themes are appealing, contemporary, and seem professional enough to utilize immediately.
OceanWP is compatible with WooCommerce and the majority of WordPress plugins. Additionally, it is quick, translation-ready, and SEO-optimized. It's an excellent bargain and may be the best choice if you like the looks!
Consider the Following Before Purchasing a Premium WordPress Theme
Earlier, we discussed what to look for while shopping for premium WordPress themes. However, now that you have a sense of what is available, let's go specific.
Reviews and Ratings by Users
Likewise, do not accept a reviewer's word for it. Examine a cross-section of reviews, user testimonials, and complete your due diligence prior to purchasing your theme.
Be cautious of WordPress theme evaluations that are just created for commission or affiliate motives. You'll quickly know them since they never criticize anything they evaluate!
Installs / Sales in Progress
Premium WordPress themes are evaluated on a variety of factors, but sales are a critical one. A badly functioning website will generate few sales, which should serve as a red flag. This is particularly true if the theme has existed for a long period of time but has only sold a few hundred copies.
Verify That It Suits Your Needs
Each premium WordPress theme comes with a live demo that you can browse to get a sense of the product. That sample represents just one possible configuration for the majority of themes. However, ensure that it is possible for it to be what you want.
Verify compatibility with page builder plugins, other WordPress plugins, and any existing page components or modifications.
Additionally, ensure that the theme is capable of doing the task at hand!
Final Thoughts
In general, Deep is an extremely versatile theme that can be used for almost any niche.
While it is not the lightest theme available, it does provide a wealth of customization possibilities and allows you to tweak almost every feature without using code.
Additionally, you'll receive drag-and-drop interfaces for the most of it, including the page builder integration, header and footer builders, and mega menu builders.
If you want to give it a try, you can get the core theme for free from WordPress.org. After that, you may upgrade to Deep Pro to have access to all features and demo sites.
Recommended Posts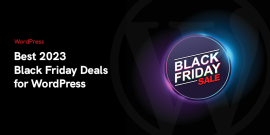 November 13, 2023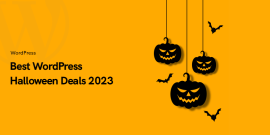 October 23, 2023