---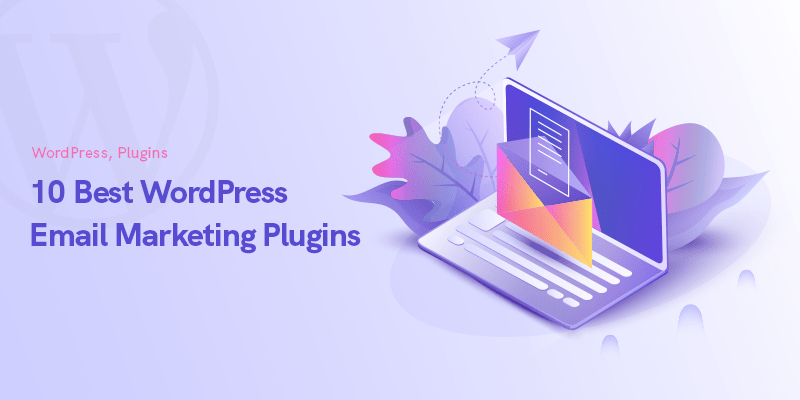 10+ Best WordPress Email Marketing Plugins in 2023
Email marketing is the practice of using email for product or service promotions and also sending messages to users. That's the simplest way we can define this service, but the truth is that it brings much higher potentials for businesses. It's persuasive and effective enough to attain great results, let it be short-term or long-term goals.
WordPress has made everything simple for online business owners, and email marketing is no exception either. In the next paragraphs, we will talk about the importance of this marketing asset and introduce the best WordPress email marketing plugins you can use on your site.
So let's start by finding out why you should care about email marketing in your business.
Check out our comprehensive article on the best email marketing platforms: 20+ Best Email Marketing Services .
Why Do You Need Email Marketing?
There is no doubt that email's popular all around the world. While some believe using email is an old-school approach for marketing purposes and keeping in touch with customers, we have to disagree with that idea.
Let's face it. Do you know anyone around you who doesn't have an email address?
You, just like others, probably receive several emails every week. Some of them are spam, some are a kind of promotion, and some deliver interesting and practical information to you. Bringing it home, email's an important part of our daily life nowadays.
People have long used their email addresses for business or personal uses, and statistics reflect a growing trend in this regard. As indicated by Statista, in 2019, around 3.9 billion email users were spread all over the world, and experts predict this number to reach 4.48 billion by 2024.
Not yet sure why you should welcome email marketing? Here are four reasons that convince you not to ignore this potential.
Better Than Social Media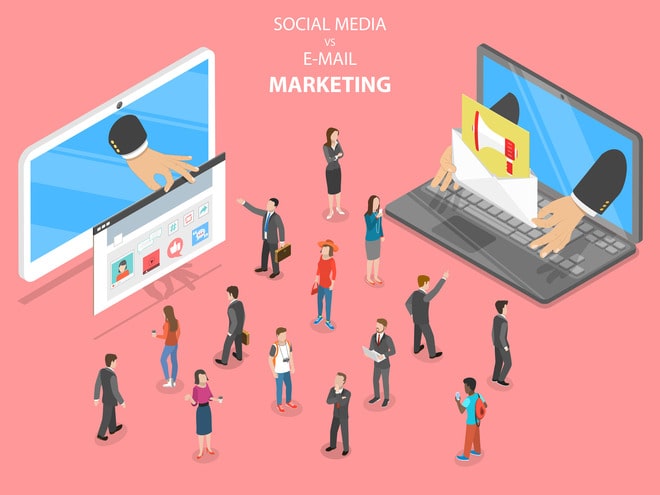 You, as a business owner, can approach your target customers in an entirely personalized way through emails. This is an exclusive advantage of email marketing, a chance that is by no means available on any social media platform.
However, it doesn't mean that you should not prioritize your social channels.
Social media is an essential pillar of any digital marketing strategy. People now spend a great deal of time on different social media platforms such as Instagram and Facebook. By implementing a proper plan, you can efficiently approach your customers and interact with them in an attempt to increase overall conversion rates.
Yet, email can be much better for converting the audience into customers and members. For instance, the emails website owners send as a welcome message have a high open rate, around 82%. That's a wonderful opportunity to leave the first impression on your audience. You can provide them with useful information about your business and even forward them to your landing pages if done correctly.
Great Personalization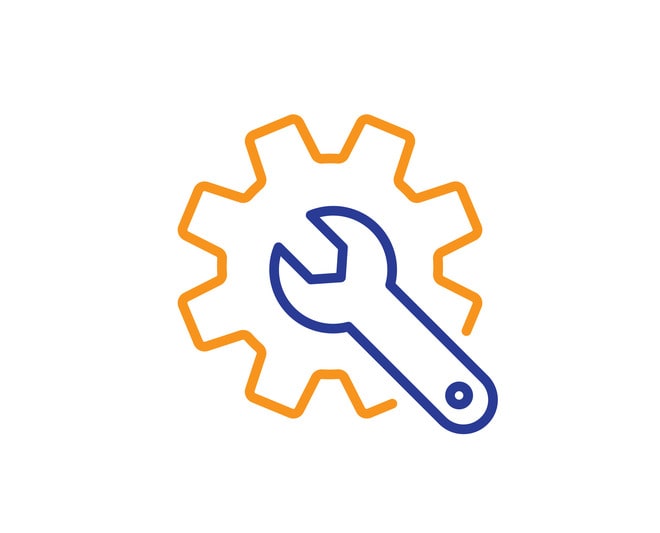 Statistics show that emails with personalized titles have 50% more open rates compared to other ones. So by writing customized titles for your email subscribers, you increase your chance of bringing more eyeballs to your products or website pages.
Moreover, you can take advantage of this feature and write customized texts for the body of your emails or the CATs you implement in them. You can segment your audience into lists and then send each listing a personalized message to offer something of value.
This is a strong potential of emails since it's not available on social media channels. When you publish a post on Twitter, Facebook, Instagram, LinkedIn, etc., you address all who see your post as a whole. Everyone sees the same message, photo, and video. But if you act smart, you can present yourself in a personalized way in the inbox of your target audience.
Cost-effective and Action-based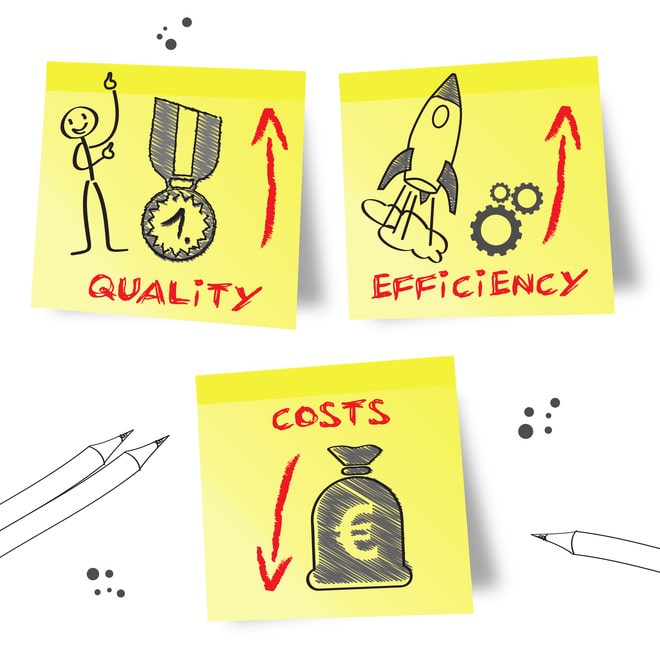 It's easy and inexpensive to send emails. You can deliver your message to a high number of audiences without breaking the bank.
This is especially a great perk for small businesses and startups who should follow budget-conscious strategies for their marketing plans. It's, by far, one of the most fruitful tactics for customer acquisition. The spread of other technologies and platforms has not prevented experienced marketers from coming back to email.
To clarify, consider that you want to spread the word about what you do by billboards, TV ads, or printing and posters. These decisions will require spending much money, and it's not possible for everyone. With emails, you can still leave the same impression and imagery of yourself with additional benefit almost for free.
On the other hand, unlike social media, most people are conditioned into making an action on the emails they receive. These actions can be sending a reply, forwarding to others, or even clicking on the CTAs provided in them. It gives you a great chance to direct users to your website and products and increase revenue.
All you need is keeping yourself up to date and make your email as engaging as possible. Add infographics, GIFs, sliders, images, and even videos to your emails to increase click rates. Make use of all the available assets to make your email look better in the eyes of your readers.
Measurable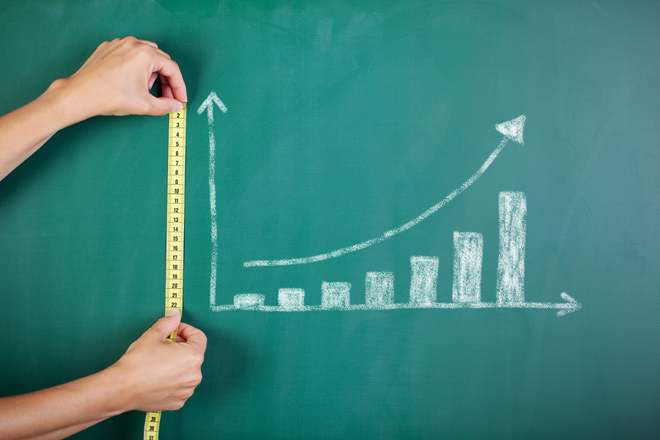 You can efficiently measure the success of the emails you send and make changes in your strategy where necessary. No matter what email marketing tool you use, you can exactly track who has opened your email, how many users clicked on your links, and which members have unsubscribed from your list.
The metrics and insights of email marketing come as an efficient marketing asset to monitor what you do and measure your success.
Gone are the days that sending emails was limited to a weekly or monthly newsletter. Email marketing is now a vital part of increasing user engagement, and without exact measurement, no marketing plan will come in handy for any business. You can easily put different methods and techniques into actions and see what works best for you to apply them to your future emails.
Now that you know how effective an email marketing can be in your business let's review the best WordPress email marketing plugins available in the market.
Best WordPress Email Marketing Plugins List (Free & Premium)
Luckily, WordPress has an assortment of plugins for email marketing that simplify sending emails and measuring their overall success.
Thanks to these tools, you can easily send email via WordPress while choosing what to send and who to send it to for the best possible outcomes.
Mailchimp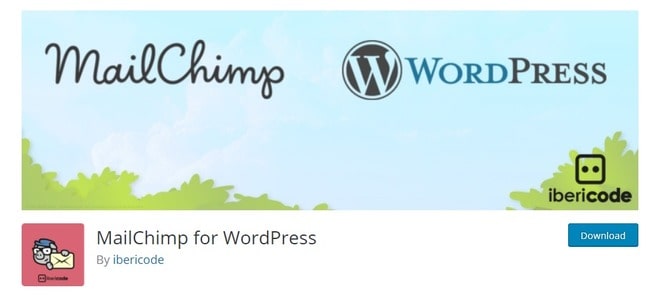 MailChimp is, by far, the most popular name that crosses the mind when it comes to the best WordPress tools for email marketing.
This all-in-one platform has a special plugin for WordPress. Using this plugin, you will be able to easily integrate your website with the features of MailChimp through the WordPress panel. By doing so, the details of the users who fill the signup forms will be sent to your MailChimp account directly.
MailChimp for WordPress lets you make beautiful forms and has compatibility with other famous WordPress plugins such as WooCommerce, Gravity Forms, and Contact Form 7. Also, you can make use of comprehensive analytics to keep track of your email marketing activities. MailChimp is wholly optimized for mobile and delivers a straightforward, user-friendly interface.
Overall, MailChimp is a proper choice for both small and large companies since it covers all budgets and needs.
Pricing:
The provided plugin is free, but you need to have a MailChimp account from the website in the first place. The free packages support no more than 1,000 monthly emails. If you need more than that, the paid plans start from $13 a month.
Omnisend for WooCommerce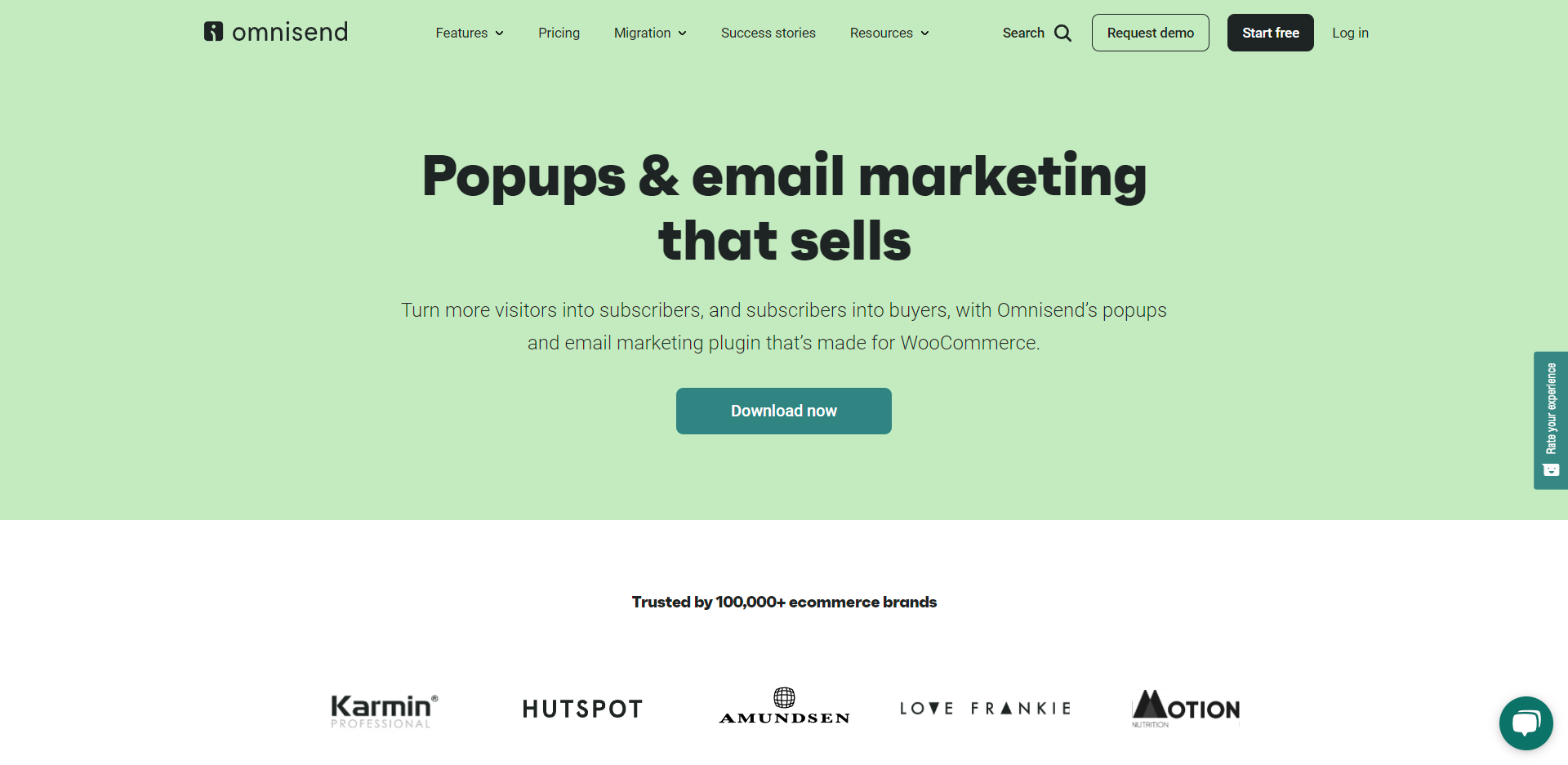 Let's explore Omnisend, an impressive email and SMS platform tailored for ecommerce. Trusted by over 100,000 users, Omnisend offers a range of features to enhance your selling potential. These include exclusive discount codes, back-in-stock notifications, and automated cart abandonment workflows. Additionally, Omnisend utilizes customer data such as past purchases, browsing history, and demographics to provide personalized product recommendations.
With Omnisend, you can create unlimited audience segments, including pre-built segments that aid in identifying VIP customers and potential churners. This segmentation allows you to craft targeted messages for each group.
Furthermore, Omnisend provides an extensive library of email templates, pre-built workflows, and comprehensive reports and analytics, enabling you to evaluate the effectiveness of your campaigns. In case you require assistance, their 24/7 award-winning customer support is readily available to all users.
Pricing:
For smaller companies, Omnisend offers a free-forever plan without any feature limitations. As your audience grows, you have the option to upgrade to the Standard or Pro plans, starting at $16 and $59 respectively.
Experience the vast capabilities of Omnisend for WooCommerce and unlock the full potential of your ecommerce business.
Mailpoet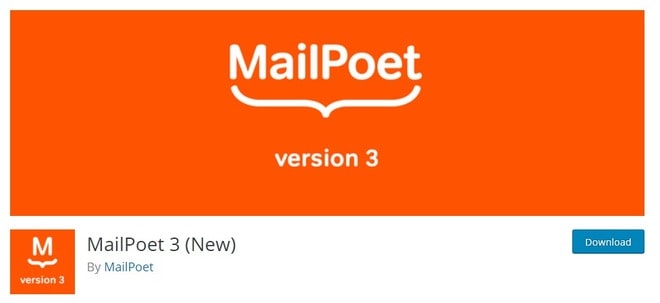 MailPoet is an intuitive email marketing platform that lets you create customized emails by a drag-and-drop interface and a variety of pre-made templates. Similarly, you can design a newsletter from scratch and include different elements such as images, social media icons, and so on.
Once you install this plugin, you can create different email campaigns and set it on email automation configuration for abandoned carts, welcome emails, or other options. Sending eCommerce mails is likewise pretty easy in MailPoet, and the detailed analytics enlighten you about all the necessary insights you need to know.
MailPoet is perfect for those who have just started using email for marketing purposes. As you grow, it will scale, so you'll never worry about the features you need.
Pricing:
The free plan supports up to 1000 subscribers. If you want to use it for more than that limit, there is a slider on the pricing page that lets you adjust your Pro license according to your exact requirements.
Newsletter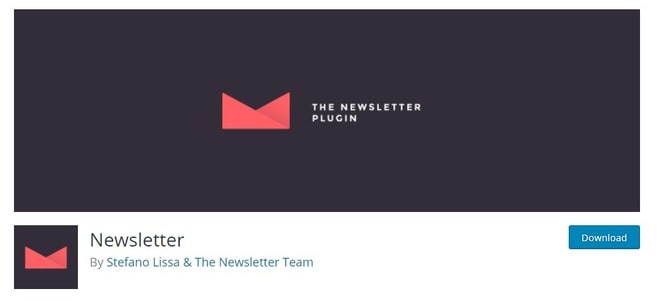 Newsletter lets you create emails using a drag-and-drop interface, send them to customized and segmented list of receivers, and track them all from within the WordPress dashboard.
There are additional add-ons available as well that add to its functionality. It brings a variety of pre-made subscription widgets that you can apply to any section of your site you need. A unique feature of Newsletter plugins is its capability of controlling the speed of email delivery. The range starts from 12 emails per hour and can reach up to the maximum quantity your website supports.
If you are looking for a tool with basic email marketing features, Newsletter is the way to go. You can always add additional capabilities whenever you need them on your website in the shortest time.
Pricing:
Newsletter is a free tool. However, if you need additional in-depth features such as autoresponders and WooCommerce integration, you need a premium plan. The premium packages are offered in a yearly plan and start from €69.
Mailin (Sendinblue)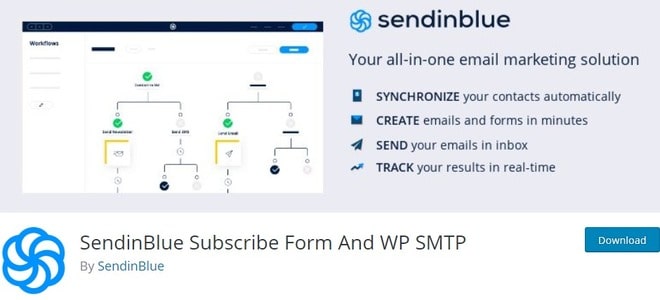 Mailin (Sendinblue) is an all-embracing WordPress plugin that not only lets you build your email list but also simplifies email management to the greatest extent. It's the official plugin of the SendinBlue website.
Drag-and-drop builders, performance statistics, email automation, campaign maker, and subscription forms are all provided in this plugin in the best way. The segmentation options let you manage your contact list in an entirely simple approach. Plus, the analytic tools are not limited to clicks and read reports since they show you the bounce rates, heat maps, and A/B testing as well.
Aside from the amazing features it offers, the myriad of options might confuse beginner users in the first place.
Pricing:
This tool is free to use but has a limit of 300 emails per day. The customer supports will also be available for only two months. Paid plans start from £16.5 a month, and they remove the daily limit of sending emails.
Icegram Express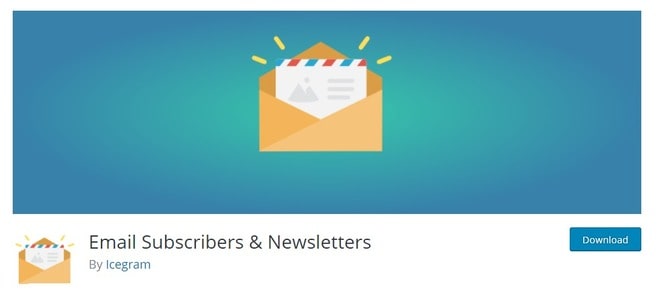 Icegram Express, as the name suggests, lets you easily send emails to your subscribers and create custom-made newsletters of your own.
Considering the provided options, Email Subscribers & Newsletters suit bloggers, marketers, and website owners. The setup process is pretty simple, and you can count on their friendly customer support whenever required. You can automate an email to welcome new users and integrate it with other free plugins for additional capabilities. The provided alert system is also advantageous since it easily informs you of whatever happens on your site.
Pricing:
The free version of this plugin can meet most of your needs for email marketing without any problem. However, to unlock additional options such as premium email templates and premium customer support, you should buy a Pro license. The starter premium plan starts from $6.5 a month.
Sumo (Not Updated)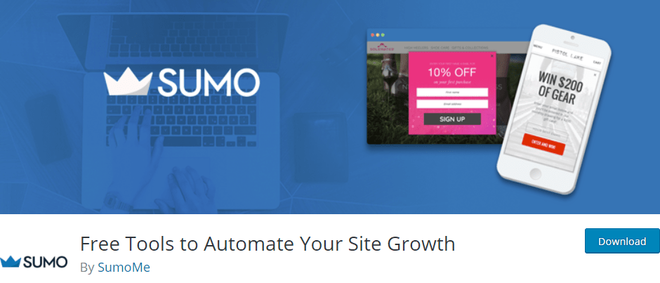 Sumo is a multi-functional suite of tools that enables email marketing and social sharing on your site with in-depth reports.
You can benefit from Sumo to convert new visitors to subscribers thanks to the engaging pop-ups and newsletters it offers. It supports other email marketing tools such as Aweber, MailChimp, and Campaign Monitor as well that adds to its versatility even further. Sumo has a responsive design, entails a collection of pre-made templates, and is equipped with a drag-and-drop interface.
Pricing:
The free version of Sumo supports up to 10,000 monthly emails. To unlock further functionalities, you'll need to pay $39 a month that opens advanced visitor targeting, too.
Hustle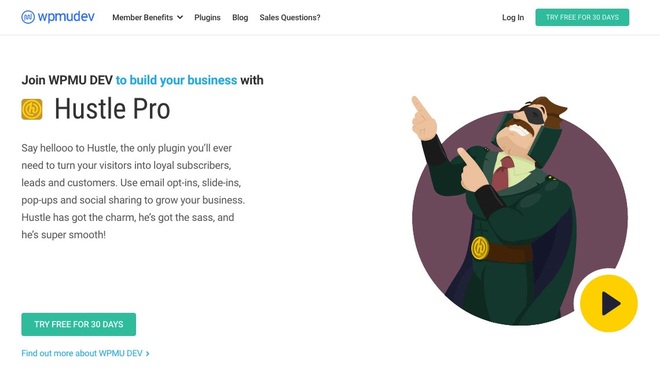 With 80,000+ active installations, Hustle is a reliable email opt-in tool by which you can create pop-ups and slide-ins for your site in an engaging way.
You can conveniently measure what your visitors have done and how your emails have been performed through the detailed reports. You can define different criteria and target visitors based on their activities such as location, the time they spend on your pages, their device, scrolls, etc. You can also integrate it with other popular tools such as MailChimp and display customized social icons on your website with different widgets.
Pricing:
The free version of Hustle is available from WordPress repository, and you will enjoy its basic capabilities for 30 days. After that, you need a premium WPMU DEV license that costs $49 per month.
Optinmonster
OptinMonster is one of the most functional WordPress email marketing plugins for capturing emails. The stunning opt-in forms and pop-ups let you expand your email list and therefore add to the number of subscribers efficiently.
Using OptinMonster, you can create a variety of elements such as floating bars, fullscreen pop-ups, and in-line campaigns to capture leads easier. It generates detailed analytic reports, and you can integrate the tool with other famous email marketing services like MailChimp and Hubspot.
OptinMonster is truly functional and can help your website no matter how large it is.
Pricing:
Unlike the other items, OptinMonster is not available for free. Although you can download the plugin for free from the WordPress repository, you can't use it unless you purchase an account. Prices start from $9 a month, and all the packages are billed annually.
Mailster

If you are looking for a reliable, premium platform for managing emails, Mailster is atop the list of the best WordPress email marketing plugins.
It turns your WordPress dashboard into an all-purpose tool for email automation and newsletter sending. Its drag-and-drop builder makes it most comfortable for you to build campaigns, and you can integrate it with other services, too. There are advanced analytics options provided in Mailster to keep the record, and you can use email automation for different purposes as well. Using Mailster, you will rest assured for its functionality on other devices thanks to its fully responsive design.
Pricing:
To activate this professional email marketing tool, you need to pay a one-time fee of $59. Doing so will unlock permanent updates and six-month premium support, too.
Ninja Kick

Ninja Kick is another premium email marketing plugin dedicated to building different lists. If you want to grow your subscriber list, this tool will do it in the best way.
The eye-catching layouts of Ninja Kick are one of its main advantages that hook people to your site. It comes equipped with perfect integration with outstanding email marketing services, including MailPoet, MailChimp, Constant Contact, and so on. However, if you want to integrate those services with Ninja Kick, you should be aware that their subscription plans are not included in the Ninja Kick plugin's license.
Pricing:
You can purchase this plugin for $25 and receive six months of premium support.
So Which One is the Proper Email Marketing Tool?
Every website owner has different expectations and needs. To choose the best product, you should first define the exact features you expect to receive from such a tool. Factors such as budget and the necessity of scaling will impact your choice dramatically.
Generally speaking, the following recommendations can come in handy to make up your mind:
If you have a blogging website, simple plugins such as MailPoet and Newsletter will get the job done.
If you care about the signups of your website and want to drive them using an opt-in tool, consider using Sumo, OptinMonster, or Hustle.
If you are just starting with email marketing, don't want to spend money, Email Subscribers & Newsletters, Mailster, MailChimp, and MailPoet are good choices.
And finally, if you need automation for your email and WooCommerce and also want to benefit from additional features, go for SendinBlue, Ninja Kick, and MailPoet.
To Conclude
Email marketing is a must for every thriving website, and you should not ever omit it from your online marketing strategies. Here we discussed a list of the best WordPress email marketing plugins you can install on your website to increase subscribers and keep them in the loop.
Define your exact needs in the first place and then choose one of the plugins that work best for you. Ultimately, the best option is the one you enjoy using the most. So give the introduced plugins a try and embark on your email marketing journey right away for further success in your business.
Recommended Posts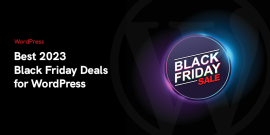 November 13, 2023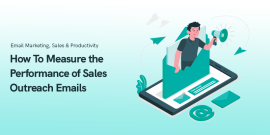 November 7, 2023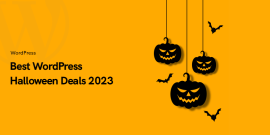 October 23, 2023