---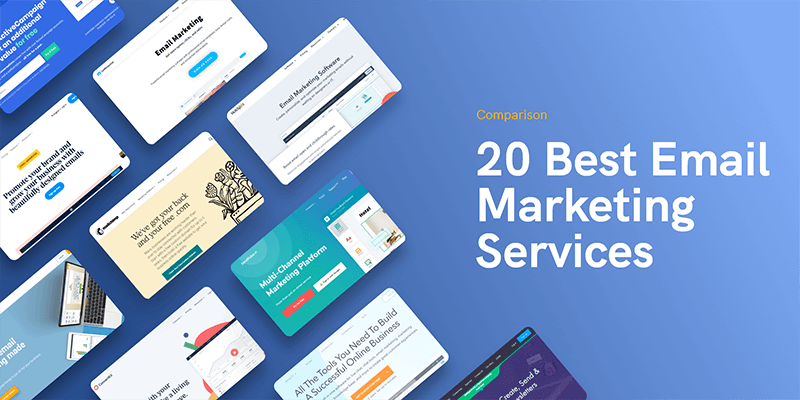 20+ Best Email Marketing Services in 2023
In this article, we are going to introduce the best email marketing services & software for managing one of your most important direct marketing solutions and getting the best ROI out of it.
It's worth saying that email marketing is still playing a huge part in the direct marketing area even though social media has gotten quite powerful.
There are lots of email marketing software & tools out there which are mostly full-featured and comparable to each other in a lot of matters.
Usually, email marketing services offer features like contacts management & group segmentation, visual drag & drop email designer, email queue automation, not-spam guarantee, track email campaigns & analytics, sending bulk emails, integrated subscribe forms, etc.
We wrote another comprehensive article about the best WordPress event calendar plugins and theme which you might be interested in: 10 Best WordPress Event Calendar Plugins & Themes
Best Email Marketing Services List in 2023
We are going to help you to choose between the best email marketing companies for your business purposes:
Mailchimp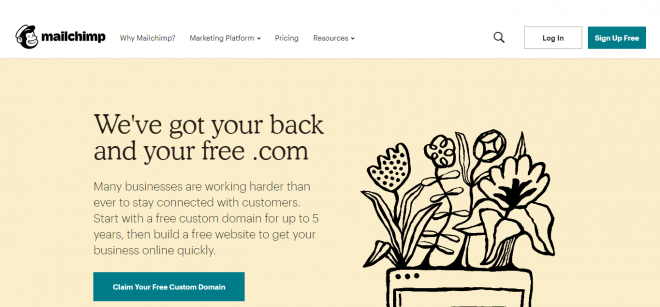 Mailchimp is one of the most powerful email marketing services for bloggers and small businesses that also comes with a free plan with basic limitations.
Mailchimp comes with some useful features like autoresponders, email tracking analytics, contacts group segmentation and integration with WordPress, Shopify, and other platforms.
According to MailChimp new efforts on providing advanced features to the industry, they were not very successful.
One of the strong different points of Mailchimp is its support system which is provided by live chat and ticketing system.
MailChimp free plan allows you to send for up to 1,000 emails to 500 contacts (subscribers) monthly.
Mailchimp Pros
Free Plan for Small Businesses
Import Subscribers
Various Email Templates
GPDR Provided
Visual Template Builder
Contact Segmentation
Mailchimp Cons
Although the free plan offers some generous features, the subscription plans are some how high-cost.
Advanced automation is not appealing enough.
Mailchimp Pricing
Free Plan
Monthly Plans (All plans are customizable based on customers needs)
$13 Essentials
$20 Default
$350 Premium
HubSpot Marketing Hub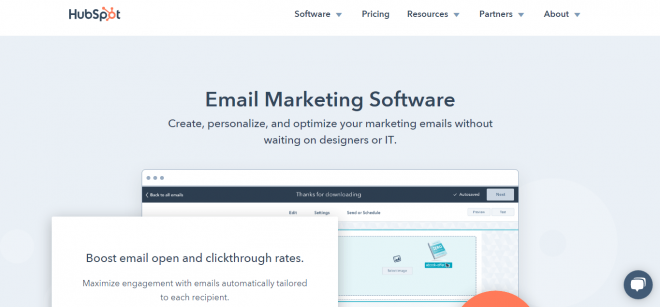 HubSpot combines marketing automation, email, and a suite of other flexible marketing tools with the power of a CRM to give you insight into how your marketing efforts are affecting your customer's experience across their entire buyer's journey.
Hubspot offers a visual drag & drop email builder, A/B testing, sending user-timezone-based emails, analytics, Call-To-Actions, etc.
Their marketing zone has already served more than 78,000 customers and HubSpot free plan comes with a lot of features that you can use to achieve your business goals.
HubSpot Pros
"Our sales team loves the insight into prospect activity to help them have more informed conversations. We've also seen some preliminary success with using an inbound marketing strategy."
"HubSpot does a great job of capturing lead information and organizations automatically so by the time these lists are created, I know exactly who I should contact and how to best reach them."
"The posibility to make wonderful workflows with several and interesting modules, such as send an internal or external e-mail, bifurcation if/else, rotation between sales team, etc."
"I love how easy it is to create and post blogs to our website. M not super technical but this makes the process easy and the end product looks great."
HubSpot Cons
"They do send weekly spam emails regarding marketing tips and information, which could be annoying, but I usually just ignore them."
"There is one thing that I dislike about it and want to highlight it which is HubSpot is a little bit expensive but I can say also that this platform is worth to spend."
"The facility to integrate directly with external resources, a friendly board for chatbots and a deep analysis about bots."
"The level to which HubSpot is missing the basics of ecommerce is inconceivable and, to say the very least, shows a systemic problem with their organization."
HubSpot Pricing
Free Plan
$0 Includes Email Marketing (2,000 emails per month)
Monthly Plan
$20 Starter
$890 Professional
$3600 Enterprise
Annually Plans
$216 Starter
$9600 Professional
$43200 Essentials
Mailpost.io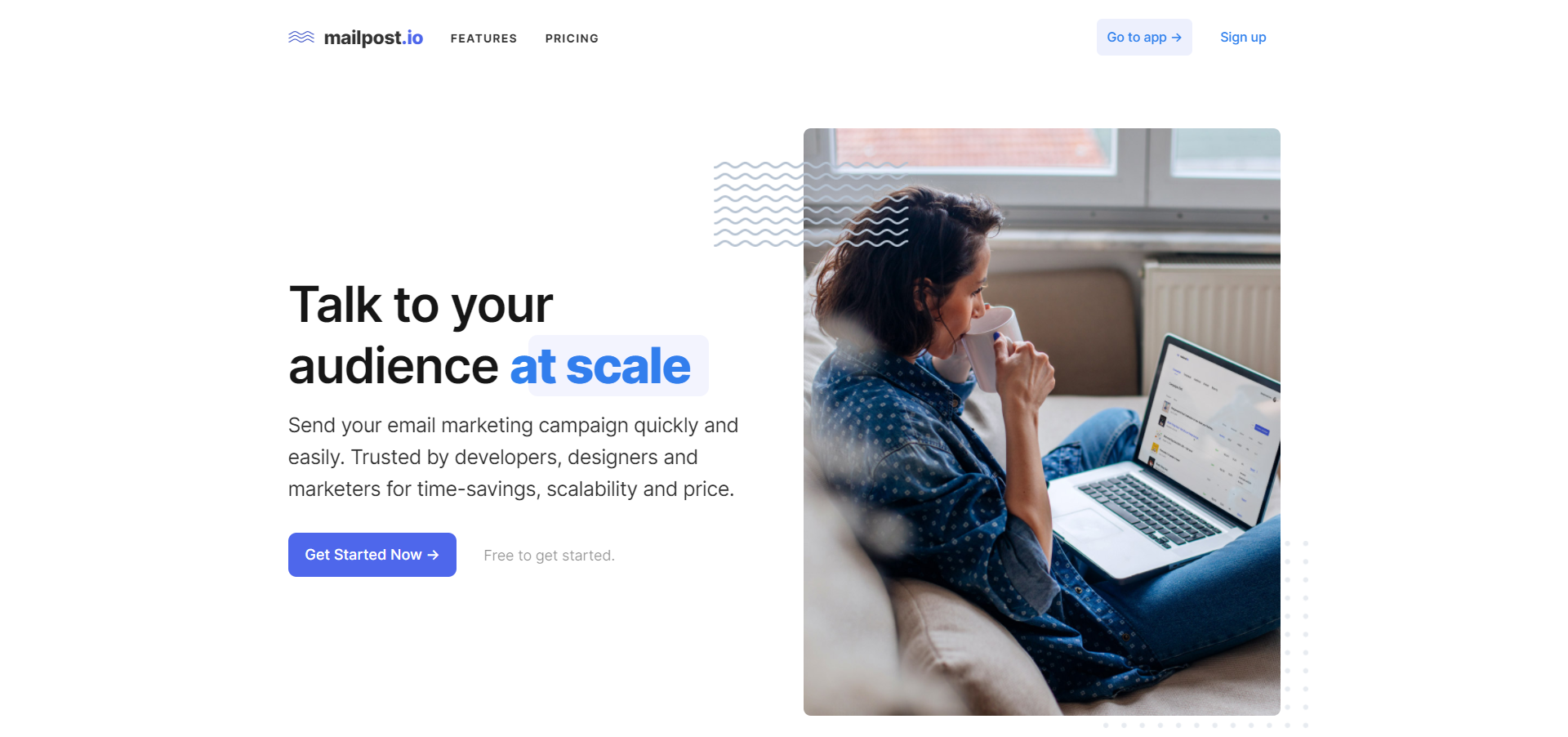 Mailpost.io is the most affordable email marketing platform on the market. Developers, designers and marketers use the platform for their projects.
Mailpost.io has a very clear and clean user interface and is simple to use.
With Mailpost.io you have the freedom to design campaigns online and collect the data of your subscribers using the embedded forms.
Mailpost.io Pros
Competitive pricing
High deliverability, minimum 97%
Send using your own domain to improve the reputation
Image hosting included
Easy UX and clean UI
Mailpost.io Cons
Mailpost.io Pricing
Free Plan
$0 100 contacts, 500 emails
Monthly Plans (There are a lot of more plans based on subscribers)
$13 1,000 contacts, 5,000 emails
$16 2,500 contacts, 12,500 emails
$22 5,000 contacts, 25,000 emails
$33 10,000 contacts, 50,000 emails
Yearly Plans (There are a lot of more plans based on subscribers)
$156 1,000 contacts, 5,000 emails
$192 2,500 contacts, 12,500 emails
$264 5,000 contacts, 25,000 emails
$396 10,000 contacts, 50,000 emails
MailerLite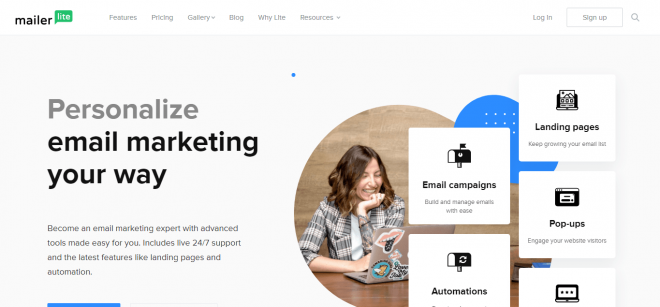 MailerLite is relatively new when it comes to the world of email marketing, and that youthfulness permeates throughout its design and features. Not in a 'young, crazy, fun!' kind of way, but more in a 'modern, clean and simple' kind of way. Perhaps it has something to do with the fact that their average office age is 25? Well, whatever it is, it's working for them.
MailerLite would be good for you if you are either a small business, blogger, or a beginner to the email marketing era.
It offers features like A/B testing, auto-responders, subscriber management, simple analytics, image library, landing page, contact segmentation, etc.
MailerLite Pros
"Mailerlite has been great at setting up automation systems to send out emails to new customers. "
"It has been really smooth and has been working great. Rather you are small or large, the scaleability is great and it provides great analytics to get the most out of your emails."
"There are many options to use for mailings and newsletters, and to me, Mailerlite doesn't stand out as the best value or easiest to use. However, it is one of many good options."
MailerLite Cons
"One of the biggest was that my emails were going into my customer's Spam boxes because Mailer Lite had terrible settings and all users had this issue."
Deliverability isn't what it could be, but we're ALL working on that one! And this is probably more the fault of user habits and annoying AI filters.
"Sometimes there's a hiccup in the system that causes text editing to mess up. What I mean is that I'll be typing and I'll get to where I am right now, and the cursor will reset to the beginning and start type there instead. If I refresh the page, the problem goes away."
MailerLite Pricing
Free Plan
$0 1,000 contacts, 12,000 emails
Monthly Plans (There are a lot of more plans based on subscribers)
$10 1,000 contacts, unlimited emails
$17 2,500 contacts, unlimited emails
$32 5,000 contacts, unlimited emails
$54 10,000 contacts, unlimited emails
Yearly Plans (There are a lot of more plans based on subscribers)
$108 1,000 contacts, unlimited emails
$180 2,500 contacts, unlimited emails
$348 5,000 contacts, unlimited emails
$564 10,000 contacts, unlimited emails
Mailjet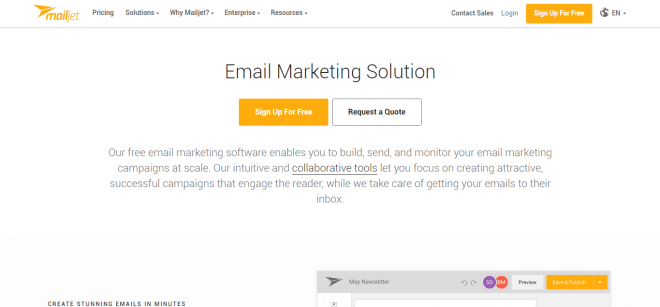 Mailjet has a pretty solid offering, especially when you consider that it's one of the cheaper newsletter software providers on the market – it even comes with a cool collaboration feature we haven't seen from other email providers.
It is a powerful email service provider used by +150,000 companies all over the world to create, send, and track their marketing and transactional emails.
Although Mailjet doesn't support auto-responders, landing pages, and image libraries, it offers features like A/B testing, subscriber & template management, WYSIWYG editor, etc.
Mailjet Pros
"It is easy to get started with all the options and the best feature is to schedule the emailers. Also, the reports are good enough for normal email marketing."
"Has the best templates out there and you can customize so much. Easy to upload your contacts."
"After using MailJet as a replacement for Mandrill for the last 2 years, I can fully recommend it."
Mailjet Cons
"I came into some problems with a few of my emails and the customer service was underwhelming."
"If you're sending large scale campaigns, it could ruin your email list size because of the lack of functionality around reengagement campaign parameters."
"The fact that they refuse questions from potential customers has to be the icing on the cake."
Mailjet Pricing
Free Plan
$0 (6,000 monthly emails , 200 emails per day)
Monthly Plans (15,000 monthly emails)
$15 Essential
$25 Premium
Yearly Plans (15,000 monthly emails)
GetResponse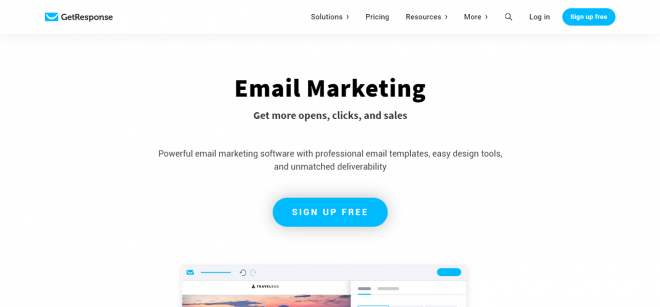 GetResponse claims to be the easiest newsletter tool available, with a ton of pro features. This is a big claim, especially as their prices are so competitive. The Polish-based company's global reach extends to 182 countries, and claim to engage over 1 billion subscribers every month! That's a lot of emails.
GetResponse has features like list automation, spam testing, conversion funnel, landing page, auto-responders, image library, template management, mobile-optimized emails, etc.
GetResponse Pros
"It is worth mentioning that our company stands out for having a very original contact with our customers and this is thanks to the templates that GetResponse has."
"They allow affiliate marketers to use their software for emailing relatively cold leads."
"GetResponse is a quality platform that has been very reliable with the design and delivery of our marketing emails."
GetResponse Cons
"The ability to analyze data is severely lacking in GetResponse"
"It's REALLY clunky in comparison to other drag and drop tools. If you want to be able to create basic emails, it's a struggle to make sure that things appear correctly."
"Occasionally problems with stability of platform (PHP errors)."
"Enterprise Account Customer Support is changing a little too often."
GetResponse Pricing
Free Plan
$0 (up to 500 contacts, 2500 emails per month)
Monthly Plans (based on 1,000 contacts list size)
$19 Email Marketing
$59 Marketing Automation
$119 Ecommerce Marketing
Yearly Plans (based on 1,000 contacts list size)
$180 Email Marketing
$588 Marketing Automation
$1176 Ecommerce Marketing
Sendinblue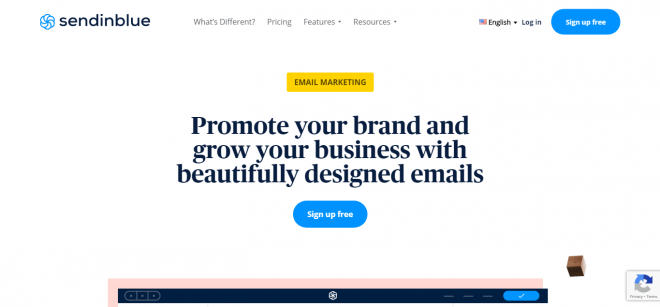 Sendinblue's email marketing platform was developed in response to one of the biggest challenges faced by small-to-medium businesses: automating email marketing on a budget.
Sendinblue empowers businesses to build and grow relationships through marketing automation, email campaigns, transactional emails, SMS messages, chat, CRM, Facebook ads, and retargeting ads.
If offers lots of features like A/B testing, landing pages, auto responders, mailing list management, analytics, template management, subscriber management, etc.
Sendinblue Pros
"It has grown on me and I like the finished product – the clean, consistently branded emails that go to my patients to communicate with them effectively."
"We just needed a way to communicate with our customers more effectively. It is nice that I can send an email to a select group or groups, depending on what we need to do at the time."
"It is an extremely important aspect that this software comes with a daily free 300 emails limit so that you can try it perfectly fine before you buy a higher plan."
"Very low cost with a lot of features including unlimited contacts."
Sendinblue Cons
"Their customer support is pretty bad and one the worst issues I face."
"Having sent numerous campaigns, trying different formats and schedules, we are yet to find anything we don't like or think that could be improved."
Sendinblue Pricing
Free Plan
Monthly Plans (for 20,000 monthly emails)
Constant Contact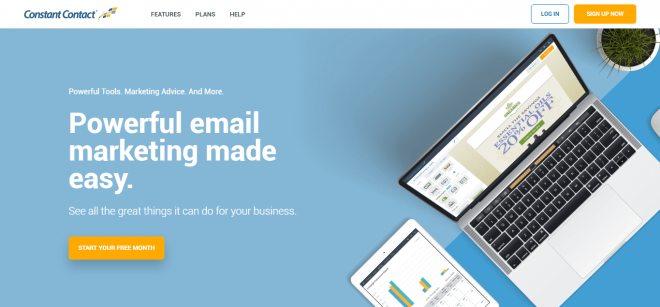 Constant Contact has been in the email marketing game since 1995. During that time they've managed to become one of the most used email tools in the world, boasting over 650,000 customers.
Constant Contact email marketing software offers features like A/B testing, auto-responders, drip campaigns, event-triggered email, mailing list management, image library, etc.
Constant Contact Pros
"We were using publisher to create an online newsletter for our parents. With Constant Contact it is easy, super fast, looks great and has embedded links that helps our end user a lot."
"Constant Contact is great for creating simple newsletters, maybe even the kind that might only circulate internally. Beyond that, it's best to use something more powerful."
"Constant Contact is intuitive and makes building professional-looking emails straightforward."
Constant Contact Cons
"Constant Contact's List set up is not very robust and is somewhat limiting."
"Within the body of the emails, there are limits to how one can arrange text and images; and, oftentimes it requires dragging the item to the same spot repeatedly until it lands in the right place."
"I have noticed that sometimes the preview of an email diplays differently in Constant Contact, than it does when the email is received."
"There are a lot of quirks within Constant Contact that I haven't seen in Mailchimp, specifically with using external links for photos and links"
Constant Contact Pricing
Free Plan
Monthly Plans (for 500 contacts, 12,000 monthly emails)
Pabbly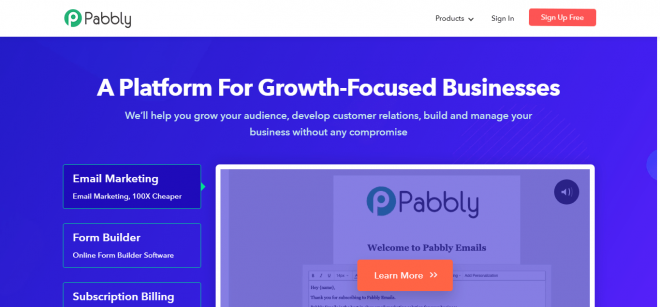 Pabbly Email Marketing is an email marketing application that enables you to send bulk emails either by connecting through any external SMTP service or through the inbuilt SMTP.
Pabbly Email Marketing manages all your subscriber's list, comes with a drag-drop email builder, and allows you to set up lots of automation rules for sending emails. It is a perfect solution to manage your entire email marketing. Just create an account, connect with SMTP and you're all set to send emails.
Pabbly Pros
"What I like the most about it is a very clean interface for the customer to make payments."
"Pabbly ( previously GetMailBolt) , is a great deal, great customer service, and good solution for eblast service."
"Great experience, solid product with fantastic customer support."
Pabbly Cons
"Sometimes It makes a little in sending delay but so far no big problems faced."
"The time to set up the URL to my personal subdomain was a small issue."
"My only gripe is that since this was moved into the group platform on occasions ot requires two logins to authenticate."
Pabbly Pricing
Free Plan
$0 (100 contacts, 7 days free, unlimited emails)
Monthly Plans (based on subscribers count)
$29 5,000 subscribers
$49 15,000 subscribers
$99 50,000 subscribers
ConvertKit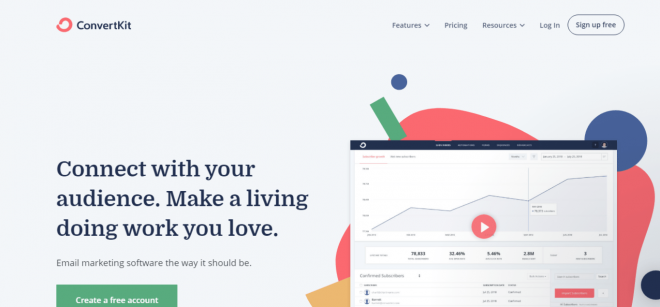 ConvertKit is an email marketing software for online creators with easy-to-embed, customizable opt-in forms to turn readers into subscribers and a visual automation builder to help you send well-timed, targeted content to those subscribers so you can stay focused on what matters most: growing your online business.
ConvertKit is a relatively new player in the email marketing software market. Their product targets professional bloggers as their goal is "to make email easier and more robust for professional bloggers like you". Next to bloggers they also target podcasters, course creators, and YouTubers.
ConvertKit Pros
"The pricing of this email marketing service is a big reason I switched over. I used aweber before and they would charge you additional if you have the same person on two lists. Whereas ConvertKit would only count that same person on two list as one."
"The automation features that involve tagging subscribers and setting up sequences allow for a lot of potential. There are many ways to deliver highly-targeted emails to your subscribers with ConvertKit."
"Good clean interface. Has bit of everything."
"So user-friendly and agile. It's powerful without being hard to use. I try to get all my clients on ConvertKit if they can afford to."
ConvertKit Cons
"Not everyone wants to do all that legwork. Seriously, drop and drag."
"Kind a looses credibility in these cases. But I came round this problem by not addressing readers by their first name."
"There are areas that don't autosave and I have lost content as a result."
"The starting price of $29 per month is higher than most competitors. As your email list gets bigger and you move into higher-priced plans, ConvertKit's pricing is more on par with competitors, but the starting price is definitely high compared to some of the other options."
ConvertKit Pricing
Free Plan
Monthly Plans (300 subscribers)
$15 Creator
$29 Creator Pro
Yearly Plans (300 subscribers)
$108 Creator
$348 Creator Pro
ActiveCampaign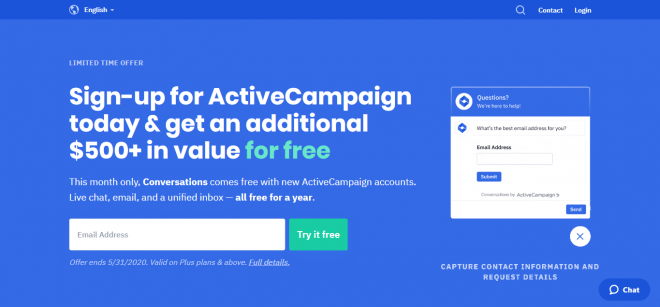 ActiveCampaign is an integrated marketing and customer relationship management (CRM) suite with a foundation in email marketing.
Targeted towards small-to-midsize businesses, the software is designed to help organizations build their contact lists, create professional emails, manage campaigns, track customer behavior and measure their marketing campaign performance.
ActiveCampaign's category-defining Customer Experience Automation Platform helps 100,000+ businesses in 170 countries meaningfully engage with their customers.
The platform gives businesses access to hundreds of pre-built automation that combine email marketing, marketing automation, CRM, and machine learning for powerful orchestration, segmentation and personalization across social, email, messaging, chat, and text. 300+ integrations.
ActiveCampaign Pros
"An affordable and powerful solution ranging from simple email marketing to professional Marketing Solution."
"ActiveCampaign is a solid platform. The CRM has nice communication options and the tagging system for contacts and in-the-moment segmentation are nice touches."
"Switched to ActiveCampaign from Pipedrive via ConvertKit and Keap – this is something else. I am so impressed. Very easy to use and well laid out, it is easy to create some of the most robust automated customer follow ups I have seen."
"Love the automation and the campaigns features. I also like that it integrates with my gmail (G Suite) account."
ActiveCampaign Cons
"Some of the features are hidden, the layout is really lacking for easy of use. its hard to find and add tags and lists etc. it seems to have great features but they are hidden away and hard to find."
"For high database and high sending volumes, maybe it's not the best option. Large campaigns could take time in sending."
"You'll easily get lost in number of options and settings. The fact when creating an email you get redirected for simple steps just to edit email header also hurts the flow."
"Customer service gave 8-10 min waiting time on their chat support these days, and that is just not good enough."
ActiveCampaign Pricing
Free Plan
Yearly Plans
$348 Lite
$588 Plus
$1788 Professional
Omnisend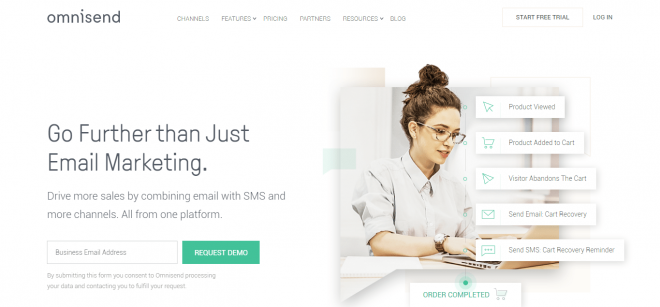 Omnisend provides advanced marketing automation tools for sales-driven eCommerce marketers that have outgrown the generic email marketing platforms.
Omnisend is an omnichannel marketing automation platform for growth-focused eCommerce businesses. Omnisend allows you to add several channels to the same automation workflow for seamless communication via email, SMS, web push notifications, Facebook, WhatsApp, and more.
Omnisend Pros
"I love the live view of the software & find it captures much more data than I ever did on MailChimp as to who has clicked through & actions taken"
"The apps integration with Shopify is what appealed most to me, and it appears to be fairly full featured. I was transitioning from MailChimp and needed a solution that offered turnkey engagment tools i.e. pop-up, automation workflows and email."
Omnisend Cons
"Frankly, it's not nearly as intuitive as it should be, not the tools of the help system."
"Despite much of being intuitive- the groupings for automations, what came with them, and what was available slightly confused me."
"I am not entirely familiar with all the ins and outs of Omnisend yet, so I don't think I can speak to any structural issues or large problems it might have."
"I find it frustrating that the product picker is just not working, you have to physically copy and paste product description photo and information and paste."
Omnisend Pricing
Free Plan
$0 (up to 250 contacts, 500 monthly emails)
Monthly Plans (for 6,000 monthly emails, up to 500 contacts)
Gist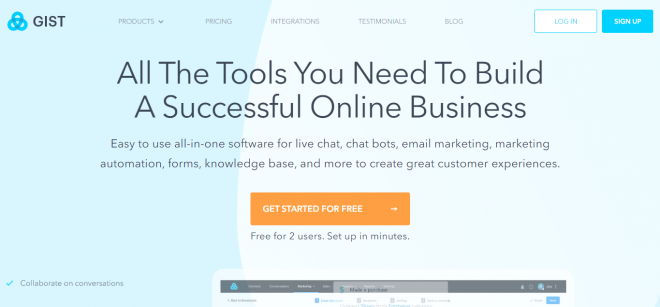 Gist is a suite of tools businesses use to market, sell, and communicate with their customers.
Today, over 20,000 businesses are using Gist and Customers use their product to talk to their leads and customers and be that central source of truth.
The vendor's value proposition is that their solution is an affordable product on the market that ties live chat, a help desk, knowledge base, email marketing, marketing automation, opt-in forms, and more into one easy-to-use tool.
Gist Pros
"Is really very complete when it comes to chatting. It's perfect even for Capture subscriber and excellent for communicating with our visitors and prospects on our sites."
"Moreover, the team behind the software is outstanding and the support is also amazing."
"If there is any problem, they try to help as best as they can. M very impressed by how the tool developed since I got it."
Gist Cons
"The extent of its integration with WooCommerce. Can't send proper cart abandonment emails because so far it can't generate an abandoned cart link."
"No webhooks and integromat for my plan available. And they block workflows in my plan."
"It's very un-intuitive and it is too easy to accidentally change or delete data if you click on the wrong icon. What I find most dismaying is there is no way to cancel the account."
"I do feel that the level of the translation to Swedish is a bit low. It could have been done in a more professional way, some of the content is badly translated."
Gist Pricing
Free Plan
Monthly Plans (For 1000 contacts)
$19 Professional
$29 Premium
Freshmarketer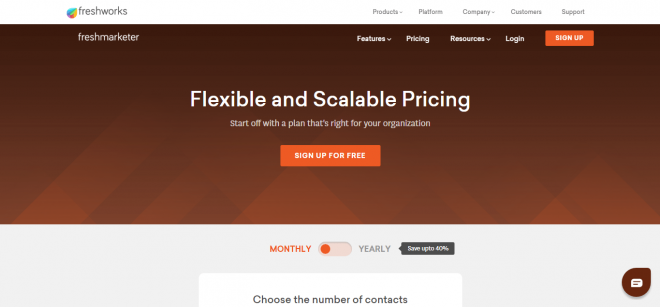 Freshmarketer is a full-fledged marketing automation solution for fast-paced marketing teams. It lets you intelligently engage your users across their life cycles from pre to post-acquisition.
As a standalone, Freshmarketer helps fast-paced teams engage users across their entire life cycle, from acquisition to engagement and retention. Journey, its flagship product, gives you control and freedom to design, customize, and position your engagement workflows based on your specific preferences. Some of its most common use cases are autoresponders, lead nurturing workflow, bulk campaign, and web form tracking.
Freshmarketer Pros
"It offers you with multiple apps and features which means you don't have to buy all those apps individually."
"Integrated form analysis. You can create custom funnels. You can see the heatmaps for your experiment variations. It's cheaper than most alternatives."
"It is the one shop tool to answer all your hypothesis by iterating experimenting."
"Really simple to setup either the connection to the app and tests."
Freshmarketer Cons
"Since it is based on JS, may be slow some times."
"Price might be high for certain smaller organizations, but most can probably gain way more through insights than Freshmarketer will ever cost."
"It takes time to set up the first test. Just like everything, there is a learning curve involved."
Freshmarketer Pricing
Free Plan
Monthly Plans
$23 Growth
$179 Pro
$359 Enterprise
Yearly Plans
$228 Growth
$1788 Pro
$3588 Enterprise
AWeber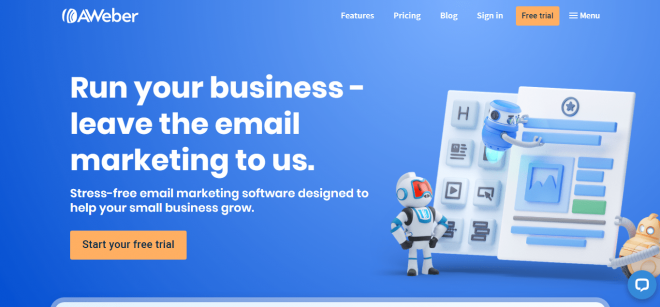 AWeber gives you the flexibility to manage contacts and customize your own email templates, but doesn't offer a lot of third-party integrations. If you want email marketing without a lot of fuss, AWeber deserves a look.
In AWeber customers have access to all their features from day one, and the price is only based on subscribers number.
Apart from automation, AWeber offers split testing and their Email Web Analytics, allowing you to use your own domain in links you want to track clicks for, and tracking product sales easily.
AWeber Pros
"Whenever I've had a question and called Aweber they have been absolutely WONDERFUL with explaining things, walking me through my challenges, and helping answer my questions."
"I wasn't very technical, but Aweber still made it easy to succeed at newsletters and broadcasts. My first newsletter went out to less than 20 people, but Aweber helped me look like a pro."
"Great features, good to go for the beginners in Email marketing niche."
"Aweber provides great email templates with superb integration with other top tier programs. It even offers email marketing training and split testing functionality."
AWeber Cons
"They need to step up the game with marketing automation. A basic thing missing is – follow up feature in broadcasts email whereby an email should be sent after x days if it is not opened."
"Yes, Aweber is a little more expensive than some other platforms, but I'd rather pay a bit more for something that fits my needs than to be irritated all the time."
"The cons about it is the layout i think because of the fact that it looks a bit boring in my opinion."
To be affordable, you need to have a large number of subscribers and mail campaigns. It is not for small users or companies that have sporadic email campaigns.
AWeber Pricing
Free Plan
$0 (up to 500 contacts, 3,000 monthly emails)
Monthly Plans (for up to 500 contacts)
Yearly Plans
Benchmark Email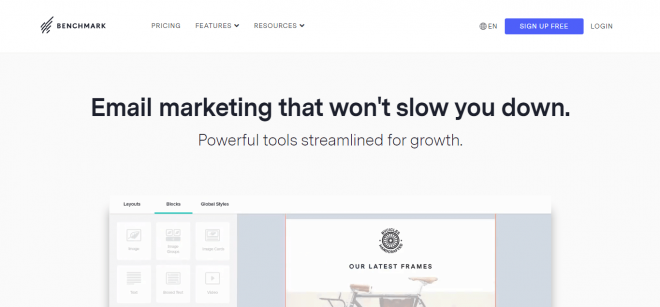 Benchmark Email aims to provide practical marketers with strategies & devoted support to create ongoing customer engagement with email marketing & automation tools.
Benchmark Email serves small to medium sized businesses all the way to enterprise and for a variety of different industries.
It allows you to grow, engage and increase sales with your audience thanks to an integrated, automated and complete feature set built to help businesses.
Benchmark Pros
"Benchmark resolved an issue of timely, wide reach that we had been trying to resolve."
"I like being able to design attractive campaigns the reporting function is useful."
"Easy for me to set up emails to my membership, the schedule feature is great."
When creating an email, it is ever so easy. There are many templates to choose from and if you don't want a template you don't have to use one!
Benchmark Cons
"We were really struggling to get customers to leave reviews about their experience and by sending out email blasts to them with clickable articles and links, we increased our reviews."
"Delivery rates have dropped upto by about 90-95% of what it used to be. Frivolous checks have been introduced that even your helpdesk is helpless to explain."
"Even when the preview shows single spaced sometimes the publication comes out 1.5 or double spaced – not a big problem for our use, but we get some calls from our constituents about "weird formatting."
"They make the cancelation process a pain. You need to find the hidden link and go via chat where they make you waste 30 min asking you stuff to avoid cancelation."
Benchmark Pricing
Free Plan
Monthly Plans (for up to 500 contacts)
Yearly Plans
SendPulse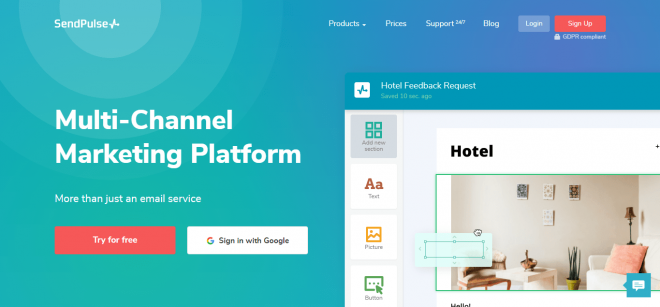 SendPulse is an email marketing platform that maximizes the open rate of newsletters automatically, which is the primary metric of email marketing. Additionally, it offers other communication channels such as SMS, web push notifications, pop-ups, and chatbots for Facebook, Telegram, WhatsApp, and Instagram.
The platform provides an easy-to-use drag-and-drop editor to create mobile-friendly emails, and you can send marketing campaigns, trigger-based emails, or set up automated responders. SendPulse is an all-in-one messaging platform that combines advanced personalization features to improve customer interactions.
It supports multiple communication channels such as email, SMS, web push notifications, SMTP, etc., and enables users to communicate with their audience easily on all devices. SendPulse has helped its customers to achieve a significant increase in engagement, including click-through rates, page views, time spent on the site, and conversions.
SendPulse Pros
The user interface is well-designed and organized. The buttons and controls are pretty easy to understand, even without a guide.
The interface is user-friendly and fast, and customer service is responsive and provides quality help.
Simplicity is key here, and I particularly appreciate that.
I use this software for email marketing as part of a project, and it was recommended to me by someone who has been using it for several months and is satisfied. Once you get used to it and understand how it works, it's very easy to send emails. I especially appreciate the ability to save templates and reuse them.
SendPulse Cons
It would be great to have a built-in email cleaner in the software, rather than relying on an external service. I don't like paying for additional services, but I understand that it's sometimes necessary.
When I add all my contacts to my list, many of them are blocked and marked as errors. However, all my contacts have signed up on our website and want to receive our emails.
I can't use the emails created in Email Builder in the SMTP messaging interface.
There were some minor issues with recalculating the user notification list, but they have since been resolved. It would be beneficial to have more pricing options, as the gap between 30 and 100 users is too large.
SendPulse Pricing
Free Plan
b/month (up to 500 subscribers and 15,000 monthly emails)
Monthly Plans (up to 500 contacts)
7 €/month Standard
8.40 €/month Pro
11.76 €/month Enterprise
Yearly Plans (up to 500 contacts)
5.60 €/month Standard
6.72 €/month Pro
9.41 €/month Enterprise
MoonMail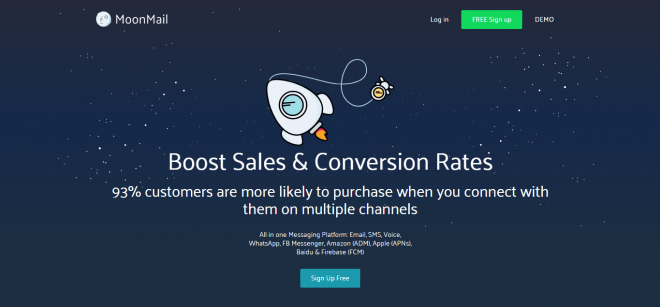 MoonMail is an OmniChannel Service Provider and Marketing Platform where your support, sales, and marketing team can see the entire customer journey through a real-time dashboard.
MoonMail is a cloud-based email marketing tool suitable for small to midsize companies in all industries, particularly marketing agencies, designers and developers. Key features include configurable email templates, email automation and reporting.
MoonMail Pros
"First and foremost, Mailchimp, aweber, constant contact etc… are so restrictive when you want to upload a list. Or, you have to pay exorbitant amounts just to upload the contacts, even if you don't use them in certain campaigns. With Moonmail, I haven't experienced any of that."
"The customer service and chat function are simply excellent. The folks at moonmail are friendly, patient with actual customer service."
"Integration with AWS , Serverless lambada architecture , open source code base , features specially some cutting edge planned features."
MoonMail Cons
"Not as easy to use as mailchimp but the customer service is so good with someone walking through that it's not actually a real problem."
"Open source code not updated uses outdated serverless framework , very tough to get it working almost had to rewrite major part of the code."
"It does not offer any option if you suddenly can't use Amazon SES anymore. Also, the branding on the email footer is a bit ridiculous in paid plans."
"MoonMail is a confusing and complicated email marketing solution that is designed for people who have significant technical knowledge and already know exactly what they are doing when it comes to create email campaigns."
MoonMail Pricing
Free Plan
Monthly Plans
$59 Lite
$249 Starter
$499 Professional
Ontraport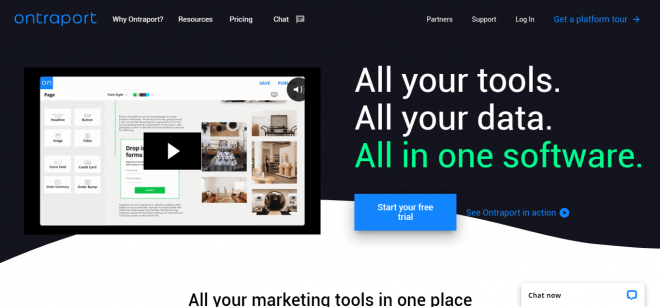 Ontraport is an all-in-one integrated platform that delivers essential business features, including a powerful CRM system, marketing automation, membership sites, one-click WordPress hosting, outstanding email delivery, payment processing, direct-mail printing, affiliate management, and our innovative business automation suite.
It is advanced enough for big business, and also made for small business. Ontraport is your connection to customers with do-it-yourself simplicity, one-on-one customer support, and built-for-you marketing & sales.
Ontraport Pros
"You can just do so much with this software. It's amazing to have the ability to use such a powerful tool where we can design helpful systems for all aspects of our business without ever having to pay or consult a developer."
"Ease of use, a great tool for all my marketing and automation. You have to try it to really understand."
"Support, many of whom I now know on first name basis – Ontraport attracts top notch people to be part of their team and they bend over backwards to help, especially if mistakes are made… I find them extremely proactive."
"The landing pages are fabulous! You can add a sales forms and up-sale sections. If you understand sales funnels, you may really like it."
Ontraport Cons
"Because the software can do so much and is so flexible, it can be a bit overwhelming and at times confusing because you end up doing things in a non-standard way which can lead to a messy account."
"The knowledge base could probably do with more detail but I can normally get the answer I need from the community with is very strong and healthy."
Ontraport Pricing
Free Plan
Monthly Plans (for up to 500 contacts)
$29 Basic
$99 Plus
$149 Pro
$299 Enterprise
Drip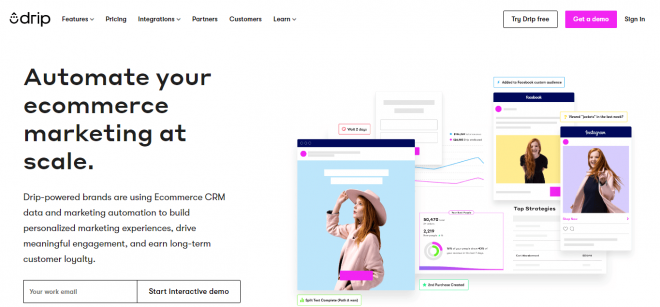 Drip is the world's first ECRM–an Ecommerce CRM designed for building personal and profitable relationships with your customers at scale.
Ecommerce marketers around the world are starting to see their customers in full color with Drip features like comprehensive tracking, hyper-segmentation, and robust email marketing automation.
They're graduating from typical email platforms, bloated CRMs, or overhyped marketing automation tools, and making more money with Drip.
Drip Pros
"It's worth digging into again, its capabilities are probably the best out there if you can get your head around it."
"It's super nice that I don't have to baby sit my automations, I can check in and look at stats and reporting but other than that it runs itself."
"I was coming from Mailchimp and using Drip has been a great improvement in the ability to automate and personalize the messages I can send to our customers, based on the phases they are in the funnel."
"We have been able to automate an almost entirely manual process. Highly recommend Drip as an easy to learn and awesome tool to grow your business."
Drip Cons
"They charged me for the free trial, which my bank suspected was a scam and locked my account. I contacted customer service about it twice and they never bothered to contact me."
"Our low open rate, makes me worried we are in spam filters."
"Poor reporting capabilities, very limited and some of the reports are confusing or misleading."
"For example, we are able to automate a lot of our social and email marketing through Drip before a team member takes leave of absence so things aren't going to hurt as bad for the team as a result."
Drip Pricing
Free Plan
Monthly Plans (Unlimited emails)
$39 2500 contacts
$89 5000 contacts
$154 10000 contacts
What Is The Best Email Marketing Service?
When it comes to the email marketing services, you need to know that there is not only one best email marketing software that can fulfill your desire and it mostly depends on you budget and business or industry needs as most of them offer similar options and features.
Our suggestion is Freshmarketer for mid-sized to large businesses and Mailchimp for small-sized ones.
We hope this list helps you to make an easier and efficient decision. Let us know in the comments about the email marketing service that you use and your experience with it.
Recommended Posts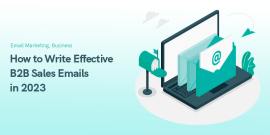 May 12, 2023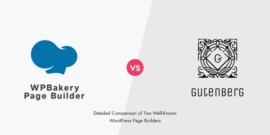 November 1, 2022