---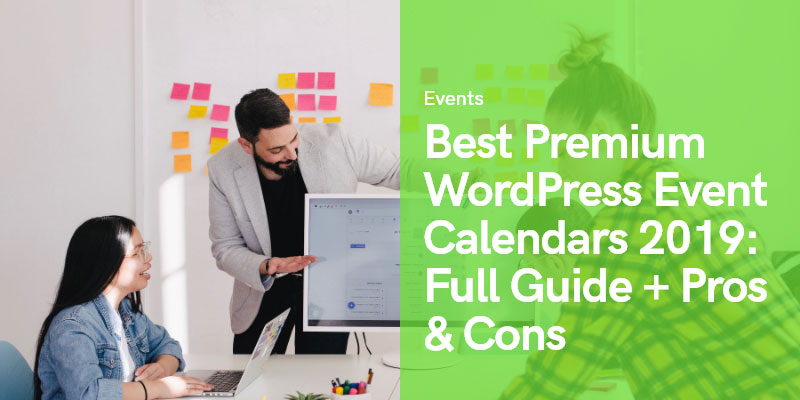 5 Best Premium WordPress Event Calendar Plugins 2020: Full Guide + Pros and Cons Comparison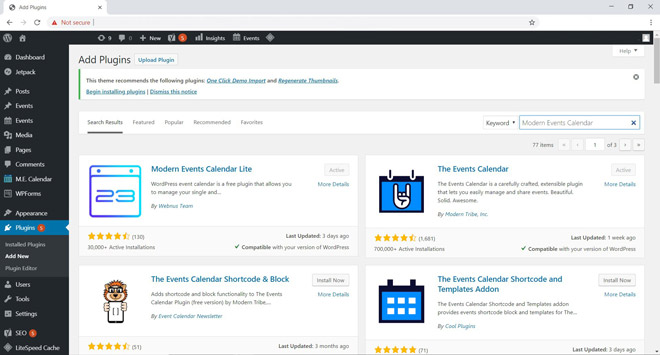 Thanks to its dynamic interface and thousands of themes and personalization plugins, WordPress owns a substantial share of content management on the Internet.
Event calendar plugins are essential tools for conducting events and gatherings. They enable you to manage attendees with a detailed and thorough schedule and begin marketing those who just got to know your business.
When we say event calendar you are probably thinking of a portion of the website where you can display future events. But that's not all! Modern plugins are packed full of features that to make you break the boundaries of being a normal.
Time and speed play a crucial role in organizing and conducting a successful business. They can even be helpful in a personal website. A calendar will make your life a whole lot easier and help you achieve your goals faster.
You can star certain events or keep a record of past events and daily activities. Here we will introduce some of the best calendar plugins for WordPress to help you improve your life and business.
WordPress Event Calendars
Nowadays, many websites need a WordPress Event calendar by which users can manage events. This is why people have developed event calendar plugins.
In this article we have carried out a detailed review on five of the best premium WordPress event calendars in the market.
In the end, we present all the details in a table, which makes comparing them way easier and therefore, you can use the table to choose your desired event calendar based on your preferences.
The following are the best event calendar plugins and they include different options and capabilities that can respond to the needs of a huge user base.
As they say every flower has its own scent, so does every plugin has its own unique features. If you are a website administrator, then you should be in the market for the best premium WordPress event calendar plugin for your event booking website and we are here to help.
Let's begin.
1. Modern Events Calendar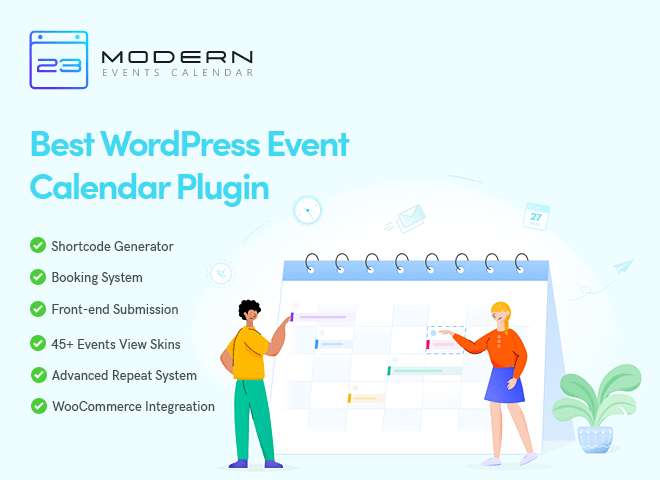 Coming in at number one is Modern Events Calendar or MEC which has a responsive design and can be easily used on mobile displays.
This WordPress event calendar has a free version and a paid version that has many additional features for those that require more from their event calendar.
Its modern and simple design is coupled with being functional and having many practical features that will improve the look of your website considerably; not to mention its functionality.
Comparing to other plugins, MEC enables you to have repeating events in your schedule and style them with different themes.
This is an important feature because it enables you to design and display handsome-looking gatherings on your website which are totally different with normal styles.
Other plugins do not provide this feature and you may have to use CSS and JavaScript on your website.
MEC is both beautiful in terms of design and has user delicacy. Apart from all its features, its amazing support is another thing that sets it apart.
MEC which stands for Modern Events Calendar, According to its developers,have been created following the top modern trends in design. It provides a wide array of features in a minimal and practical design.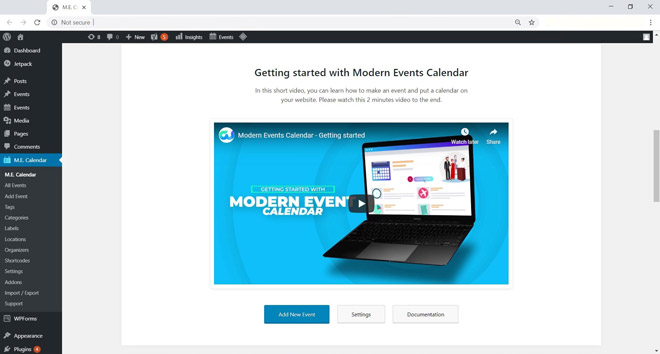 Modern Events Calendar or MEC has a responsive design and can be easily used on mobile displays. It has a free version and a paid version that has many additional features for those that require more from their event calendar.
Apart from all its features, its amazing support is another thing that sets it apart.
A key feature of MEC is its ability to import data from other premium WordPress event calendars with a few simple clicks of a mouse.
EventOn, The Events Calendar, Calendarize it! and most importantly, Google Calendar, are all calendars that MEC can import from without any trouble.
MEC enjoys excellent written and visual guides and tutorials, coupled with a fantastic support staff that work to help users 24 hours, 7 days of the week.
Another much-talked-about feature of MEC is its integration with Google Maps, using featured images for events, employing a shortcode generator, offering colorful, customizable templates, using translation tools and supporting right-to-left languages, useful widgets, and compatibility with PayPal.
What's more is that users can download filtered events in CSV, XML, and JSON formats and manage them separately.
If you opt to use MEC, you will receive a year of full, premium technical support and free updates. As a premium WordPress event calendar, Modern Events Calendar offers a wide range of key features that are not found easily everywhere.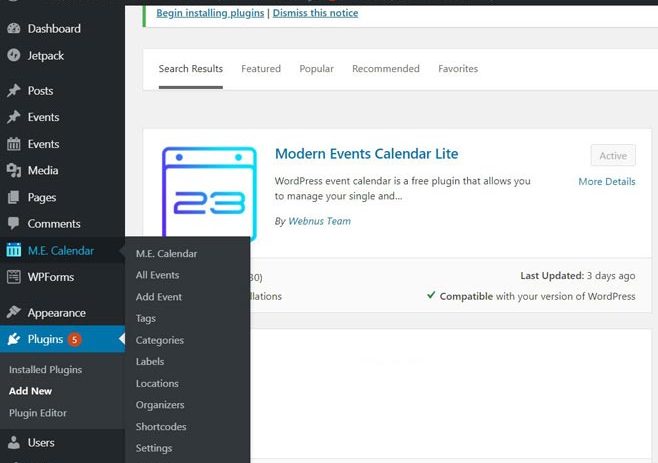 Configuring events
You can create events that have direction to the venue to the attendees.
You can also integrate it with other calendars
You can categorize events in unlimited categories and hide the ones you like from the users. Also, you are able to allocated different facilities, organizers, and speakers to different events and have an exclusive booking system for each.
For events that repeat, you can set them up in MEC so that they will automatically repeat over a certain interval. You can also have events that are not limited by any interval.
A unique feature of MEC is its fluid design and how it flows between different pages. Using MEC you can have more than 10 styles for Google Maps. Not all premium WordPress event calendars have this feature.
It is very easy and does not require you to know any coding. But if you have coding knowledge, you can use CSS codes in this plugin and change it however you like. This feature enables you to transfer all the events to WP back-end and keep them in your database.
You can have the events that are unique or canceled display in different styles to set them apart.
In this 

premium 

WordPress event calendars you can have a schedule table view and display the details of the event in there.
Modern Events Calendar lets you pinpoint the location of the event so that your users will have an easy time getting there.
You can filter the events with label, month, and location for users and website admins.
WPML & PolyLang compatible
Booking features in Modern Events Calendar
Modern Events Calendar gives you the best experience for a booking system and enables you to create different tickets for your events and have customized fields in your forms.
Also, you can set taxes and value added fees for different payment methods. Overall, Modern Events Calendar supports several different payment methods, five to be exact.
In addition to all that, this premium WordPress event calendar also offers one of the best auto-email systems out there.
Worried that your audience might not learn about your union event? The Event Calendar is here to help you.
With its feature of starring and notifying users about repeating and public events, you can be sure that your users will not forget about any of your events.
Modern Tribe is the team behind The Event Calendar and they have made every effort to appeal to all tastes.
The Event Calendar allows you to design the user interface how you want it and not limit yourself to one framework. This premium WordPress event calendars has been designed especially for large groups but contrary to its function, it does not use shortcodes but style sheets.

This has made it faster and more efficient in working with your theme. Its authors always market their product as simple to implement, flexible in covering a wide range of needs, and excellent technical support. These three values represent The Events Calendar focus.
The Pro version includes features such as repeating events, exclusive pages for organizers and venues, plus widgets.
In The Events Calendar, users can manage registrations and their exclusive events through a feature called Community Events.
The plugin includes a unique taskbar that can filter events to provide a better management experience for users that have a lot of events cramping their calendars.
The Events Calendar also can import from Google Calendar, Meetup, and iCalendar.