---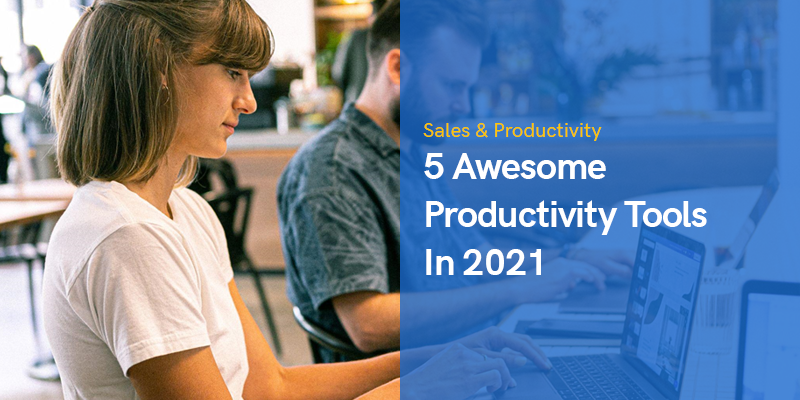 9 Awesome Productivity Tools In 2023
For many business owners and project managers, achieving high productivity remains an incomplete goal among other objectives laid out in their project management plan.
Why is that so, you may ask. While some organizations register high productivity with amazing consistency, others struggle to do so. There could be many reasons for businesses failing to get the most out of their employees.
Before we take this discussion ahead, let me clear one thing. Getting your employees to achieve set productivity goals does not mean you push them to the brink of exhaustion. Taking this approach would be equivalent to "shooting yourself in the foot."
In other words, high productivity should never come at the cost of your employees' mental and physical well-being.
Coming back to the crux of the matter, it is a well-known fact that engaged employees are more productive, resulting in a 21% increase in profits.
Yes, you read that right. Happy employees are more productive. That said, you cannot expect that your highly engaged and motivated employees can deliver the goods without equipping them with the right tools.
In these times of remote work when millions of people are working from diverse geographical locations, organizations and business owners, product managers, and project managers have their tasks cut out. It's not easy to keep your remote employees united to achieve common goals.
While in-office environments allow employees to share the same office space, which facilitates team collaboration, remote workers can feel isolated and disconnected. As a result, it's likely that you will notice a significant dip in your employees' work performance.
The good news is that advances in technology have allowed widely dispersed remote workers to stay on the same page and collaborate seamlessly, which results in better coordination and increased productivity, and efficient spend management.
What productivity tools are we talking about here? There are so many of them that choosing the best one seems to be an overwhelming task.
This is a common dilemma of business owners and project managers. They often get perplexed when looking to invest in productivity tools. Often, they fail to choose the right tool that meets their workflow requirements, which doesn't yield them desired results.
To make your task easier, I have listed five of the best productivity tools that have all the bells and whistles to catapult your team's productivity to another level. These tools can be used by both in-office teams and remote workers to boost productivity through better management of daily tasks and activities. These are Webnus, Proofhub, Troop Mesanger, Time Doctor, Chanty, and Brosix.
The Best Productivity Tools Available in 2023
Let's take a look at them:
Webnus (Premium WordPress Themes and Practical WP Plugins)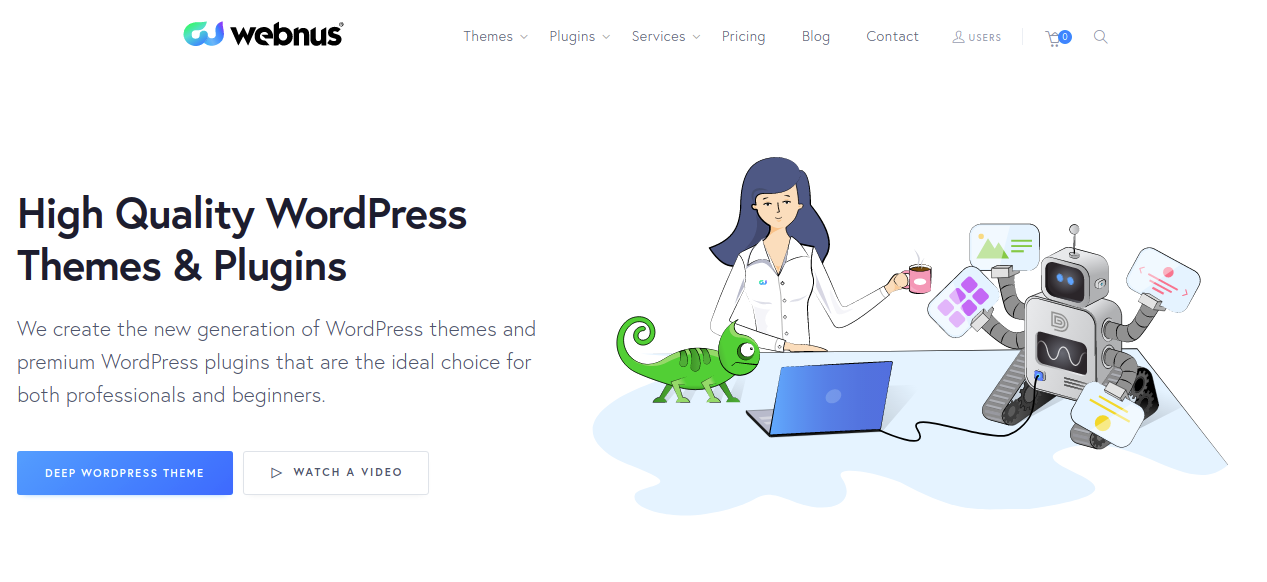 Webnus is a premium service provider that is designed exclusively for web designers to help them shorten and speed up the process of web design. Webnus boasts to have one of the best WordPress themes around and offers you a vast collection of latest WordPress themes and premium WordPress plugins that are the ideal choice for both professionals and beginners. Premium customers of Webnus get "customization" services that include pre-designed PSD to WordPress full-functional website, making desired changes, etc.
Main Services Include:
Installation of Deep WordPress theme
Speed optimization
White labeling
SEO Optimization
Convert PDS to Website
Build and Optimize Website
Custom Design
Custom Development
Pricing: Click to check different pricing plans for different user requirements.
ProofHub (Project Management and Team Collaboration)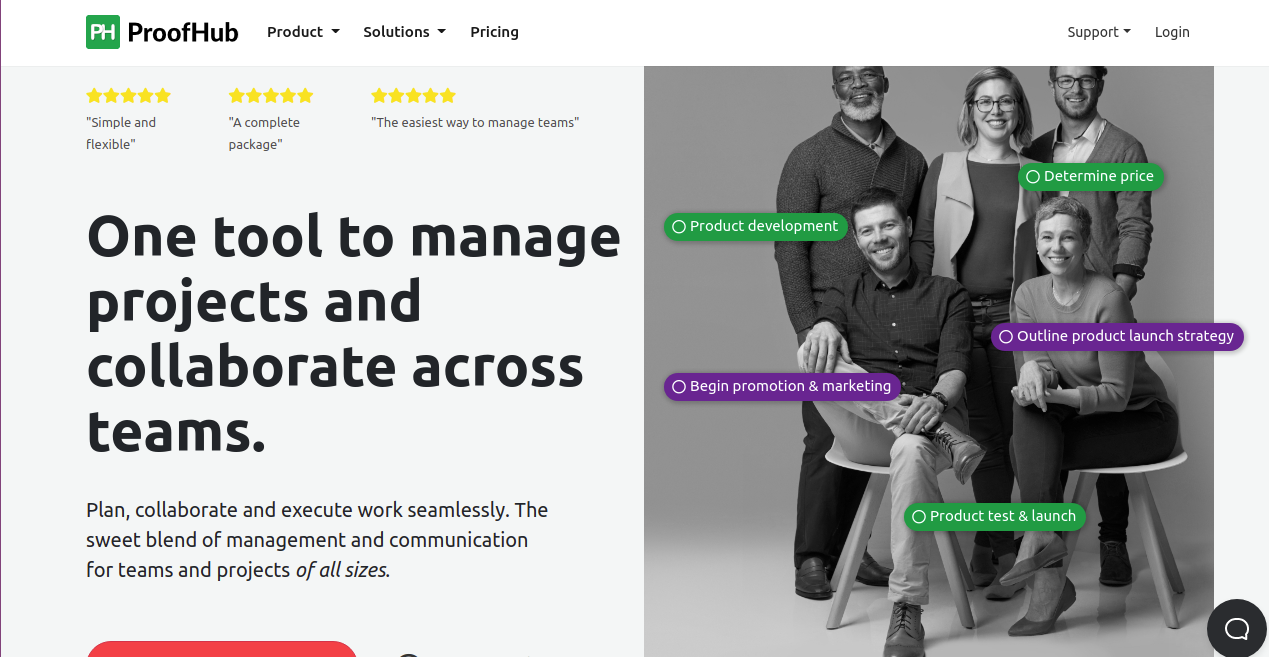 Used by more than 85,000 teams and businesses worldwide, ProofHub offers a long list of powerful features under one roof to enable users to easily plan, collaborate, organize, and deliver projects of all sizes, on time. You don't need to use separate tools, which helps to save a lot of time. Features like task management promote team accountability while time tracking allows you to set time estimates and record time spent on tasks. Fixed pricing plans, intuitive interface, and simple learning curve makes ProofHub an ideal choice for teams looking for a better way to manage work and eliminate time-wasting activities during work.
Main Features Include:
Custom Fields
Timesheets
Table View
Online Proofing
Group Chat
Discussions
Custom Roles
File Management
Scheduling Calendar
Pricing: The Ultimate Control plan is priced at $89 per month, billed annually.
TimeCamp (Automatic time tracking and attendance)
Automatic time tracking ensures the accuracy of attendance and payroll processes. And here TimeCamp comes with a helping hand, an attendance tracker free that offers both features in one easy-to-use app available for multiple platforms and devices.
TimeCamp tracks time automatically in the background, reducing time spent on filling timesheets to the minimum. It also offers a handy weekly view for those who need to report time spent on tasks without worrying about work start/end hours. Moreover, it allows us to easily copy time entries from previous days, which is especially useful for these users who usually work on the same task every day.
All the collected data can be used for various purposes – for time reporting to measure performance or to create invoices and send them straight to the clients. But it also serves as attendance records, which makes payroll-related processes quick and paperless.
Main Features Include:
Automatic time tracking for web, desktop, and mobile, also for Chrome and Edge

Attendance management 

Timesheet approvals

Time reporting (with pre-built and custom reports), 

Budgeting with estimates

Flexible billing rates

Invoicing 

30+ native integrations 
WebWork Time Tracker (Time Tracking and Task Management)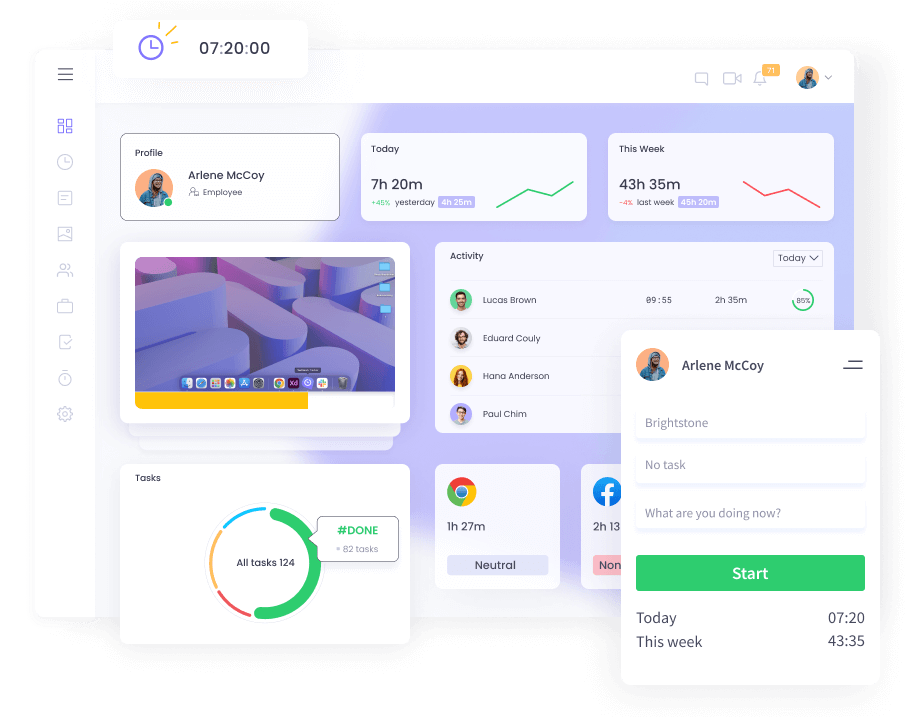 Productivity tools cannot be complete without time trackers. Nowadays they are largely used by both teams and individuals for improving time management and performance.
WebWork is a time management tool that also functions as a task management platform. Users can see exactly what their time is spent on, especially in the workplace. WebWork tracks not only time, but also productivity levels, app, and website usage, attendance, and more. It is also a task management platform, where users can work with projects and tasks.
What makes WebWork a real productivity tool, is the feature of productivity monitoring. Based on the user's activity on a given device, their usage of apps and websites, WebWork measures productivity. Keep in mind that the right settings need to be set for the tracker to work as accurately as possible.
Main Features Include:
Time Tracking
Productivity Monitoring
App and Website Usage
Task Management
Team Chat
Attendance Monitoring
Reports
Screenshot Modes
Billable Hours
Pricing: a 14-day free trial and a Basic plan which costs $2.99 per user/month. There is also an Enterprise plan for larger teams at a custom price.
Troop Messenger (Team Collaboration Software)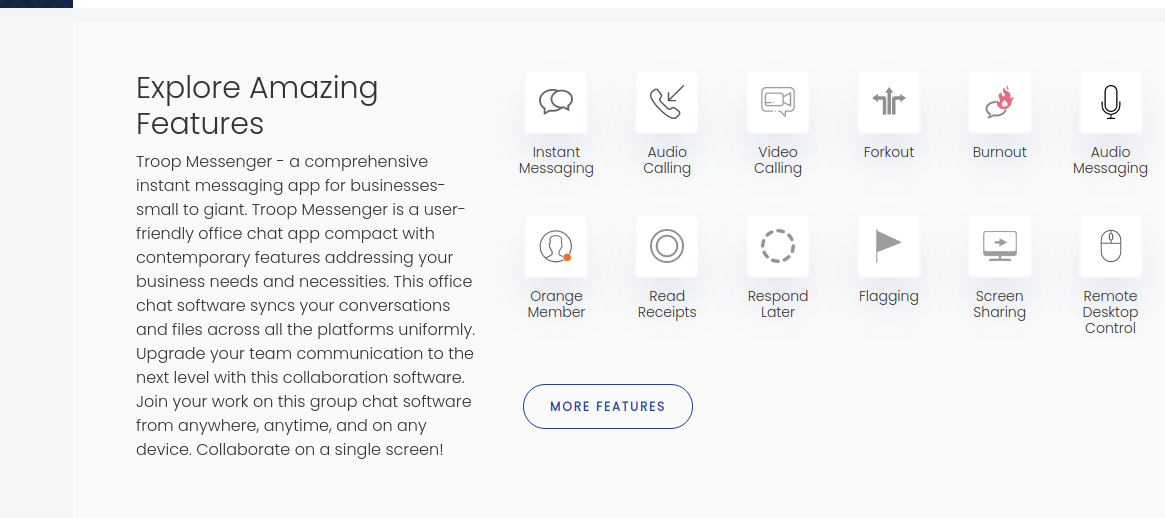 Troop Messenger is a top-rated team collaboration software that offers instant messaging, audio-video conferencing, desktop sharing, file sharing, and more. Troop Messenger is designed to give businesses a simple and user-friendly alternative to complex collaborative tools. Troop Messenger is a compact app with a wide range of useful features. Users get secure communication with easy accessibility and IP ownership. Additionally, the tool works on most common operating systems, including Windows, Mac, Linux, Android, and iOS.
Main Features Include:
Group Calling
Join Now
Remote Screen Sharing and Controlling
Instant Messaging
Calling
Groups
Wallpapers
Audio Messaging
Pricing: There is a free version. Troop Messenger offers a free trial. Troop Messenger pricing starts at $1.00 per user, per month.
Insightful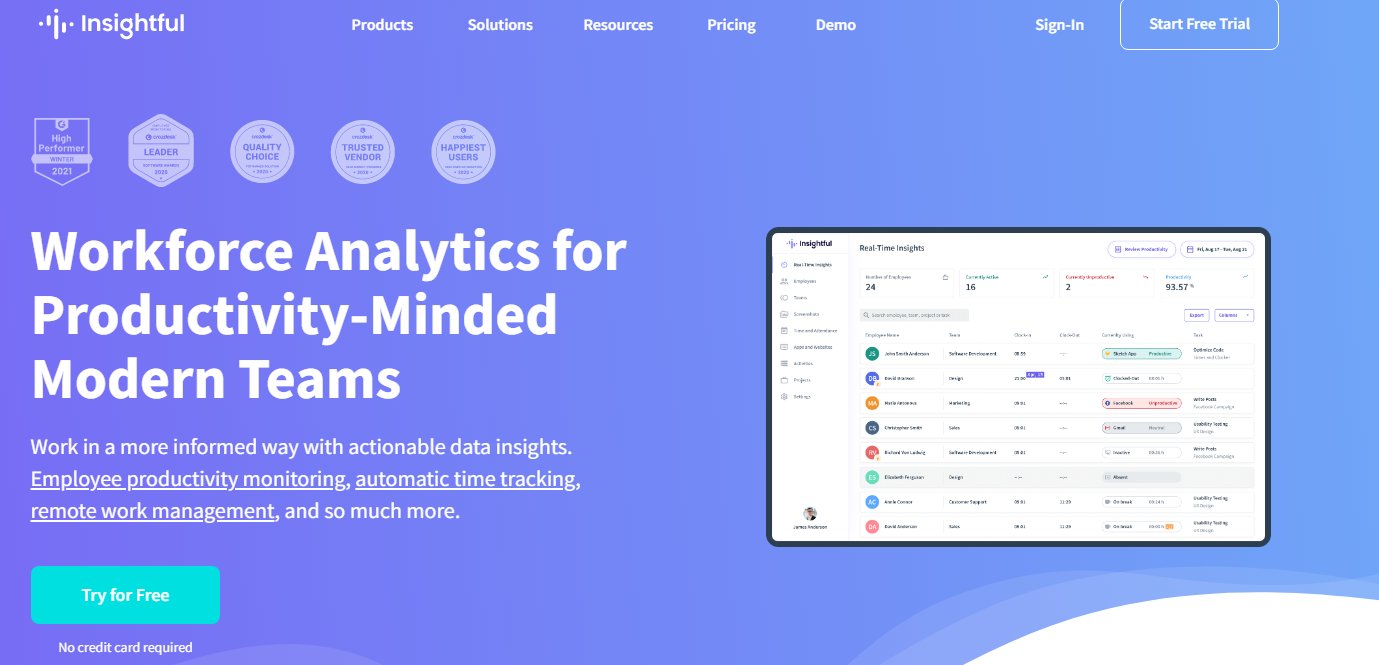 Insightful offers a user-friendly and reliable employee tracker. It will assist in analyzing and optimizing company time spent on projects with an accuracy of up to a second. Employee time tracking software is easy to use for project organization, proof of work, and budgeting. It is one of the best solutions you'll ever need for tracking time on projects and tasks, productivity, and effectiveness, no matter which industry you are in.
Insightful time tracking software allows you to keep track of time, activities, productivity levels, budgets, and anything else you need to maximize your team's efforts.
Main features include:
Time Tracking and Employee monitoring
Screenshot and stealth mode
Budgeting and data reports
Automatic time mapping
App and website usage
Attendance tracking and payroll
Pricing: Employee monitoring plan is 6.40$, time tracking plan is 8.00$, Automatic time tracking plan is 12.00$, and Enterprise plan which includes all mentioned.
Time Doctor (Time Tracking and Productivity)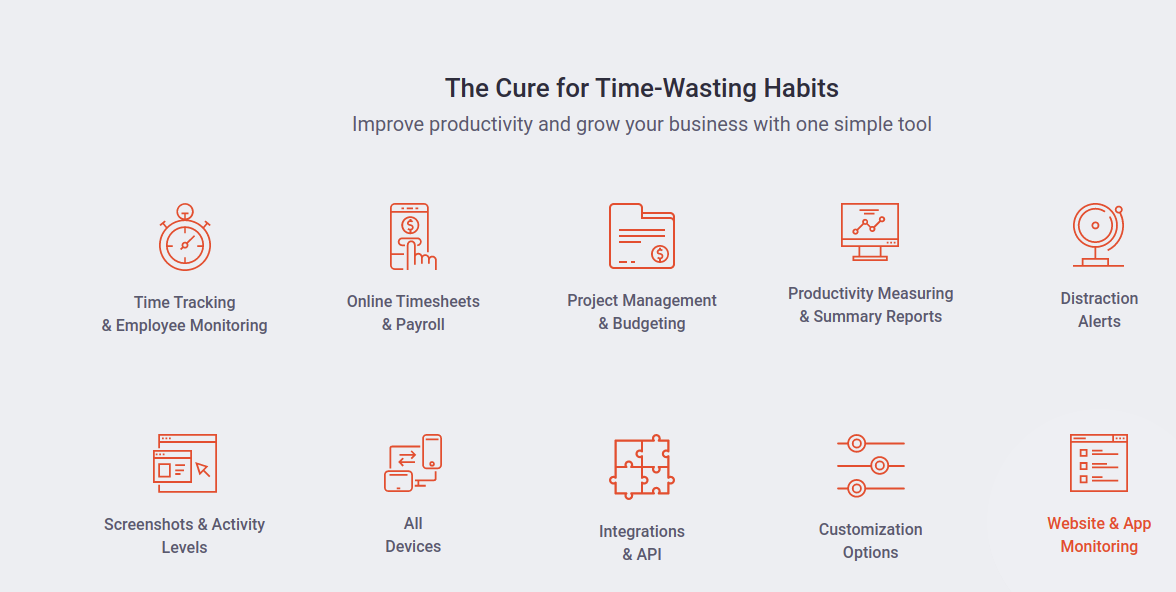 Accurate time tracking is an integral component of any project management plan. Time Doctor is a reliable and efficient cloud-based time tracking and management application used by a large number of organizations for tracking workforce productivity. Time Doctor offers useful tools like web activity monitoring, time tracking, payroll management and reporting. Time Doctor enables users to record time spent on each project and calculate both billable and nonbillable working hours. The screen monitoring feature tracks and reports employee activity through screenshot captures. This productivity solution can also help users to keep track of the time spent on calls, meetings, chats, internet usage and other activities.
Main Features Include:
Time Tracking and Employee Monitoring
Online Timesheets and Payroll
Project Management and Budgeting
Distraction Alerts
Screenshots and Activity Levels
Integrations and API
Offline Time Tracking
Easy Setup and Support
Pricing: The Basic plan is priced at $7 for 1 user/month. The Premium plan is priced at $20 for 1 user/month.
Chanty (Team Communication & Collaboration Software)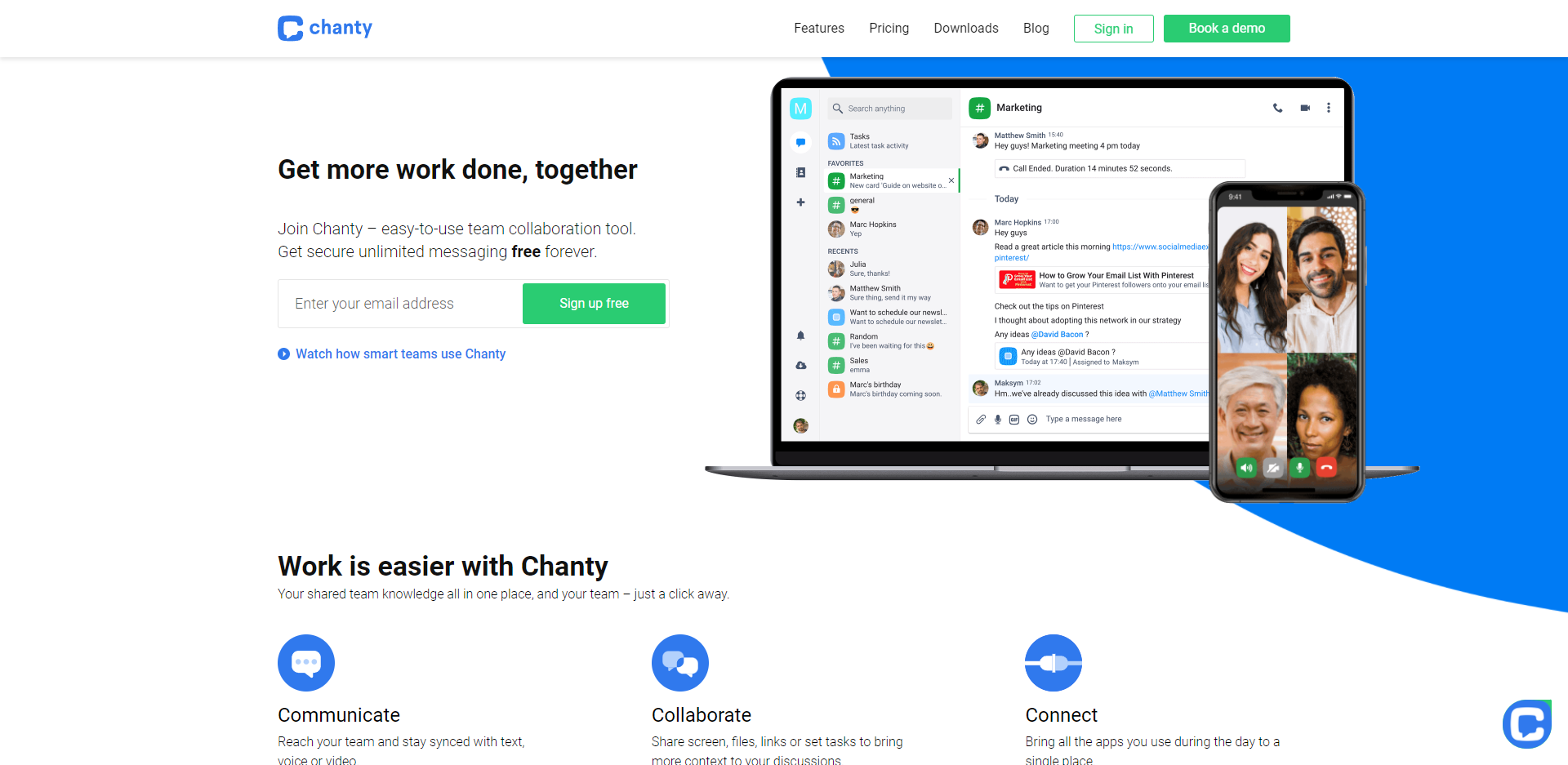 Chanty is a popular cloud-based team communication and collaboration software that enables both in-office workers and remote employees to work together effectively and seamlessly. Users love its simple interface and all your messages are synced across Chanty mobile and Web apps. Unlimited free group messaging, screen sharing, voice and video conferencing, task management, code snippets, smart notifications make Chanty a useful tool to boost productivity and enhance team collaboration.
Main Features Include:
Teambook
Code snippets and Pins
Task management
Kanban board view
Third-party app integration
Video and Voice conferencing
Context-based discussions
Pricing: A Free Forever plan is available. The Paid plan starts from $3/user/month.
Brosix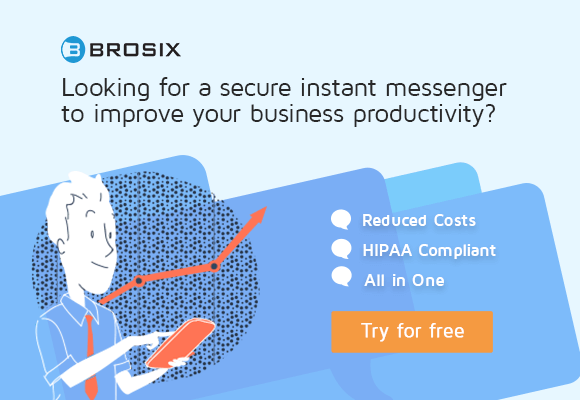 Brosix is a powerful and easy-to-use instant messaging platform designed with team communication in mind. Brosix provides businesses with secure, private team networks which help them manage their internal communication through a range of administrative and collaboration features.
Rich text, voice, and video channels enable clear communication no matter the moment or the occasion. Sync chat histories across devices and search conversations by date or keyword without limit. Custom chat spaces meet specific group requirements. A user-friendly mobile app enables online collaboration from anywhere.
Over a Brosix private team network, you can share your screen and give remote desktop access, create dynamic whiteboard conferences, take instantaneous screenshots, and send files unlimited in size and number.
Use the powerful administrative features to delegate admin duties, customize group chat and collaboration spaces, and manage contact lists, features, and more on a user basis. All this makes it an excellent solution for enterprises looking to improve their productivity.
Main Features Include:
Unlimited Peer-to-Peer File transfer
Screen sharing
Screenshot
Whiteboard
Offline text messages
Chat rooms for groups
Chat history
Notifications API
Pricing: Brosix has a forever-free network for small teams getting started (up to 3 users) and paid plans starting at $4/ user per month.
Conclusion
Every business wants its employees at its productive best. The more productive employees are, the more output the business will register. However, working hard alone is no sure shot to increase productivity. It's the combination of hard work and using smart productivity tools that will enable your remote workers to be more productive without over-stressing themselves.
I'm sure that one or more of the productivity tools mentioned in this blog would help you and your in-office teams and remote teams to organize work and collaborate in a better way.