---
6+ Best E-commerce WordPress Themes of 2023
Nowadays, especially with the current pandemic afflicting the whole world, retailers are more than ever inclined to sell their products via their own online stores.
As many stores are shifting their sales to the world of internet, this niche is booming so fast that everyday more and more online stores are coming to existence.
In the meantime, there are some small businesses which are not as powerful and resourceful as big retailers.
However, they still want to stand out from their rivals. Their best way out of this situation is WordPress.
There are some premium WordPress themes that can come in handy for such businesses. No need to worry!
Best E-commerce WordPress Themes
In this blog, we have introduced 7 of the best premium e-commerce WordPress themes that will surely meet your online selling needs!
Deep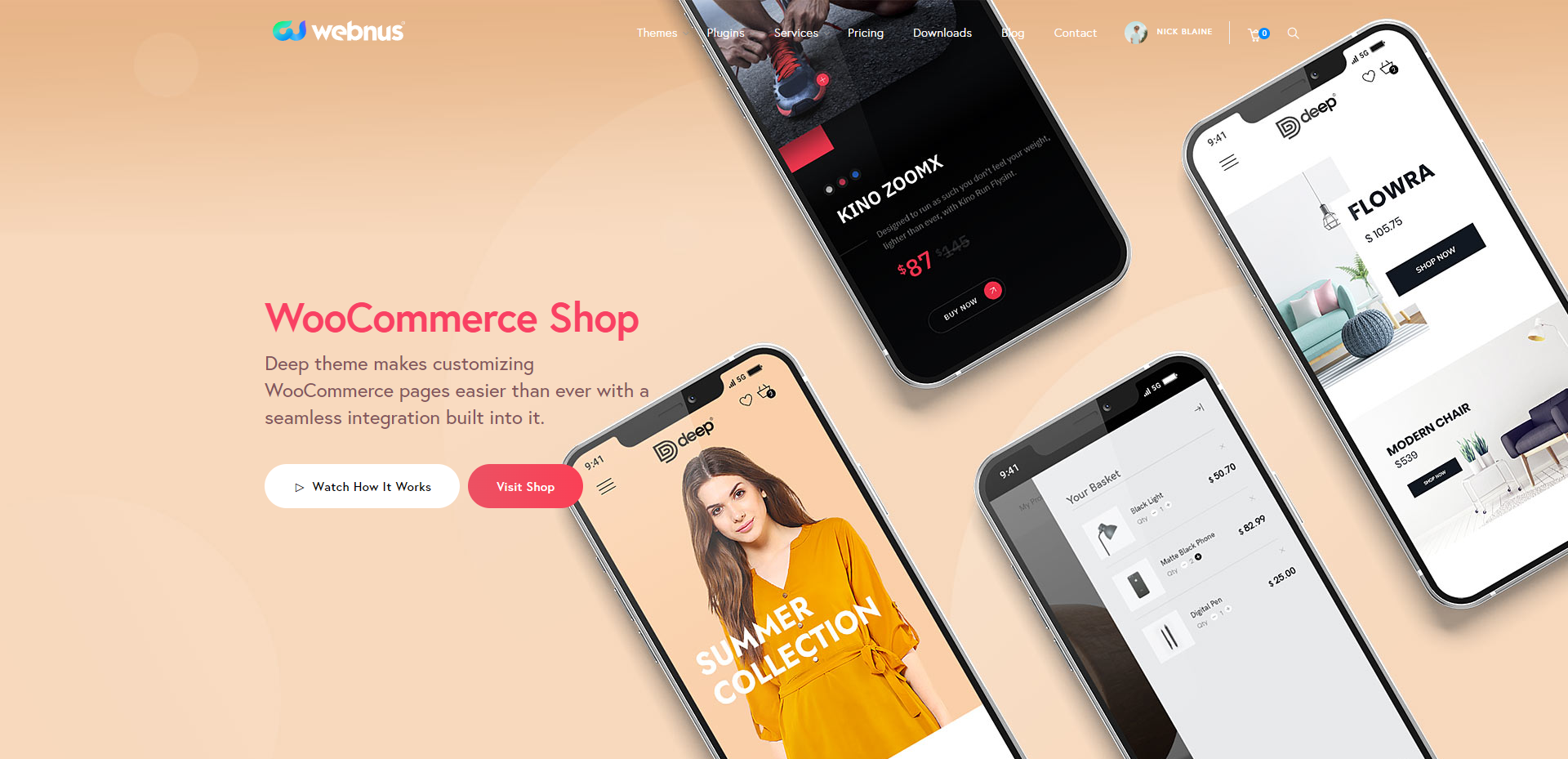 Designed according to the most modern trends in the world, Deep is a multipurpose theme that gives you a remarkable performance.
Deep is our first choice among best premium WordPress themes and the reason for this is that it is fully responsive and compatible with Elementor.
Deep theme makes customizing WooCommerce pages easier than ever with a seamless integration built into it.
Besides, you don't need to have any coding skills for building your online store. Everything is a piece of cake with Deep.
You can customize every page related to WooCommerce. You have absolute freedom regarding which page you want to customize and which pages use the WooCommerce default layout.
By activating each page, all the designs you have set using Elementor and the Deep special widgets will be loaded.
For a more user friendly experience and a more efficient search result the feature to filter products in online stores is very important today.
Deep theme offers this option and it allows your users to simply filter products by Categories, Color, Tag, Size and Price, and find what they are looking for in a matter of seconds.
There are more than 70 WooCommerce widgets with advanced options for applying any kind of design.
You can apply your preferred design using Elementor features and Deep widgets on your WooCommerce pages, such as checkout, cart, product page, shop, etc. to make your shop stand out.
This theme is completely compatible with WooCommerce so you can create a fully functional online shop using WooCommerce and Elementor.
All the above mentioned features have made Deep one of the best premium WordPress themes on the market.
StoreMate Dokan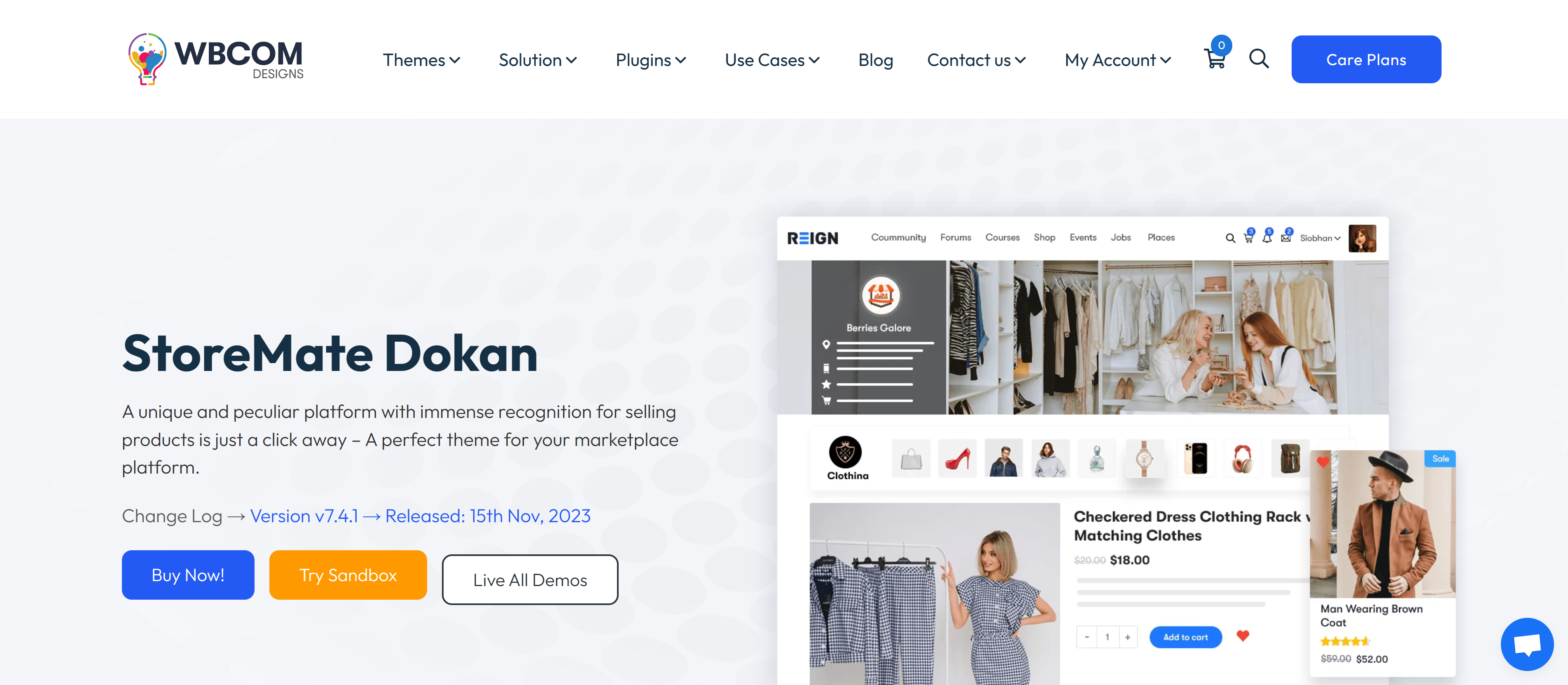 StoreMate Dokan -.WordPress theme is a versatile and feature-rich solution for creating a powerful online marketplace.
With its user-friendly interface and seamless integration with the Dokan Multivendor plugin, this theme empowers entrepreneurs to effortlessly build and manage their e-commerce platforms.
The theme offers a visually appealing design that is not only modern but also highly responsive, ensuring an optimal shopping experience across various devices.
StoreMate Dokan provides robust customization options, allowing users to tailor their marketplace to suit their brand identity.
With a focus on user convenience, the theme streamlines the vendor registration process and facilitates smooth product uploads.
StoreMate Dokan is a go-to choice for anyone seeking a reliable and scalable WordPress theme to launch and grow a successful online marketplace.
Newspaper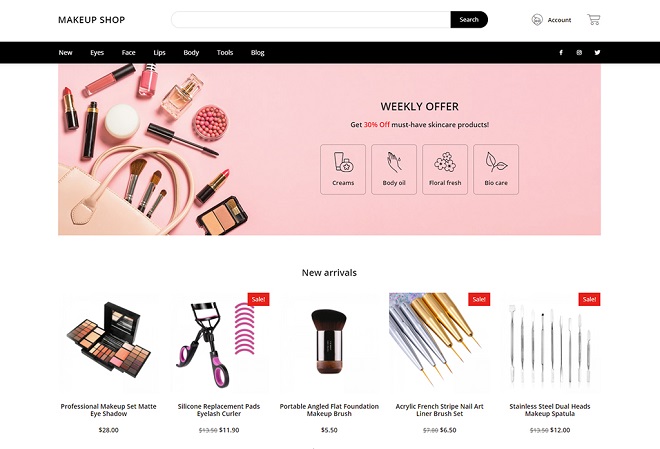 Newspaper is one of the most popular themes in the news industry, and it's becoming more and more powerful for the eCommerce industry, as well. Designed with beautiful, responsive visuals, this theme can make any shop get noticed.
Newspaper is also loaded with important, easy-to-use features that are frontend-editable. For a fast website start, you can install one of the prebuilt shop websites and customize them to meet your needs.
This theme allows you to change headers and footers, product pages, category pages, homepages, single posts, and more using the tagDiv Composer page builder and tagDiv Cloud Library layouts.
So, if you want to design your new shop with Newspaper, you'll have a fully WooCommerce-ready theme, with eCommerce dedicated tools that uses the best SEO practices, and allows you to monetize your site with advertisements everywhere. Newspaper  includes a nice element called "ad box" which lets you place affiliate, Google Ads, and AdSense codes, and lets you advertise anywhere on your site.
The Newspaper theme by tagDiv meets the Web Core Vitals requirements, it's performant, and looks professional on any device. Enhance your new shop with the powers of a popular and trustworthy theme for eCommerce!
Laveri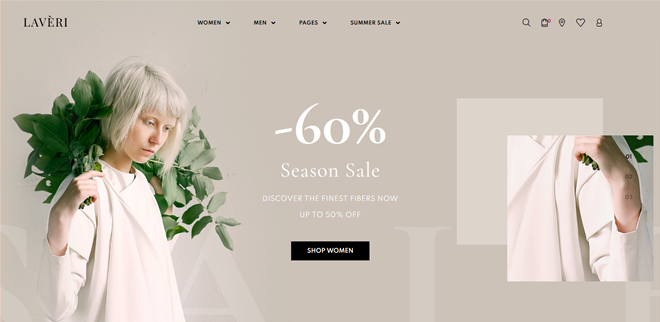 Laveri is a fresh take on how the fashion store ecommerce WordPress theme should look and function without losing its dandy and crisp style.
The theme is perfect for selling clothes, custom suits, shoes, jewelry and other fashion items.
Since it's powered by WooCommerce, you get all the essentials to sell and deliver items, customize the pricing and payment options, and enable any regional payment gateways.
In addition to WooCommerce, Laveri ships with only e-commerce focused tools, without all those bells and whistles: the premium Stratum Mega Menu plugin (included for free) for building advanced navigation store menus, a store wishlist addon, and numerous design elements for the better shopper UX.
Laveri is crafted with many custom-made Elementor widget powered by Stratum, which ensures all those eye-catching Instagram galleries, sliders, trendy listings, banners, bestsellers view, fancy blog styles, and more design elements to make your store look professional and super trendy.
Shoptimizer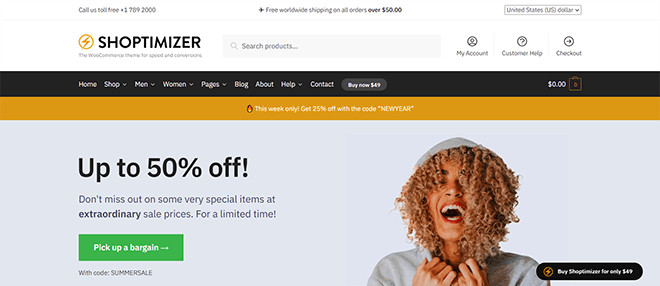 Built and designed by CommerceGurus, Shoptimizer is one of the best premium e-commerce WordPress themes which is focused on speed and conversions.
You know what this focus means?
You should be aware that according to researches, one second of delay causes around 7% reduction in conversions. Such an issue will be easily resolved in Shoptimizer.
There is also a special feature: Shoptimizer automatically minifies its stylesheet to keep your store loading speed as fast as possible, resulting in a dramatic improvement on loading times.
Besides, there will be the least delay in loading the key pages and this brings out a very responsive theme as a result.
Additionally, if you need to have a lot smartphone users for your shop, you should not that Shoptimizer is designed to be 'mobile-first'.
When it comes to SEO, being mobile-first is important for search engines like Google, because their preferences, as their listings suggest, promote sites that are mobile friendly.
In order to design your own pages, Elementor page builder is what you should work with. You can use it to add on custom page designs to your online store, and also customize the present content.
Its customizer has lots of theme options with which you can easily and quickly change fonts, colors, and modify settings.
Shoptimizer has a $99 price that comes with 1 year premium support and life-time updates.
WooPress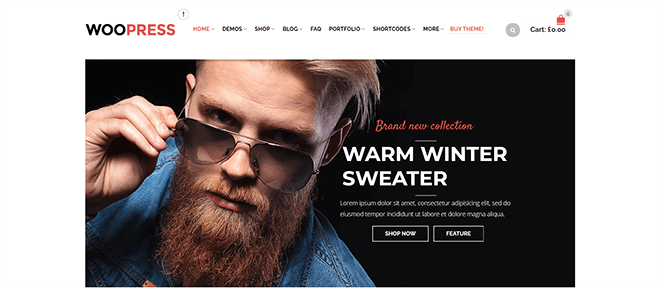 With around two dozen layouts, WooPress is among the most stylish premium e-commerce WordPress themes designed to. WooPress provides you with rich features that help build your online store right here, right now!
First of all, WooPress includes a plugin called WooCommerce e-commerce WordPress plugin (you can checkout best WooCommerce addons in here).
It helps you build a beautiful online store. You should then add your products, related products, and variable products (e.g. items which are available in multiple sizes or colors), plus coupons, shipping rates, etc.
Another great feature is the built-in multiple theme styles. You will just need to choose a theme version and it will instantly be applied on your website. Each style is thoroughly unique and makes your products stand out.
Compatible with WPML, bbPress and Visual Composer, WooPress covers some common integration options.
As one of the fully responsive premium WordPress themes, WooPress is retina ready and can be edited via Photoshop templates if you want to refrain from designing extensively.
WooPress is available for $59 with 6 months support from 8theme. You can also extend this period to 12 months with $17.63.
Neto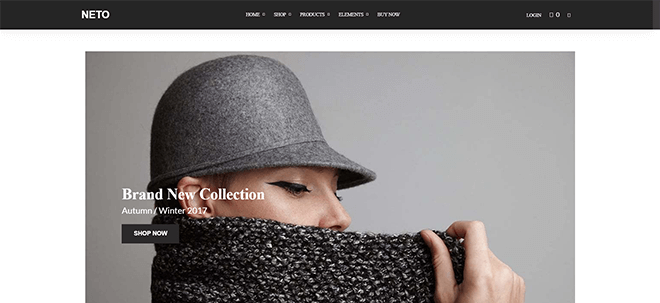 Designed by CSSIgniter, Neto provides you an awesome e-commerce website that gives you access to lots of other top notch themes. Perfect for any online store, it is one of the most beautiful premium e-commerce WordPress themes.
It has a clean and minimal style that maximizes your customers' focus on your products.  In the shop page, you will find multiple layouts.
Oh, you don't want to sell products on your website? Even if it so, you will definitely need a catalog. Here's the good news: Neto features a catalog mode too.
It has hundreds of options regarding colors, fonts, page elements, etc. using which you can create your store however you want.
These built-in options give you complete control over a wide range of theme areas by providing you lots and lots of options. In addition, there are shortcodes included that will make inserting products, lists and carousels as easy as a cake.
Compatible with many popular page builder plugins, Neto is fully integrated with Visual composer, Divi, Elementor and SiteOrigin's Page Builder.
If you find this theme interesting, you will most probably love other themes by CSSIgniter. Here's what you should do.
Join their CSSIgniter theme club and you'll have access to a repository full of amazing WordPress themes.
Plus, if you choose the Lifetime membership, you'll gain access to all the WordPress themes, HTML templates, PSD files and every update forever (plus support). It's an offer you can't refuse!
eLab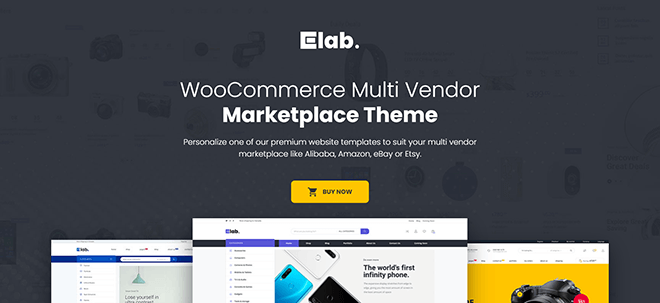 eLab theme provides you all key features you need for an e-commerce website: responsiveness, customizable layout, user-friendly page builder and of course WooCommerce or any other powerful e-commerce plugin compatibility.
With the eLab theme you can create your store and set up options and functionalities like a catalogue mode (in case you want an easy browsing), mega menus (in case you want to add helpful navigation links), advanced search bar (along with filters), and of course product comparison feature.
eLab is also compatible with a some popular plugins including WPML (in case you want easy translations), Slider Revolution, YITH WooCommerce Wishlists and WooCompare.
StylemixThemes, developer of eLab, provides excellent support and lifetime updates if you purchase their theme. It is available for $59.
Shopkeeper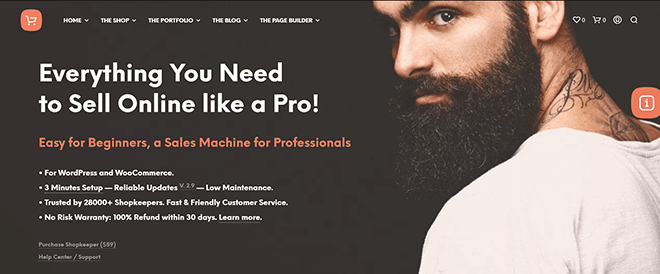 Shopkeeper includes 10 different home page layouts, in addition to a pre-built "coming soon" page.
Additionally, it gives you dozens of layouts for shop pages, product demos, blog, portfolio etc. With a wide range of header styles and easily customizable options, Shopkeeper makes everything easy on the way to create your website.
Completely integrated with the WooCommerce plugin, Shopkeeper supports translation with the WPML plugin too. Alongside being responsive to screen size, Shopkeeper is extremely easy to navigate through.
You don't have to use Shopkeeper just as a store – it's also excellent for building a product catalog, managing inventory or displaying a portfolio.
That's what makes it ideal for whether you are a shop owner or entrepreneur,
Shopkeeper is an excellent choice for you. You can purchase this theme for $59 with 6 months support or $76.63 with 12 months support.
Bonus Theme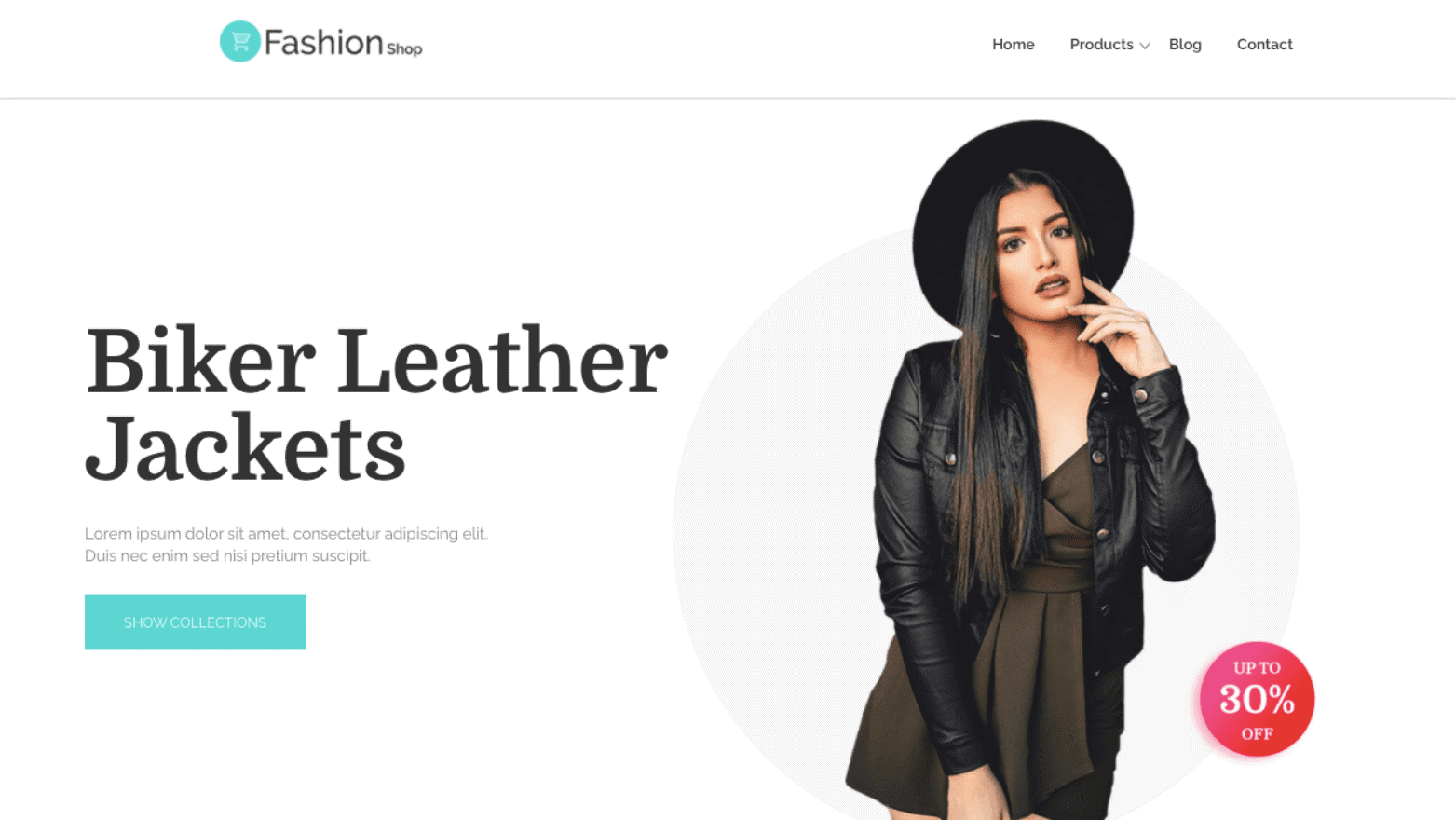 The majority of the individuals today are inclined toward online stores for shopping.
Also, the items for which the clients depend on eCommerce more are various types of products like electronic merchandise, clothing, and style items.
FashioShop is created keeping in mind all the requirements of an eCommerce store.
Therefore Responsive WordPress Theme is a great option to design an eCommerce store.
With this eCommerce template we can create a mega menu and custom sidebars. It also comes with lots of typography and color options.
This theme allows you to display a countdown sale with an ease. We get pre-designed pages with this template. All we have to do is add content and publish the pages.
It is fully integrated with WordPress Customizer. Try this fashion eCommerce WordPress theme by CyberChimps for your next project.
Wrapping Up
We did our best to present some of the best premium WordPress themes.
The ones we mentioned here among the best in the world and you can be sure that any of them, regardless of the details each one has, can bring you a unique experience in establishing an online store.
We hope you have found this helpful. Please leave comments and tell us what you have chosen and worked with.
Recommended Posts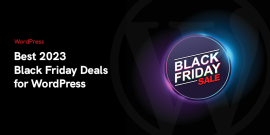 November 13, 2023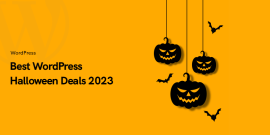 October 23, 2023