---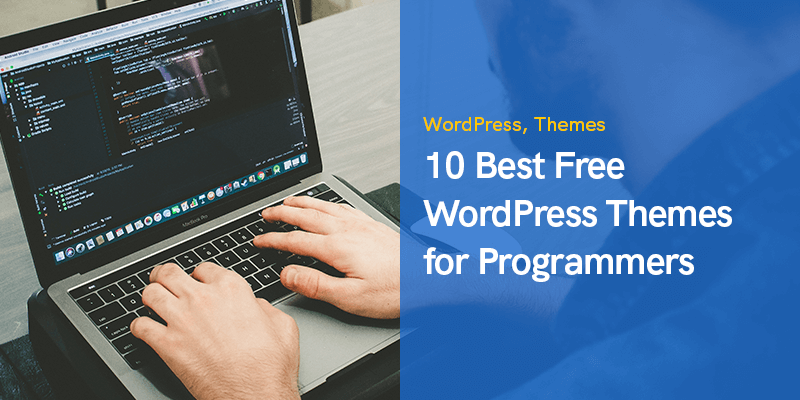 10 Best Free WordPress Themes for Programmers in 2023
In this post you will find ten of the best WordPress themes for programmers that are available for free.
In today's digital world, every business needs an effective online presence. Let it be a large company or a freelancing job, having a credible website will help you attract more customers and make better revenue.
Programming is now a sought-after job, and many programmers make great profits in different parts of the world.
WordPress is a great source of website themes that covers a wide range of designs and applications. If you happen to be a programmer, understanding and picking the right theme from the long list of products on the market will help you present your capabilities and resumes much better.
Best Free WordPress Themes for Programmers
Here we're going to review some products that cover the needs of programmers efficiently.
Below you will find ten WordPress themes for programmers that are available for free.
Deep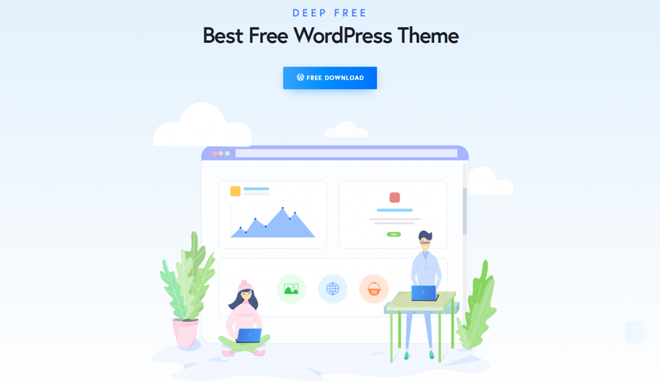 Deep is one of the best WordPress themes for programmers with great flexibility and a modern design. It comes equipped with a series of dedicated page builder tools such as header and footer builders with pre-built templates. These options help you customize pages without spending a lot of time designing a website from scratch.
It's completely compatible with Elementor so that you won't need any technical knowledge to design pages. Additionally, Deep unlocks many shortcodes and layouts for you that give a smoother experience adding different elements and sections to your web pages.
This product is fully responsive, and the applied technology for adaptive images results in a faster loading speed of your website. Based on your visitor's screen size, the photos re-scale automatically, and the screen shows everything in the correct format.
While you have access to a limited number of demos in the free version, upgrading to a paid license unlocks more than 70 built-in demos with real content.
Nebula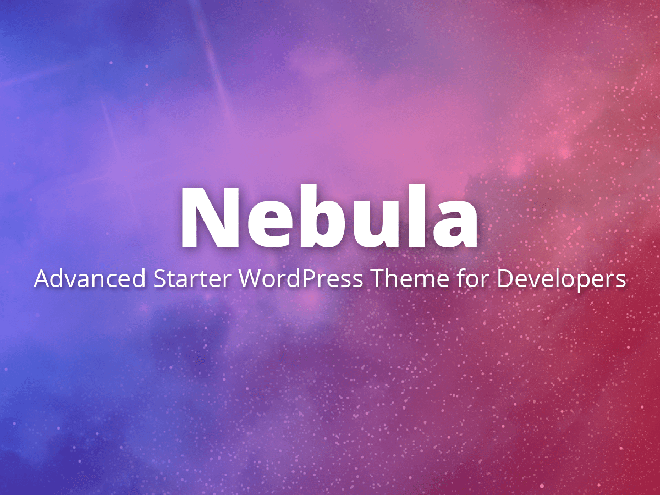 The Nebula is an advanced framework on our list of WordPress themes for programmers with a great focus on improving web development.
The one-page home of Nebula automatically changes the RGB color, which gives it a friendly interface. Thanks to the default Getting started and Documentation features, you can even use it as a source of beginners' learning materials.
The modern UI makes Nebula an excellent choice for showcasing the development and programming portfolio. The interface has a pre-built filter that helps you look up JavaScript, custom PHP, and Sass functions.
You can also enjoy data insights and analytics available in the admin panel and enjoy some other utilities that enhance your overall experience.
OceanWP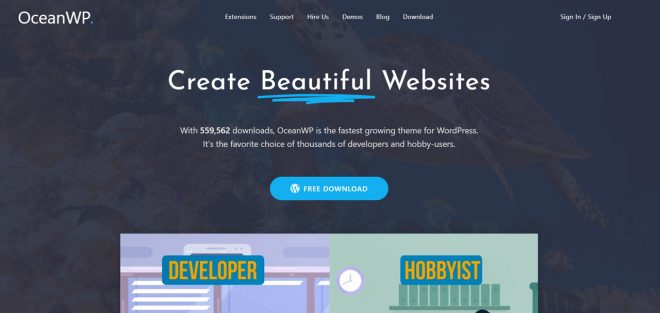 OceanWP is a multi-purpose WordPress theme that matches different needs like eCommerce, blogging, and portfolio.
This theme's high flexibility is a great advantage that makes it one of the best WordPress themes for many purposes. Additionally, it's shown remarkable performance in supporting third-party plugins and running everything at the peak performance.
There are many demos and extensions available in OceanWP, and you can personalize your pages using a static header and featured images of the homepage.
OceanWP supports WooCommerce, works perfectly on tablets and mobile devices, and we consider it a proper choice for both beginner and professional users.
Astra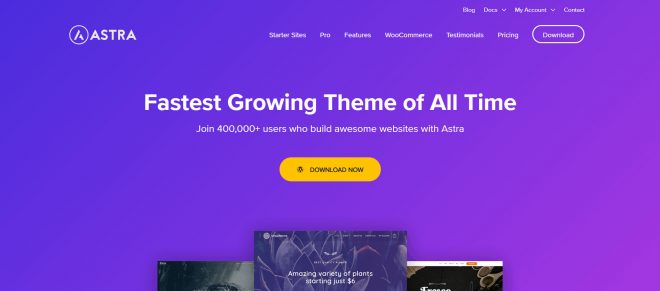 Astra is a well-known WordPress theme on the market with above one million active installations. It runs pretty fast, and its powerful features make it an excellent pick for different purposes.
No matter if you want to build your website all on your own or use some well-crafted demos and templates, Astra gives you all you need.
Full support of WooCommerce, multiple customization features such as headers and sidebars, and compatibility with famous page builders make Astra one of the best WordPress themes for programmers.
You won't require any knowledge of coding to get the best out of Astra. Yet if you face any difficulties, a series of video tutorials are available to address any potential issues.
Hestia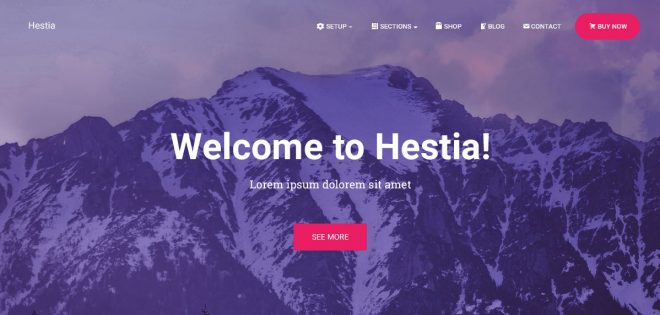 If you're interested in launching a one-page website, Hestia will leave a great impression on your viewers once they open your site.
The modern and clean design of Hestia makes it a proper theme for both personal and corporate purposes.
Like Deep, Hestia is also based on the Elementor page builder plugin that makes customizations much easier.
There are some pre-built sites available in the free version and all of them are fast and SEO-friendly. Hestia is integrated with the Orbit Fox plugin that lets you have more page templates, social sharing icons, widgets, Gutenberg blocks, etc.
Neve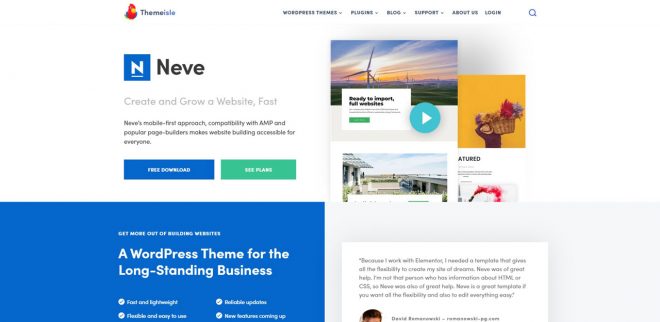 Neve is another reputable multi-purpose theme that fits different kinds of websites. This product is packed with features that you can easily extend.
Therefore, you'll add to your website's capabilities any time needed. Another advantage of Neve is its minimalistic design that comes appealing to most tastes and interests.
Neve is an SEO-friendly WordPress theme that makes it simple for you to rank Google pages. There's a great library of pre-made websites available to use, but some of them are only available in the Pro version. You can import the site demos from within the theme's panel without downloading and installing them separately.
Neve is compatible with all the famous page builders, including Elementor and Visual Composer. You also enjoy its peak performance at all times due to the constant updates the developer team publishes.
Zakra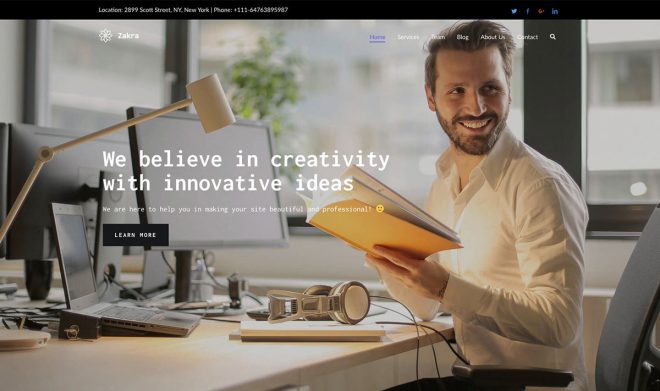 Those who are a bit familiar with WordPress themes would have probably heard of Zakra. Powerful and fast, it's one of the best WordPress themes developed thus far with optimal performance and an advanced dashboard.
This theme is AMP ready at its core and can be fully turned into an online shop. All the codes are optimized for SEO, and you can choose from more than 20 default demos for websites with different purposes.
This theme supports custom headers and footers and is easy to learn. There's detailed documentation available on the developer website that takes you through all of its features and also the issues you may encounter.
Storefront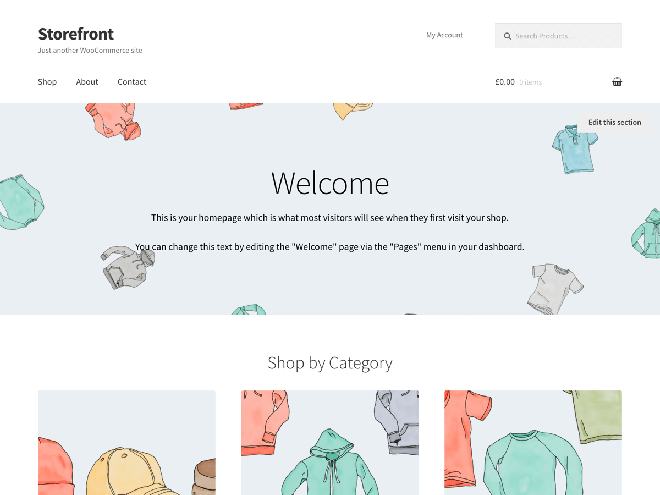 Storefront is a product of Automattic, the developer of WordPress.com, Akismet, and WooCommerce.
So if you need one of those functional WordPress themes for programmers that supports eCommerce in the best way, Storefront is your choice. You can effortlessly integrate an online shop into your website and start selling programming tutorials or online courses right away.
The homepage supports parallax backgrounds, which gives your website a fresh and appealing look. The provided options allow you to create eye-catching galleries of your previous projects and customize them with different layouts. Storefront is fully responsive and runs perfectly on different screen sizes.
Sydney
Sydney is an excellent option for freelancers or any other business owner who needs a customizable theme focusing on business.
It comes with a full-screen slider and an assortment of other professional elements such as parallax backgrounds that let you create a fantastic website and leave a great first impression on visitors. If you purchase the Pro version of Sydney, it supports the Crelly Slider plugin by default.
The customization features of Sydney are not limited to layouts and colors since it gives you full access to Google Fonts so that you'll be able to customize fonts for every single section.
It's WPML ready, meaning that you can easily create another version of your site in a language you prefer.
Shapely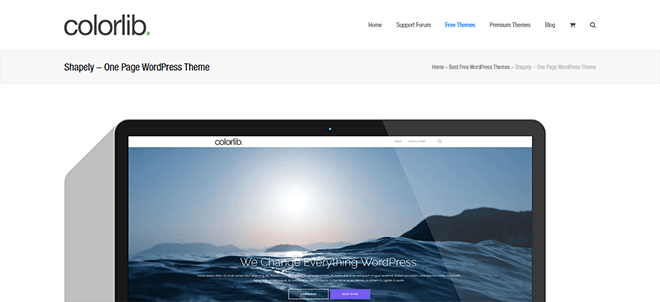 The last item on our list of free themes for programmers is Shapely. It's a one-page theme by which you can create a stunning portfolio and personal website to showcase your expertise.
There are plenty of custom widgets in Shapely that help you enhance your website's appearance and usefulness to a great extent.
You can add a sticky menu, special blocks of a portfolio, and testimonials to your homepage and customize them most efficiently using the theme's provided options.
These elements are compatible with Jetpack, and you need to install this theme to activate some of Shapely's modules.
Although this theme is speedy but compared to other products, some areas of SEO still need improvements.
The Bottom Line
Here we introduced ten preferred WordPress themes for programmers that don't cost you a penny to install and use. Unlike what many users think, there are some free WordPress themes available that can be equally effective as premium products on the market.
The professional themes mentioned above include both multi-purpose and blog-style items that cover different needs.
Take a look at the details and demos of these themes, and then choose what best suits your expectations without worrying about its reliability and performance.
Recommended Posts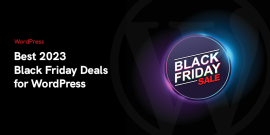 November 13, 2023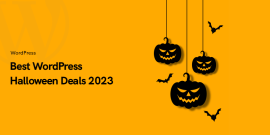 October 23, 2023