---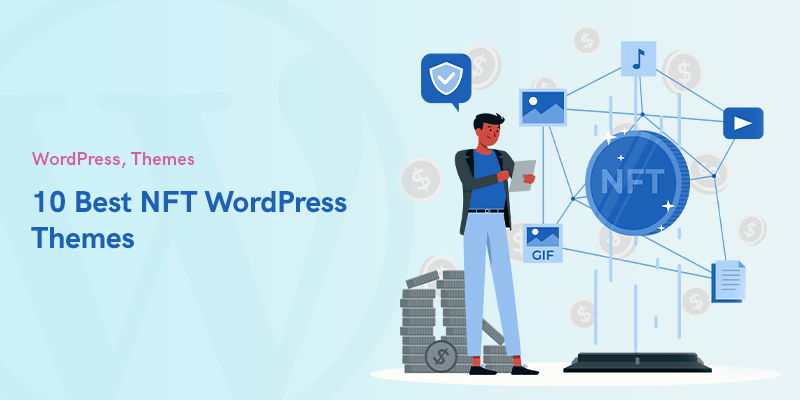 10 Best NFT WordPress Themes 2023
Have you ever wondered you can sell NFTs like many artists? If yes, the first thing you need is a website. However, building a website from zero is surely a daunting task. But the good news is that you don't have to.
Platforms like WordPress make it easy for anyone to create a website. You don't need any coding knowledge and you don't need to hire a designer. And with the help of the right WordPress theme built with NFT marketplaces in mind, your job is even easier.
WordPress has made everything easy for those who want to have a website of their own. Also, when you use WordPress's ready-made templates you will face less challenges along the way.
All you have to do is to choose a design and get down to personalizing it according to your needs so to make sure ensure the theme you have chosen is the best possible choice for your brand.
Check this out: 10 Best Free WordPress Themes for Programmers
So if you are planning to have a NFT website, go for a ready-made web design solution. The first thing to get started is choosing a theme. There are lots of WordPress NFT themes that may suit your purpose.
So if you are really looking forward to establish your NFT or cryptocurrency website, here we have prepared a list of some of the best premium WordPress NFT themes.
Best NFT WordPress Themes
Whatever we have introduced here includes all the essential elements for you job, so don't worry about anything.
Now let's take a good look at the themes featured in our listing.
Deep
Deep is a multipurpose WordPress theme suitable for all kinds of website, and surely, cryptocurrency is one of them. Deep features a modern design that looks splendid on all desktop and handheld devices as it features a fully responsive layout.
Deep makes your content look stunning with its innovative design. Also, Deep is super easy to design as it is compatible with Elementor page builder. Also, Deep supports a wide variety of WordPress plugins and extensions.
Deep has more than 120 demos and 160 ready-made templates, including a responsive stunning demo for cryptocurrency.
Monyxi
As a multi-purpose WordPress theme, Monyxi has a stylish design, perfect for creating an outstanding cryptocurrency and financial blogs.
This theme includes many indispensable tools and features that let you create your website so easily you cannot believe. You will have access to many ready-made pages, shortcodes and templates using which you can proceed with creating your website with a few clicks.
You can also use LearnPress, in case you have online courses, as this theme is completely integrated with it.  Besides, you can engage your audience in your forum using bbPress. By using Power Charts Lite, you can create awesome charts on your website.
Enefti
Enefti is one of those WordPress NFT themes that will satisfy you. It includes 15 demos using which you can design your website in any way you like. Customizing each and every part of your website has been made possible easily.
Besides, as this theme is integrated with AJAX, your customers can easily find their way around your website, seeing what they are looking for. Also, this theme is fully responsive for all devices and is super speedy.
Netstorm
Netstorm is a WordPress theme integrated with Elementor page builder plugin and this means you can have custom page layouts. You can also design your product pages, styling them as you wish.
Also, this theme is integrated with WooCommerce and Contact Form 7 for your payments. Netstorm beautiful layouts can assist you in selling your NFTs. Plus this, this theme is one of those WordPress NFT themes that has the feature for running live auctions and product filters.
Crypterio
With its professional design and look, Crypterio is one of those that will not let you down. It includes a variety of demos and premade content blocks.
With this theme, you should not worry about payment and stuff. It is completely integrated with WooCommerce. Also, there are a number of NFT widgets you can take advantage of and display your products stylishly. Fully optimized for SEO and armed with speed, this theme can be a good choice for the cryptocurrency and NFT world.
ChainPress
ChainPress WordPress theme includes 4 ready-made demos for the cryptocurrency and NFT world. As a multi-purpose WordPress theme it is a user-friendly theme especially suited for beginners as it is compatible with Elementor page builder. Using Elementor, you can easily design your website using drag and drop.
In addition to designing the body of your website, you can create its header and footer using the header and footer builder. You can also import your own if you have already designed a style.
In addition to that, this theme has been especially designed for building a cryptocurrency blog or cryptocurrency business organization website. It also supports an extensive range of cryptocurrency plugins.
Hoverex
Hoverex is a WordPress theme suitable for cryptocurrency and ICO. It is fully responsive and looks fantastic on all devices and browsing apps. If you are planning to integrate a blog into your website, Hoverex is a perfect choice.
As Hoverex is compatible with WooCommerce, you can also establish your online store with it. It is loaded with many features that are well-matched for cryptocurrency-related online projects. This theme includes crypto charts, tables, and diagrams and is equipped with some special crypto plugins especially made for ICO and related stuff.
Hoverex is compatible with the Elementor page builder and you can easily design your pages without any knowledge of coding. You can also use WordPress plugins and extensions in order to enhance your website's functionality.
Lymcoin
Next one is Lymcoin; an NFT WordPress theme with a collection of some of the best ready-made templates for NFT realm. Its beautiful modern design has made Lymcoin one of the most perfect choices for cryptocurrency.
This theme is entirely compatible with Gutenberg, boosting your experience to the next level. It features a really easy installation wizard that will save a lot of your time. With its professional and modern design, Lymcoin allows you to edit everything without the tiniest knowledge of coding.
Cryptrex
Cryptrex is the WordPress theme cryptocurrency bloggers should be looking for. Suitable for bitcoin blogs, cryptocurrency accessories shop, and online magazines, Cryptrex is loaded with so many jaw-dropping features that will not surely let you down. To name some of these features, we can mention WPBakery page Builder, WooCommerce integration, LearnPress, etc.
This theme includes all you need before proceeding with establishing your NFT or cryptocurrency website. It includes an inventory of ready-made pages and layout styles, templates and demos.
In order to bring you the optimum experience, Cryptex is also compatible with a number of cryptocurrency plugins.
RexCoin
RexCoin is an advanced, multi-purpose WordPress theme appropriate for those who want to build blogs and eCommerce websites, especially with the focus of cryptocurrency and ICO. With its modern and beautiful design, RexCoin is the ultimate solution for the latest web design standards.
Like many of its rivals, RexCoin is armed with some special crypto plugins. You want to sell coins and accept donations? RexCoin is here for you. This theme is compatible with Give Donation and ThemeREX Donations plugins, so this will easily come in handy for you.
How can I create an NFT?
There are websites that allow you to do that for free. Binance NFT Marketplace is a good example. Generally you need to have an idea about what art you want to tie the NFT to, what blockchain you want to use. And have a place to market your NFT.
Can I create an NFT Marketplace on WordPress?
You can use the NFT importer to create a marketplace in WooCommerce. You need to connect to your wallet first.
How can I connect WEB3 to my WordPress?
There are several plugins that do that. You can search the WordPress repository to find which one is better for you.
Wrap-up
When you are planning to establish your crypto website, there are a number of things that should be expected from your theme, such as its compatibility with WooCommerce, responsiveness, integration with related plugins, being easy to install and configure, etc.
In the list we have prepared for you here, ten of the best WordPress NFT themes was introduced and briefly looked into. We hope we could have been of help in guiding you to choose the best possible theme for you.
Recommended Posts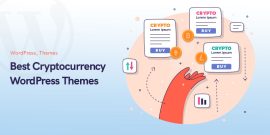 May 29, 2023