---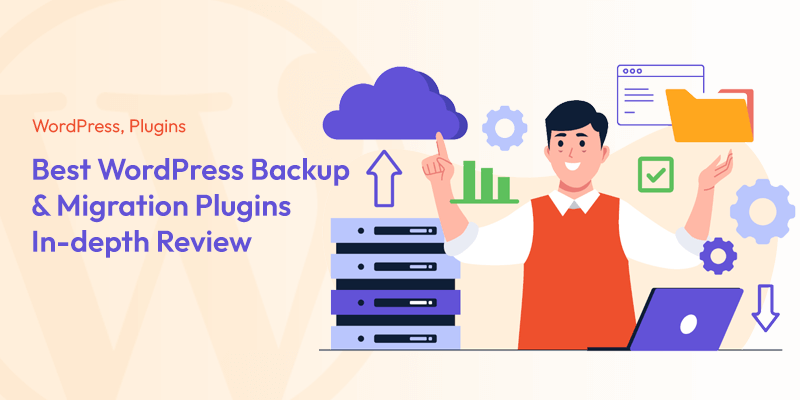 Best WordPress Backup & Migration Plugins in 2023
Best WordPress backup and migration plugins in the 2022 list are a shortcut from uncertainty and having your WordPress as a flight risk to total protection with multiple restoration points. These plugins are specifically designed for users who want backups of their WordPress files alongside the database materials that can fully rejuvenate even the harshest of damages.
The digital realm, especially the WordPress playground, is a birthing platform for sinister individuals, hack attempts, and basically, anything that could harm a website. And that's not all. Unexpected errors, malfunctions, internet problems, and website complexities can put a hurtful stop to a WordPress owner's hope and dreams.
To counter these risks, WordPress backup and migration plugins are usually set up and added to the WordPress panels to help preserve users' information and contents.
Right now, tens of hundreds of these tools are scattered all across the face of the internet, making picking one up and trusting them with materials that are the lifeline of WordPress websites a pain in the neck.
Best WordPress Backup & Migration Plugins
We've gathered a complete list of the best WordPress backup and migration plugins in 2022. Although the names are expected to shift in the following years, some backup plugins are still so sturdy and unfaulty that we sincerely believe that they're in the game for the long run.
Let's jump right in!
Backup Buddy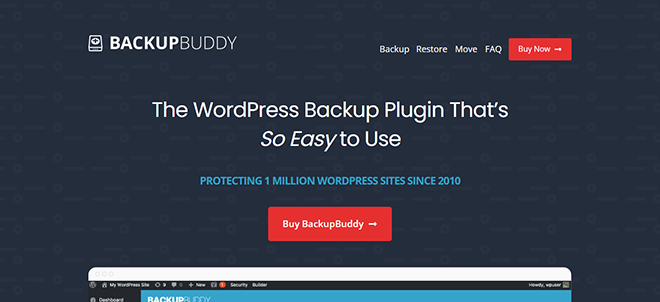 Since 2010, BackupBuddy has been present in the WordPress backup plugin territory with lots to offer. The only way to download this handy tool is to head up to their official website, which gives you tons of information and summaries on how they help backup and restore troubled WP websites. Afterward, you'll need to add it to your WordPress website.
Backup buddy claims it protects content not only against uncalled-for crashes but also malicious activities and hacks. It also presents a great help in repairing and optimizing websites which are most appreciated and much-welcomed. Judging by their vast fan base, over half a million times in installation, and just the right tools, it's not a sun-behind-clouds as to why it's one of the best WordPress backup and migration plugins in 2022.
Maneuvering around the backup plugin is easy, and it doesn't take ordinary users to wrap their heads around it. The entire road from the first time it pops up on the WP dashboard to the first manually-requested backup just takes up about a few clicks of time. Moreover, after installation, it becomes self-aware – not in a threatening world-ending fashion – and automatically and immediately begins uploading a current version of your website for further preservation. BackupBuddy saves the backup files in its cloud storage services like Stash (owned by them), Rackspace Cloud, Amazon S3, Dropbox. It even gives its users the option to email a version to themselves.
Backups can be scheduled through BackupBuddy to be as routine as an hourly event, switchable to daily and monthly ones. Besides scheduled and timely-set backups, a large portion of WooCommerce pages require real-time backups, which are available to users as "Stash Live."
Stash Live keeps track of everything that's happening on your website, transforming your WordPress backups into real-time mind-easing outcomes that are highly updated. It even synchronizes itself with hosted or shared hosting sites.
BackupBuddy doesn't charge users for its services; hence, widely recognized as one of the top free WordPress plugins to ever exist. Let's put a pin on that and point out that despite the free-of-charge goodies heading your way, other plans come with their own extra features, which some might find more to their liking.
Features
WordPress files and database backups
Automated/manual backups
Partial/complete backups
Separate dashboard
Simple restoring process
Cloning
Staging
Real-time backup
Offsite secure backup storage and download options
Pricing
$80 for Blogger Plan (1 Site License) and 1GB of storage space.
UpdraftPlus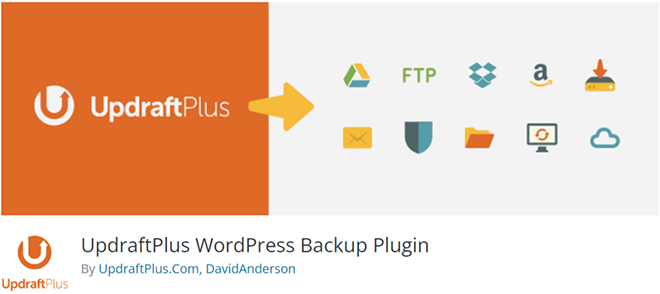 UpdraftPlus is on the receiving pointy end of our knight-anointing Best-WordPress-backup-plugin sword. Rest assured as our sword only ascends down upon the shoulders of those who are truly worthy when discussing backup needs. We have come to the conclusion that UpdraftPlus tremendously helps out WP website owners.
This powerful plugin has been repeatedly dubbed the most popular WordPress backup plugin in previous years. Our list of best WordPress backup and migration plugins would feel vague and empty without it.
Ok, here are the stats: over three million users! 
All these website geeks and owners retreat to UpdraftPlus for its incredible incremental backups, storing data on cloud services, or having the option for everybody to download their backup files. The free version offers almost everything in the WP 101 textbook, making it accessible to all walks of website runners.
UpdraftPlus sets the backups to manual at installation, but there's the option to change that. Whether you're going full auto or you're a bit more old-schooled, everything's only a few steps away from you in the plugin's dashboard. You can backup files, themes, plugins, databases, and basically everything there's to save from a WP site. And, if you don't feel sure about saving up some files or other information, you can easily unselect them in the plugin, which is a partial backup extravaganza.
As discussed above, UpdraftPlus aids users with cloud-service storing and multiple remote location safe spots for backups. Here are some of the names of these remote vaults: Dropbox, Microsoft OneDrive, Rackspace, FTP, SFTP, S3, Google Drive, and it even emails you one for good measure.
The whole backup process is tailored-made, so even beginners won't go through a tough time trying to save or restore their websites – everything's reachable from the WordPress admin panel.
And, more to the point, it automatically saves before updating to spare us from the scarce y et bitter and awkward of losing our stuff just because our WordPress backup plugin decided to update itself without our consent!
Features
Incremental backups
Manual/automated backups
Cloning
Migration (speedy with Migrator)
Restoring option in the control panel
Extra add-ons
Pricing
There's a paid side to this one of the best WordPress backup and migration plugins in 2022, which swoops in with extra features and add-ons that primarily functions as an extra-goodie migration tool. Other paid features include website cloning, database research, replacement, multisite support, and above all, pimp up you as a decorated client with higher priorities. These exciting features are only for a $70 price tag per year.
Jetpack Backup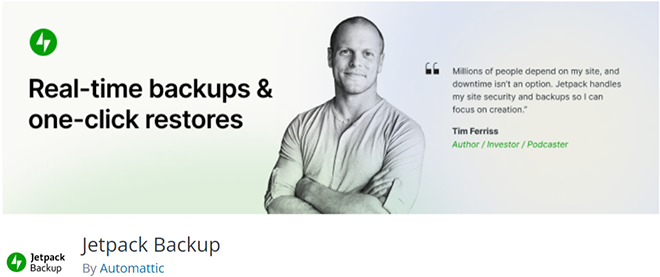 Formerly known as VaultPress, the newly-named Jetpack Backup from Automattic serves as an automated WordPress backup plugin. If you're interested to know more, Automattic is a company brought to life by WordPress's cofounder, Mr. Matt Mullenweg himself. You could say it's a gift from WordPress to WordPress to boost visibility, security, safety, and speed.
Over time, Jetpack has collected a massive fan base and turned a few heads. The one thing that truly shines and stands out is its well-organized and user-friendly dashboard which doesn't leave any room for complaints.
Like any other WordPress backup and migration plugin in 2022, Jetpack, too, sets forth a road for those struggling with website crashes, hacks, stats, and security. It helps them save and backup their online information. Additionally, Jetpack has a mobile version to restore control to clients and users to manually set up backup schedules from anywhere and anytime.
Jetpack is a comprehensive WordPress tool that offers automated and daily real-time or manual backups, malware scanning, and spam protection — and it doesn't slow down your website. The point of return is more than ever tangible with Jetpack as website restoration has been made super-easy and quick. There's also the option to revert updates to the time point when you feel happier with your website. Jetpack also gives you the ability to monitor activities through an activity log.
This feature-rich WordPress plugin also provides migration tools. Everything's available on Jetpack, whether theme files, new databases, clone websites, restoring or repairing.
Features
Scheduled automatic/manual incremental backups
Website restoration even in offline times
Unlimited backup archive
Unlimited migrations
User-friendly
Quick restore
Website uptime/downtime monitoring
Automated individual plugin updates
Automated malware, spam, and other security-threats scans
Pricing
With the higher-paid plans, some security and other powerful aspects come into play for those with more serious needs. However, for multisite situations, the cost might ratchet up a bit so make sure that you require the extra features.
The lower plans kick off at $9.95 per month for daily backups and go all the way up to around 50 bucks for WooCommerce businesses in need of real-time backups. All these are purchasable as the plugin is installed since it shows plans right after installation.
WP Time Capsule Backup & Staging Plugin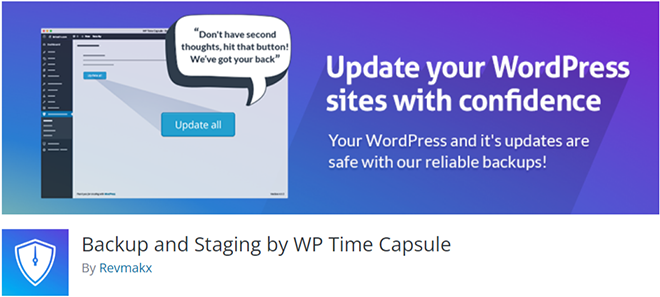 Renowned for its unique and stylish interface and use of fewer server resources (it doesn't compress backup files) to get the job done and backups saved, WP capsule has sent waves across the market. With WP time capsule, you don't stumble upon the classic dashboard; oh no! You instead gaze upon a calendar view marking the time of any backup finished.
Suppose you're going through a hard time preserving your recent files and not the entirety of your WordPress website. In that case, the WP time capsule plugin is your go-to solution. It also speeds up the restoration process, enabling users to quickly return to a former status through multiple restore points created beforehand.
As much of the WordPress backup and migration plugins of 2022 and later years, WP time capsule enlists cloud-service technologies to boost performance, reliability, and speed. This handy tool enables you to move your saved and backup files to sites like Backblaze, Amazon S3, Wasabi, Drive, and Dropbox.
One thing that sets WP time capsule apart from other backup plugins is saving up, and reloading changed files instead of the whole website. We know we've talked about this before, but it's a great deal for people lacking space or time for a full-scaled WP backup.
Another advantage to this problem-solving tool is its trust in cloud apps' native file versioning system; it detects changes and maintains file versions.
WP time capsule backup also provides real-time backup, which comes in extremely relieving for major WordPress clients such as WooCommerce shops and websites. It takes the stress off big players' minds as it enables them for swift backups as close as the last hour. The backup intervals can be changed to 6 and 12 hours as well.
WP time capsule installation is nothing to stress over as it's a straight shot from registering to WP Time Capsule to the free plugin installation. Afterward, continue the process by connecting the tool to your preferred cloud service so the software can begin sending the necessary information to that location. The rest is a simple backup scheduling.
Features
Incremental backups
Automated scheduled backups
Backup testing
Aesthetic calendar dashboard
User-friendly
One-click restore
Preferred backup location selection
Staging
Clone/Migration
Pricing
You can get started for free for 30 days. Paid plans start at $49 per year. One-time payments are available starting at $149.
Duplicator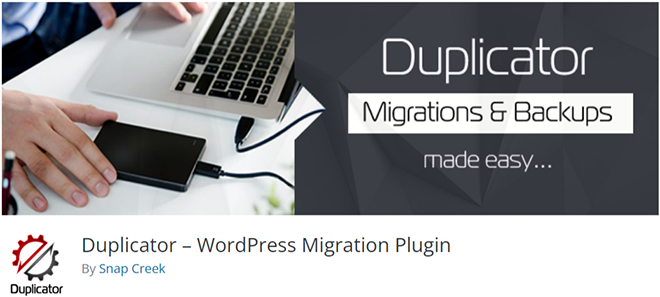 It has long passed in this piece that we steered the direction of the topic to WordPress migration plugins, and what better name to toss in than the "Duplicator Backup and Migration Plus?"
As its title indicates, Duplicator's primary use encapsulates any actions related to WordPress relocation and owners and users who want a plugin that helps them in a swift and hassle-free transaction from one server to another or the same server. However, it has many arrows in its quiver to fulfill backup needs.
Now, it's wrongfully stated that this primary migration tool doesn't allow for scheduled backups. However, that's not true as it's clearly stated in their own page in WordPress.org that they provide even hourly-based backups. They also give their users the options to either chunk out a usable version of their WordPress websites or take what they want and leave out the rest — not letting us down once again.
Duplicator also offers files in zip format for further offline and local-based use by simply downloading them. That being said, the online files are transferred to some of the well-known online cloud-service providers such as Google Drive, OneDrive, Amazon S3, Dropbox, and FTP/SFTP. Moreover, emailing these files is turned on through Duplicator. So, you're covered in any course of action, both online-wise and offline-wise.
Despite the great pluses, Duplicator isn't precisely what everybody calls a user-friendly tool and memory-tickling experience creator — although less-than-ideal experience is still a form of memory, right? Duplicator requires its users to be, to some extent, knowledgeable and bear some technical understanding (frankly mentioned on their WordPress.org dedicated page) for a better experience. These are some minor difficulties of one of the best WordPress backup and migration plugins in 2022.
What Duplicator lacks in the backup department, it makes up for in the migration department. It makes quick work of any WordPress migration needs.
Duplicator gives you the power to rewrite an older version of your WP website with just one click — a sigh of relief, isn't it? This synonymizes having new web pages going up in a blink of an eye and ready to be browsed in the most leisurely way possible!
Duplicator also enables its users to clone their pre-configured sites. Instead of the agonizing handful of the preferred plugins and themes, Duplicator readies up a site for configuration and bundles it up afterward. This has proved life-saving as everybody can relocate and migrate pre-configured sites to new locations and hosts without setting through the pain for reworks!
Features
Scheduled/immediate backups
Manual backups
Easy drag-and-drop instalment (in contrast to hard-to-learn backup procedure)
Designating files for backups
Complete/partial backups
Mainly cloud-based optimized
Multisite support
Recovery points
Support for Managed hosts such as WordPress.com, WPEngine, GoDaddy Managed, and more
Database and user creation in the installer with cPanel API
Connect to cPanel directly from installer
Pricing
The paid version of Duplicator hovers around $69.
Backup Migration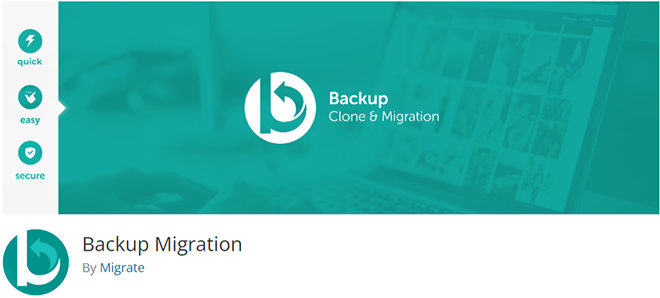 What better point-making duo than the Backup Migration tool. With this entry in our list of best WordPress backup and migration plugins in 2022, experience a memorable, clean, and enjoyable road to back up your WP website or tune it ready for relocation.
Backup Migration empowers you with dumbed-down manual or automated backups as it takes only one click after plugin installation to have a spare version of your WP website on your screen. You can even test a trial version on their dedicated WordPress plugin page.
Scheduled backups are an option when working with Backup Migration, which could happen at daily, weekly, and monthly intervals. The plugin also offers file include and exclude as you have the freedom to choose which parts (files) you want to have a backup of and which parts you deem excess and unnecessary. It also includes backup file naming.
Here, we run into the first and probably the most worrying roadblock when utilizing the Backup Migration plugin: it only supports local storing options. This means that this WordPress backup and migration plugin doesn't support cloud-services technologies as an alternative and more modern way of storing backup files, which is a shame. However, in their queries, they have promised that this let-down will be fixed in the future, and they will expand their storing options — perhaps to some online vaults like Dropbox, maybe?
Moving forward from the drawbacks in backup properties, Backup Migrations does put a lot of options on the table when one of its many clients wants to migrate their WordPress website. Some might even declare that the plugin is a one-time stop for all migration needs, whether to another host or just to restore a local backup collection.
Features
Schedule backups every day, week, or month
Control what's added and excluded in the backup
Local storage options
Easy one-click backup and restore process
Migrate your site to another host
Pricing
The free version of Backup Migration has a shortcoming of only storing backups of 2GB or less in size. To offset this problem, users have been given the option to upgrade to a premium and a paid version that unlocks unlimited backup sizes. The premium version BackupBliss starts at $19.98 for 6 months. There's a 14-day money-back guarantee.
WP Database Backup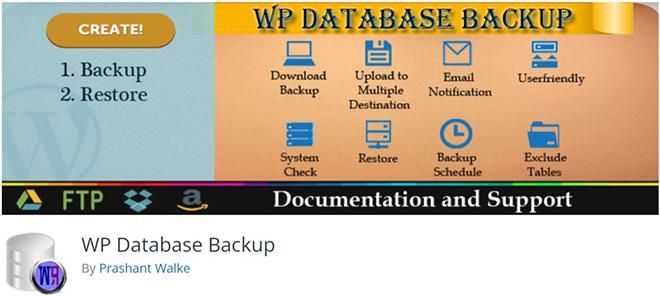 Sometimes we need to swap something in life to gain other things, for free, and be happy about it. That's exactly the method WP Database Backup plugin follows, and they've done an excellent job so far.
WP database backup plugin is free but at the cost of only giving the option of database backups to its users. This automatically translates into a partial backup for a WordPress website which some might not recommend opting for such configurations. If you have your databased info saved and stashed but leave other files stranding, a complete restore of your site won't be possible.
Talking about restores and backups, this WordPress backup plugin works impressively when it boils down to making everything a one-click stride; it makes backup and restores so easy it's unbelievable.
Furthermore, automated or manual backups are for grabs with the WP database. So, you have control over your time with computerized preserves, or you can keep your website safe when immediate unwanted situations present themselves.
This free WordPress backup plugin operates with online cloud-service safe boxes such as Dropbox, FTP, Google Drive, and Amazon S3. Additionally, a backup version could be emailed to your inbox for further use.
Features
Easy set-up
Single-click database bank creation
Fast automated/manual backups
Cloud-services integration
User-friendly and easy to configure (less than a minute)
Database backup search and replace
Backup sorting
Extensive Documentation
Pricing
The premium version of WP database backup plugin goes by the name "WP ALL BACKUP" costing only $22 per year. This version counteracts partial WordPress website backup and it does it in a bullet-flying speed. Also, restorations are reasonable enough. Here are some extra features that tow along with the paid iteration:
Backup Listing: Pagination.
Manual backup
Multisite compatible
Backup entire site
Downloadable log files
Simple one-click restore
Set number of backups to store
Automatically remove oldest backup
Multiple storage destinations (FTP, Drive, etc.)
Email Notification
ZipArchive
Backup zip label with the site name (Help when backing up multiple sites).
Select Backup Type: Only Database, Only Files, Complete Backup
Inline Help
PclZip
Clone/move Site
Change Backup folder name
Exclude Tables from your backups.
System Check (i.e. backup folder permission, execution time etc)
Disk space check-up (memory available).
Updates
WPVivid Backup & Migration Plugin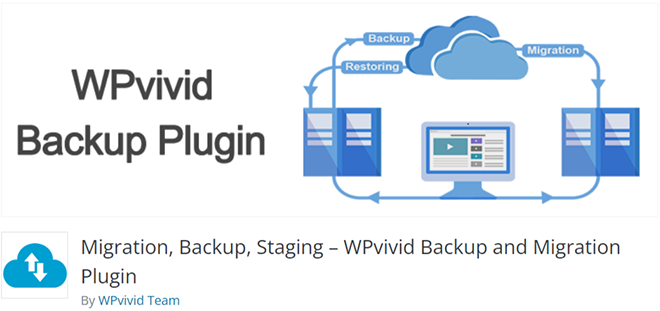 Another grand entry in our long list of the best WordPress backup and migration plugins in 2022 is the famous WPVivid Backup and Migration plugin. Fortunately, this one isn't an only-backup tool and provides migration features on top of backups. However, the plugin offers everything in a more mediatory manner and fundamental level, which means some more heavy-duty features for this plugin are off.
During the first steps into the app, you can observe a relatively simple but not too creative interface. The interface feels like it's kicking people around before pointing them onward to the right path. However, its simplicity shadows its lack of creativity.
You can use WPVivid for backups, migrations, restorations, and staging. The WPVivid backup arsenal is highly effective and leaves no questioning room. Combine that with a responsive one-clicker restoration points setup, and you're awarded a fully-functional and well-designed WordPress backup and migration that doesn't quit.
Through WPVivid, manual and automatic can be created in seconds and swiftly passed on to their preservation centers. These protective vaults include Google Drive, Amazon S3, Digital Ocean Spaces, FTP, SFTP, Dropbox, and Microsoft OneDrive and later be put to use for WordPress website restoration and migration. From these safe spots, the backup files can be snatched for any sort of WordPress restoration or migration moves. On top of this, WPVivid empowers its clients who don't want to store their things online by saving backups on local hosts.
The staging option allows you to manifest a subdirectory for safe and continuous WordPress, themes, and plugin tests where you can run new changes with a delightful promise of pushing everything to the live site with the least effort.
A very intriguing aspect of WPVivid is that it allows you to clean up unused and unwanted images before setting on to extract a backup. There's no need to point out how problem-solving this option can be. Still, if you're curious, it basically removes the massive loads from backup files, making them smaller and clutter-free. This fantastic free WordPress backup software feature lights up the whole backup process.
Features
Easy and incremental backups
Independent dashboard
Manual/automatic backups
Auto migration
Integrated with cloud-services
Local backup directory renames
Live progress
Logs
Database backup encryption
No backup size limit
Clean temp/unused image files
Large file filtering (include/exclude)
Customizable backups
Multisite support
White labeling
Pricing
While the basic version is utterly free, there are still paid plans for more professional users like WooCommerce website owners. These plans begin at 49% per year with a reasonable lifetime offer for only $99 per subscription.
BlogVault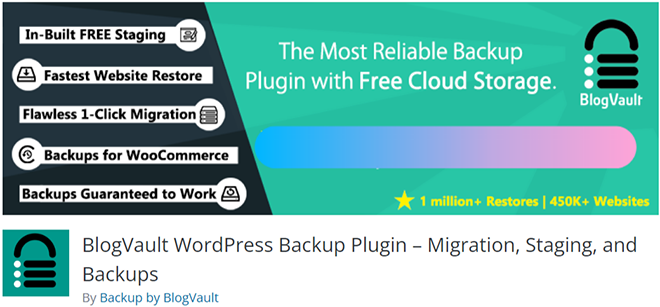 So far, we haven't had a SaaS (software as a service) to pop up in our list, but BlogVault proves us otherwise. A recent phenomenon with growing stats and popularity, the BlogVault WordPress backup and migration plugin has many inspiring options to introduce.
Quoting many in the market, BlogVault is the most reliable and trusted free WordPress backup and migration plugin in 2022 and is on the move to save its spot for the coming years.
Let's start with the dashboard: it's nothing of a repetitive and uninspired copy. It's completely unhooked from hosting and website, so it will remain functional even if both go out of order.
This dedicated and unique dashboard is packed with buttons and call-to-actions to perfectly supplement its vast array of features. It even helps with managing and monitoring multiple websites at once!
Other essential aspects of the dashboard can be detailed as website uptime checker and backups being micro-managed and arranged with only one tap of the finger on the mouse surface.
As usual, two options are visible for backups: daily automatic or on-demand manual backups (on free cloud storage) streamlined with easy-to-follow processes that take the stress away from everyone. These incremental backups are professionally sized to never overload the servers. They are retainable for 90 days on the basic version of the software and 365 days from the backup archives in higher plans. Moreover, having the ability to create backups in real-time is also available with BlogVault.
BlogVault also sports a built-in and free staging site for those who want to test their websites before launching and going public with the main website. In this ready-to-go cloud-based environment, experts and WP website owners, and clients can go through any updates and changes. This cost-free option becomes even more valuable and exciting when, after bugging out the site, the push to the live site happens through just one click and in a speedy fashion.
BlogVault also teases migration for some of the largest web hosts from WPEngine, Pantheon, FlyWheel, LiquidWeb, Cloudways, Savvii, and many more.
Features
Scheduled automatic backups
Real-time on-demand manual backups
Uptime monitoring
Hassle-free website migration
Incremental backups
Free offsite storage
Quick restore
Backup testing
Independent dashboard
Integration with cloud services
Easy to use
No additional load on website
Custom backups
Real-time backup
Pricing
BlogVault has a 7-day trial plan. After that, it starts at $7.4 per month ($89 per year) when billed annually.
If you opt for the Plus plan or higher that starts at $12.4 per month (billed annually), you'll also get access to their sister plugin MalCare to scan and protect your site against malware.
BackWPup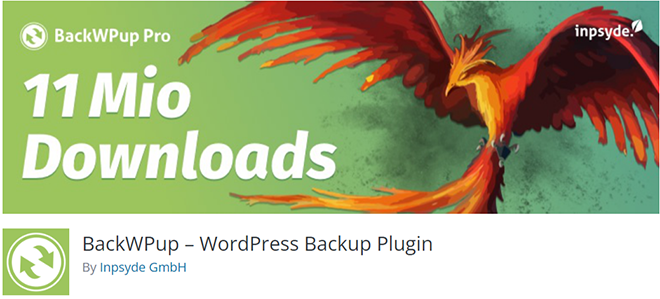 We're almost reaching the end of our list of best WordPress backup and migration plugins in 2022, but it won't end without mentioning yet another free backup extraordinaire called the "BackWPUp." Its developers launched the free WordPress tool with the promise and landscape of adequate backups.
Learning how to get a backup of your WP site and store it is easier than taking a stroll through your neighborhood park; everything happens with a few clicks on the screen. The backups can be programmed to happen automatically, without any outside interference, and synchronize with the user's website update frequency. However, the interface might require some technical knowledge for more detailed functionalities to operate correctly. It's safe to say that the interface isn't in any measure "minimalistic!"
After setting up the backup process start, BackWPUp offers users to save their important WP data on cloud-based services such as Google Drive, Amazon S3, Microsoft Azure (Blob), Microsoft OneDrive, Dropbox, FTP, HiDrive, RackSpaceCloud, and SugarSync. And yes, the complete website backup files could be delivered to users via email.
The backup files generated through BackWPUp could be specified to be saved in zip, tar, and tar.gz formats. It's also worth mentioning that restoration is possible with a single backup .zip file.
Features
Automatic/manual backups
Database backup
Easy migration
Complex interface
Back up to multiple destinations per job
Synchronize files on remote backup location like Google Drive and Dropbox
Backup specific file path of your site per your needs
Dedicated app for emergency restores
Premium personalized customer support
Database optimizer
WordPress XML export
Pricing
Despite all the goodies, the lite version drops short of offerings compared to the premium version. Its features are heavily toned down. Users leveling up to the premium BackWPUp iteration will be granted access to encrypted backups, high-priority support, and more extra tools. The price for the premium version kicks off at $69 per year.
Total Upkeep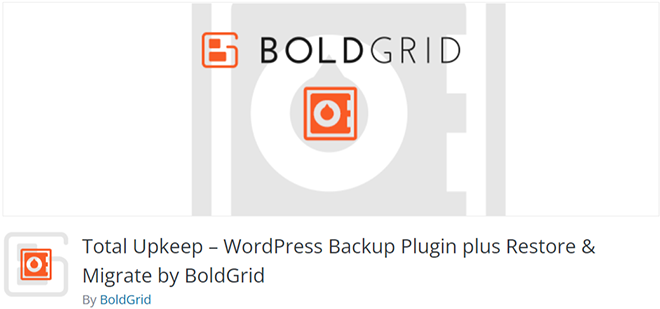 Total Upkeep guarantees to protect users against any unwanted and out-of-control mishaps that seem an inevitable destiny for any WordPress website owner. This means crashes, hacks, malfunctions, and any other kind of dangerous activity that threatens websites and their contents. It also offers to help with websites migration and moves from one host to another.
With Total Upkeep, you have the option to set up automated backups or automatically wine back to earlier points of your WP site if everything doesn't go to plan. After installation, the only bridge between you and automated/manual backups is setting the date and time. Total Upkeep free WordPress backup tool will then create backup files and send them various storage points (of your choosing) like FTP/SFTP, Amazon S3, or Google Drive in the premium version.
Please note that although Total Upkeep provides backup of the entire WordPress content and its database, separated backups are available too, and you can have a restoration file filled with certain WordPress files and folders.
Total Upkeep also aids with website protection and keeps a sharp eye on your website for errors with a built-in diagnostic toolset that could restore your site even if your WordPress installation is inaccessible. If an error happens, the WordPress backup plugin will send you a notification email, letting you know about the latest state of your website.
Features
Automated and manual backups
Full file and database backup or customize settings based on your needs
Remote backups via FTP / SFTP, Amazon S3 and Google Drive (Premium)
Total Upkeep checks to ensure that your webserver has the necessary features to properly create backup archives, which protects the integrity of your backups
Clone, duplicate and/or migrate your site with just a few clicks
Site check
Auto rollback feature creates a backup before updates, restores your site to the last backup if an update fails
Create staging sites to test new plugins or themes with Total Upkeep + Cloud WordPress
Pricing
Total Upkeep costs $2.50 per month (billed annually). You can use the license on unlimited websites.
All-in-One WP Migration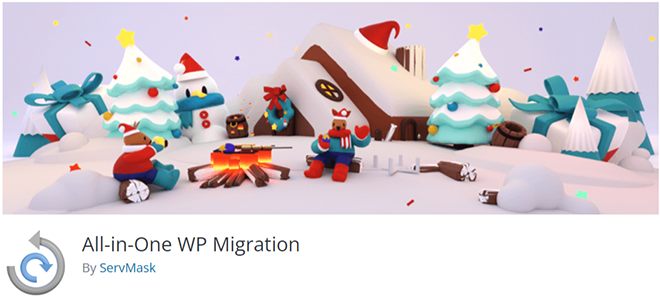 Last but not least, we have a WordPress migration plugin that will make lives actually enjoyable when owners inevitably have to relocate their WordPress websites to another host.
Over 60 million users have accepted the great features of this plugin since its introduction back in 2013 and still growing in numbers. In parallel with unending swarms of praises from WordPress experts, the enormous fan base has bestowed the title of most trustworthy and reliable migration tool upon the All-on-One WP Migration plugin.
This crafty entry has been designed while taking newbies' needs into consideration and having the final goal of creating an all-pleasing experience. As a result, users dependent on the All-in-One WP plugin have repeatedly reported seamless and spirit-lifting episodes using the plugin for their website migrations. If you have a WordPress version between 3.3 and 5.8.1 and a PHP version between 5.2.17 and 8.0.10, you are good to go. All-in-One WP Migration also supports all versions of MySQL and MariaDB.
Moreover, All-in-One migration isn't only limited to migrating to a new space. WordPress backups can also be done through it, contrary to popular belief. The end files will be moved to online cloud-based storage spots such as Google Drive, FTP, Dropbox, Microsoft Azure, Google Compute Cloud, and more online vaults for protection and further use.
All-in-One WP Migration plugin has been exclusively modified to counteract cross-plugin issues that could damage WordPress websites and their owners' experiences. Furthermore, the developer team has extended cooperating hands towards other plugins/theme distributors to expand into the market and grow their sphere of influence.
We said that the migration plan won't throw any wrenches in the way of newcomers. Here's how the easy process pans out:
First, you install All-in-One WP Migration plugin.
Hit the export button to bundle your database, media files, plugins, and themes into one tidy file.
Unpack the file at the new location with an easy-to-use "drag and drop" feature in the WordPress dashboard of your new website.
Sounds pretty simple, right? That's because it is. These three basic and relatively quick steps are all that are required for the migration to be finished.
Features
Supports custom uploads, plugins, theme folders, and more.
Available in over 50 language translations – including Japanese.
Accessible for individuals with disabilities (WCAG 2.1 AA Level compliant)
No limitations on host or operating system.
Supports a vast range of hosting providers
A long list of premium extensions that gives you the power to do more.
Mobile device compatible.
Intelligent and flawless auto-replacement of website url during import.
Full product support.
Cloud Storage Supported:
Browse WPRESS files online with Traktor Web
Extract WPRESS files on your computer with Traktor Desktop
Pricing
For a lifetime of All-in-One extra features, you only have to pay $69. With this amount, these features will be opened up to the payers:
Upload limits removed
Multisite website usage
Backup restore from server
WP CLI commands
Premium support
Final Thoughts
The time has come to slash off the wheat from the chaff and become ruthless in choosing. While many titles in our list of best WordPress backup and migration plugins have one or two things to add to the controversy, still, the top ones outclass others by a huge margin.
And, talking about outclassing, our first pick goes with UpdraftPlus, as it's the one and only stop with everything required for a perfect and flawless WordPress backup process. Even the free version is beaming with handy and game-changing features barely seen on other backup tools or with hefty price tags.
BackupBuddy is our second pick right after UpdraftPlus, and that's only because you need to migrate to a premium and paid version to get the full effect of the feature-rich WP backup and migration plugin. It offers website screening and repairs.
The third spot and the bronze medal go to Jetpack Backups with a user-friendly setup and easy-to-learn backups. These real-time incremental backups (automated backups also available) shift the favor heavily into Automattic's comprehensive backup plugin direction.
All these mostly backup-dedicate plugins make the empty space of a more migration-dedicate plugin more projecting. For this, we have decided to nominate All-in-One WP Migration is a tool that makes migrating to a new host or server actually a fun endeavor that doesn't take any time at all.
More often than not, WordPress migrations are associated with headaches and frustrations. The All-in-One plugin has completely flipped the tables and inspired us to be believers in swift migrations. For this reason, and all the extraordinary features come packing with it, it has reserved a special unbending spot in our hearts as one of the best WordPress backup and plugins in 2022 that specializes in the migration department.
Recommended Posts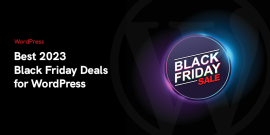 November 13, 2023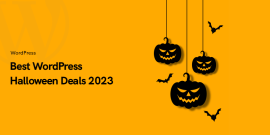 October 23, 2023