---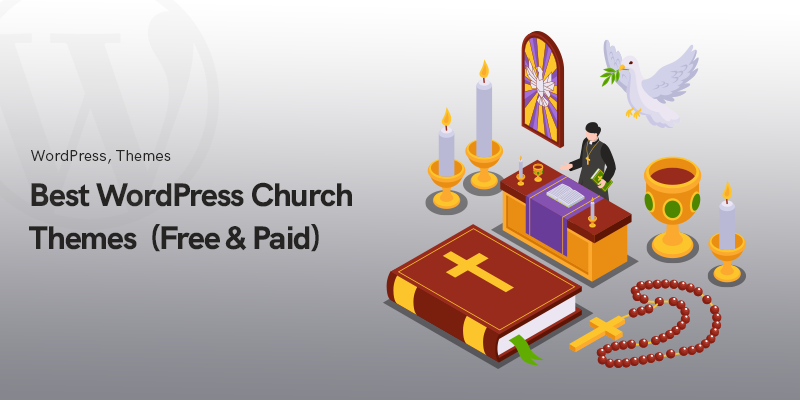 29 Best WordPress Church Themes 2023 (Free & Premium)
It is no surprise that a fair share of church websites are built using WordPress themes and WordPress plugins since they offer Sermon managers, donation and crowdfunding features, even daily Bible verse plugins.
Best Free & Premium WordPress Church Themes
Here is a list of the WordPress church themes (free and premium) that are staples in the online sphere in no particular order.
You can check out our last year's selection of WordPress church themes and see what has changed over the year.
Deep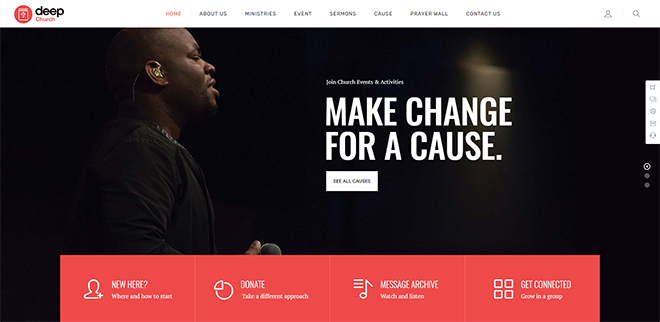 Deep is a responsive and multipurpose premium responsive WordPress theme developed by Webnus.
Deep contains more than 70 website templates and has a unique customizable header builder.
Completely compatible with WooCommerce, you can start your online business using WooCommerce and Elementor.
Deep Theme Church Demos have inherited the best features of Church Suite and Vision Church WordPress Theme: Church, Remittal, Charity, Solace, Pax, Forward, Trust, Discovery.
Deep is highly responsive and functions exemplary on any kind of device, whether smart phones, tablets, or desktop devices.
This theme has tons of features that have made Deep one of the best premium responsive WordPress themes on the market.
It is worth noting that Webnus's theme bundle includes the original Church Suite theme that was the inspiration for Deep's church template, so you will have a wide array of options when it comes to building your website with Deep.
These multi-purposed Deep Themes are all equipped with Modern Events Calendar (or MEC in short) for better event management which is a dedicated product of ours, nowhere else to be found.

Cost: The Deep theme has 3 tiers. The first is a 1 License that costs $59, the second is a 5 License package that costs $199, and last but not least is the 10 license package that costs $339.
Restore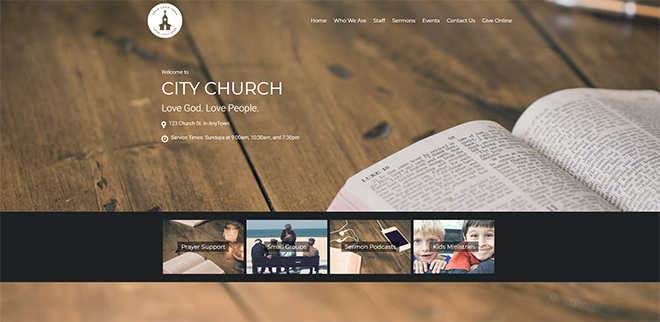 Restore lives up to its name by restoring faith in people and set an example for other websites on how things should be taken care of.
It goes in a different direction through the use of warm tones.
It's the ideal basis for a church website template to make your own.
The bold background choices and color contrasts create a modern aesthetic that could resonate with all audiences.
It also includes sermons, audio and video support, events, newsletter signup form, a map, and other useful features too.
Its steep price can be justified by the sheer number of features it comes bundled with that make your search for a fully functional WordPress church theme easier.
Cost: $199 per license
Sharefaith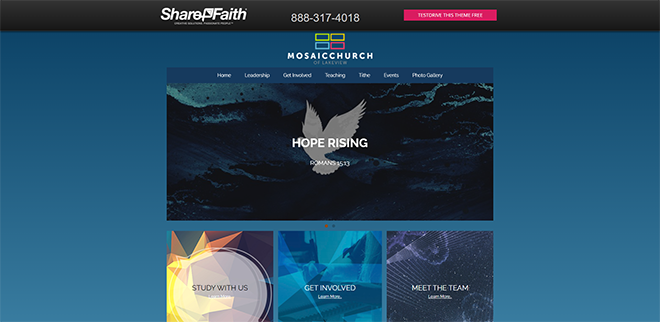 Sharefaith not only provides Church website templates but also a line of resources made specifically for Churches.
Their crisp and clean church website design, allows your congregation to quickly lookup activities and even share the website with their friends and family.
Sharefaith's beautifully designed WordPress church website templates are ready for you to customize, edit and publish.
They also provide amazing support which makes it worthwhile the asking price.
Cost: $50 or $79 per month depending on the type of package.
Faith
Faith is the first free church WordPress theme listed here developed by IloveWP. It's a lightweight theme with soft colors and a layout complete with images and pleasing content blocks.
The demo page comes with all the elements you are likely to need including donations, events, sermons, news, a blog, and flexible elements to suit your needs. It has a brilliant selection of colors and images and also comes with all the ingredients necessary for a free church WordPress website.
The downside to all of this is that since this is a free theme, you will need to put more work into customizing it.
Cost: FREE
The Church Lite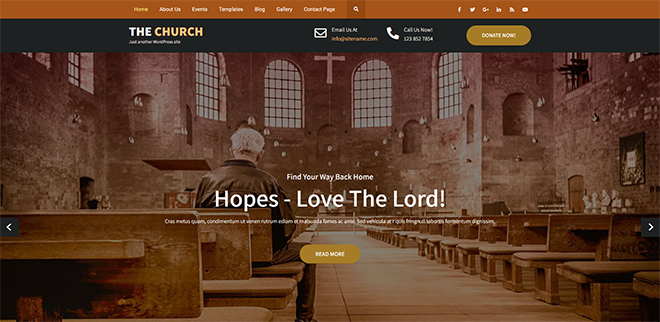 The Church Lite is our second free church WordPress theme suggestion that also comes in premium form. Similar to Faith, it uses soothing colors and an engaging image header to draws in the user before finalizing the deal with its attractive layout and modern fonts.
This is free theme comes bundled up with flexible content blocks, event calendar, animations, news, blog, forms, and all the elements you need to build a compelling church website.
Both The Church Lite and its premium version, The Church, function well on WordPress and could prove to be the church website template you've been looking for.
Cost: FREE but also comes as The Church for $29
Foundation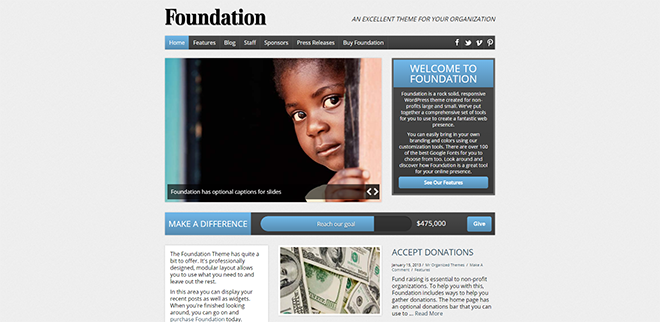 Foundation is a WordPress theme that could work well as a nonprofit or church anniversary theme. It's an underrated theme with a news-style layout, boxed arrangement with a small image slider and sidebar.
The styling options regarding the background allow you to customize the website to suit your needs. Although, Foundation doesn't have a built-in events calendar, you are free to add those from the WordPress plugin list especially Webnus's own Modern Events Calendar.
Cost: $30 per license, although this is a solid WordPress church theme we suggest checking out their other Church and Nonprofit themes.
Charity Life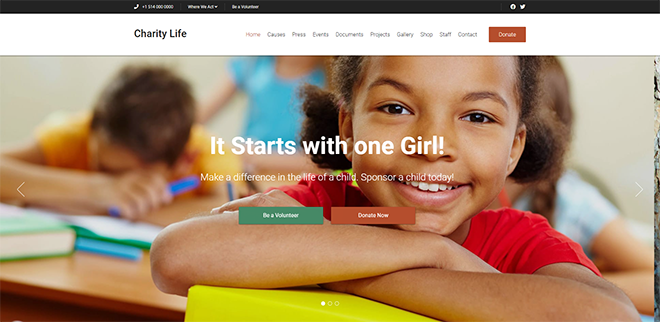 Charity Life is a premium WordPress charity theme that can easily be repurposed as a WordPress church theme.
It provides similar design elements that a church would need and also features essential to running an online church in these times.
The design is light and easy on the eyes with a large image slider and menu section at the top.
Below the page, you can add sermons, a service calendar, events, blog, and a built-in donation section.
Cost: $75 every year
X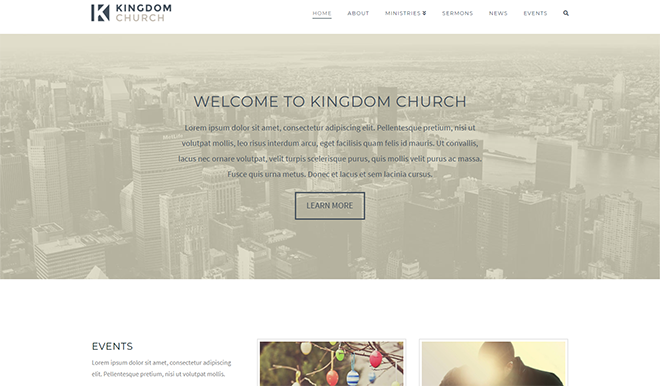 X is another multipurpose theme similar to Divi but it has a dedicated church demo.
They offer a very modern interpretation of worship and could be useful in attracting younger members to your congregation without alienating the more traditional members.
Not an easy task to accomplish.
It comes with the usual header image styling option and a series of complementing colors, videos and modern fonts to complete the page and deliver most of the functionality a religious website might need.
The theme offers and supports a variety of plugin so you won't be at a loss when trying to look for plugins to add to your arsenal.
Cost: $59 per license
NativeChurch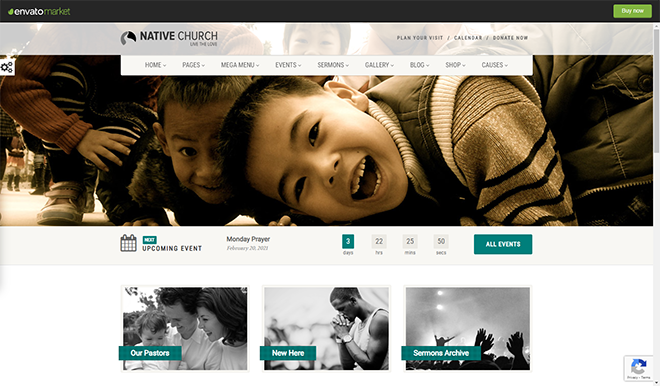 NativeChurch is a powerful WordPress Theme designed & developed for Church, Charity, Non-Profit and Religious Websites and comes handy for Portfolio/Corporate Websites as well.
It offers different layouts, comes with an events calendar that syncs with your worshipers' Google calendar, full responsive design, and lastly both a custom events manager and sermon manager.
By far, one of the most comprehensive themes that can be repurposed for any religion or NGO work.
Cost: $69 per license
Enfold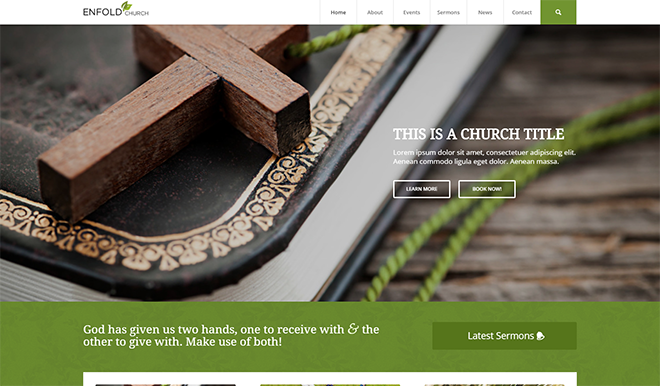 Along side various multipurpose demos, Enfold offers an exclusive Church website template that almost justifies its price.
Enfold allows you to build beautiful websites in minutes and offers tons of variation and features. It also comes with a fantastic support team to help you get started.
The volatile content and design allows it to be repurposed for any type of website but in the case of WordPress church websites it includes an events calendar and sermon sessions.
Cost: $59 per license
Shaha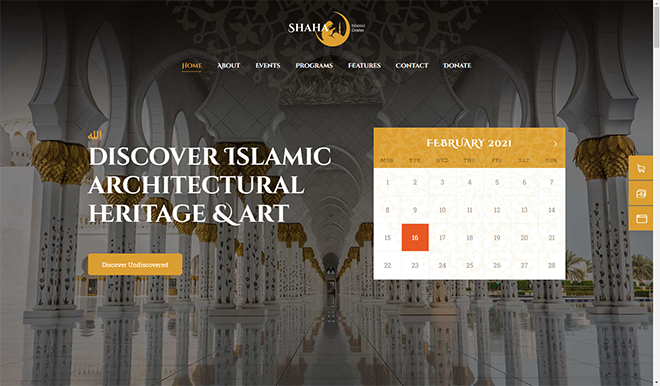 Time for some religious diversity in our countdown list of WordPress church themes.
Shaha is a WordPress church theme ideal for Islamic centers and mosques. It's has a modern yet classical rugged feel to it that comes with target-specific materials that will help you get set up quickly.
With the drag-and-drop page builder, you can quickly adjust the web design and even create custom layouts if needed—all with zero coding knowledge.
Shaha is also responsive, optimized for search engines, supports multiple languages, offers mega menu and takes the experience to a new level with parallax effect.
To top it off, Shaha has in-depth documentation and a dedicated support team that you have access to at any given time.
Cost: $69 per license
Astra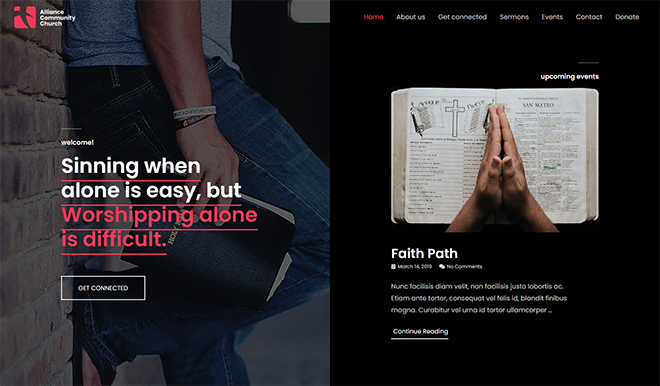 Flexible and user-friendly, Astra is a multipurpose premium WordPress theme, so much popular among users that you must have heard of it.
It is built according to the best coding standards in the world, and offers innovative options such as the Mobile Header module.
This option enables you to adjust header breakpoints, set different logos, menu styles, colors, and more for mobile devices.
WordPress theme customizer lets you observe in real-time whatever change you make.
Astra is feature-rich, full of outstanding features that provides you a stable and high performing theme.
We assure you that your website will look great on all kinds of devices, whether mobile phones, tablets, etc. Astra is one of the best fully responsive themes that supports RTL languages.
The dedicated church demos have a modern slick design that load quickly, work on any screen size and are already bundled with all the features you'd need like events calendar, booking, and donation pages.
Cost: Ranging from $47 per year to $249 lifetime and various flexible deals
Divi
As a powerful drag and drop premium WordPress theme, Divi comes with a few church website templates that can be used for Churches and non-profits. You can also create your own Divi layout and save it.
Besides, exporting a layout from one Divi installation to another is possible. With Divi, changing your site's colors, fonts, headings, and so many more items is made possible without having any CSS coding knowledge.
Alongside being fully responsive, Divi is SEO optimized, so you can be sure that your website will have a good rank in Google and other search engines.
Although you need to add the other features such as sermon calendar and donation button with the help of third-party plugins that shouldn't be an issue since Divi is compatible with most plugins.
Cost: $89/year or $249/lifetime (includes access to several other products from Elegant Themes)
Church and Event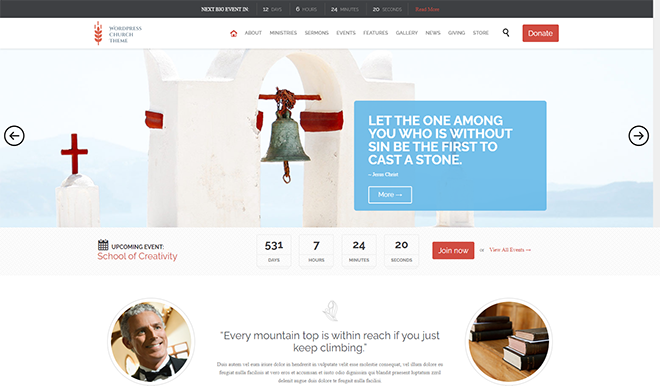 Church and Event, more commonly referred to as simply Church, is a jaw dropping WordPress church theme that has been designed for all sorts of charitable organizations and religions.
The demo uses the trustworthy Vatman theme framework and is built using HTML5 and CSS3 technologies.
Church and Event is bundled with unique features such as page sliders, blog and portfolio post, sermon plugin, events calendar, donation system and finally bbPress to help foster a community on your website.
Cost: $79 per license
Prayer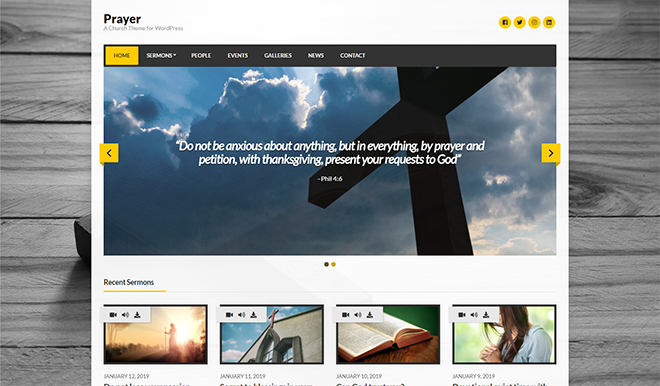 Prayer is a versatile and attractive design that can reach any demographic.
This WordPress church theme uses a boxed layout with background image and white content areas to leave an impression on visitors.
The rest of the theme looks and feels like a blog but with church-specific elements.
It includes sermons with audio player, news, events calendar and forms.
As with most themes exclusively made for a certain niche, you probably won't need to add additional plugins, nonetheless the theme also supports any other plugins you want to include in your design.
Cost: Starting at $49 to $89 a year or $249 lifetime
Exodus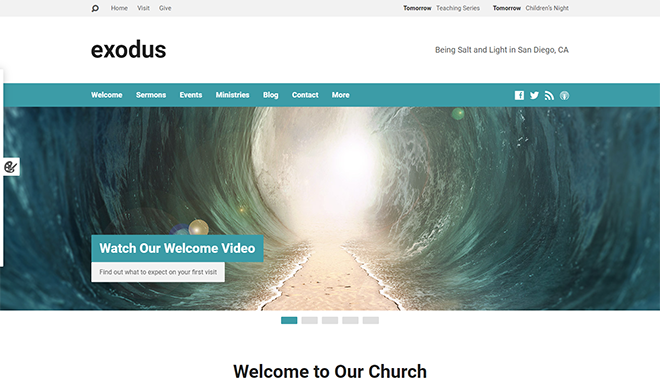 Exodus is a basic WordPress church theme that gets the job done.
It is a very light WordPress church theme. It uses a lot of white space and a narrow image slider to set the scene and a selection of soft colors to create atmosphere.
Along with some modern fonts and nice contemporary touches, this is an impressive design.
The demo includes events, sermons, an audio player, calendar, news, and a map. You could customize various sections to suit your design needs.
Cost: Three pricing plans for $129,$199,or $299 per year
Salient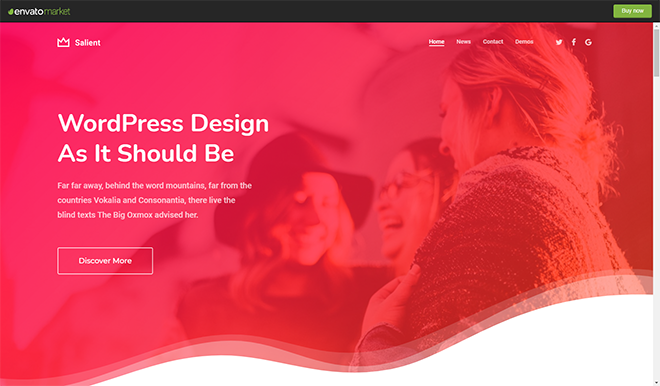 Salient is an impressive multipurpose theme hat offers numerous website templates that can be repurposed for churches and nonprofit organizations.
Its frontend editor and numerous elements included make page building into a enjoyable process.
While it does not have an exclusive religious or church WordPress theme, all of its templates are so stunning that can be turned into any vision with the help of its comprehensive customization options.
However, you need to also invest in certain plugins for your sermon management and events calendar.
Cost: $60 per license
Flash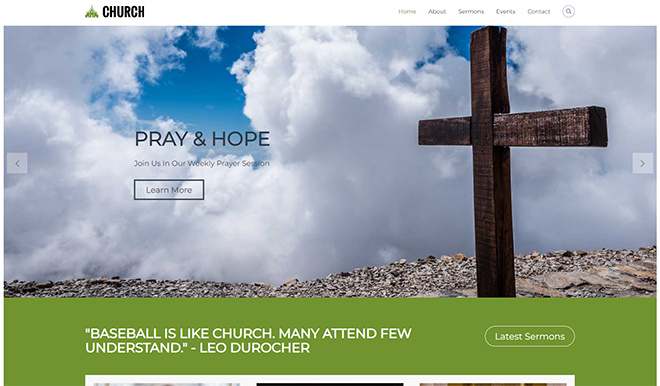 Flash is another light and simple WordPress church theme designed for a web audience.
It starts with a eye catching full page slider containing inspiring images and a call to action.
Below the page you will see service listings, sermons, events and a usable footer.
Colors are utilized to their full potential and leave out a lot of valuable white space, information is organized logically and the theme includes most of the features a WordPress church website needs.
There is one downside however, namely that it doesn't offer an in-built donation system so you will have to utilize a plugin for that.
Cost: $69/year for Flash Pro or $99/year for all themes; lifetime alternative included
Resurrect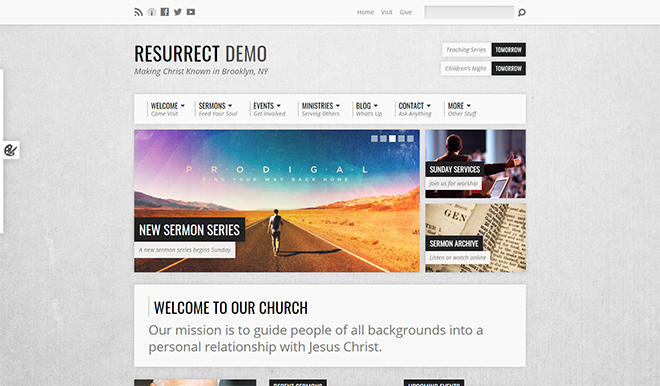 Another theme tailormade by the Church Themes team called Resurrect. Resurrect is a responsive WordPress church theme that's easy to customize.
Make your website match your church by choosing the dark or light color mode, setting a custom background and choosing your favorite fonts.
Upload your logo or enter your church's name as text and feel assured that this developer has thought of all your institution's needs and included them in the theme.
Cost: Three pricing plans for $129,$199,or $299 per year
My Religion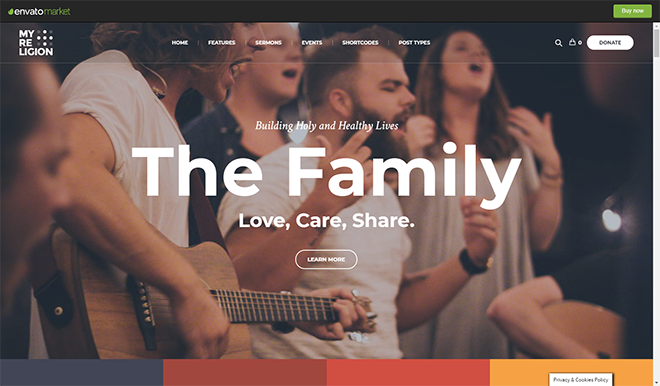 My Religion is another popular Church WordPress theme that is the perfect blend of traditional design and modern mega church vibes especially during this time where online events and community events are a necessity.
It has thought of all of your needs and comes with Sermon post types, donation, event calendar, and WooCommerce integration.
Cost: $59 per license
Jubilee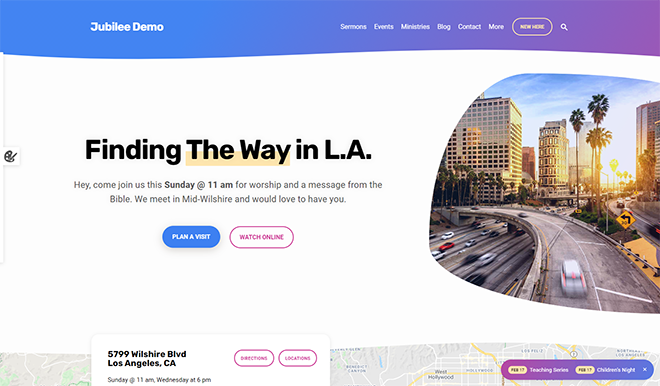 Jubilee is one of the number of WordPress church themes we have the pleasure of showcasing in this list. This template is bright and cozy and perhaps not what you might expect for a church website.
However, it provides all the features you need to take your church online.
This is a less restrained design than Flash but no less attractive.
The theme is light, welcoming and has attractive colors.
It also includes events pages, sermons pages, a helpful map, donation features and attractive page elements to communicate with your congregation.
Cost: Three pricing plans for $129,$199,or $299 per year
OceanWP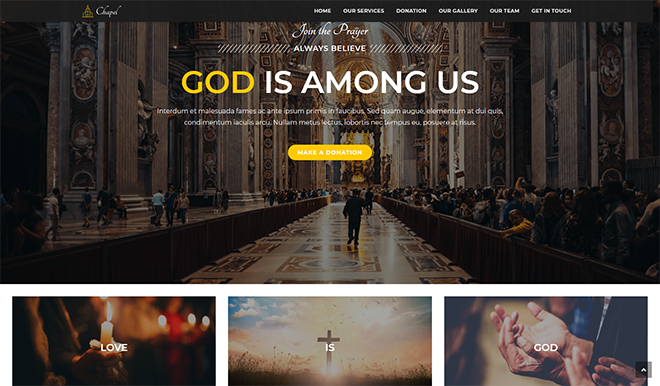 OceanWP is a multi-purpose theme with more than 80 demos. Maybe we could say that some of the designs are a bit too similar, but all of them are well-coded and modern.
They work on 4 different styles which are Blog, Corporate, E-Commerce, and One-page website.
It also offers over 20 different plugins you can purchase and use on your websites.
However, 13 of these plugins are premium ones.
It allows you to control how your website looks without ever getting very technical.
In our particular case, there are 3 church website templates made specifically for this purpose that take into consideration all the usual features needed in such a website.
Cost: $39/year or a one-time payment of $159 access all features (and top tier support)
Credo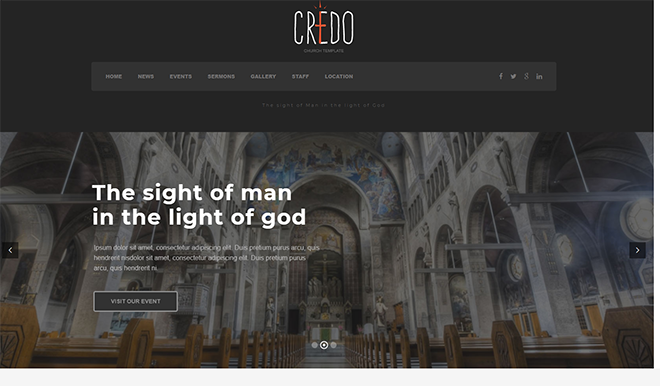 Credo is the right choice for an aesthetic church. Credo makes much more of an impact than these other WordPress church themes.
The combination of dark background and navigation and full screen image makes quite the statement.
A statement that could help convey your message very effectively.
The rest of the design is more relaxed, with alternating grey and white backgrounds, distinct content blocks for sermons, news, events, donations, people and contact.
There is even a newsletter form if you need one.
Cost: Flexible pricing plan starting at $79 for one license and $99 for three licenses and $199 for unlimited licenses
Church Theme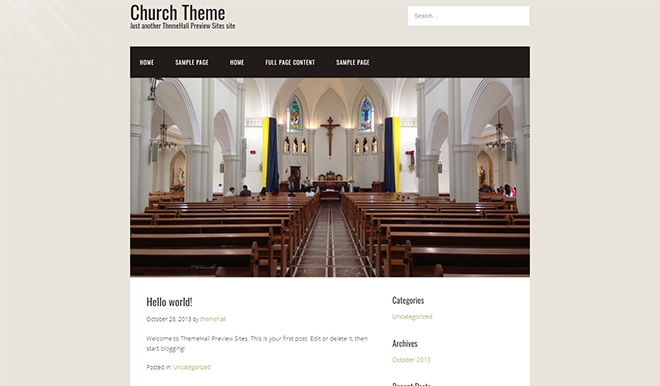 It is not easy to find a fully functional free church WordPress theme out there, but this one is not any free church theme for WordPress. 
Church Theme is a highly customizable, Responsive Omega child theme for WordPress. Church theme Inherits all Omega parent theme capabilities, extend WordPress Customizer for Custom Logo upload, custom header, custom background, custom colors, custom CSS live, wide footer widgets area, more.
The timeline for updates are not as clear for this theme so while it is an enticing offer, I'd suggest looking for other free themes suggested in this list and only going with this if it has really left an impression.
Cost: Free
BeTheme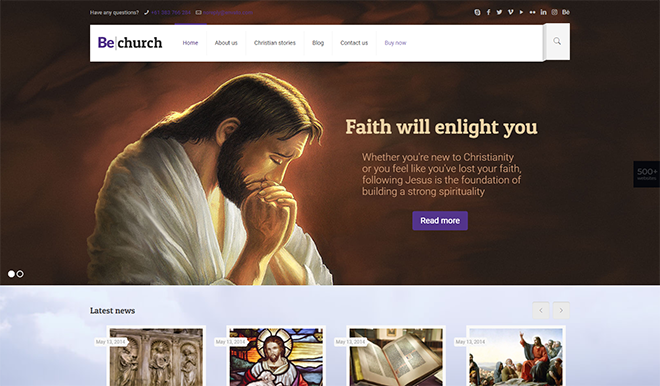 Our final suggestion on this list is another multipurpose WordPress theme that covers a wide array of niches.
BeTheme is a multipurpose WordPress theme that lets you get set up within a few hours.
While it has numerous templates and allows you to adapt them to suit your needs it has 2 church specific templates that take various approaches to design one a more traditional one while the other more brash and daring.
Since it is a multipurpose calendar all you need to do is install the plugins that provide the features you need and you will be good to go.
Cost: $60 per license
Ultra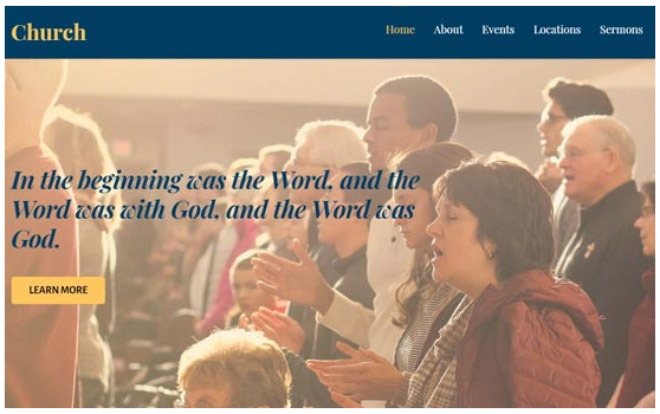 Another one of the light-weight and fast and smooth experience Church WordPress themes is Ultra.
It offers a lot of demos or ready-made designs for your Church website and also a lot of page templates, premium addons and etc.
It comes with the Themify page builder and gives you control over almost everything you want to edit from color to font and background of the pages and etc.
Cost: $59 per license
Neve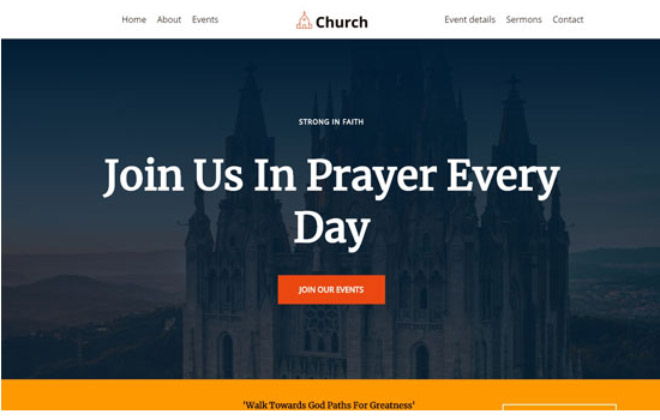 To be honest, Neve is not limited to church WordPress websites, and it is a great theme to create any kind of website.
It is super fast, responsive, flexible, light-weight, and got a great design as well.
You can customize its header and footer and it has layouts for those as well.
It offers lots of page layouts and integrations with the most popular page builders.
Cost: $69 per license
Maranatha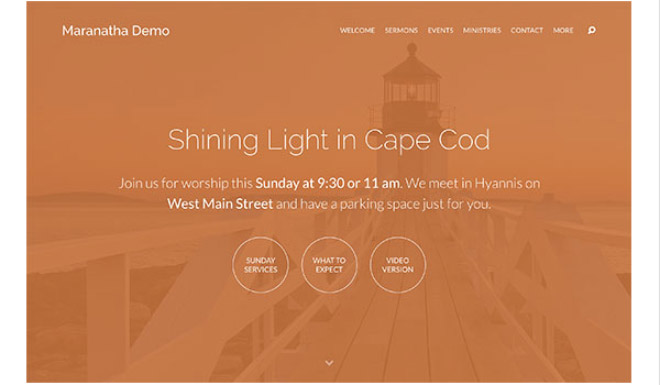 Another one of the professional WordPress themes is Maranatha. It has a great built-in sermon manager. You can upload your sermons, audio, video, and PDf files. You have the option to organize the sermons by books and topics.
Sections like ministries, events calendar, locations, and a church blog are all offered in this theme and this theme supports a lot of effects such as the parallax effect and etc.
Cost: $129/year
Salvation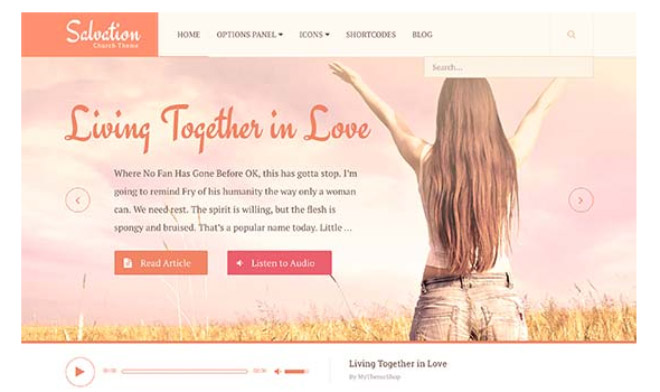 If you are a charitable organization and you need a religious website or a church website then Salvation will give you a beautiful design for your website. It offers custom widgets, event management plugin, and a donation addon.
It comes with a steaky header, drag and drop homepage builder and large slider, multilingual support, parallax effects, galleries, and carousel support, so a lot of options all in one package.
The WordPress live theme customizer is also compatible with it and you can use it to customize your church website right away.
Cost: $39 for unlimited websites
Final Thoughts
While we all know that churches and nonprofits in general rely on donations to stay afloat it is highly suggested to not skip out on a premium, versatile theme with excellent support since now more than ever the need to have a functioning service is evident.
Free themes get the job done especially with the help of third party plugins and a skilled developer but as evidenced by the low number of free themes suggested here is it better to go with a safe option.
All of the above mentioned are worthy contenders in this list and offer something unique either in terms of features or visuals but what your decision usually should come down to is the degree of support offered.
We hope our list of premium WordPress magazine themes helped you find one that will work great for you and your website.
Recommended Posts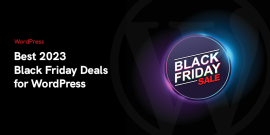 November 13, 2023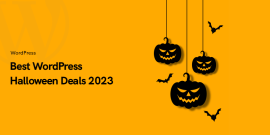 October 23, 2023