---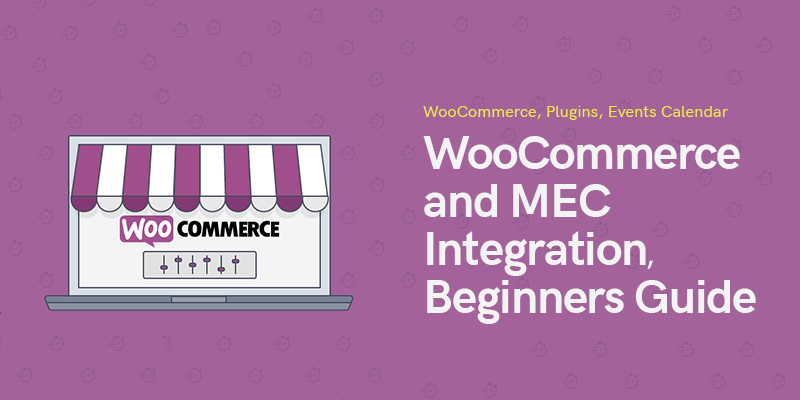 WooCommerce & Modern Events Calendar – Beginner's Guide
How To Sell MEC Tickets with WooCommerce?
Event management systems are becoming one of the essential tools for online businesses that helps them hold and manage their events in a straightforward approach. Due to the rapid growth and global fame of the WordPress CMS, many tools have been developed over the past few years for practical event management as well.
Modern Events Calendar is the best WordPress event calendar that provides users with a world of useful features. The plugin is not only equipped with the tools you need for managing your free and paid events but also advanced capabilities that can be added through multiple feature-rich add-ons.
Among these items, the WooCommerce event management plugin is a practical capability that lets you efficiently sell your tickets along with other products on your eCommerce website. This feature can help you hold paid events on your WordPress event calendar in the easiest way possible.
In this review, we will discuss the great features of this plugin and go through a step-by-step guide for installing and using the WooCommerce event management plugin.
Check 2019 in Review: Modern Events Calendar Growth to find out what happened to MEC in the previous year!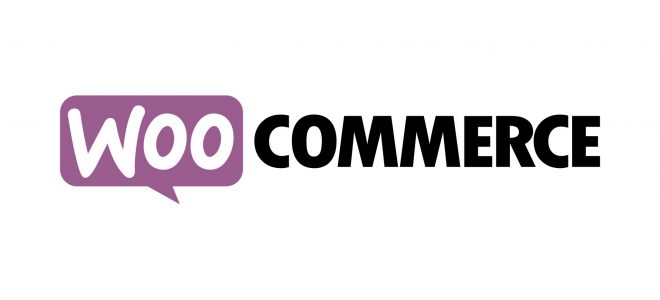 What is the WooCommerce Plugin?
WooCommerce is an open-source plugin developed for WordPress CMS. Back in 2011, the plugin was launched to help beginner and advanced users manage their online eCommerce websites effectively without knowledge of coding. It can help both small and large online product or service sellers to turn the basic operating system of WordPress into a fully-functioning eCommerce store.
The practical WooCommerce plugin now powers more than 25% of the eCommerce websites between the top 1 million stores across the globe.
The popularity of this plugin has increased dramatically over the years, and many popular websites with high daily traffic such as Small Express Expo, Blue Star Coffee Roasters, Jack Rudy Cocktail Co, and Deliciously Clean Eats are currently using it. WooCommerce has more than 5 million active installations on the WordPress plugins page.
Why is WooCommerce So Popular?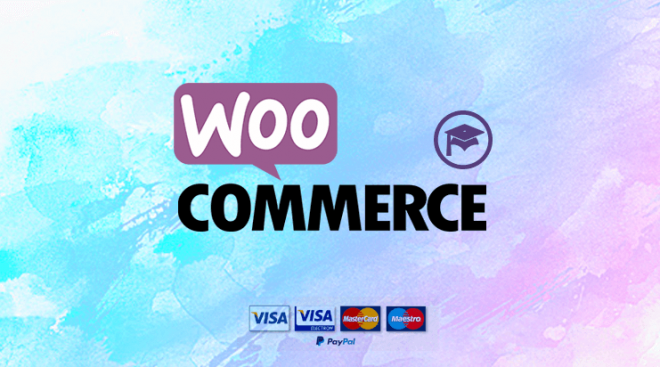 A bunch of reasons can be mentioned for the increasing popularity of the WooCommerce free plugin for online stores.
Open-source Software
Open-source programs have always been welcomed by users since people can easily modify and even extend the codes.
WooCommerce provides the same conditions for users as well, and it has had a significant influence on its popularity among programmers and developers. It is considered as an unlimited tool for managing online stores.
Free and Secure Tool
WooCommerce is a free plugin, and the underlying software of WordPress is also free, which lets you start using it without paying any money for purchasing licenses.
This plugin is backed by Automattic company, and you can be sure about its security in all aspects.
Extensible Tool
This modular plugin includes a wide range of official and community extensions. Many developers have published useful add-ons for WooCommerce, including payment gateways, membership management, tax calculators, etc.
These add-ons help you add a variety of features to your online store without any technical knowledge.
User-friendly Programming
Regular people without any knowledge of programming can launch the plugin and turn their website into a store in a few minutes.
You can easily manage your products, sales, and offers without having an expert developer around you.
Powerful Interface
The main focus of WooCommerce is to turn the process of setting up an online store into the easiest and fastest way.
The onboarding wizard can guide you through all the necessary steps, and you will be able to start your store in a couple of minutes.
Responsive Design
An increasing number of people are using their smartphones to make purchases every day.
This important trend has not been ignored in WooCommerce either, and you can enjoy this plugin on your cell phone and tablet in the best way.
Various WooCommerce Themes
A wide variety of themes are available online for WooCommerce that lets you control your store's appearance based on your general colors and designs.
Apart from these great functionalities, the WooCommerce plugin is a scalable solution that can help online businesses when they grow.
Many website managers face different problems when their sales increase, and by using this plugin, they won't need to choose a new platform for their needs.
Furthermore, you can use various tools provided by this plugin to make your products shine. These features include featured products, individual images, custom labels, and so on.
MEC WooCommerce Event Management Plugin Advantages

If you are using WooCommerce on your website, either for selling physical products or digital ones, you can synchronize your store with an event management system as well.
The developer team of Webnus has published a WooCommerce plugin that lets you provide a better experience for your users with basic and simple use.
Why Should I Use WooCommerce Event Management Plugin?
Below we have mentioned some of the benefits of the WooCommerce event management plugin for your website.
Using this feature, users will not have to enter their credit card details repeatedly and can quickly check out everything by making a single purchase. In other words, WooCommerce tickets will be defined as a product, and they can add them to their WooCommerce cart and pay for all in one transaction. This way, users can view all of the items in their cart and make any changes before the final checkout.
After activating the WooCommerce event registration tool, you will be able to include the "Add to cart" option in the payment methods of the tickets. It is an easy procedure that can be done by a simple click in just a few seconds. The name and date of reservations can also be viewed in the cart for easier management on the WooCommerce event management plugin.
WooCommerce events calendar includes all types of payment methods so that you won't need to have worries in this regard. Your audience can pay the price using Google Wallet, Bitcoin, Square, and other popular options.
How to Use the WooCommerce Event Management Plugin?
If you have already installed the Modern Event Calendar plugin and are willing to add the WooCommerce add-on, you should follow the below simple steps.
Don't forget that you need to upgrade your plugin to the Pro version to use premium features such as WooCommerce integration.
Click to read about Best WordPress WooCommerce Compatible Elementor Themes.
Purchasing and Installing the WooCommerce Event Management Plugin
First of all, you need to install the WooCommerce plugin on your WordPress website. You should search for it in the "Plugins" section of your panel, install, and activate it.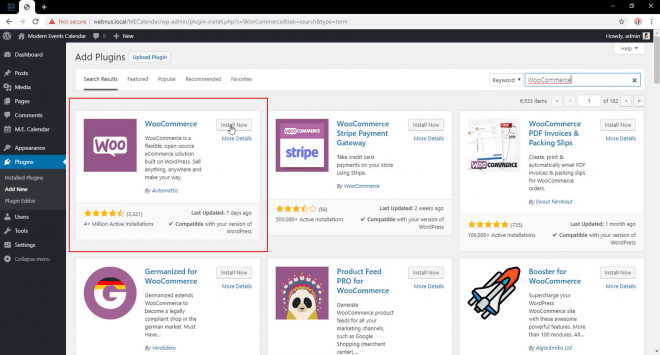 You can purchase the WooCommerce event management plugin license from the WooCommerce integration page on the developer's website.
WooCommerce Integration Addon
You can use the WooCommerce cart to purchase tickets, that means each ticket is defined as a product. You can purchase tickets and Woo products at the same time.
It costs you $35, and similar to their other products, you will receive lifetime updates for it.
Installing the add-on will activate the required features in the settings menu. You can do it from the specified page in the plugin's settings.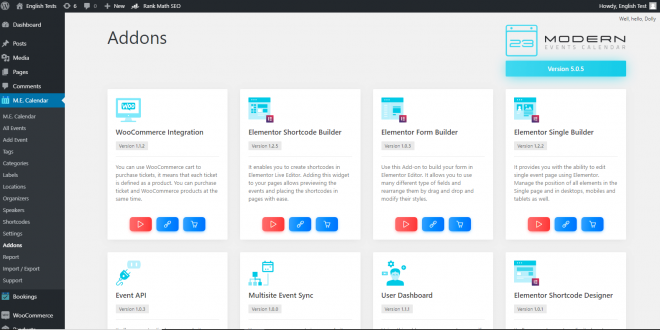 Alternatively, you can purchase the WooCommerce event management plugin from the website and install the .zip file on your site manually.
Activating the Booking Feature
Next, you should enable the booking feature from your MEC settings in the panel.
By doing so, the booking feature will be added to the bottom of your event information.
Payment Gateways
Now you need to select the preferred payment gateways for your tickets.
As you see in the picture below, you can choose from a variety of options such as PayPal, Credit Card, Stripe, and even paying locally. Here, we should activate the option named "Pay by WooCommerce."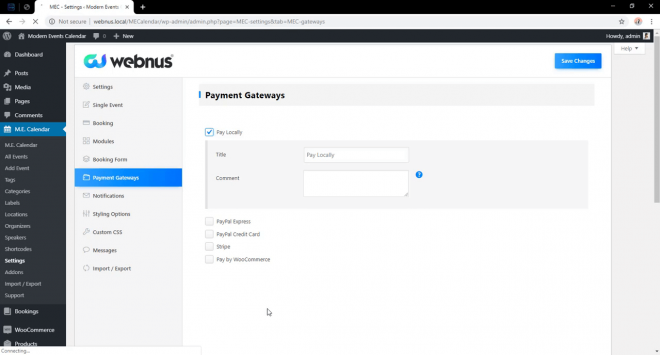 You can give it an optional title and then save the changes.
Purchasing Tickets Using the WooCommerce Payment Method
Now that you have successfully set up the configurations, you can easily define the WooCommerce payment method for your events.
After booking the event and entering the required information, you will see the option for paying by WooCommerce in the final stage.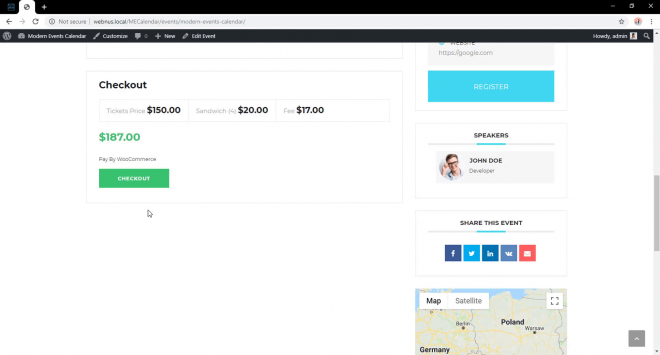 Clicking on the checkout button will direct you to the payment page, such as below.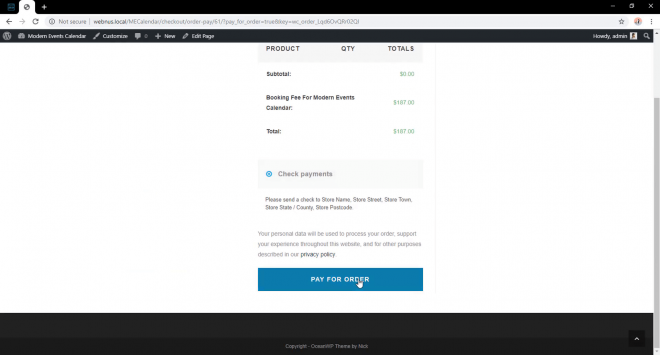 After proceeding to the next step, you will see the order's confirmation.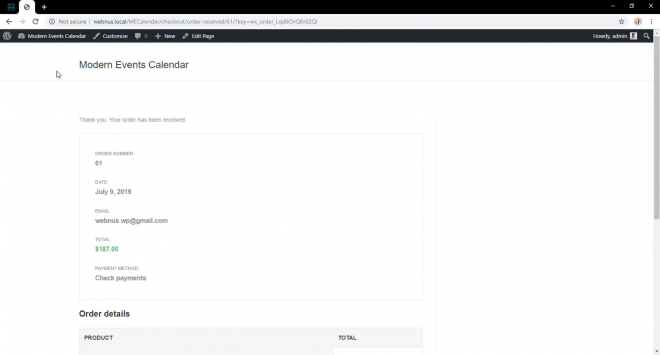 Moreover, if you have provided other payment options from your plugin settings, you can choose to add your tickets to the cart in the WooCommerce event management plugin.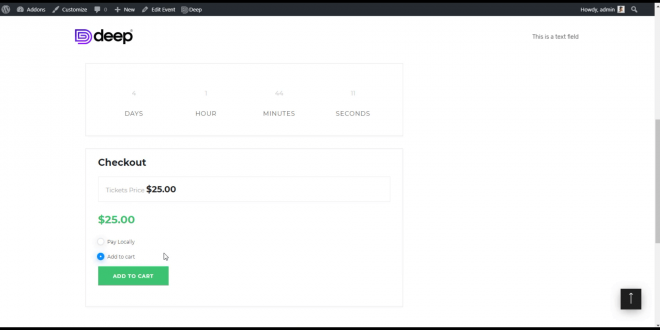 Choosing this option directs you to the shopping cart page in which you can finalize the purchase.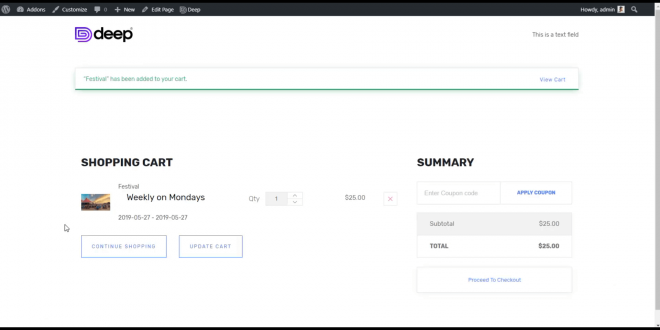 You can either proceed to checkout in this stage or add other items and make a final purchase in the end.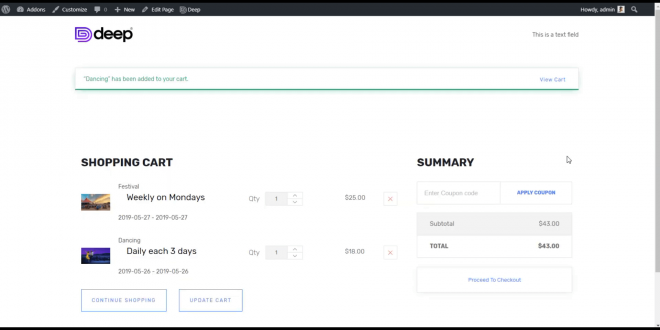 As mentioned earlier, your booking tickets of the WooCommerce event management plugin will be added to the cart, just like other products. For instance, you can see the below picture that includes other products from the online store.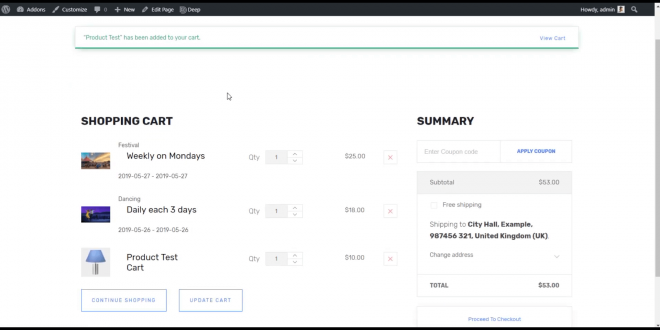 Checking the Status of Orders
You can check these orders in your Bookings section of the MEC plugin, as you see below.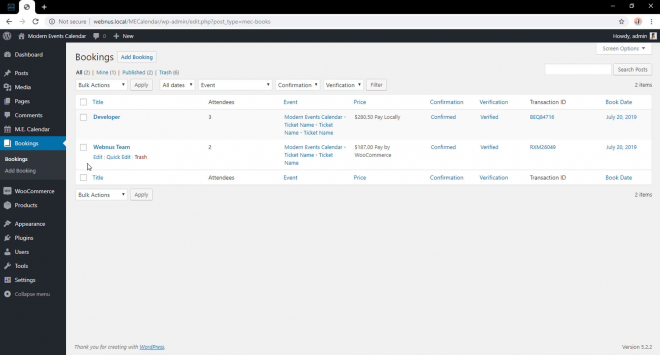 Clicking on the "edit" button opens the details of the WooCommerce event management plugin bookings for more information.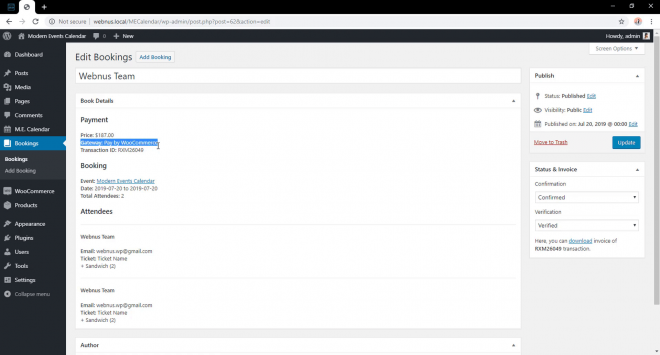 For orders with more than one item, you can likewise see the complete report and edit the info if necessary.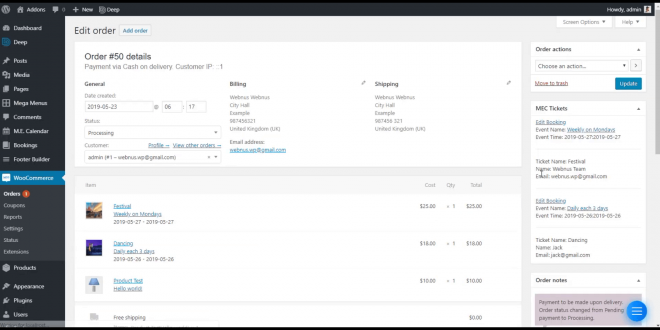 To Sum Up
WooCommerce event management plugin is a practical tool that can be added to your Modern Events Calendar plugin for managing ticket sales in a more straightforward approach.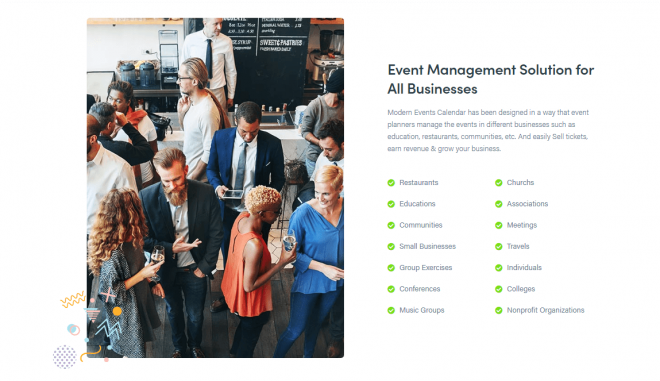 Using this add-on that is available on the best WordPress event calendar will provide your website users with the capability of adding their tickets to their shopping cart as a separate item.
This solution helps them have a more convenient experience of buying products from your website.
Recommended Posts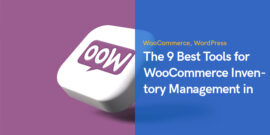 August 30, 2022