---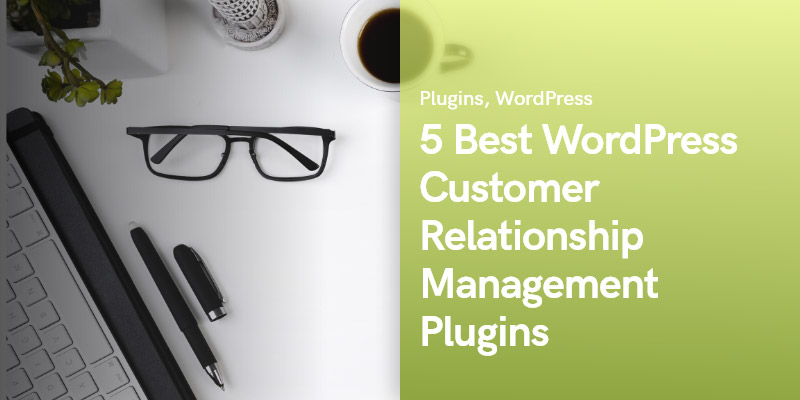 9 Best WordPress CRM Plugins 2023
We're here to reveal the 5 Best WordPress CRM Plugins in year 2020. What is WordPress CRM Plugin?! Many confuse the utility of the word "CRM" with "CMS." CMS stands for "Content Management System" – think of WordPress as one – and CRM is short for "Customer Relationship Management" – like the "Crisp" software.
While these two don't land far from each other in terms of application and some similarities can be pinpointed between them, both serve unique and distinct purposes, and they are used separately, until the dawn of the WordPress CRM Plugins.
CMS, which many only recognize it by WordPress, one of its many components, is the virtual face of any business, the dazzling graphical amazement encrusting the face of an online shop or service provider.
Nowadays, businesses need to have a content management system to showcase their work, but, in the meantime, wouldn't they feel more satisfied and relaxed to have a customer relationship management tucked into their CMS software? Won't that be a sight to see? The answer is a big fat, YES!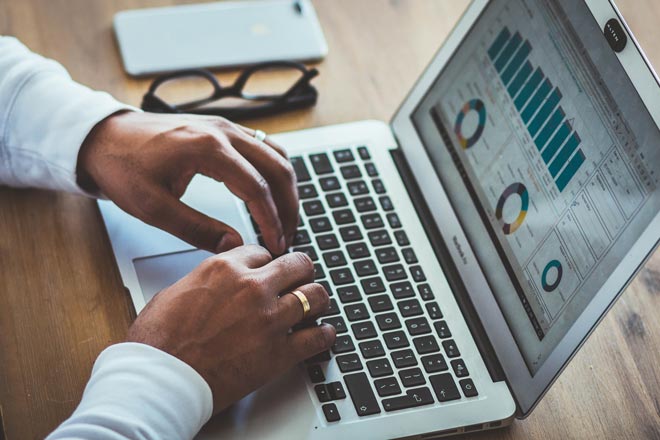 Many modern WordPress and websites – like our Deep Theme product and WP plugins – are compatible with having a CRM plugin installed into them right back of being deployed and activated, and, with the advent of theses game-changing plugins, WordPress scales exponentially and becomes the first priority for many online businesses.
As we speak, hard-at-work developers put their full force into coming up with a plethora of professional plugins to boost up the manifesto of WordPress CRM Plugin – ready to integrate customer management tools into the robust content management system.
Check this out: Best WordPress Plugins You Must Have on Your Website
Therefore, today we are going to introduce some of the best WordPress CRM plugins. Knowing the above facts, what are the top WordPress CRM Plugins you should acquire? Working with which one is a blast and which are the ones that dump an unnecessary and unwanted load on your WebPages?
Best WordPress CRM Plugins 2020
By jazzing up a list of Top WordPress Plugins in the world, we give you a hand in deciding which one better serves your needs, but the final decision lies entirely on your judgment.
HubSpot's All-in-One CRM Plugin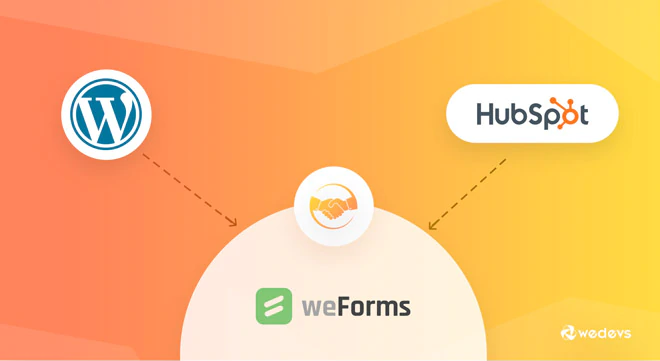 This terrific tool which is our first choice in best WordPress CRM plugins list gives WordPress users easy and limpid access to HubSpot CRM to have better control over customers, following-up on leads, straightforward tracking, and etc.
As a pro to the plugin, users receive a free form builder out of the HubSpot plugin that can tally up visitors' votes and submissions and sync them. This handy feature even works with other tools like Ninja Forms or Gravity Forms to automatically convey the results (leads) to the user's contact list.
More features:
Building up pop-ups, embedded forms, and banners.
Stocking up chats, without the need of a button-push, into the CRM using "Live Chat" or through chatbots. This comes in handy, especially in personalizing conversations at different levels.
The HubSpot plugin searches the web to fill in the gaps in a contact's criteria and enrich the data. Through this helpful built-in analytical feature, some safe information like a person's job or social links gets added to their profile.
WP Fusion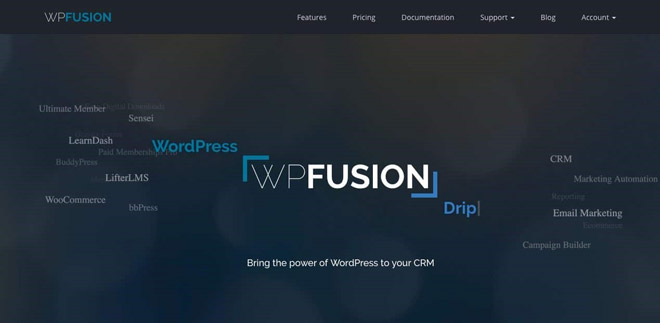 WP fusion comes into the picture as the second choice in our best WordPress CRM plugins list, especially in the time when users need to build a membership site and keeps all the information of a customer in sync (subscription automation), follow the tail on leads, or have a read on transactions. With WP Fusion, you get the following useful features:
Synchronizing of all data in CRM with CMS (WordPress) data.
Utilizes tags from user's CRM to create hassle-free membership websites.
Simplifying the integration with LMS systems (Learning Management System) such as LearnDash and LifterMS
Tracking of the level of media engagement, and student progress
Gives users access to content with CRM tags
DX Sales CRM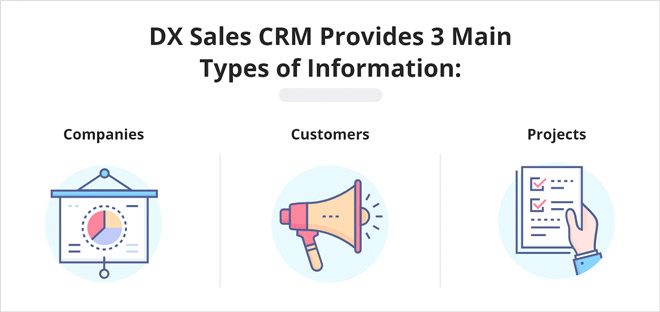 Straight off a new line of WordPress solutions, as one of the essential tools to keep track of sales, and our third option in best WordPress CRM plugins list, the DX Sales CRM empowers businesses and teams. This gateway-to-better experience was developed by the DevriX team, which has a strong and steady hand in the development of WordPress tools.
DX Sales helps users have a tighter grip on their business and to stay on tune with what's happening through a dashing number of time-saving and enhancing features which are sorted out below:
Locating information of customers
Offering a primary spot for the user's contacts and leads
Building up progress reports from scratch even in times when it detects that they are going to be closed
A super flexible and natural interface which spares users from spending enormous amounts of time learning the plugin
The power to effortlessly assemble customer database.
vCita CRM Plugin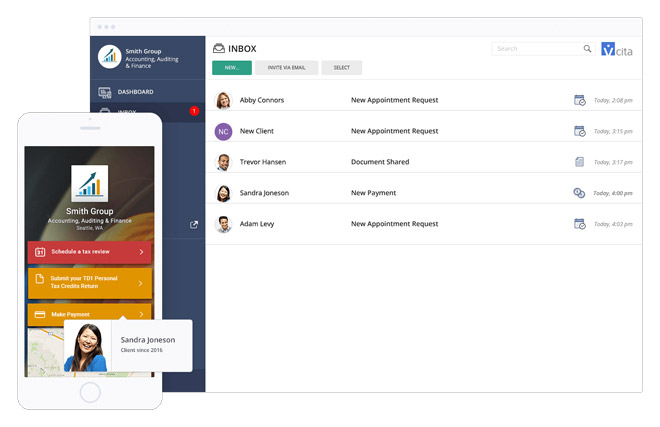 Get more conversion and build a stronger online presence with the easy-to-add with vCita WordPress CRM plugin. With these plugins up and running on your CMS system, as the fourth selection in best WordPress CRM plugins list feel the kick in online scheduling, manage online payments, create contact forms, bask in secure file-sharing, and so much more useful features.
vCita plugins are easy to set-up and even more comfortable to make use of; no complicated and time-burning code-writing or programming are asked of the user, and, to everyone's comfort, the plugins can be personally customized which is something rarely seen in other tools.
Let's take a look at the features that fly with WordPress website themes and designs:
By adding a "schedule button" to display on the WP website, users can present the customers with services, fees, locations, or staff member information. Further on, customers can set up an appointment or book a service from the website.
vCita helps users by displaying up-to-date staff availability and synchronizing existing calendar data.
Online payment forms are another feature of vCita that grants users the ability to quickly navigate customers to the billing page with speedy elements, which enables them to finish the payment in a matter of seconds.
An online invoice template for companies or individual freelancers to document and send their bills via email or other channels.
A free HTML contact builder awaits vCita users. An unbelievably easy-to-run, drag-and-drop form builder tool to aid users in lashing on leads and keeping track of them.
A specialized contact manager to track clients, appointments, and communications.
The Lead-capturing call-to-actions help users catch more leads, greet visitors and invite them to perform an action, and reorganize customers on the website.
UkuuPeople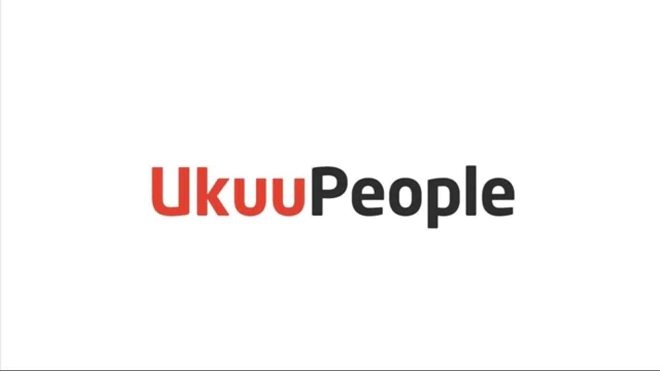 If you're aiming for simplicity, then UkuuPeople is the way to go. UkuuPeople keeps everything smooth, simple, in-few-clicks, and fun to use. With a long list of streamlined features, no doubt is left wondering around our heads as to why UkuuPeople shines as a 5-star tool, despite having less than impressive total numbers of installs.
UkuuPeople specializes in creating well-developed master lists. Performing the same as Google Plus and a newcomer to the list of WordPress CRM plugins, users can choose part their clients into different "tribes" (groups) of shared interests or views.
The unending stream of add-ons UkuuPeople boast of promises massive in-depth integration, too. Here's a closer glance at what awaits us:
Automatically collecting details and interactions
Viewing upcoming events and schedules
Variety of popular bundles for single-minded or multi-purposed websites
Keeping up and sharing communicational activities and contact details
Extremely close and secure email list building integrations
Groundhogg – Marketing Automation & CRM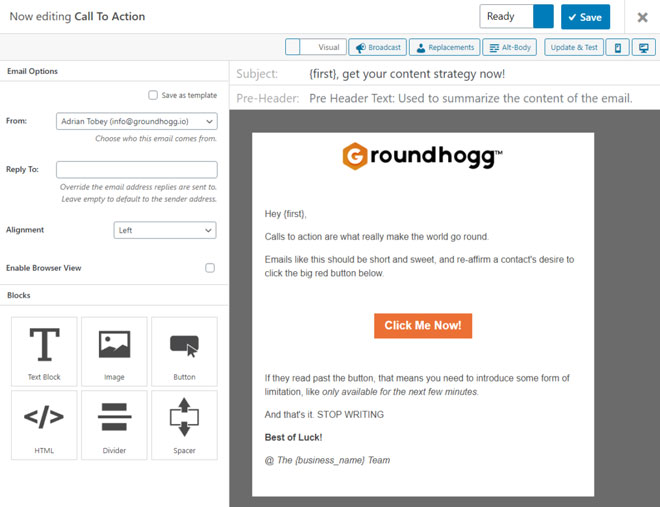 Fasten in your seatbelts because Groundhogg is a self-hosted CRM and Marketing Automation plugin to simplify and automate user's sales and marketing plans performed on WordPress platforms to save them valuable time and money while giving them faster results.
With Groundhogg, users benefit from a more seamless revenue income and build their lists. Through these tools – which, by the way, is one of the best WordPress CRM Plugins out there – business owners and companies can set the path for their customers where nobody gets stuck and experience state-of-the-art sales technology.
With this fantastic plugin, don't ever again wonder about having CRM, Email marketing, SMS marketing, funnels, and much more in the same space; enjoy working with them simultaneously.
Groundhogg comes in two separate payment forms; a free version and a premium business model. Through the free version, users get their hands on some features like form building, sending out personalized emails, categorizing contacts, and tracking customers without any barrier blocking the way.
For those who pay up, which can happen before or after the installment of the plugin, 40+ extensions can be downloaded from the Groundhogg website to integrate some of the most popular WordPress plugins and services. Also, new futures too fly in with the payment like tracking payments and conditional funnel logic.
Now, let's see what Groundhogg proves most valuable for:
Gathering unlimited customer data
Clients relying on completely self-sustained plugins (all the data belongs to the client).
Integration with WordPress plugins such as WooCommerce, Gravity Forms, LifterLMS, and many more.
Rise of membership retention rates
Automating the customer adventure
Profiling subscribers
· Improving E-commerce sales
UpiCRM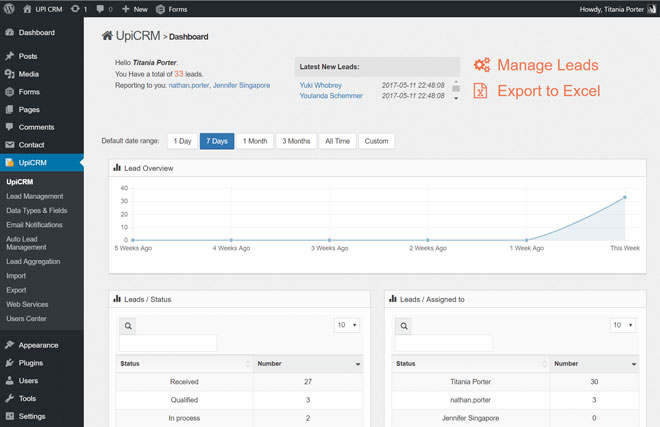 Having not to pay a single penny, UpiCRM plays a major role for users who want to have a free WordPress CRM and lead management solution altogether. Despite being new to the market, UpiCRM is getting quite the buzz and has reached more than 1000 active installs already. It's scored 4.8 out of 5.
Through this excellent WP plugin, users gather and manage form entries. Additionally, they can track, collect, and protect their leads and forms from any online hazards. UpiCRM gives them the power to stash inbound leads in a centralized location, aggregated from multiple sites, and associate and distribute leads to partners/team members.
Also, UpiCRM doesn't disrupt the work of currently-installed WP contact form plugins such as Gravity Forms, Contact Form 7, and Ninja Forms.
UpiCRM proves itself as one of the essential WordPress CRM plugins by guiding clients through the trickery steps of mapping databases/forms fields from their existing website. It provides an advanced yet masterfully easy, semi-automatic mechanism to create a new central and unified database out of one's leads.
Some of the other UpiCRM features include:
Enabling teamwork and collaboration; by guiding leads to specific marketing, sales, and executive teams, UpiCRM takes the concept of teamwork into the next level.
Tracking leads and sourcing them up through the closing process.
Dashboards and KPIs; inform the client on their current funnel and predictions through its professional yet aesthetic dashboard menu.
The ability to trace traffic sources for leads, including custom UTM parameters
Providing a multi-server environment, UpiCRM can be manipulated to act as an aggregator of leads from multiple destinations.
WordPress Leads

People who want to pay more attention to details, and each person's behavior usually opt for WordPress Leads. This way, they can track individual interactions and what their customers are after on their website and how to turn them into loyal partners.
With a user-friendly admin panel accessible from the left menu, and the ability to store contacts as custom posts within the WP panel, WordPress Leads bought its place among other plugins, elegantly and swiftly.
One of the key features of this plugin is displaying leads activities even before they submit a form. It also collects geographical and social data alongside websites for each contact to accelerate decision making and to soften the complexities of understanding customers' mindset.
As told above, getting access to each contact's social media habits unlocks a new pattern of how to get them involved and interested. For example, if a client realizes that most of its customers run loyal and alive twitter accounts, they might decide to put time and effort into campaigning or promoting their service or product on twitter.
Unlike some plugins that need to use their form shortcodes, WordPress Leads integrates with any contact form tool. If you're looking for more advanced features and reporting, this plugin may not fit the bill. But it does provide the option to integrate with third-party CRM tools.
Here are some of the highlights of things you can do with WordPress Leads:
Sync leads with third parties like Zoho
Easily view, search, or even modify leads (contacts)
Gather demographic data
Learn about referral traffic
Keep tabs on pages your leads visit
Integrate with more than 36 CRM providers
Integrate with more than 39 email service providers
Enjoy a geolocation service that collects additional information
WP-CRM

WP-CRM is another excellent CRM solution for WordPress websites. Aimed at managing clients with a wide range of extra features, WP-CRM reached 5000 active installs with a shocking 3.6 points out of a 5-point rating.
The plugin saves contacts in the WordPress database. Users can add contacts manually or capture them automatically through a lead generation form on their websites.
If you're uncomfortable with the idea of your prospects and customers being designated as users, you may rest a little easier knowing you can specify the default role that's assigned to them.
The lead forms are easily customizable. Not sure what lead data you should be collecting? Check out these 9 mission-critical lead generation metrics you need to track.
Advanced options also let you specify which fields are required. With WP-CRM, everyone can conveniently edit forms and manage contacts from within their WordPress admin panel. Records of each contact can be categorized by contact type and have a correspondence thread, so keeping track of every interaction gets super easy.
One plus with this plugin is the support options. Usability Dynamics has a robust support forum on their website as well as a LinkedIn group.
With WP-CRM, you're the owner of the information you collect through the plugin. Without the fear of your information being channeled by third-parties, you can store the designated data and manage it directly via the WordPress Dashboard.
Another benefit to WP-CRM can be associated with its simplified contact and project management. This plugin shows no resistance in integrating with other apps and software and works exceptionally with MailChimp accounts.
Some other features are shortlisted as follow:
Invoice feature for those who want to get paid instantly
Campaign management, from start to the end
Developer friendly – Experts with a knack for coding can customize this plugin, with the utmost ease.
Transparent pricing – With no per-user costs or limitations, the WP-CRM team goes way beyond ordinary limits so you won't have to nickel-and-dime every time you add a new contact.
Reporting at a glance – You never have to wonder how your business is performing. See upcoming deadlines or due dates, and get a big picture overview of all your projects with our built-in reporting.
Wrap-up:
Which WordPress CRM plugins you choose to invest in and pin on your website, that's entirely up to you. However, keep in mind that installing too many plugins won't do you any favors, and you have got to choose the most suitable one.
Know your business and website needs, whether its customer tracking, lead mapping, subscription recording, sales, marketing, and even for the purpose of Search Engine Optimization, and pick your tool accordingly.
These plugins are the best of the very top and with them, comes a variety of quite useful and game-changing features – which if chosen wisely – can completely rejuvenate your online appearance and pump up your revenue – and if not – they can leave a stinking hole in your pocket and in dire situations, the downfall of your dreams.
Recommended Posts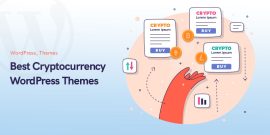 May 29, 2023