---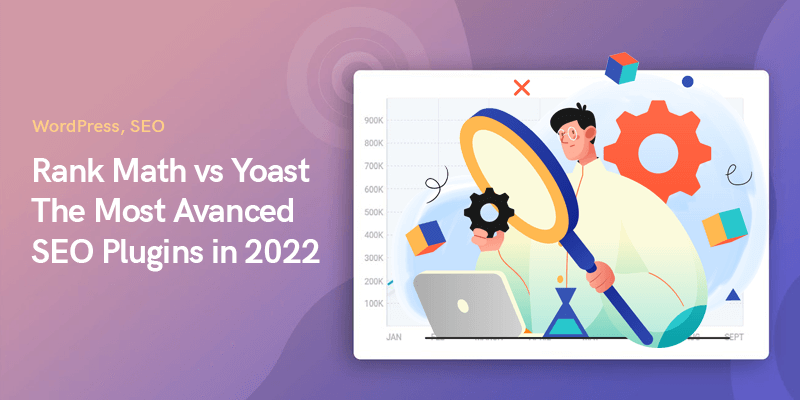 Rank Math vs Yoast SEO: The Most Advanced SEO Plugins in 2023
Search Engine Optimization (SEO) is a fundamental element for any online-related business in the modern world of today.
It furnishes individuals and organizations with the essential visibility they require to own for drawing their customers' attention towards their activities.
But, what does SEO mean and how can it make overall improvements for a website and social media?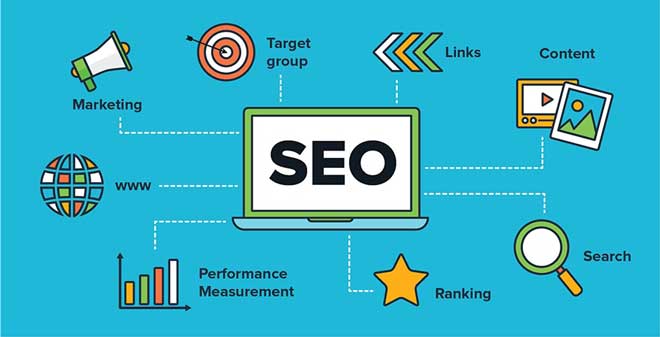 In this article, we will be discussing this indispensable component of the web and present Rank Math, a must-have tool that can assist you with your website growth significantly.
In another part, we will review Rank Math vs Yoast to see which of these apps is a better nominee for the best Search Engine Optimization assistant.
What does Search Engine Optimization (SEO) mean? How can it be useful for online platforms?
The abbreviation SEO stands for Search Engine Optimization. As the phrase represents, the related practices cover all the boost that any online content needs to get to its rightful place on the Internet.
It is somehow all the techniques and strategies taken to boost your Google ranking and be displayed on SERPs. There are a lot of blogs that follow top SEO trends 2019 or 2020 and present their audience with this information. It just needs a bit of googling.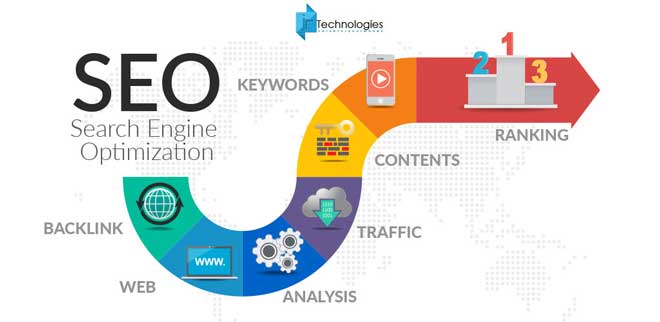 People often use search engines to find what they are looking for. Google is the most visited website across the world which holds about 90.46 percent of the overall search engine market shares.
According to statistics, people who have access to the Internet, use Google's website at least once a day, and there are over 3.5 billion searches performed daily on this website.
Search engines like Google and Bing, utilize search algorithms in order to find and prioritize the most relevant websites by the search term. And the noteworthy result from this is that the website Google ranking at the top takes away 70% of all traffic.
The more chances your content places on the first page, the more audience you will get. This is precisely where the Search Engine Optimization (SEO) principles can help you. In the competitive world of online businesses, the corresponding criteria are highly dynamic and could sometimes be frustrating.
Having up-to-date information about the relevant tactics is mandatory if you wish to apply them to your needs adequately.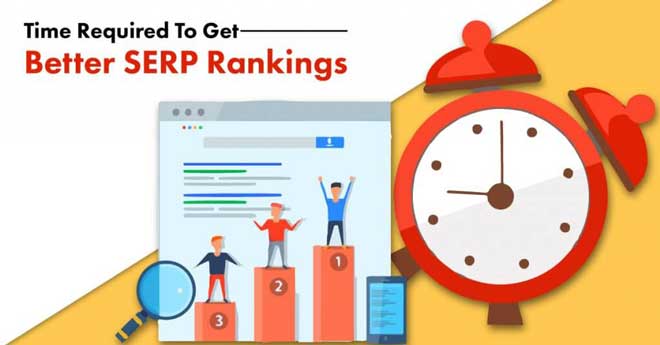 Being recognized as a reliable source by Google or other search engines is the key to success for any brand and career. Achieving this goal is only possible by having a well-established online media with quality SEO.
There are crucial elements regarding Search Engine Optimization or SEO. Keywords, content, off-page SEO, local SEO, and Search Engine Marketing (SEM) all have a significant impact on the overall result.
A good SEO can increase the visibility and rankings of modern businesses, as well as an increase in web traffic, and authority.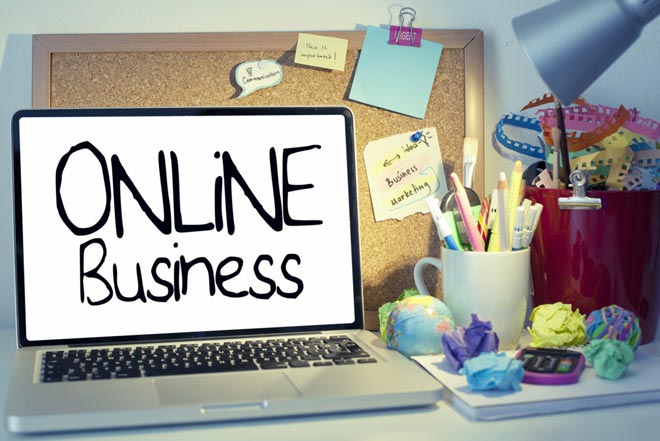 All business owners should keep in mind that their competitors are already applying Search Engine Optimization practices to their website. The rivals might steal the business from them in case they fall behind in this competition.
No website can stand without a strong backbone. And that backbone is technical SEO.
Neil Patel, founder of the Neil Patel website
The World of WordPress And Search Engine Optimization
Over the past decades with the expansion of the Internet and online businesses, the need for having a website increased dramatically. Not a long time ago, you had no other option but to hire a web developer to launch a website for you.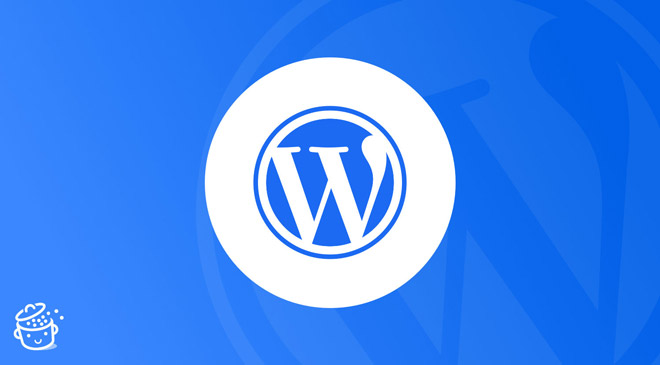 However, after the emergence of online website creation tools, the procedure got much easier. One of the most powerful and easiest tools is WordPress.
It as an open-source content management system (CMS) that is based on PHP and MySQL and lets people own and manage a website for different means without having to know how to write piles of code.
WordPress is mostly used for blogging (its primary purpose when first launched) but has advanced to be used for other kinds of web content, too.
These purposes include conventional mailing lists and forums, media galleries, websites intended for membership, learning management systems (LMS) and online stores to buy digital and real products.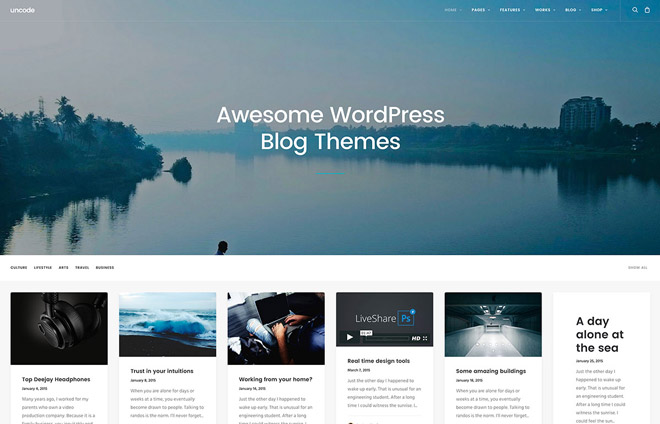 Ease of use, complete customizability, synchronization with other platforms, and tons of available online support is what makes it favorable among users.  As of June 2019, WordPress is utilized by 60.8% of all the websites in which the content management system is recognized.
Plugins are one of the most important features in this CMS. WordPress's plugin architecture allows users to extend the functionality of a website or blog.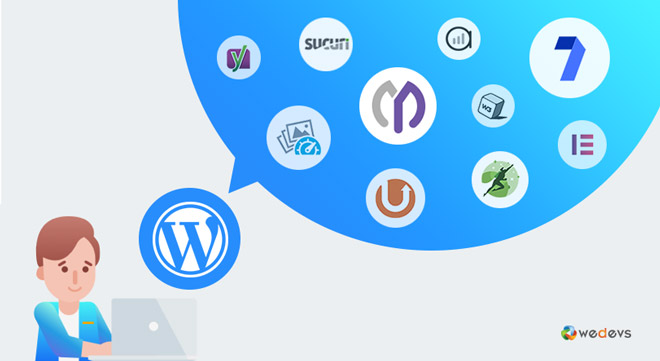 In June 2019, WordPress.org had 55,131 plugins available, each of which offers custom-made functions and features. These plugins enable users to customize their websites according to their specific expectations.
SEO plugins on WordPress
When creating a WordPress website you should consider the importance of Search Engine Optimization in any type of website you are creating.
Various plugins for this purpose have been published by programmers on the WordPress website.
The most prominent one is called the Yoast SEO which has over 16000 5-star ratings and its features and integrations have been tested out for years by thousands of users.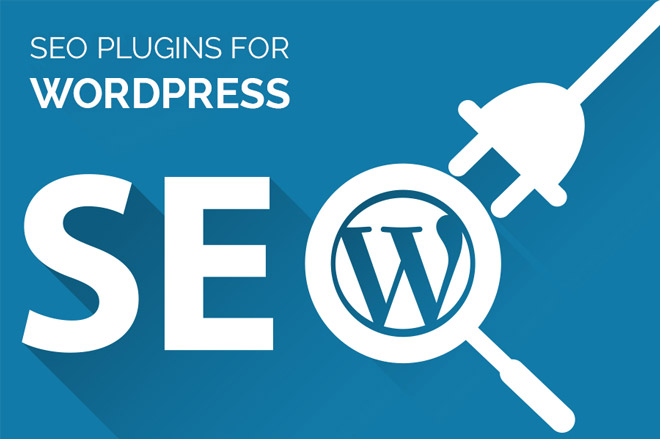 However, some lesser-known alternatives exist that work as great and offer a number of features to manage your page SEO.
Rank Math is the choice that has attracted many users recently, and we have written a review of its features in the next paragraphs.
Rank Math, the new game-changer SEO plugin
Rank Math is a revolutionary new plugin that is going to change the conventional way of doing search engine optimization on WordPress websites.
It is created by the team of MyThemeShop website that has been a great source for premium WordPress themes.
The plugin assists website owners to do more on this front and make their on-page SEO easier and to a great extent, more efficient.
The developer team has done a great job over the past few years and calls their useful plugin the "Swiss army knife of SEO tools for WordPress." You'll notice soon that this title is well-deserved after installing it on your website.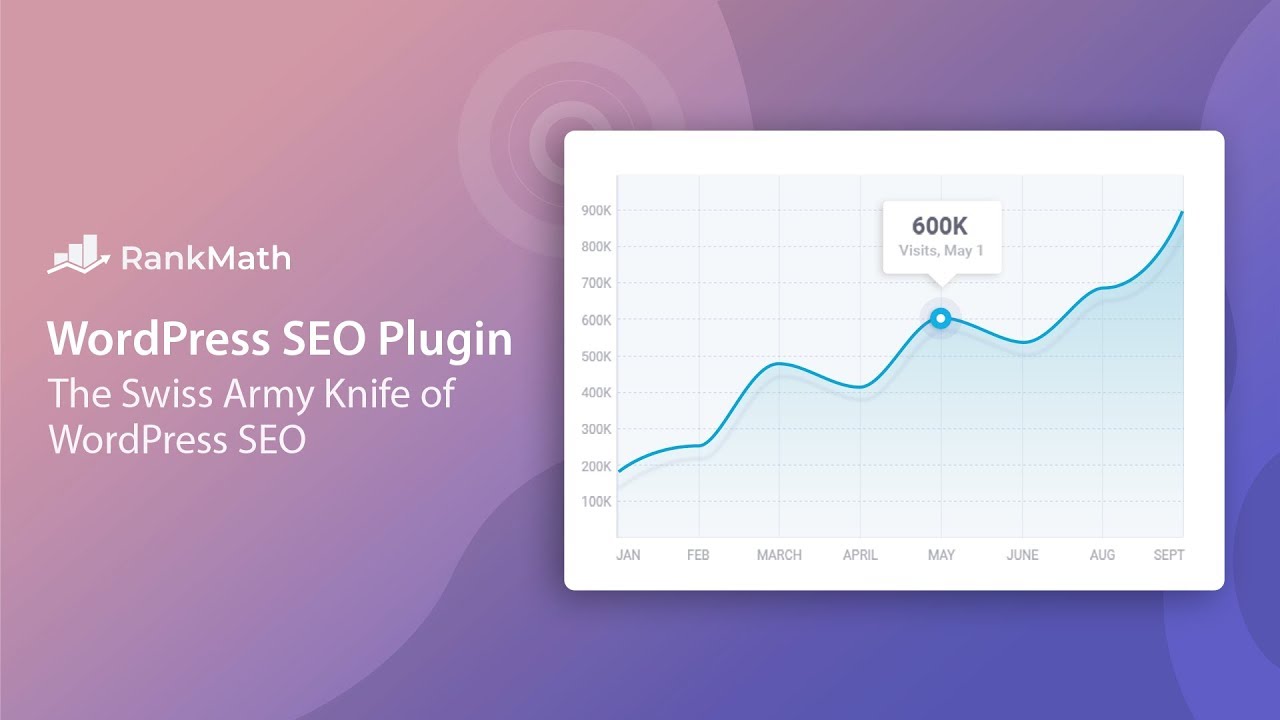 The plugin has more than 100k active installations and the team has perfectly covered all the fundamental features that someone could ever need.
In other words, it is a versatile tool that performs many of the tasks that an SEO team can do for your website. Yet, you need to keep in mind that none of the plugins can guarantee the favorable overall result that you expect.
Let's have a look at the perfect attributes of this plugin:
1. User-friendly design
People ignore design that ignores people.
Frank Chimero, Designer
It seems that the UX/UI team has kept important principles of design in mind and put so much time and effort into the interface of this plugin. The result is a clean and simple UI that presents the right information to you at the perfect time.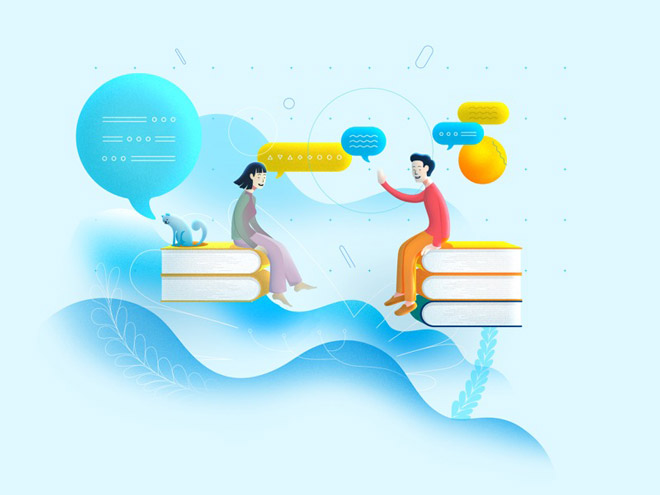 The powerful user-interface focuses on the major parts of your posts which also provides advanced snippet previews.
Not only the preview of your webpage in search engine results but also its appearance on social media can be viewed right below the WordPress editor.
It is also equipped with a scoring system that determines the web page's optimization on a scale of 0 -100.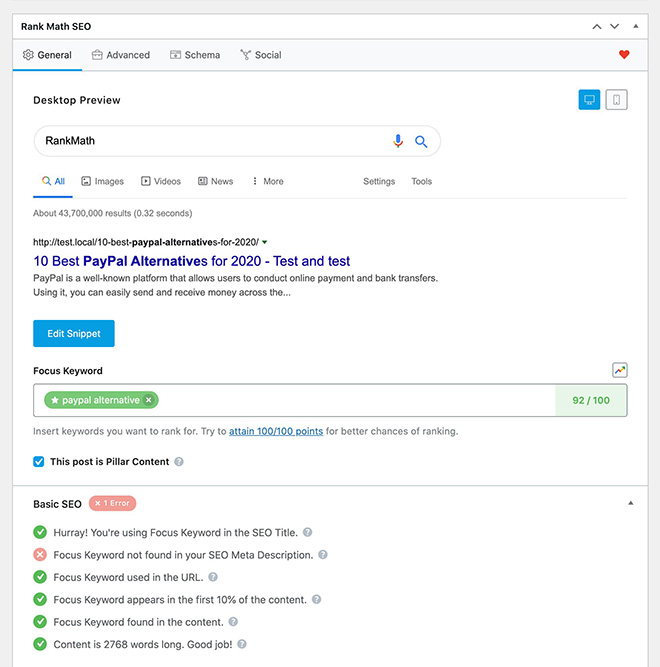 2. Easy Installation
The plugin is developed in a self-configuring method by providing simple installation steps. The smart wizard analyzes your website and recommends the best possible settings accordingly.
By following the progress, all the SEO settings including social and webmaster profiles will be set up and ready to use with the help of the auto-configuration feature.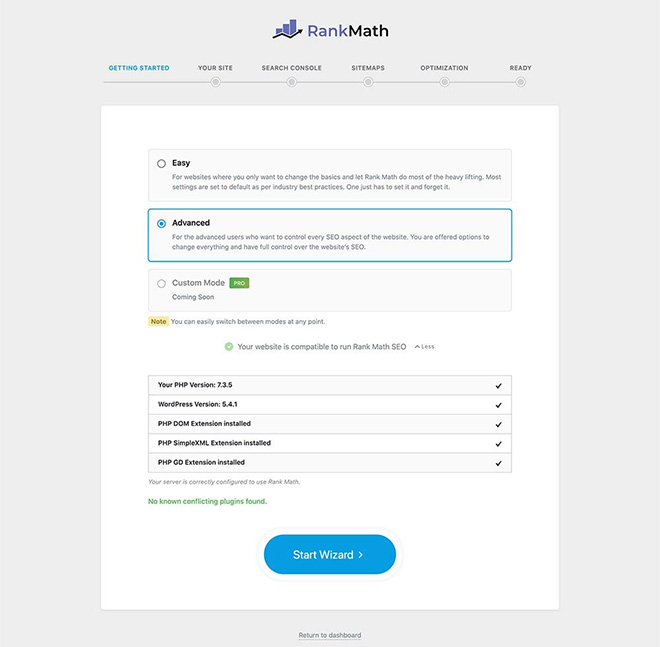 3. Modular Framework
The plugin is built upon a modular framework that enables the users to keep what they want and disable other features by a simple click. SEO control modules can easily be turned on or off at any time.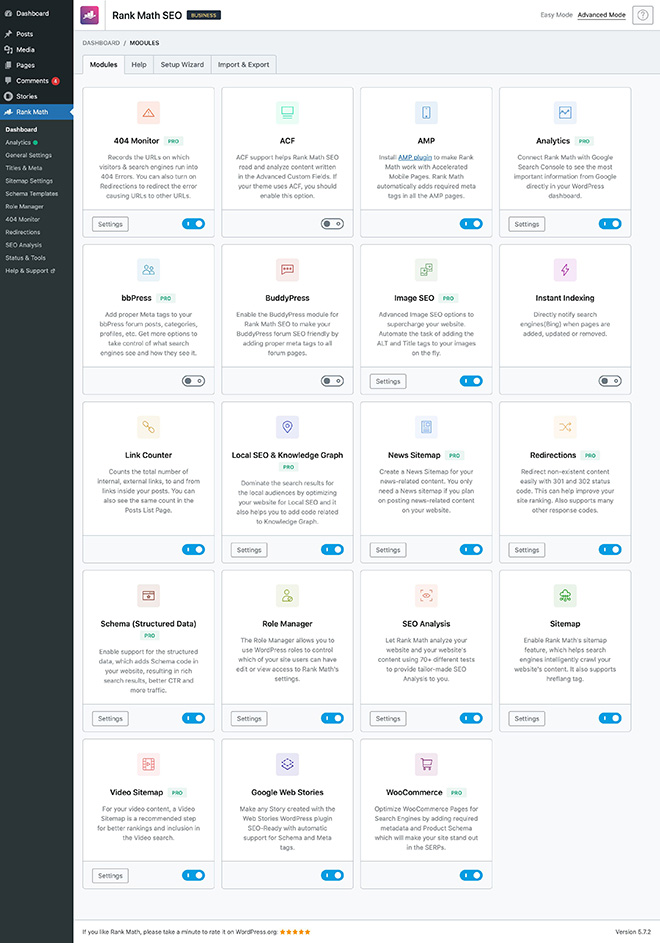 4. Rich snippets support
Schema markup is a type of microdata that programmers can add to a webpage.
These structured data are very important to the SEO of your website.
It creates an enhanced description that appears in search results and is mostly renowned as a rich snippet among users. Schema.org was created in 2011 by the cooperation of major search engines like Google and Yahoo.
Rank Math supports more than 14 kinds of rich snippets that can assist you in the optimization of the content in an easy way.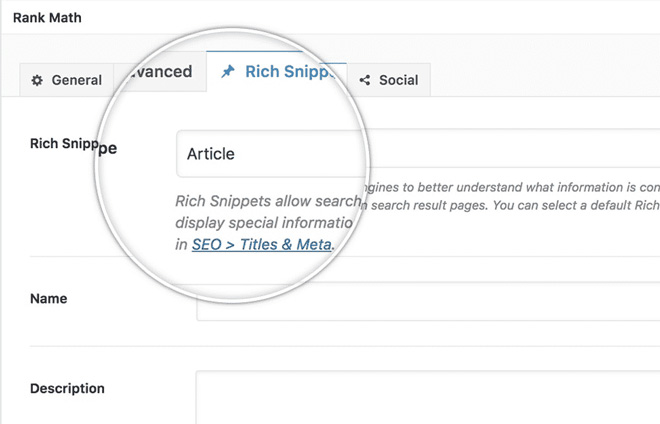 5. Integration of Google search console
A great number of WordPress users find having Google search console (Google Webmaster Tools) integrations in the dashboard extremely useful.
One of the competitive advantages of this plugin is the possibility of Google search console integration, without having to add any other plugin. The information would be a great asset for different purposes and saves time for the user.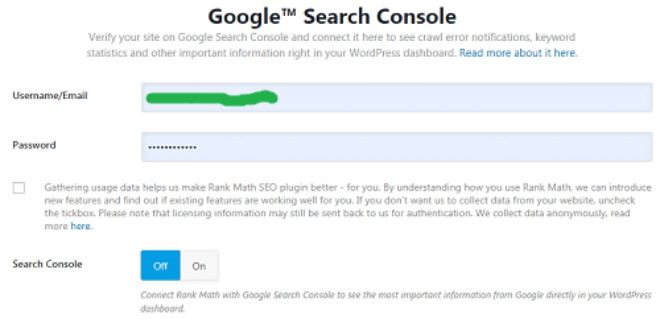 6. Website's SEO audit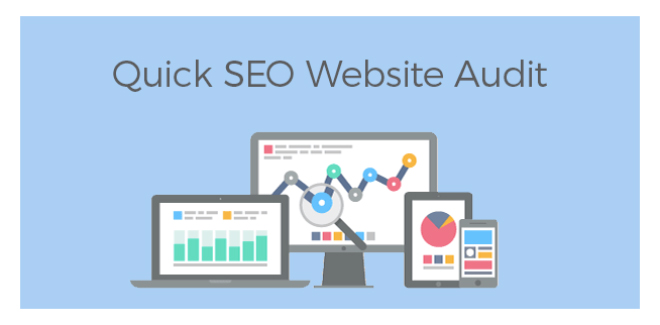 The plugin comes with an integrated SEO audit tool by which you can have a complete analysis of your website to find the errors and improve it. Similar to other features, this process is done by a single click.
7. Management of redirections and 404
Another free inbuilt feature of this plugin is the 404 and redirection manager panel. It can control your website 404 pages and provide the option of redirecting them or doing something else.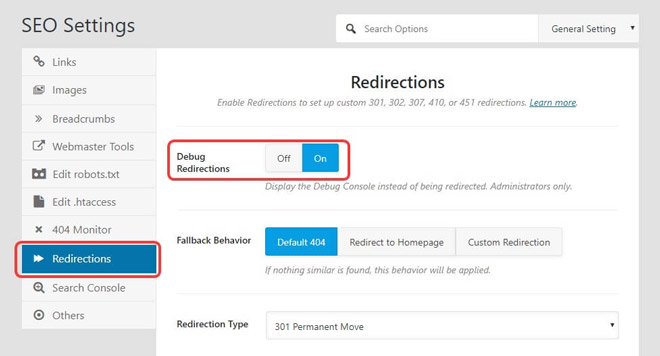 8. Accelerated Mobile Pages Support
Nowadays the majority of people use their cell phones for browsing the Internet and reading information.
AMP (Accelerated Mobile Pages) which was first introduced by Google are a lighter and faster version of the website that is utilized to load on mobile phone devices more quickly.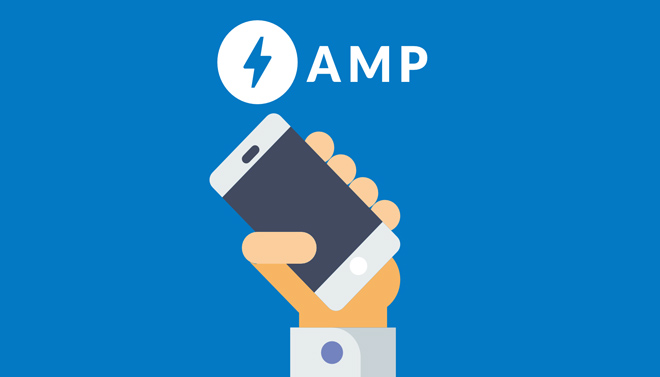 The common problem related to AMP is a difficult and complicated procedure that needs to be adopted to make it SEO-optimized.
However, with the development of the Rank Math plugin, this problem has also been taken into consideration. The whole process of web page optimization is made simple, even for the AMP version.
9. Other SEO Plugins' Data Import
Due to the importance of SEO principles, most of the websites have a related plugin from the first days of their launch in order to optimize the content on pages.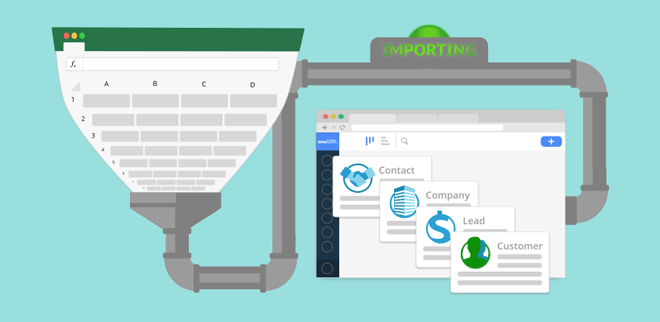 If you are reading this article and thinking about installing the plugin, you might think about your current SEO data that has taken a lot of time to enter.
Will you have to take all the steps again everything from the beginning?
Fortunately, not. Rank Math is programmed to import the settings and data from most of the famous SEO plugins like Yoast SEO, All-in-One SEO, SEOPress, etc.
With pressing a single button, you can import all the settings from your previous plugin and even improve them with its great free features.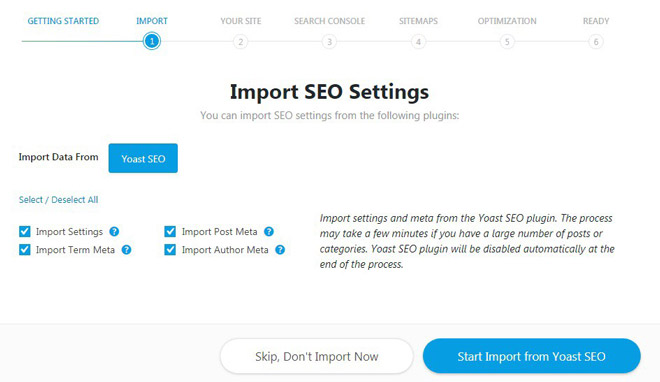 10. Analysis of Content
Although other WordPress SEO plugins support the readability analysis of the blog posts, Rank Math has more to offer in this field as well.
By analyzing the whole content, it suggests solutions for increasing the current scores.
Moreover, the smart feature recommends suitable internal links for Search Engine Optimization improvement so that you know the best parts for hyperlinking to other pages.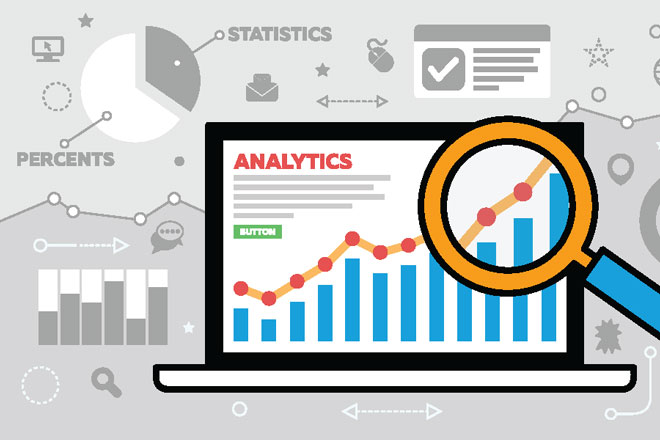 In addition to the mentioned items above, there are some other cool features in this plugin that makes it the perfect choice for WordPress owners.
Among them, we can mention the lightweight and fast programming, integrated LSI Keyword Tool, highly optimized breadcrumbs, Multiple employee's role managers, XML sitemaps, overlay icons on social images, etc.
Rank Math or Yoast?
In 2018, many websites faced a ranking drop due to a bug in the seventh version of the Yoast plugin. This was the starting point for many people to look for the best alternative on the web.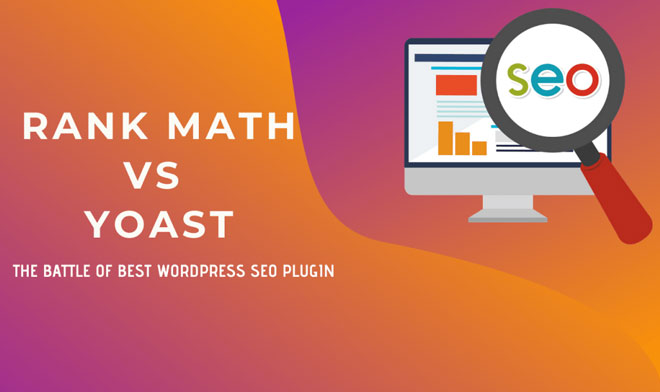 Considering the available plugins, Rank Math has been the first option for many individuals since it offers great features as we discussed earlier. But, which one is better to use?
The point is that both plugins admittedly do great function on WordPress, but the most important advantage of Rank Math is the free features.
While in Yoast the free services are limited and you have to pay for a premium account for further features, Rank Math offers some of them for free.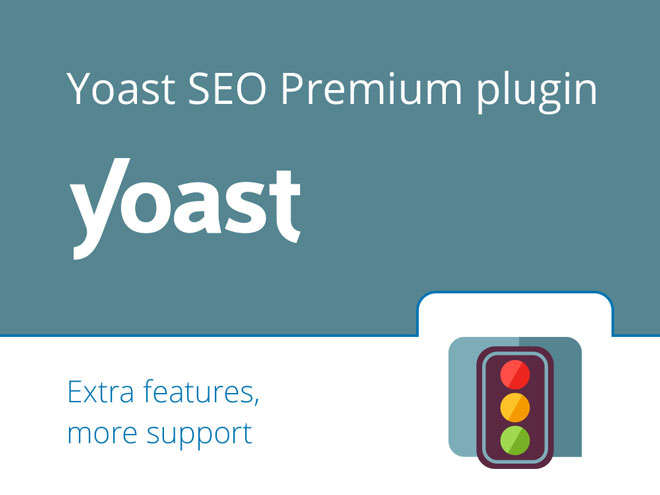 What's more, as we described in the previous part, Rank Math is an all-in-one plugin that provides you with the chance to remove many other installed plugins.
As you see in the picture below, typically 5 plugins are deactivated after installing the Rank Math.
In the next paragraphs, we have compared some features of both plugins and shared with you the results.
Rank Math vs. Yoast: Keyword Integration
As you may know, a crucial factor in the optimization of the content for search engines is the keywords. This is what you need for your page to be shown up on the desired SERP.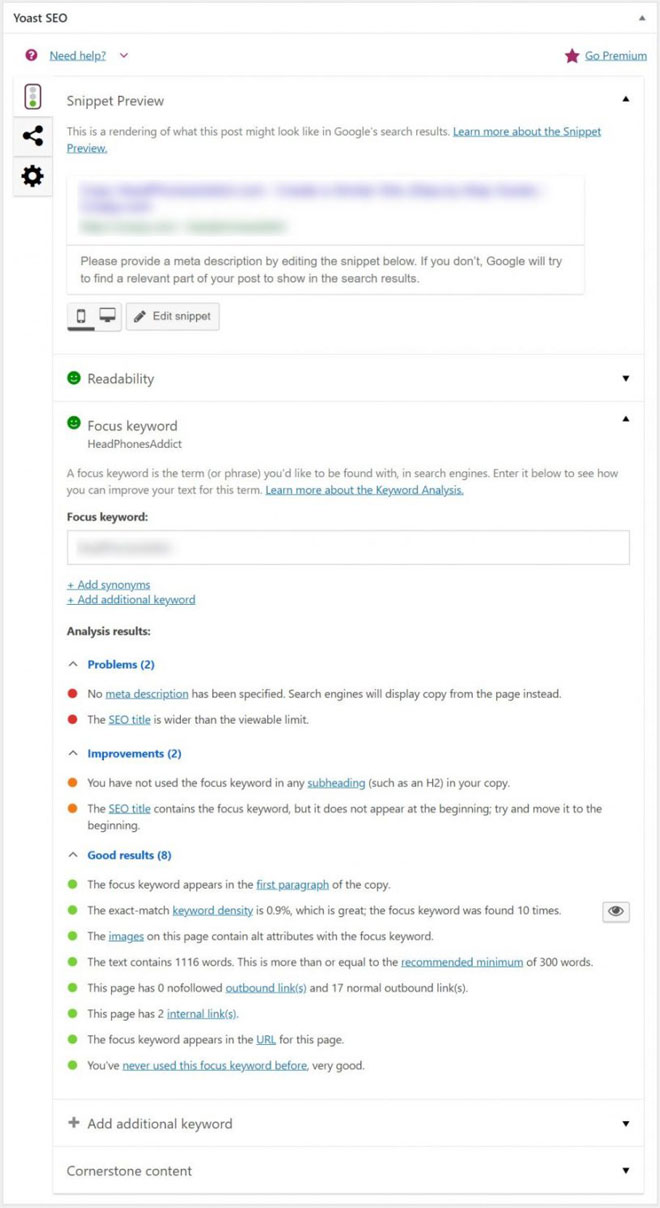 Yoast is excellent considering the related optimization. The free version supports optimization for just a single word and in case you need more words, you have no other option but to purchase the premium version.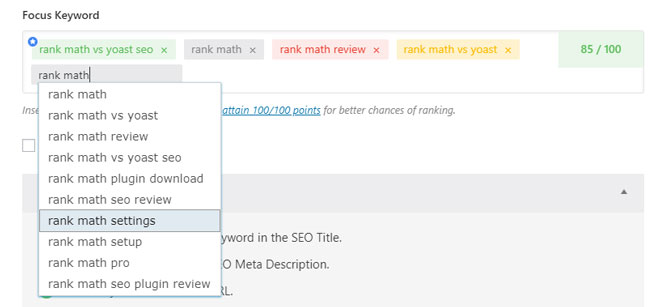 This is where the Rank Math gets the upper hand. You are allowed to optimize the content for up to 5 main keywords for free! Even if you like to use just one keyword, this plugin suggests other ones alongside longtail keywords based on your article automatically.
Rank Math vs. Yoast: Schema
As we mentioned in the previous sections about the importance of Schema and its effects on Search Engine Optimization, Rank Math supports this feature to a great extent.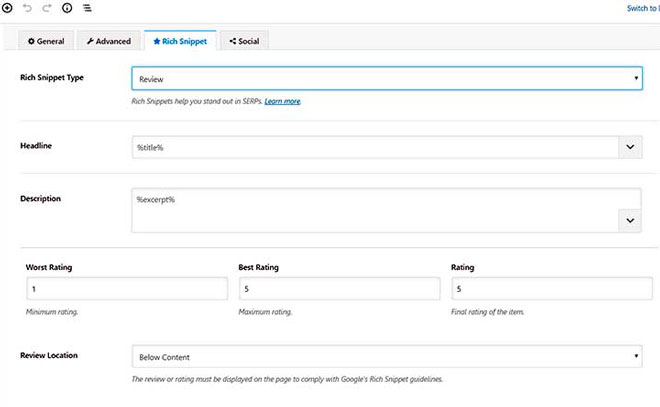 On the other hand, the Yoast has completely skipped this feature and you have to install another plugin in this regard.
Rank Math vs. Yoast: Google Search Console
Both plugins offer the integration of this console, but in Yoast, there is no possibility to monitor the data from the WordPress dashboard.
During the setup process of Rank Math, you will enter and verify your Gmail account in order to fetch the related data and shot it in the dashboard.
One of the latest trends that affects the Search Engine Optimization of your website more than ever in the new year is your site speed. You need to boost your website speed by fixing GTmetrix errors or analyzing your website for errors on Google Insight.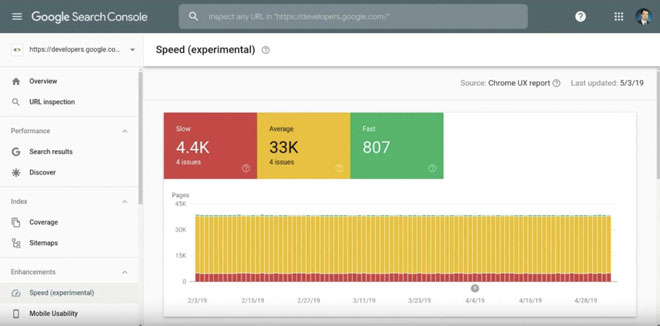 Rank Math vs. Yoast: Image and Video Search Engine Optimization (SEO)
If you add multiple multimedia files to your pages, you are probably well-aware of the corresponding SEO principles.
Both plugins are equipped with functionalities for image files. However, considering the video files, Rank Math offers some advantages.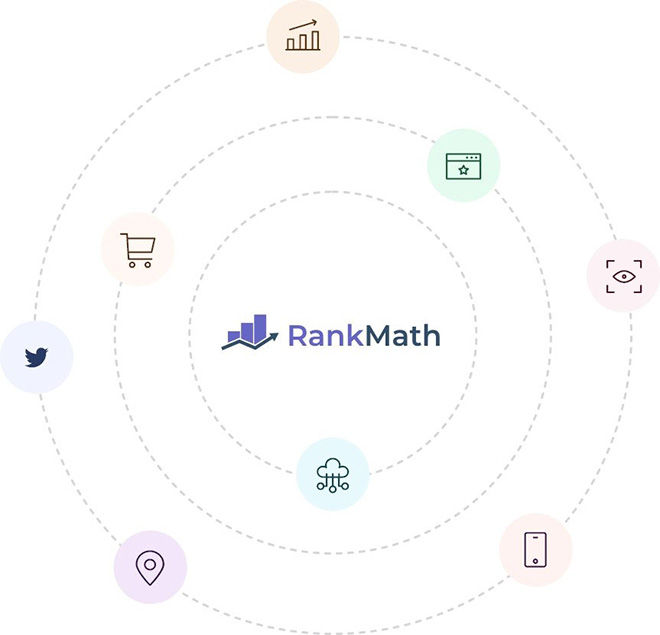 The latter one allows you to add Rich Snippets to videos as well, which results in boosted traffic towards your website.
You can use these advanced features in the premium version of Yoast SEO, but Rank Math offers them for free.
Rank Math vs. Yoast: WooCommerce SEO
WooCommerce is one of the most popular plugins that small and big businesses use for selling their products, and Search Engine Optimization can have a huge impact on their sales and income.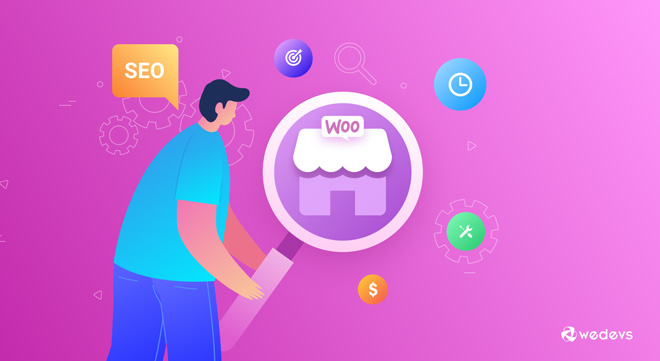 Both plugins offer SEO functionalities for this plugin to add metadata to the products that can be seen on search engine results. However, similar to the previous feature, Rank Math offers this option for free whereas, in Yoast, you must purchase the premium version.
Which SEO plugin should I use?
As you can see, many useful features are integrated with the free version of Rank Math that can be a real game-changer for your website, but it does not indicate that they are unavailable with Yoast.
In the table below, you can see a comparison between the two plugins:
| Features | RankMath | Yoast SEO |
| --- | --- | --- |
| Plugin Size | 8.6 MB | 26.4 MB |
| Lines of Code | 30K | 95K |
| Number of Files | 415 | 1075 |
| Keyword Rank Tracking | | |
| Search Console Integration | | |
| Custom Post Types | | |
| Bulk Edits | | |
| Focus Keywords | | |
| Google Keyword Suggestion | | |
| Role Manager | | |
| Default Open Graph Thumbnail | | |
| Advanced Link Options | | |
| RSS Optimization | | |
| Detailed Documentation | | |
| 24×7 Support | | |
| PHP-FIG Coding Standards | | |
| Overlay Icons on Social Images | | |
| LSI Keyword Tool | | |
WordPress SEO & Speed Optimization
Having a business website and running it towards glory can be a bit difficult. Anyone with a bit of experience in web design knows that any website needs SEO optimization and also page speed monitoring and optimization.
Webnus offers WordPress maintenance services and these two are also included in its services.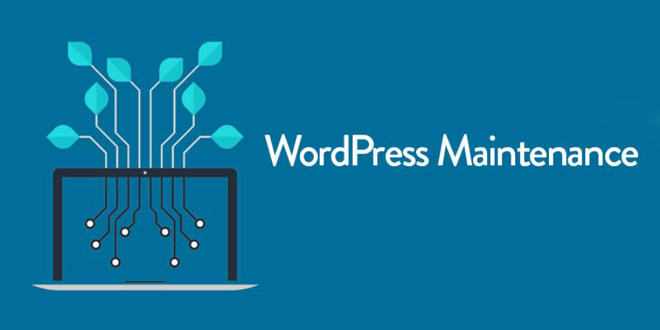 You will be able to keep calm and have an SEO of 100% optimized and a page speed on Google Insight of 90+ and on Gtmetrix A+. This can be done at a very affordable price and not in a onetime big payment but in a monthly manner and smaller payouts.
Webnus always considers the customer first, that's why the service is high-quality and the price very reasonable. You can order the best WordPress maintenance services or these two services separately at Webnus.
Why Deep Uses and Recommends Rank Math as the Best SEO Plugin for WordPress!
When it comes to WordPress, content is the king. However, for a marvelous piece of content to be seen on the vast world of the web, SEO is vital. That's where Rank Math comes in.
There are numerous SEO plugins on the WordPress repository, yet, finding the most practical and also light-weight SEO plugin can be a pain in the neck.
After our analysis you read above, you surely can now come to a decision to choose between Rank Math & Yoast.
We at Webnus came to the decision that Rank Math is the best SEO plugin for WordPress CMS. Its load time on the website is not more than 0.35s which is fabulous and also it is a light-coded plugin which in turn makes our theme a bit faster and lighter.
In terms of SEO considerations, I think Rank Math doesn't leave anything behind and beyond a shadow of a doubt, it comes out first as the best SEO plugin for WordPress CMS.
That's why we chose it as one of the plugins to be on our WordPress theme and we optimized and made it fully compatible in particular with the Deep Multipurpose WordPress theme.
Conclusion
To conclude, if you have already purchased a premium version of Yoast, then there is no logical reason to move to the Rank Math.
But for those users of the free version, there is no doubt to install this plugin, especially considering the import feature of SEO settings from other plugins.
Recommended Posts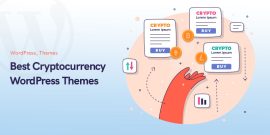 May 29, 2023