---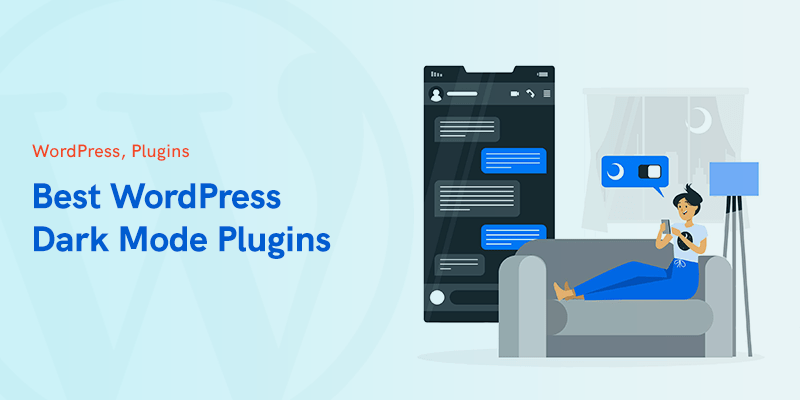 5 Best WordPress Dark Mode Plugins in 2023
If you have browsed websites at night, in a dark room, you definitely know that doing so makes your eyes numb. Many websites have an alternative mode called the dark mode. This has become a popular trend in the tech industry and many developers apply this mode on the websites they create.
You might have noticed that many of famous websites such as YouTube use this feature too. So it should not be something trivial to pass by easily.
Besides, researches have shown that watching bright colors on a desktop or mobile screen in dark may raise the chance of hurting your eyes. So dark mode is not just something about looking more luxurious or anything. It has to do with your comfort.
Although many users do not prefer to use dark mode, it can make your website look more appealing to the eye, bringing comfort for you website users. It will also help them read your content with much more comfort.
If you go to your WordPress dashboard and search for dark mode plugins, you will face so many results you don't know which one to go for. But don't worry.
Best WordPress Dark Mode Plugins List
In this article, we want to take a look at 5 of the best WordPress dark mode plugins so to narrow down your options.
WP Dark Mode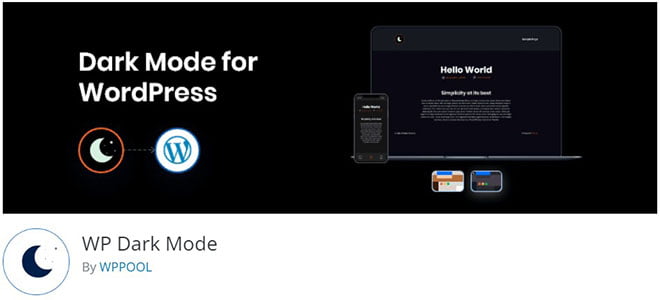 Maybe the most popular plugin for Dark mode websites, WP Dark Mode plugin is a free plugin that will make you do without any further search. Easy to setup and work with, this plugin includes some amazing features in itself that is too much for a free plugin.
An important fact about it is that is fully compatible with all browsers and can be run on all operating systems. Besides, not only can you make your front-end dark, but also you can apply dark mode on admin panel too.
WP Dark Mode works is super easy to work with. You just need to activate the plugin and without going through complicated settings, your users will experience a version of your website which is stunningly dark.
To mention another great detail, WP Dark Mode allows you to choose preset color pallets, depending on your design. Using the Elementor Dark Mode widget or Gutenberg Block widget is also possible on your page section and posts.
No matter what free WordPress theme you are using, this plugin is surely compatible with it.
WP Dark Mode Features
Elementor Dark mode widget
Gutenberg Dark mode block widget
Compatible with almost all free themes
Preset Color schemes
Floating Switch Button in the footer of the website
back end admin page dark mode
Keyboard Accessibility using (Ctrl + Alt + D).
Droit Dark Mode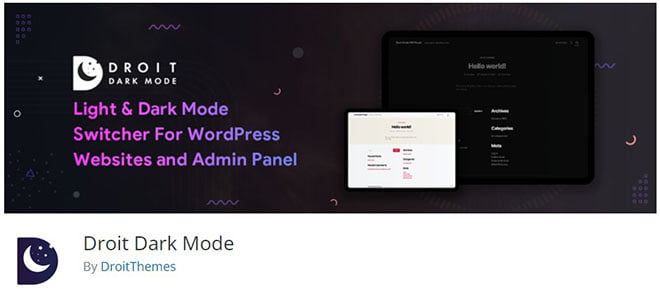 Droit Dark Mode allows you to create an eye-catching dark design for your website. Integrating this plugin into your website is so easy that you will not need any coding skill whatsoever. Droit Dark Mode is feature-rich and can be enabled/disabled from the admin panel.
This plugin is basically free, but it has a pro version in which you can find many options and features that are absent in the free version.
Droit Dark Mode is compatible with almost any operating system and is so easy-to-use and teemed with features that you will certainly fall in love with it.
Droit Dark Mode Features
Multiple Switch Styles
Floating Switch Button
Dark mode as default mode
Enable/disable dark mode button
Various color Pallets
Elementor Dark mode widget
Gutenberg Dark mode block widget
Compatible with almost any WordPress theme
Go Night Pro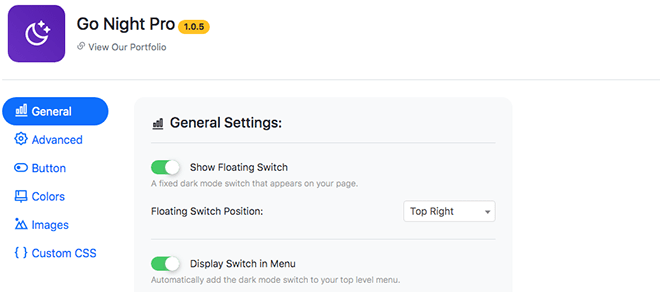 With Go Night Pro, you'll have various options with dark mode or night mode on your website. Today, many famous websites use dark mode as a new trend in design and user experience. With this plugin, you can use dark mode/night mode for your WordPress installation too.
Also, you can set a period of time in which you want the dark mode would be automatically enabled on your website.
You can also save your users' changes, so whenever they come back to your website, the same setting would be applied for them based on their prior experience. You can activate the dark mode on some of your pages, not all of them.
This plugin has both the free and the paid version. The paid version grants you some further features, plus the fact that in the free version you may encounter some incompatibility with you're your theme. Also, the premium version has 24/7 technical support.
Go Night Pro Features
Remember Last Time mode
15 Button Styles
Set Button Size
Set Button Margin
Automatic Mode (based on time)
Ability to adjust button location, background color, button type, etc.
Inserting dark mode on specific pages
Custom CSS
DarklupLite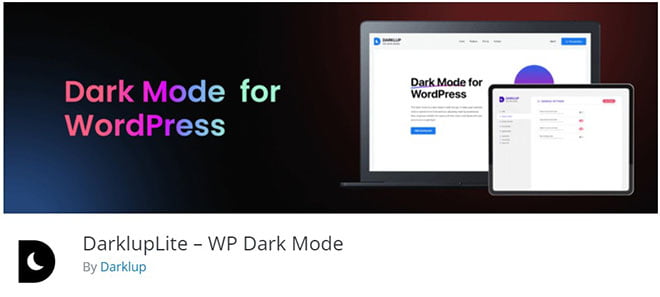 DarklupLite is a free powerful WordPress dark mode plugin which can deliver you an eye-catching advanced-looking website. With its easy-to-use and awesome features, DarklupLite lets you choose among many color schemes, suitable for your needs.
This plugin has also a pro version that unlocks many advanced features for those who are looking for the ultimate solution regarding the dark mode matter. In the pro version, you can customize your website's layouts, styles, etc.
Overall, DarklupLite is an amazing plugin that provides you a huge number of features and will help you build your website in an appealing-to-the-eye way that will you're whoever sees your website.
DarklupLite Features
Compatible with both Elementor & Gutenberg
Floating button
Re-positioning floating switch
Compatible with Visual Composer
Various backend and frontend options
Various color presets
Frontend dark mode
Different switch styles
Well Documented
Translation-ready
QS Dark Mode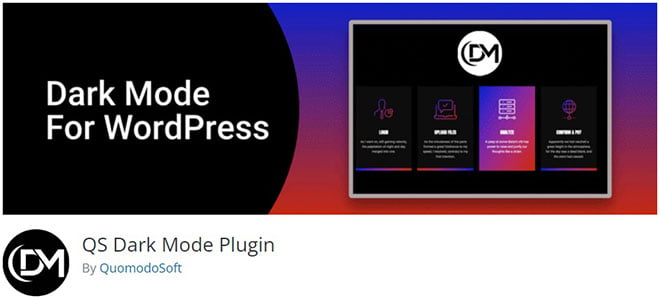 QS Dark Mode is super easy to work with. This WordPress dark mode plugin is a very convenient way to create a beautiful dark mode version for your website. QS Dark Mode is fully compatible with all browsers and can be run on all operating systems.
Also, alongside being easy-to-use, this plugin is compatible with almost all WordPress themes. You can also enable and disable the dark mode using a single button of use the plugin settings to do so.
QS Dark Mode Features
Compatible with both Elementor & Gutenberg
Dashboard Color Scheme
Front End Dark Mode
Dashboard Dark Mode
Custom CSS
Theme Color Presets
Customizing Switch styles
Customizing the custom text the dark mode button
Conclusion
Okay then, here were the best 5 WordPress dark mode plugins on the market. We hope you have reached a good conclusion on which one to choose. If you still feel a little confused, we recommend you go through the features listed in our article to gain a full insight on them.
But we also found this tutorial that will help you teach how to add dark mode to your WordPress site easily.
We would be more than happy if you share your thoughts on this post. If you have used other plugins that have been useful for you, leave a comment for us so we can expand this listing in the future.
Recommended Posts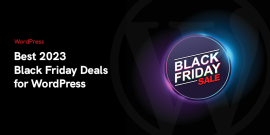 November 13, 2023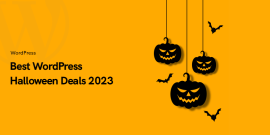 October 23, 2023