---
The 9 Best Tools for WooCommerce Inventory Management in 2023
Running an e-commerce store requires hard work and organization. Inventory management in particular can be a real drain on your time if you're not using the right tools.
Thankfully, there are several WooCommerce inventory management tools to ease some of the burdens. You can also request the services of a reputable eCommerce agency to help you with the integration. However, not just any tool will do, and they don't all offer the same features.
It can be overwhelming and time-consuming to scroll through pages of information and try to make the best decision for your WooCommerce store. Let's unpack the best WooCommerce inventory management tools in 2022.
The Best WooCommerce Inventory Management Plugins
Read on to learn more about the top nine best tools for WooCommerce inventory management to narrow down your list and find the right match for your business.
ATUM Inventory Management for WooCommerce
ATUM Inventory Management for WooCommerce is one of the top options for shop owners looking to scale their business. It offers comprehensive, powerful inventory control, and it happens to be free.

Users can access a range of reporting options, quick edit features, searches, and filters. Plus, it all goes through an intuitive interface to make life easier and give you more time to focus on other core parts of your business, like higher conversion rates.
Tool Features
WPML-compatible for businesses targeting global markets
Bulk actions available, like deactivating items
Advanced search and filter features, including auto-fill
Exceptional customer support
Add-ons available, like Purchase Orders Pro and Action Logs
Synchronize
Most e-commerce store owners manage their inventory and forecasting out of a spreadsheet like Google Sheets. To do this, you'll need to import and export tons of reports on a regular basis to make sure you're working with fresh data.
This tool allows you to sync your e-commerce data directly to Google Sheets. Synchronize supports WooCommerce as well as other platforms like Amazon and Shopify.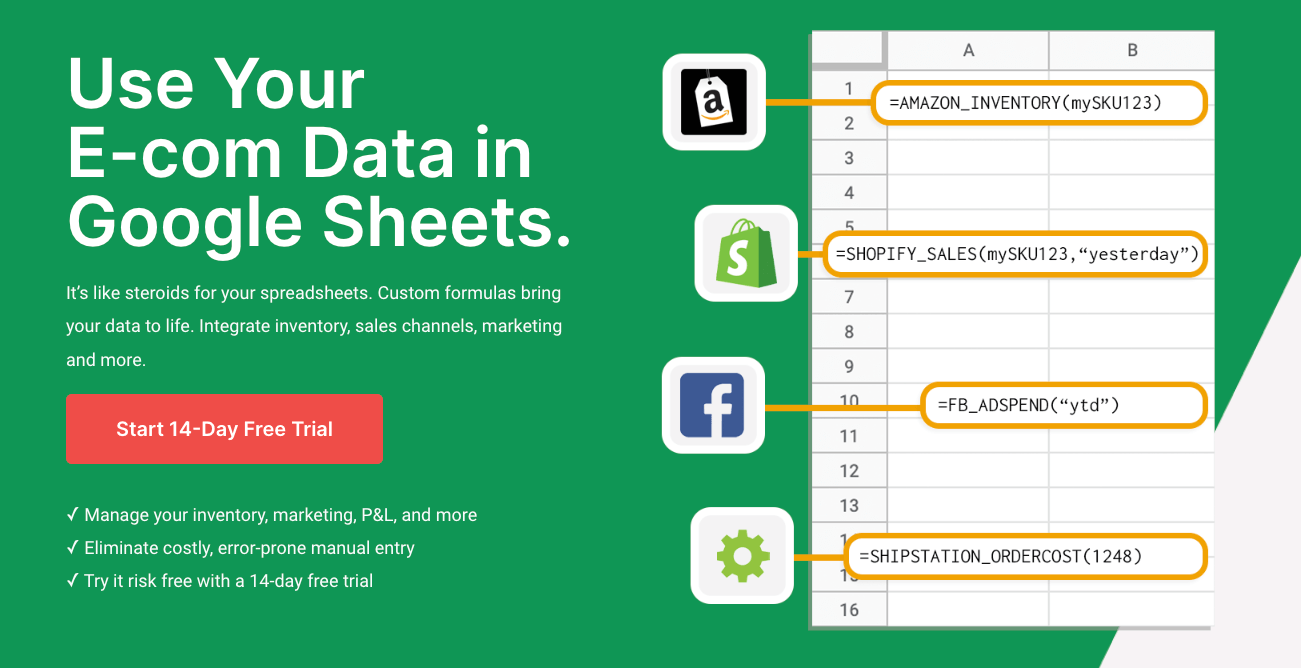 To connect your WooCommerce store, just add it as an integration in your Synchronize dashboard: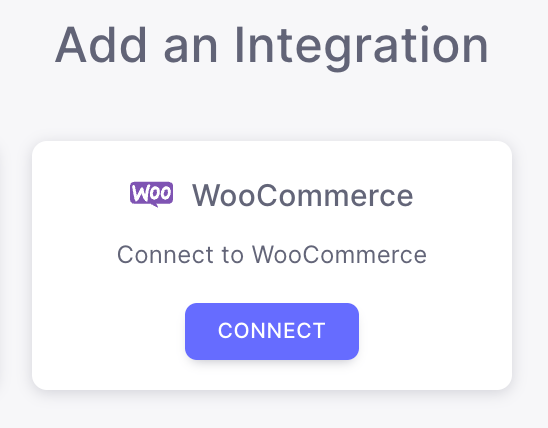 Then install the Google Sheets Add-on so you can start using your inventory data directly in Google Sheets with custom functions:

Your data will always be up to date, so you no longer have to worry about exporting and importing CSV files:

If you're using Google Sheets to manage any part of your WooCommerce store, this is an invaluable tool.
TradeGecko/QuickBooks Commerce
TradeGecko, now known as QuickBooks Commerce, is another powerful plug-in that might make sense for WooCommerce stores that already use QuickBooks. It's easy to use and lets you manage every aspect of your stock from one dashboard, such as SKUs and back-ordered items.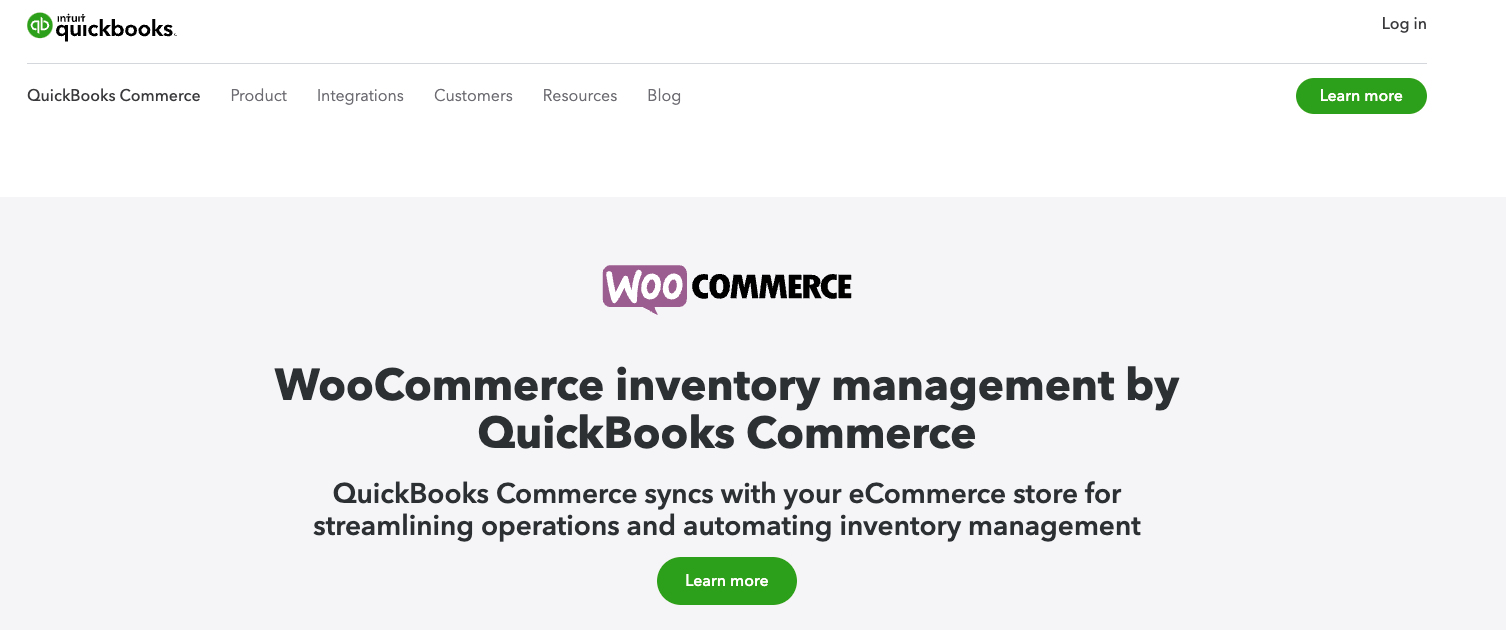 Unlike ATUM, QuickBooks Commerce isn't free. Depending on the size of your business and the number of channels you use, expect to pay anywhere from $15 up to $200 per month. The platform often runs deals, but it may not be enough to make it worthwhile.
Tool Features
Manage inventory in real-time across multiple channels and locations
Automation features, including invoicing and shipping processes
Customizable reports with smart insights to make the most of analytics
B2C and B2B options are available
Multiple platform integrations available to expand to other markets
Finale Inventory eCommerce
Finale Inventory is a tool that specializes in stock management at all levels, and the eCommerce platform is one of its newest extensions. This platform uses a cloud-based system instead of software. That decision lightens the load on your server space.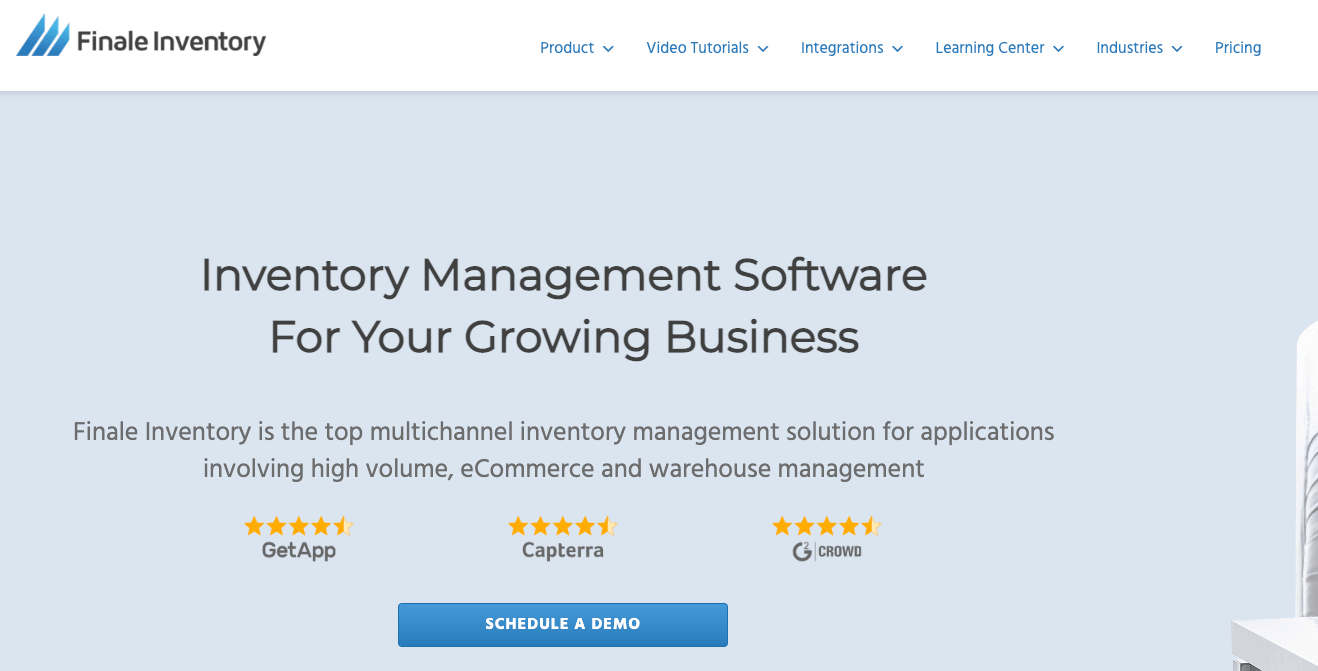 While this platform isn't free, it might be one of the most professional in terms of appearance, approach, and customer support. There is a steeper learning curve with some of the high-level and customization features but it's generally easy to use.
Tool Features
Cloud-based platform offers more stability and room to grow
Multi-location syncing
API support
Forecasting for restocking needs
Knitting and bundling options are available
Katana
Katana is one of the more visual inventory management tools with a highly navigable dashboard. It is also one of the newer options on the market, so expect the firm to grow and add more features.

The paid platform delivers real-time data on your inventory, import orders, and monitor raw materials to prepare for reorders. Katana is a solid option for companies that need to track raw material inventory alongside the completed products to ensure you never run out of anything.
Tool Features
Provides real-time numbers
Assign and schedule tasks to employees
Monitor stock at every step of the process from raw materials to finished products
Barcode scanning capabilities
Four pricing tiers to meet various business needs
eSwap
eSwap is another relatively new inventory management tool that can work with businesses of any size and shape. Individuals and small companies can start with the free version, while larger and enterprise-level businesses can pay to access the resources they need.

This cloud-based platform features a clean, intuitive interface that can accept orders, create invoices, and run analytics. It even accepts secure payments and takes orders from other sources, like emails and phone calls.
Tool Features
Manage shipping, purchase orders and invoices, catalogs, and physical warehouses from one dashboard
Comprehensive analytics and reports to keep tabs on every aspect of the business
Workflow automation options to streamline services
B2B wholesale option
Various service tiers starting with a free version
Smart Manager for WooCommerce
Smart Manager for WooCommerce is a WordPress plugin providing users with general inventory tracking and bulk edit options. It supports custom products, allows bundling, and sets deals, like coupons. Store owners can use a sheet editor to manage products by various filters, including SKU, backorder, and price.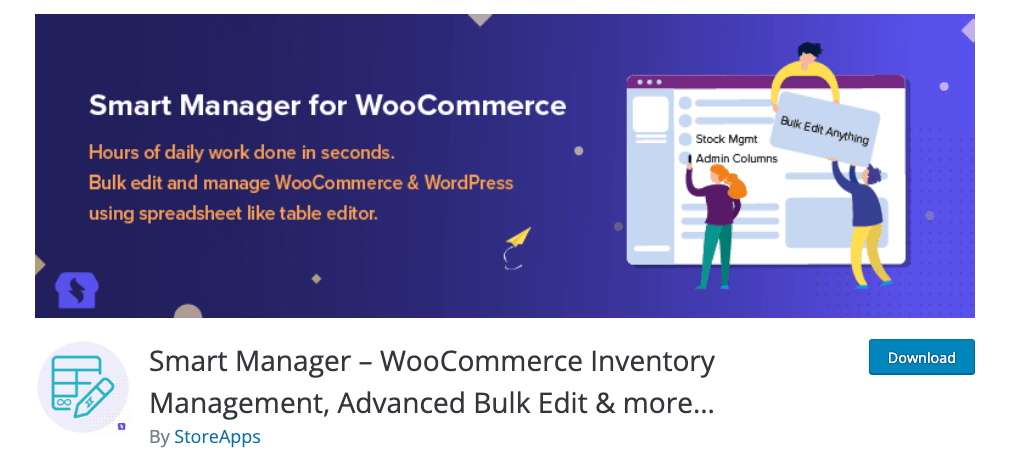 There are Lite and Pro versions available to support businesses at varying levels. The lite version is free but only has basic tracking and editing features. If you upgrade to Pro, you'll gain access to bulk editing features, product add-ons, and membership sales.
Tool Features
Offer coupons with both versions
Inline editing options in the free and paid versions
Sort products into columns
Simple search in Lite and more advanced search options in Pro
Pro version contains advanced bulk and batch options
WooPOS
WooPOS advertises itself as an all-in-one platform that lets users manage everything across multiple stores. Aside from inventory, it lets you manage employee workflow, follow customer trends, and monitor point-of-sales. WooPOS also handles massive databases with various search and filtering options.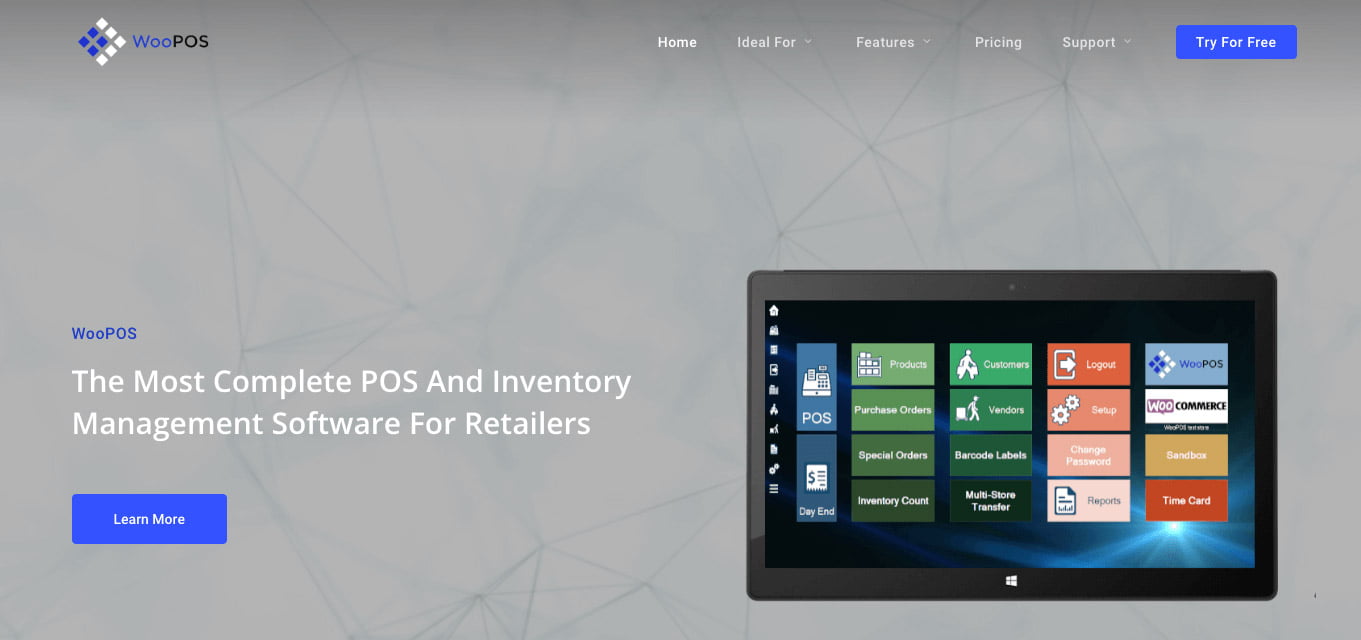 Though WooPOS costs a fair amount more than other options on this list, it does offer some extra services, like tracking employee performance and sales trends. Plus, with this platform, you don't have to get an additional WooCommerce POS plugin.
Tool Features
Accepts secure payments via multiple methods
Access over 500 reports
Built-in CRM to manage customer behaviors and trends
Reliable uptime, backed up on the cloud
Responsive customer support
Stock Synchronization for WooCommerce
Stock Synchronization for WooCommerce is a WordPress plugin that serves only one purpose: to sync inventory counts between two stores to maintain real-time counts.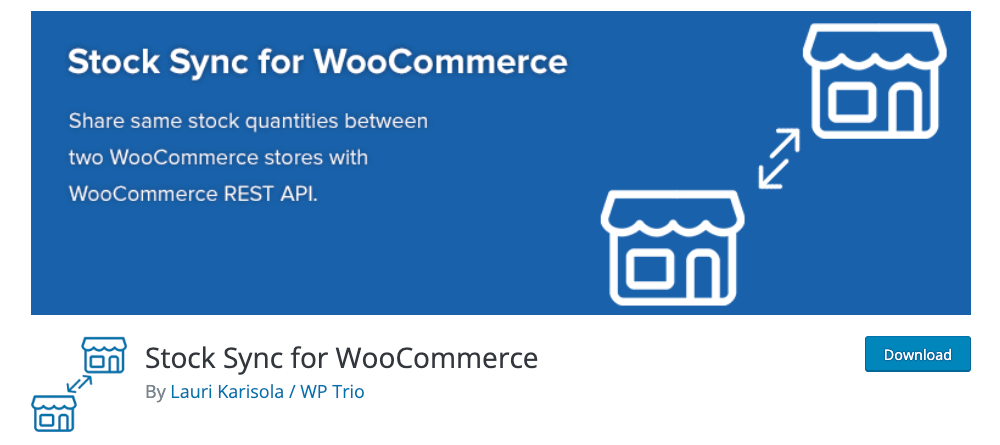 Users who operate multiple stores know that tracking between them can be precarious at best, but this plugin automates the process. When somebody purchases from one store, it reflects on the inventory available for the other one so that you don't oversell.
Tool Features
Easy integration with WooCommerce and Shopify
Set pricing conditions for each item
Classify products and assign relevant metadata
Automate several functions, including how often inventory counts refresh
Multiple file formats
Orderhive Inventory Management
Startups may want to check out Orderhive Inventory Management for its ability to support scaling. The platform offers enterprise-level support but caters to newer businesses and quick growth.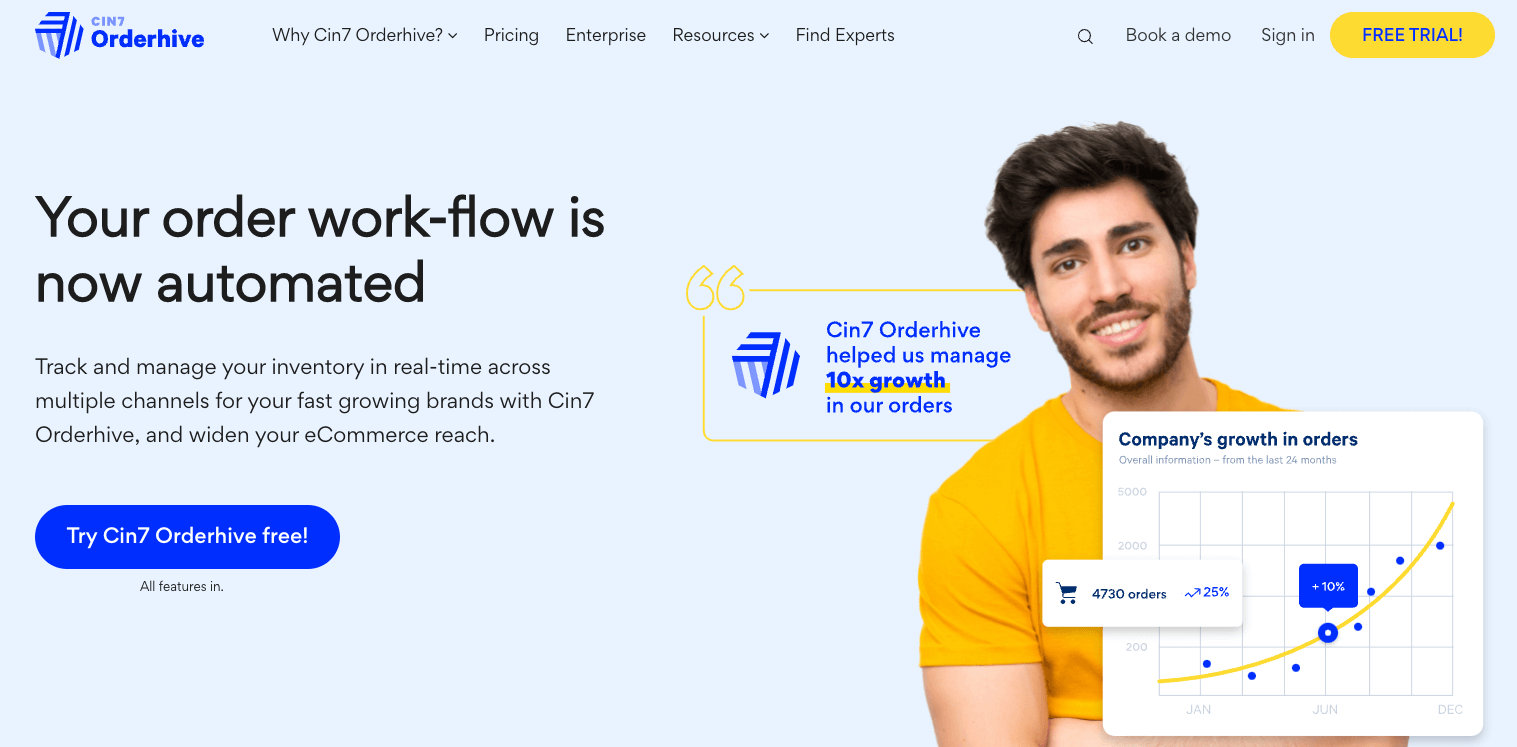 Orderhive Inventory Management handles everything from the manufacturing process to ordering to shipping, and even supports purchase tracking. In addition, you'll be able to access several eCommerce automation options, including barcode creation. It's easy to set daily tasks to improve workflow for your team.
Tool Features
Works with multiple currencies
Shipping management can track everything from the lowest rates to the quickest delivery options
Features tools to handle returns faster and more efficiently
Real-time reports and analytics to improve decision making
Creates barcodes and purchase orders
Conclusion
Now you know about the best WooCommerce inventory management tools to help you streamline your shop. We hope you found the right tool to meet your store's needs. If you still can't decide, consider doing some side-by-side comparisons of the features to see which tool stands out for you.
Recommended Posts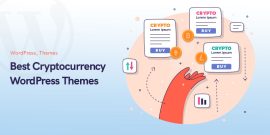 May 29, 2023