---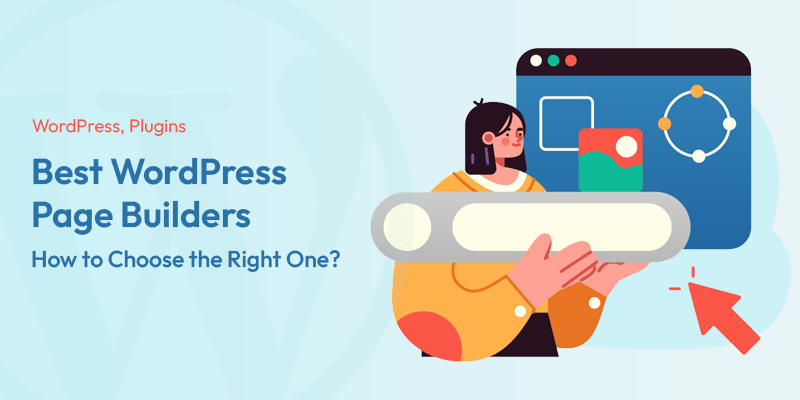 Best WordPress Page Builders: How to Choose the Right One?
When you want to choose the best WordPress page builder for designing your website, you will know that it will be demanding task. The reason is that there are so many options available for you and you will be confused where to start from.
When WordPress was established, it used to limit you to a set of pre-made designs, boxing you in terms of the types of websites you could create.
Even the idea of giving freedom to clients to design and manage their own website was non-existent.
However, since a few years ago, when WordPress decided to enable its users to have freedom and flexibility in terms of design, it has evolved into a modern popular CMS.
Now you can build your website even if you don't have the foggiest idea about coding and stuff like that.
Right now, there are various page builders on the market, each one you can easily choose and start to use, but the contradiction is that there is no 'best' in this realm.
Everything depends on your purpose and how you want to use its tools and widgets.
That is why this blog has been prepared for you. We have taken into consideration some of the most important factors in choosing a page builder plugin, so you will gain insight in this field and go for a wise choice after reading.
How to Choose the Best WordPress Page Builder
So without further hesitation, let's find out what factors you should consider when choosing a suitable WordPress page builder plugin.
Discover Every Phase
The first phase is discovering and identifying your website needs. There are specific features that some people may prefer, but that does not necessarily mean you should be looking for them too.
I think that there are a couple of things you should consider for setting up a website. First of all, you should clearly know who your audience will be. Secondly, it is important to know what kind of services you want to offer. And finally, you should know well about your rivals.
Experience Level?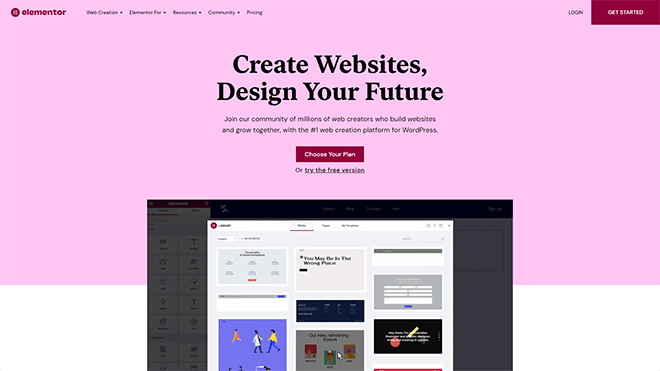 The level of your experience with websites matters a lot. You should ask yourself if you are new to WordPress, or you have you built websites for some time?
If you are the former, then you should look for a user-friendly page builder plugin that won't challenge you, especially when it comes to coding.
In this case, my suggestions are Elementor and Breakdance. They are both suitable choices to start with. With their drag-and-drop interface, you can easily build your website pages without any need to code whatsoever.
But if you are more experienced and accustomed to what's going on, Bricks Builder, Cwicly, or Oxygen are good choices.
Alongside the built-in drag-and-drop interface, they offer you to have more control over CSS properties and codes.
Pricing
Pricing is a factor you cannot surely ignore. Actually it's one of the most important ones.
There are many different options and features that go into each of them, so it can be difficult to find one that suits your needs.
When you are looking for a good page builder in the WordPress community, you should know that good items are not for free. Even if you find one cost-free plugin, you can be sure that those features you'll need, or at least the important ones, are included in the upgraded plan.
Mainly, the price of page builders are around $50 to @0, more or less. This 'more' or 'less' depends on your needs. That is why choosing wisely is a must in order to get the optimal choice you can get.
Two other things you should know: first is that most of the page builders for WordPress does not have an unfair price. However, based on the specific features they may provide, they can also have a considerable price too. Second is that you should get yourself ready for a yearly fee.
Most of the WordPress page builder plugins have an annual plan for their services. But some of them has life-time plans too.
Designing the Website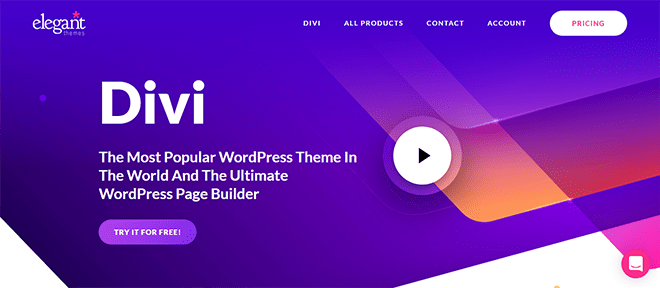 Some WordPress page builders are good for creating websites with a certain design workflow.
If you want to build your website and get it running in a short time span and cost-efficiently, you might need to use a page builder with ready templates. This will require to choose one with a considerable template library.
Among the ones available, Elementor, Brizy, and Divi are those which have the best design libraries are. Beaver Builder on the other hand includes lots of third-party available designs.
However, if you are among those who want to create their websites from the scratch, you should choose a WordPress page builder plugin that enables you to build and test designs in a fast way.
This is where the importance of pre-made elements comes to foreground. You'll surely won't need to deal with creating and coding a small carousel. What you need is a WordPress page builder that lets you add your content quickly and then get down to styling it.
For this purpose, Breakdance and Elementor are great choices.
So it's important to clearly know how you want to design your website; whethter by using pre-made templates, or from the scratch, just with a little help of not needing to design everything.
User Reviews
Others' experience about anything can be a critical factor. The same is true for choosing a suitable page builder for WordPress. You should see what other users have said about a page builder before you go ahead and invest on it.
In order to see what others have said about a certain WordPress page builder, checking the company's website does not suffice. You should surely check on third-party blogs and websites too, because it will strengthen the reliability of different views on the product.
Widgets
WordPress users must know that widgets are important parts of a page builder. Widgets are actually mini-apps which give you various functionalities, e.g. the ability to add text, images, and links to your blog.
Furthermore, there are widgets that enable your customers to purchase products from your website.
Actually there lots and lots of widgets on the web, all of which you can add to your website. They are both easy to add and easy to customize.
Widgets are one of those amazing features of a WordPress page builder that will surely boost your experience.
Stability vs. Innovation?
Naturally, there are some page builder for WordPress that have been in this business for some years and some are more or less new to this realm.
There is a big difference between these two groups and that is that the ones which are established among users are mostly looking for stability. The reason is that there are thousands of websites that rely on them, so their most important priority should keeping their databases backwards-compatible, because in case this goes wrong, all those websites will break at once.
Examples for this kind of page builders are Elementor, Oxygen, and Divi.
On the other hand, there are other page builder that have been in this business for not a very long time. This makes them to stand themselves out from their rivals, so they go for new features. They are actually looking for innovation.
The examples are Bricks Builder, Breakdance, and Cwicly.
So again, the choice is yours. If you are looking to have a website that does not require much maintenance and looking after, you should most probably go for a one that's among the established ones, those with the stability policy.
But if you are looking for new features and updates, you should choose from those page builders that are from the second group, looking for innovation.
Support for SEO and WooCommerce
Statistics show that a great percentage of websites sell products online. That is why WooCommerce is one of the most famous e-commerce platforms.
Among those websites that are basically e-commerce, more than 90% use WooCommerce as their selling system.
So, if you are planning to have an e-commerce website, make sure the page builder you want to use supports WooCommerce.
Those WordPress page builders that are compatible with WooCommerce will make everything much easier for you. They will enable you to add various related pages, like Single Product Page or Category Pages, using the ready templates.
However, some page builder have been focusing on design so much that SEO has been neglected for them.
This will make their website hard to find for users, as SEO is a crucial factor for any website.
So go for a wise choice in choosing the optimal WordPress page builder for your purpose.
Dynamic Content Capability
Dynamic content refers to any digital or online content that changes its behavior depending on several factors such as data, user behavior and preferences. This content can be anything, ranging from text to audio or video format. By using dynamic content, you can create custom page layouts.
If your page builder does not support this crucial feature, every time you want to upload any image or element, you have to do everything manually.
This actually means you have to create the layout of the every page every time you need any change. You can choose a page builder without this option to see how demanding this can get.
Malware Proof
WordPress is to some extent known for its vulnerabilities. So if you are planning to run your website in WordPress, you should keep an eye on the security of your website.
The same thing applies for page builder for WordPress too. In choosing your page builder, always pay attention to its security level.
You should make sure about your website's security because hackers are keen to find those websites that are vulnerable. Remember to always have backup plans in case anything happens to your website.
A cyber-attack may ruin all the efforts you may have done through years. If you have an e-commerce website, you should be more careful because hackers may find access to your credit card credentials or your personal data.
a good solution is to scan your website often scan your page builder with an antivirus and malware scanner like VirusTotal or Sucuri.
Which one of the WordPress page builders is the easiest to work with and learn?
We recommend Elementor in that case. It enables you to design a page with a true visual editor and see live previews of how the page will look. You can drag and drop content modules and get live feedback on your work.
I have been using Elementor but now am thinking about switching to Divi. Should I do that?
You can try that and see if you like it but from our point of view, Elementor is already the better option. It is easier to use, and its theme builder gives you many options to create header and footer or 404 pages etc. Also, Elementor gives you full freedom in creating the pages but Divi follows a hierarchical structure. Overl, Elementor is the easier option while Divi has more creative tools but is more difficult to work with.
Is there any disadvantage to using a page builder?
Technically no but factually yes. Using a page builder might affect the speed and performance of your website, because there are many new assets and content added to it. But all of these are problems that can be easily solved with optimization plugins etc.
Best WordPress Page Builders List
As mentioned earlier, those WordPress themes that support drag and drop will make everything easier for you. Actually it's among the best features released during recent years. According to developers, any good-to-go page builder should have the following features:
Ready-made customizable design blocks using drag and drop: These blocks contain paragraphs, photos, and other website features such as custom widgets, carousels, and image galleries. They have elements such as, for example, page layout options too.
Style application right on the spot: Page builders we have introduced, and even some others that may not be on our list, apply their customization features through a single click. You can change elements such as fonts, styles, colors, and sizes using the sliders or dropdown menus.
Huge template library: Many of WordPress page builder plugins have an in-built template library to choose from. Choosing a template is always an option for you when you are working with WordPress page builder plugins. So, there are two options for you; either designing a website from zero using blocks and modules, or choosing a ready-made template or theme.
Add-ons: You can easily extend the functionalities of WordPress page builder plugins. All the ones we have introduced here include this feature. So in case any of these page builders lack any feature you need, beware that it may be compensated by installing an add-on.
These were some of the key features any WordPress page builder plugin should have. So, before further ado, let's go through the list of best WordPress page builder plugins:
WPBakery Page Builder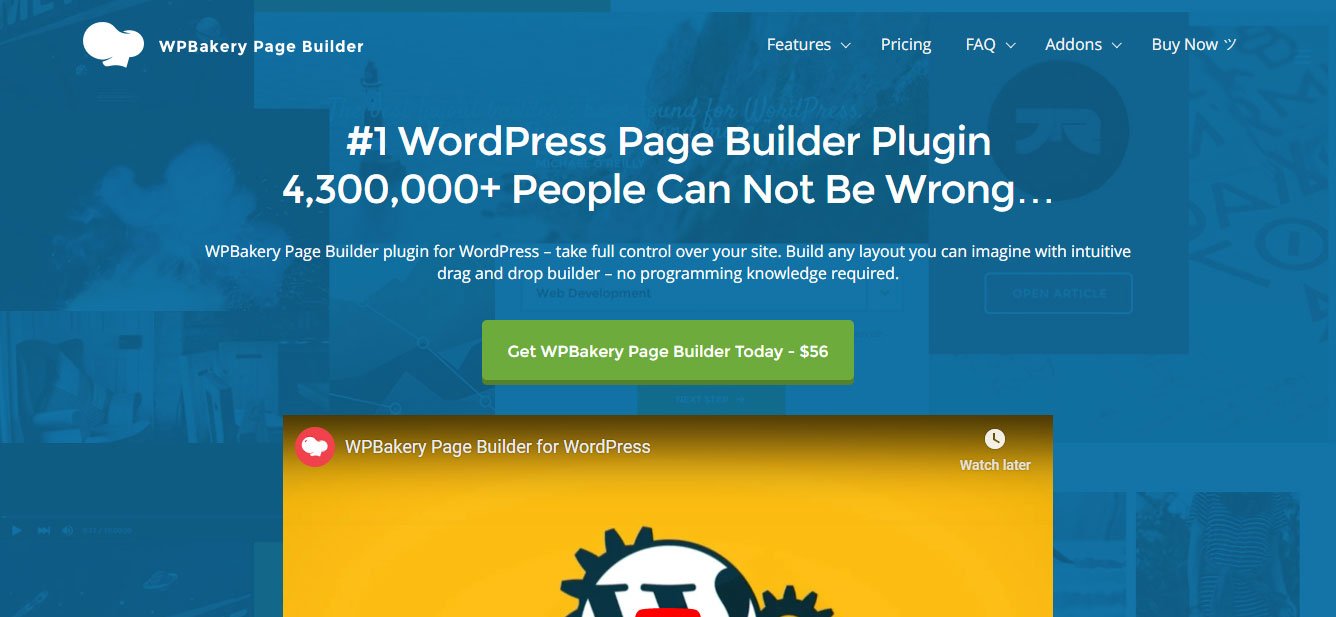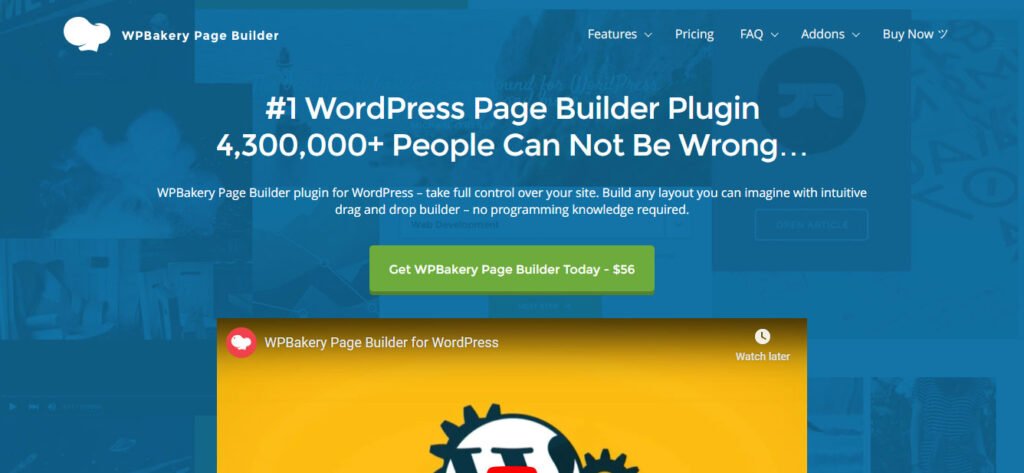 WPBakery Page Builder is one of the most popular WordPress page builder plugin in the world. Previously called Visual Composer, WPBakery features live front-end editing, meaning any change you make, is displayed for you right on the spot.
Using this plugin, you can build your website both in front-end and back-end. Besides, the variety of templates will give you a flexible experience and this make WPBakery a solid choice. Irony, right?
Regarding integration, many third-party vendors, such as WooCommerce, have offered a considerable number of integrations with this plugin.
Another huge benefit of using WPBakery is its compatibility with almost every theme. As all of its elements have been integrated using shortcodes, have no worries regarding any compatibility when using WPBakery.
Key Features
Compatibility with almost all themes
50+ content elements
Quick element styling options
Huge template library
Advanced grid builder
24/7 support
Advantages of WPBakery Page Builder
Various design templates
Integration with lots of known plugins
Available content elements from third-party vendors
Disadvantages of WPBakery Page Builder
No automatic save function
Remaining shortcodes after disabling
Slow and not up-to-date interface, sometimes
Pricing
WPBakery comes in two plans: regular and extended. The Regular license is for use on a single website, available for $56, including free updates, premium support and access to the Template Library for. The Extended license is $299, including free updates, premium support and theme integration. Note that the extended version is for use in a single SaaS application.
Elementor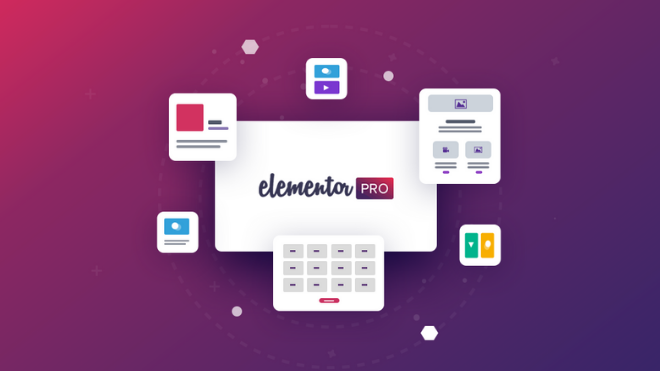 Elementor is definitely one of the top WordPress page builders in the world. Elementor is both free and premium. With the free version, you'll gain access to a drag-and-drop website editor, plus around 40 widgets and 30 templates. Also, responsive editing in the free version. Elementor gets even more impressive as you venture into its premium features.
Developed by an Israeli company, Elementor is one of the newest WordPress page builder plugins on the market. However, it has been very successful in gaining a remarkable popularity among users. Statistics show that there are more than 10 million websites designed by Elementor. One factor that has led to this success is its easy-to-use interface along with its simplicity.
Regarding the premium version, you will get some awesome features such as editing posts and pages, category pages, and user-defined content.
With Elementor, you will have many elements for your layout, such as galleries, buttons, animations, etc. Besides, Elementor plugins will boost your experience to another level.
Along with these, Elementor is integrated with WooCommerce and many other extensions.
Key Features
WooCommerce builder
Pop-up builder
One year full support and free updates
More than 50 Pro widgets
More than 300 Pro templates
Advantages of Elementor
Flexibility and precision in layout design
Translation-ready
Real-time front-end editing
Remarkable number of templates and features for the free version
No remaining shortcodes after deactivation
Pop-up builder, visual form generator, and special effects in the pro version
Disadvantages of Elementor
Outdated user interface
Unable to be adjusted to padding
Repetitive templates that sometimes become boring
Pricing
Elementor comes in 4 plans, the most popular ones are the Essential plan and the Expert plan. The former, which includes 1 license, is available for $49 and the latter, with 25 licenses, for $199. All plans have the premium support.
Beaver Builder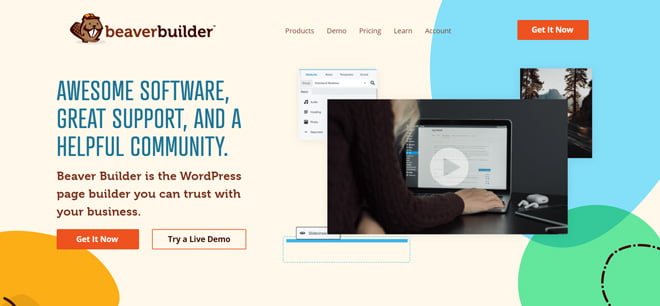 Beaver Builder is of the other popular WordPress page builder plugins that features drag and drop page building mechanism. It provides you a page builder plugin along with a framework theme, so you can build your website quickly and flawlessly.
If you want to choose the Beaver Builder as your WordPress page builder plugin, note that as opposed to its rivals, it's not teemed with various features and stuff. Instead, you will get a stable page builder, with a heavy focus on performance.
Note that using Beaver Builder may be a little bit confusing, as it does not have many elements to work with, but once you get the hang of it, it will work powerfully and reliably for you.
One of its main differences is that unlike other famous page builders, it does not produce shortcodes. However, creates layouts directly via HTML and CSS.
The last thing about it is that Beaver builder is compatible with almost all themes.
Key Features
Live editing in front-end
Fully responsive
Great customer support
Supporting shortcodes, WooCommerce, and widgets
Advantages of Beaver Builder
Strong focus on performance
Front-end editing
Beaver Themer as a complementary plugin
Basic useful features in the free version
Fast switching to preview mode
It keeps your changes even after deactivating the plugin
Disadvantages of Beaver Builder
Few number of content components
Pricing
Beaver Builder has both a free and a paid version. The paid version is available in 4 plans, the cheapest of which is $99 for a yearly license. It will give you access to use Beaver on unlimited number of websites, 1 year of premium support and premium modules and templates. In order to see the other plans price, check here.
Divi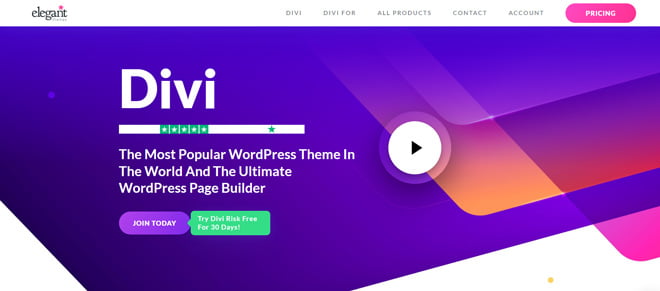 Divi is another awesome WordPress page builder with drag and drop feature. Using Divi, you can easily establish your entire website, only by dragging and dropping elements wherever you need.
Divi is a modern, user-friendly page builder plugin teemed with various features, and around 50 ready-made elements. You can also do your editing both on the frontend and backend.
A disadvantage of this plugin is that it has large CSS files, hindering your performance in making changes.
Overall, Divi is an awesome plugin worth going for.
Key Features
Responsive live editing
40+ design modules
CSS styling options
A pack of 800 pre-made website layouts
Global elements and styles
Advantages of Divi Builder
Wireframe mode
A package with 110+ themes
Disadvantages of Divi Builder
Large CSS files
Shortcode-based
Pricing
Developed by ElegantThemes, Divi Builder is available in two plans. One is the yearly access which is $89 and the other is the lifetime license that costs $249. They are no different regarding the services you get, ranging from auto updates to premium support and hundreds of website packs.
Spectra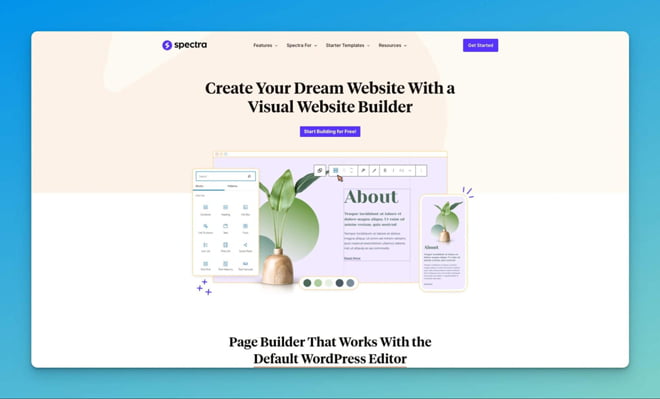 Spectra is a WordPress plugin that runs a page builder right inside the default WordPress block editor.
It allows you to create neat website designs even if you have little experience, thanks to its blocks, presets, patterns, wireframes and a huge library of icons.
It has almost no learning curve, as it's designed to be easy to use, even for beginners.
Spectra has a very low dependency on external scripts, which makes the code clean and lightweight, thus reducing load times.
It's compatible with all WordPress themes and has a free plan available. A pro version with even more blocks and features is under development.
Spectra is developed by Brainstorm Force, a company known for creating the popular Astra theme and other WordPress plugins that aim to simplify the process of growing a digital business.
Key Features
Native integration with WordPress Gutenberg Editor
28 blocks and 3 extensions available for free
300 pre-built block patterns, 60 wireframes and dozens of full website designs are also available for free
Copy and paste styles across your website
Clean code that keeps fast loading times
More blocks and features coming in the pro version
Advantages of Spectra
It's available for free, allowing you to enhance your website without any upfront costs
It's easy to learn and intuitive for the average WordPress user
The company responsible for its development is reliable and well-established, ensuring the plugin's continued support and seamless integration with other products offered by the company
You can use it along with native WordPress blocks or blocks from other plugins
Disadvantages of Spectra
You can't add extra blocks through 3rd party addons
It must be used within the WordPress editor, and you might not like that interface
The pro version is not yet available
Pricing
You can use Spectra for free.
Spectra Pro is planned and it will be a part of Astra's Growth Bundle (starting at $187).
This pro plan will give you access to more advanced blocks (such as social login forms and countdowns) and other features such as effects and transitions.
Themify Builder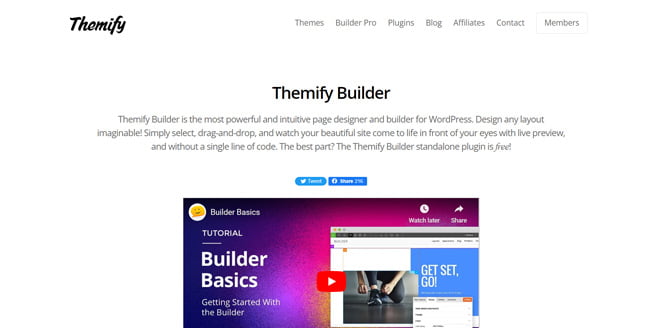 Themify is the final WordPress page builder plugin on our list. There is a small difference between this one and the others and it's that Themify builder is actually a theme shop that provides a built-in builder called Themify Builder.
However, you can also get this plugin if you use non-Themify WordPress themes.
Themify Builder is an intuitive user-friendly page builder that features a number of ready-to-use modules, ready to be added to your pages or posts.
The plugin has more than 40 pre-built layouts for different purposes, ranging from gym and music to restaurant, portfolio, and photography.
Importing layouts is a super-easy task, waiting for your single click.
With Themify Builder you can edit your pages both from the admin panel as well as your live site. When you are doing live editing, you can see any changes you make right on the spot.
Besides all this, Themify Builder has several ready-to-use layouts too.
Key Features
Live editing on both the admin area and live
Easy layout import
Advantages of Themify Builder
40+ Ready-to-use layouts
Intuitive design
Disadvantages of Themify Builder
A bit confusing in the first encounter, especially for novice users
Pricing
If you do not want to purchase the Themify theme, you can get the standalone page builder for free.
Conclusion
That's all for this topic!
We hope this article has been helpful for you for choosing the right WordPress page builder plugin.
As we compared the best WordPress page builder plugins, our final choices are WPBakery, Elementor and Divi. These are among the best in the world, however it does not mean the other ones are not.
If you have any experience regarding any of the mentioned page builder, we would be happy to hear from you in the comments section.
Thanks for reading!
Recommended Posts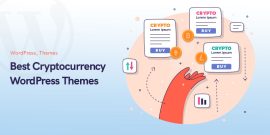 May 29, 2023