---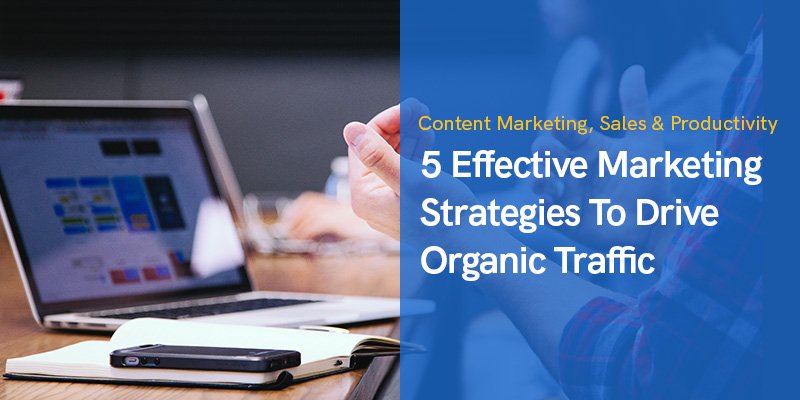 5+ Effective Marketing Strategies To Drive Organic Traffic
Increasing organic traffic to your website is essential for success if you manage an online business. Increasing the exposure of your website can make or break your company's sales and revenue plan.
Organic traffic is often the main indicator of success for generating top-of-funnel traffic and awareness for most SEO and inbound marketing initiatives. Due to its great efficiency and compounding returns, it is a highly sought-after traffic source.
Marketing Strategies To Drive Organic Traffic
This article outlines some effective strategies for driving organic traffic for your business.
Why Is Organic Traffic Important?
In simple terms, organic traffic refers to those website visitors who find your website organically and without the aid of paid search results. The organic traffic to your website is crucial.
Particularly because these users are usually looking for specific information. If your website successfully resolves their query, such users have a higher probability of converting into loyal customers.
Ways To Increase Traffic
One effective method of organically attracting traffic to your website is to achieve a higher ranking in search engine results. Help from agencies and companies like ClickFunnels for search engine optimization strategy can be beneficial. To help you get started, here are some basic techniques to improve your ranking.
Low Or Zero Volume Keywords
For your SEO strategy, high-volume keywords can surely be helpful, but it's important to also consider low-volume and zero-volume keywords. Although there are fewer searches for these keywords each month, the users making them are frequently further along in the sales process and prepared to purchase.
Additionally, the algorithm actively looks for niche content to focus on thought leadership. You aren't contributing anything new to the discourse if your site targets the same keywords as everyone else.
Google will give your site greater weightage in search results when you begin to provide more specialized content because you are assuming a thought-leadership role.
Use Header Tags
A good headline structure is essential for improving your rankings. Ideally, each page should have a relevant H1 that sums up the content clearly and concisely. The text should then be separated into subtopics using H2s, H3s, and H4s to make it scannable.
By organizing your headlines in this manner, you create a strong information hierarchy, which search engine crawlers utilize to comprehend the content of your page.
Add a Video
Pages with videos get more organic traffic and can increase conversion rates by up to 80%. So it is an easy way to boost a page´s performance. Making a video doesn´t have to be a complicated task, either.
Using an online marketing video maker will make the process significantly easier.
Write Attractive Meta Descriptions
A meta description provides a brief summary of the information on a web page. Despite not being nearly as important to Google's ranking algorithm as page titles, meta descriptions encourage user clicks. Many people use meta descriptions to learn more about the subject of a particular page.
Therefore, it is crucial to write a captivating and descriptive meta-description that offers the readers a clear value proposition.
Descriptive URLs
Keep your URLs crisp and relevant to the website. Avoid using special characters and number blocks. When designing your website, remember that shorter URLs rank higher in Google search results than larger ones. Additionally, you ought to incorporate keywords within the titles of your URLs.
Optimize For Mobile
Since mobile devices account for more than half of all web traffic worldwide, your website must be mobile-friendly. Google gives mobile page load time top priority as a crucial factor in deciding how to rank your website.
To improve the ranking of your web pages in search engine results, optimizing your content is critical.
Final Thoughts
Since organic traffic is free, most website owners find it intriguing. But it can take some time to climb search engine rankings naturally. The best course of action when stepping up your SEO efforts is to take your time and build momentum gradually.