---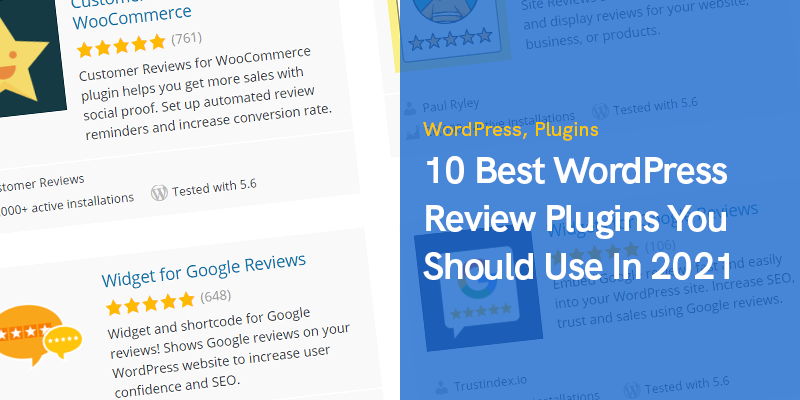 Top 10 Best WordPress Review Plugins You Should Use In 2023
In this article, you will get to know about top 10 best WordPress review plugins you should use in 2021.
Using WordPress Review Plugin is the best way to make your buyer's decision easier. In today's digital world, people are buying online products and before buying anything, they look for reviews and ratings. Those little words and ratings help a customer a lot in taking buying decision quickly.
Also, it is the best way to spread the word about your brand. There are plenty of WordPress review plugins, but choosing the right one is necessary.
Best WordPress Review Plugins
The top 10 best WordPress review plugins you should use in 2021 are as followed:
WP Reviews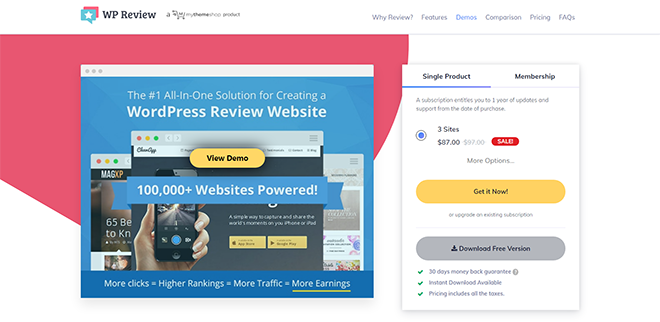 A free WordPress Review Plugin, WP Customer Review, is a wonderful source that helps users get reviews on any place on the website.
It supports 19 types of Rich snippets that you can select as per your preference.
It has 16 predefined designs, multiple rating systems, and user comment rating and review options.
No matter, which WordPress theme you are using for your website, it is compatible with every WordPress theme.
There is also a dashboard available that will help the users to accept or decline the reviews.
Starfish Reviews
If you are looking to get Review plugin for reviews on various platforms such as Facebook, Google, Trustpilot, or any other platform then consider Starfish Reviews as one of the best WordPress Review Plugins.
It's a great plugin for those who want to improve their online reviews. It works great for local Businesses.
There are simple features that are also an effective measure to get the website's ratings and reviews.
This Plugin comes with a review funneling system for your WP account.
This plugin allow the users to get rid of the hassles of asking their followers or customers for reviews and fearing the bad and the overtly critical reviews. The users can use the starfish created funnels whenever they ask for reviews.
Widget for Google Reviews

It is one of the unique plugins available on the internet. It takes all the existing business reviews of Google and makes them appear on your website.
This Plugin work like a widget that makes your reviews appear in either header, sidebar, or footer.
It is a free plugin though the users can upgrade at $85 for a year.
Though the free WordPress Review Plugin is suitable for the small brands, it is not that effective when it comes to the big brands. It will allow the users to get only five Google and three yelp reviews.
It will effectively improve your SEO rankings and CTR of the search results.
WP Product Review

The Plugin allows the users to display their reviews anywhere on their website. It can be achieved by the blocks, widgets, and shortcodes for review.
The users will get the best of the reviews tagged that will be visible at the top of the list.
The plugin will appear with a backup that also contain a feature of restore that helps the users retrieve the data in case of any loss.
The snippets will be visible in search engine results with the stars and the ratings.
The users can also export and import reviews through WP Product Review WordPress Review Plugin.
It breaks down your product specifications and helps your users rate each one of them.
Customer Reviews for WooCommerce
Customer Reviews for WooCommerce is one plugin that is just perfect for you if your theme doesn't have a comments section available.
It delivers notifications for your clients who are yet to post a review for you.
It also enables the verification of reviews and no doubt that it is the best review plugin for online conversions.
There are two plans available, free and paid. The paid one is of course better and costs $49.99.
It allows the reviews to be embedded on your website and allows you to choose the template for that.
There are also the options of moderating the comments with a search bar options where you can type in the keywords to search through the reviews.
WP Business Reviews
If you want a fully functional WordPress Review Plugin, then WP Business Review is the one for you.
WP Business Reviews allows you showcase your reviews to make the customer's buying decision easier.
The users can tag their favorite reviews that can be pinned to the top.
The styling of the reviews can be edited to suit your dark or light website.
There are also interesting formats like images and gallery available.
It is priced at $99.50 for a year; there is also a site license and necessary support.
Schema Review
Schema is a fantastic WordPress Review plugin that attracts users by showcasing them your positive side.
It is a lightweight plugin that doesn't need a lot of space on your front end or backend.
It has minimal settings and output via shortcode. Through this plugin, you can enable Schema Review for Editor or Author as well.
This plugin makes it easy for your visitors to review article published or uploaded on your website.
The USP of this Plugin is free, and the users don't have to bother about any upgradation.
Photo Review for WooCommerce
Photo Review is one of the amazing review plugins that supports WooCommerce. It allows the customers to post images related to the product reviews.
The plugin allows the customers to upload quick pictures of the items they may have purchased, and then they can get them published on the website.
It will help the users get a better chance at marketing their products.
It works on a ratings based system to allow the users to compare the ratings on your website.
There is the option to filter the reviews on the basis of the ratings and verified purchases.
The pro version of the plugin also allows the plugin to generate a coupon when the user writes a review.
Reviewer WordPress Plugin
Reviewer WordPress Plugin allows you to add reviews and comparison tables into your article's posts and pages easily and quickly.
It allows the users a lot of access to the photos and badges. If you want to create a beautiful recap box, then it is possible through Reviewer WordPress Review Plugin only.
It allows the users to write a review next to another and make a comparison. Also, its flexible structure allows you to have any review type with no limits.
The users can choose between bars and stars on their ratings. You can also add the affiliate links in your reviews.
It also offers different personalized themes to adapt your reviews and comparison tables accordingly.
Though it doesn't have a free version, it is not that expensive as it comes at $28.
Taqyeem
Don't judge by the name, Taqyeem is a great plugin that will help you display the reviews online.
The Plugin is fantastic when it comes to the customization features to get the website to match the users' demands.
The Webfont and typography collection of this plugin is vibrant and diverse.
There is also a usage of percentages whenever a user wants to do reviews through this plugin.
The users can use the review modules on various spaces such as the pages and the posts.
This plug-in allows the users to play with a lot of formats and priced at $29 only.
Conclusion
Never neglect the importance of WordPress Review Plugin as it can bring you more sales. It doesn't only helps customers to take buying decision, but also boost traffic on your website. it is the best way build trust on your visitors.
Recommended Posts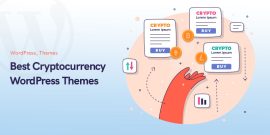 May 29, 2023