---
Updated: October 27, 2023
1 Comment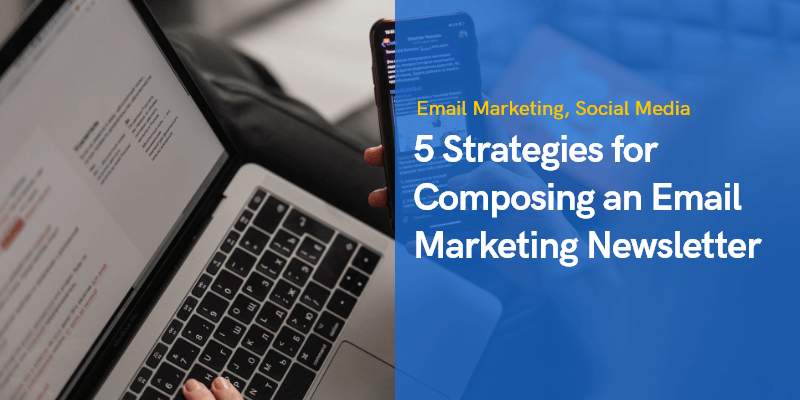 Email Marketing Newsletter: 5 Great Strategies for Composing a Compelling Email
Email marketing newsletters are the building blocks of an effective email marketing campaign. However, even if you have an optimal strategy for your email campaign, the entire campaign crumbles if the individual pieces aren't up to par.
Also, you would need to use some sort of email marketing tools or WordPress email marketing plugins based on the CMS you are using.
Once you have your email campaign laid out, assess each newsletter on your campaign. Optimizing your newsletter content will improve lead conversion rates or whatever objective your email campaign is after. It is also noteworthy to mention that utilizing an email address lookup tool also optimizes the success of your email marketing campaign since it allows you to contact the right people suited to your content and strategy.
Check out our comprehensive article on the best email marketing platforms: 20+ Best Email Marketing Services .
Email Marketing Newsletter
Here are five strategies to compose compelling email newsletters.
Create an engaging subject line
Your subject line is like the thumbnail and title to a YouTube video. An engaging one will drastically increase your open rates.
Engaging doesn't always mean flashy, clever, or funny. In today's digital marketing world, where huge ecommerce sites are blasting copies like "LIMITED TIME OFFER" or "Get Ready for Our Winter Sale," it helps to be personal. Try following the following tips:
Address the recipient by their first name on the subject line
Use conversational writing, or
Use writing native to the email medium
Refrain from including prizes or promos in the subject line
Make it about the recipient, not so much about yourself
Even if you would be sending these emails to 2000, 3000 people at a time, it helps to make subject lines appear personal, as if you were sending each email exclusively to the recipient.
For example, you have an informational newsletter about the most often-used marketing software. Your subject line may say, "Hey John, these marketing tools could help you" instead of "Marketing tools most marketers use."
Now, you might be compelled to use subject lines like "Win $300 Now!" or "Get a Chance to Win a Lambo!" Even if it's true, you need to be cautious when using subject lines like these. Spam emails also use the same subject lines, so email service providers will likely send your email to spam as well if you do something like that.
Instead, include the promo in the body of your email.
Use relevant images
Using images, graphs, and diagrams in PowerPoint presentations is crucial to getting your point across to a panel. The same goes for marketing. Provide visuals to complement your message so that your recipients have a clearer picture of what you're saying.
Using images can:
Retain readers' attention span longer
Visually highlight key messages of the newsletter
Help readers' comprehend your message more
Provide healthy breaks in between text
Let's look at an email marketing newsletter that uses images effectively.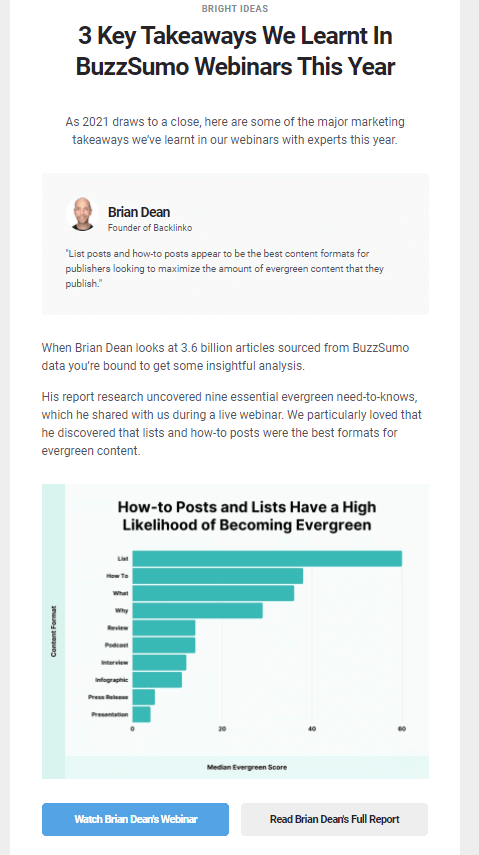 BuzzSumo regularly sends email marketing newsletters containing the latest digital marketing, social media, and SEO updates. Aside from its regularly published content, BuzzSumo also sends monthly, quarterly, and yearly newsletters. The example above shares a few key takeaways from its webinars and illustrates those takeaways with infographics.
For example, you're unveiling a new shoe line, and one of your promotion methods is through an email campaign. Your email marketing newsletter can get more click-throughs when you use engaging graphic design to showcase your new products. Images provide more instant impressions and get your readers more engaged with your content.
Include a strong CTA
It's not enough that you give your customers insightful information. Whether it be the latest fashion trends or what's new in your store, you want them to take action following this newly-acquired information. This could lead them to your product page or any other landing page you've created with a your content, that will help them take the desired action.
Canva, a browser-based design platform, included a call-to-action button after telling recipients about their Linkedin stories template via a newsletter. After reading about the benefits of utilizing Linkedin stories on the newsletter, users are immediately greeted with this CTA button– "Give it a try."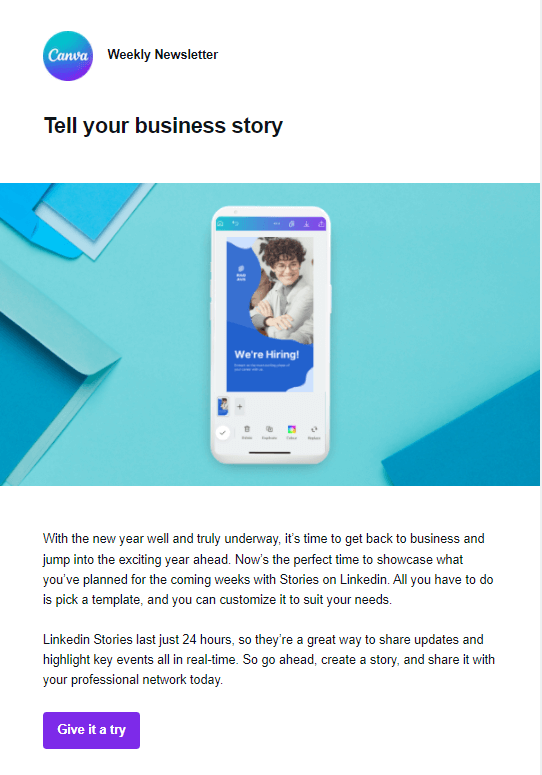 You must also have a CTA button on your newsletter if you wish recipients to take action following some crucial information. For example, restaurants tell recipients to "order now" after sending them pictures of their new prime beef dishes.
Here are some tips that will help you create a strong CTA:
Ideally, have only one CTA per newsletter
Make the CTA simple like "Shop now", "Sign up now", or "Give it a try"
Make the CTA button contrast and pop from its background
Having one CTA on your newsletter will make your readers take the action you want them to take. A powerful CTA will leave no doubt that the reader needs to click it. On the other hand, using a CTA more than once in your email reduces its impact and confuses your readers.
Do not send too many emails
Updating your customers with what you have going on is one thing, but spamming their inbox with 20 emails a week will backfire.
Annoyed customers will end up unsubscribing from your email list. And while it's a good thing that your email list is being pruned to only the passionate bunch, it's not a good sign if a significant portion of your email list is unsubscribing.
It is important to remember that an email list with invalid or closed emails can lead to a loss in deliverability. An email verification platform can be useful in reducing bounce rates and improving the sender's reputation and score.
Ideally, you should be sending emails at least once a week. However, if you have a ton of worthy content on the backburner, plus regular promos and discounts, then you may send up to three times a week.
When should you send emails? It could be for the following circumstances, but not limited to:
Once a week
Each time you have an ongoing promo
Each time you unveil a new product
When you have an important announcement
Before a grand company event
The frequency at which you send emails will also depend on your industry and the type of product you sell. If you're running a restaurant that doesn't primarily rely on online sales as a source of revenue, then your email frequency may not be as aggressive as clothing ecommerce stores. It also helps to subscribe to your competitors' email lists to get cues of how often you should send out emails.
Make sure to track your emails. That will help you check how people are engaging with your content.
Be careful not to end up on an unsubscribe list. Or worse, be blocked by your readers.
Being blocked could hurt the domain you're using to send emails, resulting in more of your emails being sent to spam, unless you use a spam checker.
So send regularly, but don't overdo it. Remember to focus on quality over quantity.
Personalize your content
One of the most commonly-used personalizations in newsletters is incorporating the recipient's first name in the subject line, description line, and body. However, there are more ways you can personalize your newsletters. It all starts with segmenting your email list.
Most people think of email segmentation solely as the act of taking users' demographic information and dividing them according to age, sex, location, or interests. However, you can also segment users according to your readers' actions.
Occasionally send users different emails depending on their actions and send general newsletters to your leads. Create email list categories based on the action(s) performed by the lead, then tailor your content to each different email list category.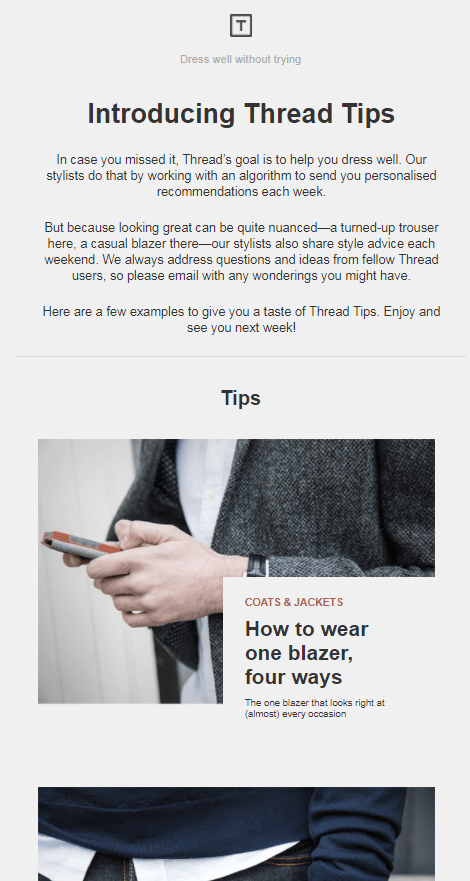 For example, your recipient recently purchased a blazer from your ecommerce fashion store. Segment that buyer with all the other blazer purchasers, then send them all content supplementing their purchase– such as outfit recommendations, styling tips, and items to pair.
Create newsletters compatible for typical user actions as well, such as:
Subscription to an email list
Claiming a lead magnet
Making a purchase
Signing up on your platform
Inactivity on your app
Creating newsletter content in context with the actions performed will make leads feel like they're being talked to personally. These segmented email lists are even more effective when partnered with personalizations, such as using a recipient's first name. As if a human is taking the time to type and send these.
It also helps to send content based on the interest categories your recipients have shown. If your lead frequents the outdoor section of your ecommerce store, then segment them with the other outdoor enthusiasts, and send them something like "3 Must-Haves when Camping."
As a bonus tip – when you're also able to acquire leads' birthdays, be sure to send them birthday greetings as well. Or, give them a little something on their birthday, such as a discount coupon.
In Closing
Newsletters are crucial pieces to your email marketing campaign, even if they don't directly promote your business and products.
A well-constructed email newsletter helps build brand awareness, gives your subscribers actionable information, and establishes your brand as one that knows its market.
To create a compelling email newsletter, you need to start with an engaging subject line. You may include relevant images to reinforce your message and cap off the email with a strong CTA.
Your email marketing strategy should also specify how often you'll send marketing emails and how you'll segment your email list.
Following these steps will have you create compelling newsletters that convert.
Recommended Posts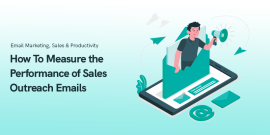 November 7, 2023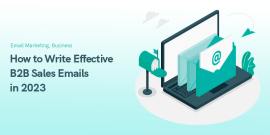 May 12, 2023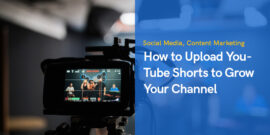 January 15, 2023